We, The Book Doctors, travel the country going to writers' conferences, book festivals, bookstores, libraries, colleges and universities where writers meet and learn how to get successfully published. We kept hearing about the University of New Mexico Summer Writers' Conference in Santa Fe (formerly the The Taos Summer Writers' Conference) and how freaking awesome it is. We finally got a connection, reached out and lo and behold, we are excited to announce that we will be presenting at this year's conference, July 24-31, in Santa Fe, New Mexico.
One of the best ways to go from being a talented amateur to professionally published author is to be around a bunch of professionally published authors. There are few places you can do this outside of writers' conferences like this one. Whether it's learning the craft of plotting a novel, understanding how to shape your life into a memoir, or figuring out the nuts and bolts of how to navigate the stormy seas of publishing, there's just so much to learn and so many brains to pick.
Plus, we're totally psyched about going to Santa Fe. New Mexico will be our eight-year-old daughter's 34th state. What's not to love about that? If you're there, please look us up and say hello.
We spoke with Sharon Oard Warner, founding director of UNM Summer Writers' Conference in Santa Fe, about the conference, reading and her advice for writers.
Read the interview on the Huffington Post.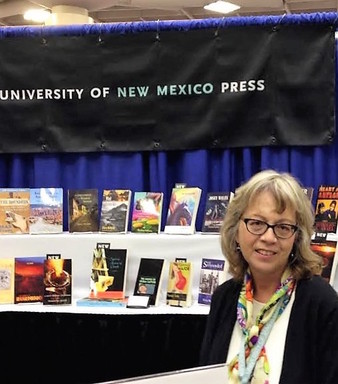 Sharon Oard Warner at AWP 2015
The Book Doctors: What were your favorite books as a kid and why?
Sharon Oard Warner: My first favorite book was The Little Red Caboose, a Little Golden Book. My dad swears he read that book to me a hundred times or more. I do remember loving it, so much so that when my own sons were small, I bought them a ginormous version, so big that my younger son could hide behind it, which is the only real purpose the book served. As might be expected, The Little Red Caboose just didn't do it for my sons. After seeing the gift book titled Everything I Need to Know I Learned from a Little Golden Book, I began to wonder about the long-term impact of my childhood obsession with The Little Red Caboose. Had I been marked for life by the book's message? It turns out, yes, I had.
TBD: How were you marked for life by your childhood obsession with The Little Red Caboose?
SW: In order to get the attention he craves–the waves and cheers of children–the caboose has to come to the rescue. In other words, he has to put on the brakes and resist mightily the forces of gravity and the weight of all the other cars bearing down on him. He has to save the train.
Off and on throughout my life, I have been defiant in the face of forces larger than I am. I have thrown on the brakes and stubbornly resisted being moved. Right now, I am trying to save the D. H. Lawrence Ranch, and I am reaching out to other writers for assistance. Anyone out there want to help?
TBD: How did you learn to be a writer?
SW: Reading, first, last, and always.
TBD: How did moving around so much affect your childhood? How did it affect your writing?
SW: I went to twelve elementary schools–two a year through sixth grade–and all of these schools were in the Dallas metropolitan area. In first grade, I was outgoing, exuberant even, but by third grade, I kept to myself. Rather than make friends with children I would soon say goodbye to, I turned to books for my support and solace. I checked out stacks from the school library and from whatever public library was in walking distance of my home. I read every moment I wasn't otherwise engaged.
TBD: How has teaching writing made you a better writer?
SW: As I said earlier, I learned to write by reading. However, most of what I'd absorbed in all those hours of reading was largely instinctual. I couldn't articulate it for others. I couldn't analyze it for myself. Teaching, then, required me to deepen my understanding in order to share what I knew with others. Case in point: Like many graduate students, I was a teaching assistant, which meant instructing a freshman writing class. Grading essays is the most time-consuming part of teaching such a class, and for me, grading was arduous. I could rewrite my student's work, but I couldn't correct or critique it.
Because my schooling was so haphazard, I never learned the fundamentals of grammar. Once I recognized my deficiency, I was forced to address it. I had to learn or relearn subject/verb agreement, pronoun reference, sentence faults, dangling participles and so forth. Teaching has often taught me what I don't know, but never more forcefully than in my first year at the front of the class. By the way, teaching requires social skills. I had to shrug off my introversion and relate to my students.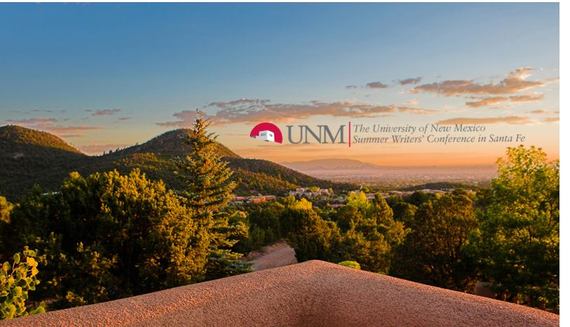 SW: When I started the conference, it was held in Taos, and it was called The Taos Summer Writers' Conference. My reason for creating the conference was simple: I wanted to make a connection between the University of New Mexico (UNM) Creative Writing Program in Albuquerque and the D. H. Lawrence Ranch outside of Taos, New Mexico. I have been advocating for the property for many years now, but the success of the conference has not really brought attention and support to the ranch, not yet, anyway.
TBD: What can writers get from attending the conference?
SW: Our goal is to create a nourishing literary community for writers, one in which everyone can form lasting relationships and create great work.
A number of writers who first attended the conference as participants have gone on to publish their work and build writing careers. Some of them have come back years later as instructors: Summer Wood, Laura Dave, Frances Washburn, Laura Brodie, Richard Vargas, and Margaret Wrinkle, to name a few.
Margaret Wrinkle is teaching a weekend fiction workshop at the 2016 conference. She first participated as an attendee, 12 years ago. Of the conference she says, "My time in Taos was so pivotal. I found my best reader there, and the novel I was working on when I came in 2004 was recently published by Grove Atlantic. In a great coincidence, my book deal came through the same week as that of another student in my Taos workshop named Kristen Kittscher, so the Taos connection brought us back together after many years." Margaret's book, Wash, released in 2013, was deemed "a masterly literary work" by the New York Times Book Review, and Wrinkle was named one of Time magazine's "21 Female Authors You Should Be Reading."
TBD: What have you learned from your years of being involved with the conference?
SW: So much, but what comes to mind is this undeniable fact: Many of us have compelling, important stories to tell, stories that should be/need to be shared with others. It's been my pleasure and privilege to assist in the storytelling endeavor, first as a reader and as a writer, and later as a teacher and as founding director of the UNM Summer Writers' Conference in Santa Fe.
TBD: What projects are you working on now?
SW: I am finishing the second draft of a screenplay, a father/daughter story with a bit of a mystery thrown in for good measure. And I've just received a pre-completion contract for a writing craft book that will take writers through what I call the "intermediate step." Rather than jump from writing short stories to writing a novel–a painful leap to be sure–I urge prospective novelists to create something intermediate, a novella. How did Goldilocks put it: "Not too large and not too small but just right!"
TBD: What advice would you give to writers?
SW: Finish things. Life is full and it's easy to lose track of projects you've set aside. Only this morning, while looking for a place to make notes on these questions, I discovered a journal full of jottings for a story called "The Last Bee." As soon as I finish the screenplay, I'm going to return to the story, which is about the plight of our honeybees.
Sharon Oard Warner is Professor of English and Associate Chair for Undergraduate Studies in the English Department at the University of New Mexico. She is also Founding Director of UNM Summer Writers' Conference in Santa Fe (formerly the Taos Summer Writers' Conference) as well as Co-chair for the newly formed D. H. Lawrence Ranch Initiatives.

She has published four books–a collection of short fiction, Learning to Dance and Other Stories; an edited anthology, The Way We Write Now: Short Stories from the AIDS Crisis; as well as two novels, Deep in the Heart and Sophie's House of Cards.
Her stories have been published in Prairie Schooner, The Laurel Review, Other Voices, Green Mountains Review, and elsewhere. Her scholarly essays have appeared in Studies in the Novel, Studies in the Short Story, Best Writing on Writing, The Writer's Handbook, and in selected anthologies. She is currently completing a screenplay.
JOIN OUR NEWSLETTER TO RECEIVE MORE INTERVIEWS AND TIPS ON HOW TO GET PUBLISHED. 
We first met Patricia Perry Donovan when she won our Pitchapalooza (think American Idol for books) down the shore in New Jersey, sponsored by one of our favorite bookstores, BookTowne (know and love thy local indie bookstore!). She dazzled us with her story, her presence, and her writing. Now that her book Deliver Her is out, we thought we'd pick her brain about how the heck she did it.
To read the full interview on the Huffington Post, click here.
The Book Doctors: When did you start being a writer, and how did you learn to be one?
Patricia Perry Donovan: I've always loved writing. My mother claims I was eight when I announced I would write a book. I began college with a major in languages, but when my French professor criticized my accent, I switched to journalism. It was the era of All the President's Men, and we all wanted to be the next Bob Woodward or Carl Bernstein. I always made a living as a writer, but only began writing fiction in earnest five years ago.
P.S. I had the last laugh on that college professor: In my thirties, I moved to France for several years and became fluent in the language.
TBD: What are some of your favorite books, and why?
PD: My first job as a teen was as a page (yes, my actual title) in the children's library, where I read voraciously. I have fond memories of the works of Judy Blume, Maud Hart Lovelace, Roald Dahl, and Isaac Asimov, to name a few. I would read a few pages of each book before reshelving it. In recent years, I've re-read and dissected Olive Kitteridge by Elizabeth Strout. I would love to write a novel of connected stories like that one day. Of late I've shed tears over Kristin Hannah's Nightingale and All the Light We Cannot See by Anthony Doerr, and swooned over Mary-Louise Parker's extraordinary prose in Dear Mr. You.
TBD: Why did you decide to write this particular book?
PD: Having heard about families desperate enough to resort to this type of solution for their child, I was fascinated by both circumstances that might lead to this arrangement and the sort of people (both transporter and client) involved. Also, I have family in New Hampshire, and the White Mountains seemed the perfect setting for Carl and Alex's journey.
TBD: How has being a journalist influenced your fiction writing?
PD: Working as a reporter trained me to write efficiently. It also made me a thorough researcher. For the last fifteen years, I've covered the healthcare industry, which is probably why Meg Carmody is a nurse in Deliver Her and is so knowledgeable about insurance. Healthcare is a fascinating field; there are a few topics I'd like to explore in future books.
TBD: How did you get your fiction published in literary journals?
PD: With a thick skin, and perseverance. Using a subscription database of writers' markets, I targeted smaller publications and sites with higher acceptance rates. It took a while, and a fair amount of rejection, but eventually I had some success. It's refreshing to take a break from writing a book and play around with an essay or flash fiction. Often a "darling" excised from a work in progress is the perfect starting point for a short story.
The important thing is not to give up. Just because a piece is not right for one publication doesn't mean another won't love it. Keep trying!
TBD: Tell us about your road to publication.
PD: In 2012, I entered The Book Doctors' Pitchapalooza event at BookTowne, my local bookstore. My pitch was chosen as the winning entry; the only problem was, I had written only about 25 pages of the book! The award motivated me, however; less than a year later, I delivered my manuscript to the agent assigned to read it. Although extremely generous with her feedback, she ultimately passed. I then set out to find an agent on my own, and after querying about a dozen agents, I received an offer of representation from Elisabeth Weed of The Book Group, a very hands-on agent who was determined to find a home for Deliver Her. In fall 2015, I signed a two-book deal with Lake Union Publishing.
TBD: How in Heaven's name did you manage to get 285 reviews before your book was even officially released?
PD: Deliver Her was pre-released in digital format on April 1 as an Amazon Kindle First, a program in which Amazon editors select books from next month's new releases that readers can preview early. That's why Deliver Her has close to 300 reviews in advance of its official May 1 release.
TBD: What exactly is Lake Union Publishing?
PD: Lake Union is one of about a dozen imprints under Amazon's full-service publishing arm (an arm completely separate from Kindle Direct Publishing). Lake Union specializes in contemporary and historical fiction, memoir, and popular non-fiction. My Lake Union team has championed and supported Deliver Her–and me–from day one. It's been an extremely positive experience.
TBD: What do you love most about writing fiction?
PD: The surprising directions in which your story and characters will take you if you are open to them. Initially I imagined Deliver Her as a love story between the transporter and a woman who comes to his aid. The client was just a means to get Carl to Iris. But once I began writing, the mother-daughter relationship started to drive the story. I had to let go and enjoy the ride.
TBD: What are you working on for your next project?
PD: My next novel, At Wave's End, is the story of a Manhattan chef whose estranged mother comes East after winning a Jersey Shore bed-and-breakfast in a lottery. All is not as it seems, however; in the aftermath of a hurricane, secrets about the B and B surface, threatening the inn's future and fraying the already fragile mother-daughter bonds. The anticipated publication date is August 2017.
TBD: We hate to ask you this, but what advice do you have for writers?
PD: Having come late to the fiction game, I wish I had started doing this 25 years ago. So if you are a writer and feel that tug, that story begging to be told, don't ignore it. Sit down and tell it.
That said, it's never too late. Beginning this second act in my fifties, I have a well of experience and life lessons to draw from. I hope my characters are richer for it. Now I joke that while I'll probably never suffer from writers' block, I may run out of time to write all the stories I want to tell. That's not such a terrible problem for a writer to have.
Patricia Perry Donovan is a journalist who writes about healthcare. Her fiction has appeared at The Bookends Review, Gravel Literary, Bethlehem Writers Roundtable and in other literary journals. The mother of two grown daughters, she lives at the Jersey shore with her husband. Learn more at www.patriciaperrydonovan.com
JOIN OUR NEWSLETTER TO RECEIVE MORE INTERVIEWS AND TIPS ON HOW TO GET PUBLISHED. 
We live in Montclair, New Jersey. John Dufresne lives in southern Florida. So naturally, we met him at the South Dakota Festival of Books. We were sitting next to him waiting for people to show up to sign our books. Let's just say there wasn't a huge line. Normally, this would really be a downer, but this time we realized it was good luck because we got the chance to talk with John.
John has had a long and distinguished career as a writer. He also teaches writing. Now that his new book, I Don't Like Where This Is Going, is out, we picked his brain about writing, books, publishing, and life.
To read the full interview on the Huffington Post, click here.
The Book Doctors: When did you first start becoming a writer, and how did you learn to be one?
John Dufresne: I was a storyteller first, even if I didn't know I was. My father told me a bedtime story every night. Fairy tales. Only I thought he made them up because he had no book. I thought he invented wolves. He may be why I loved stories and wanted to make up my own. I had a couple of narratives going when I was seven or eight or so in which I was the central character. They both took place in my neighborhood. In one I was the leader of a band of good guys with white hats and spirited horses. Cowboys on Grafton Hill in Worcester, Mass. The only real horse we ever saw on the Hill was the ragman's nag, whom we loved to pat. Every night in bed I continued the story from where it ended when I had dozed off the night before. I did this for years. And during the day, I was thinking of what I would now call plot points and creating new characters. The other narrative was similar with me as a sports hero. Whenever I heard sirens, I imagined the house the fire trucks were heading for and the people trapped inside the burning house and how they would be saved. Or not.
TBD: What were some of your favorite books as a kid, and why?
JD: I grew up in a house without very many books. We did have 26-volumes of the Universal Standard Encyclopedia, bought for 99 cents a week at the A&P on Grafton Street. I read them in order, not quite thoroughly. One month every subject I talked about at the supper table began with A. Afghanistan, alligator, antbirds. With volume 13, it was everything between Idaho and Jewel Cave. I loved information, loved knowing the names of things. I didn't much like the stories we read in my grammar school, stories about kids who had horses and good fortune. I couldn't find anyone like me, someone who grew up in a housing project, in them. Then I happened on a series of books that I devoured, the Chip Hilton series for boys, written by Claire Bee. I think it was David Mamet who described drama as two outs, bottom of the ninth, man on first, 3-2 count, and your team down by one. That describes Clutch Hitter, a book in the series that illustrated to me, the little jock that I was, how exciting, compelling, and tense a story could be.
TBD: Your new book, I Don't Like Where This Is Going, is a wild, wacky ride that fits squarely into the noir tradition, but it seems to break as many rules as it follows. How did you get the idea for the book, and does writing in this genre inform how you work?
JD: I found a character I liked in a short story I wrote. I wrote the story, my first bit of crime fiction, on request. The character was Wylie Melville, a therapist and police consultant; the story was "The Timing of Unfelt Smiles," and it appeared in Miami Noir and in Best American Mystery Stories 2007. I wanted to give Wylie a much larger problem to solve and to put his life in great danger. That's what got me started, that and the long legacy of police and political corruption in South Florida, rich material to work with. Then, having done it once, I thought, I'll do it again. I liked Wiley and Bay and wondered what mayhem would follow them and where would they go. They went to Vegas so that Bay could ply his trade at the poker tables. To be honest, I hadn't read much crime fiction before I wrote crime fiction. Sherlock Holmes, of course, books my friends Les Standiford, James W. Hall, and Dennis Lehane wrote. So if I broke any rules, I may not have known what they were. I wrote the two novels like I wrote every book with the focus on characters and themes, not on plot. This is what it means to be a human being and this is how it feels.
TBD: What do you want people to take away from your novel?
JD: Before I was a writer, and before I was a house painter, I worked for a while in social service organizations, a suicide prevention hotline, like the one Wylie works at in Vegas, a youth center, a drug prevention program. So I was in touch with that difficult life that so many people have here. In America. I worked with so many people who had lost hope and others who were in terrible emotional pain. And I've never lost that feeling that we don't do enough to take care of the less fortunate. The exploitation and oppression of unfortunate people is something I'd hope the reader would think about. Daily violence is a norm here, but it's easy to look the other way. And I want the reader to care about Wylie and his friends.
TBD: What were some of the pleasures and perils of writing this book?
JD: I spoke glibly above saying how theme and character drove the novel. Plot's always been the most difficult aspect of novel writing for me. It's so damn hard. So when I wrote the first Coyote novel, I got to about 250 pages when I realized I didn't know who committed those murders in the opening chapter, and I thought, this is why the crime writers make the big money: they have to write a novel and solve a crime. Too late then to bring a bad guy with a gun onto the stage. So it was pack to page one. Same thing this time. As possible suspects entered the novel, I paid attention and watched them looking for clues. Anyone of them could have done the deed, but who really did? Wylie's no Sherlock Holmes, no consulting detective, but he is a man who pays attention. And he doesn't work alone. He has the illusionist Bay and the bedlamite Open Mike by his side.
TBD: Tell us about how you got your first book published?
JD: It was a book of short stories, and I had probably published six or seven stories in literary journals. I had a bunch of others, and I put them together as a book, and I went through one of those books Writer's Digest put out or something like that. And I looked through all of the agents looking for short story collections, and there were three.
TBD: I'm surprised there were three!
JD: I know, I know! So I wrote to the three of them, and one of them got back to me. He was very enthusiastic. I would tell anybody who is looking for an agent, make sure the agent is excited about you and your project. Not just, "I'll do it…" Because it's hard for an agent to sell a book. Especially if it's short stories. So my agent sent my book of stories around for about a year. It finally sold to Jill Bialosky at Norton, and I've been with Jill and Norton ever since. I remember my editor saying, "You're the last guy I'll ever sell a book of stories for."
TBD: Your career is interesting and highly unusual for today in terms of sticking with one publisher for each book. And it's a publisher that's independent but has real chops in this business. Not to mention the fact that you write very quirky books that are not highly commercial, mainstream, etcetera. How can other writers achieve this kind of elusive success?
JD: First of all, the best readers you're going to get are your agent and your editor. They're generous. They want your book to succeed. And they know what they're talking about. Even if you disagree with them, I always say, just do what they tell you to do. Because they know the business. I don't know anything about the business. I don't want to know; I want to write. I also say, if you write something beautiful and moving and telling, it'll get published. But it may not get published when you want it to be, or where you want it to be. The important thing for a lot of young writers is getting it published. I steer them away from self-publishing. Some of them have, and that's alright. But you want to get the imprimatur of somebody else. Somebody else who believes in you. Small presses are as good a place to be published as large presses… I mean obviously you're not getting the same money. But the money isn't like it was before. You used to be sent on book tours. Now you're lucky if they give you lunch money. The important thing is to get yourself into the game. You get your book around. You have people reading it. Just don't give up. You owe it to your characters that you love to get other people to read about them. Until you get an agent, you're going to do the business work too, and persist with it. I think in some ways publishing is more democratic than it ever was.
TBD: When we go to these conferences, there's always one person who's telling writers, "You have to be on Facebook! You have to be on Twitter! You have to have a website, blah blah blah-" And you can see the blood draining out of writers' faces.
JD: The publishers want you to do work with them, which I understand. When I did my first book of stories, I set up what I called the Motel Six tour. I told them, "Get me the books and a bookstore, and I'll drive. I'll take my wife and my kid, and we'll drive to all the bookstores." And that's what I did. And they were all really happy, because this was before social media. I printed up a fake newspaper from Louisiana Power and Light, and Norton sent it around, and got hard copies to people. It was fun. They appreciated that I was willing to do it. I still do it. Somebody just asked me to do a bookstore in Baltimore. But I'm thinking, "How much is this going to cost me?" In the old days, they put me up in beautiful hotels. Paid for everything. Now, at least for mid-list people like me, it's not happening. And I don't think it's happening too much in general anymore. I also have gotten on Facebook because Norton said to do that. A guy helped me out. My wife is good at the computer. I think that's been kind of helpful. It's a nice way to spread the news. I saw there was a good review of my new book in the Tampa Bay paper on Sunday, and I put it online. Lots of people have liked it already. They know about the book, they buy the book. Twitter I've never been on. I remember once, Carol Houck Smith (who was an editor at Norton for years) and I were sitting together by these editors, and they were all answering questions with, "You need a platform." And Carol muttered under her breath, "I don't need a goddamn platform, I need a great book!"
TBD: What are you reading now?
JD: I tend to read a lot of books at the same time. I'm reading Lee Martin's new novel Late One Night, which begins with the death of a mother and three kids in a fire that may or may not have been arson. And I started Campbell McGrath's new poetry collection, XX, in which he writes a poem for every year in the last century, in the voices of some of the century's prominent figures, like Picasso. Mao, and Elvis. Also reading Wired to Create, by Kaufman and Gregoire, and Actual Minds, Possible Worlds by Jerome Bruner. I'm loving, if not completely understanding, Lawrence M. Krauss's A Universe from Nothing and Carlo Rovelli's Seven Brief Lessons on Physics.
TBD: How does teaching fiction help or hinder you as a fiction writer?
JD: It only helps. Every reading and every discussion of a story helps me see how stories work or don't work, including my own. We're all apprentices in a craft where no one is a master–I think Hemingway said that. This is the craft so long to learn. I always feel better at the end of class than at the start. I always feel like rushing home (which is actually impossible on Biscayne Boulevard) and getting back at whatever it is I'm writing. To be honest, there are moments that I would rather be learning about my central character's secrets than reading a story about goblins with swords, but I know I'll learn something about setting a scene, let's say, in the goblin story that will be valuable to my students and to me.
TBD: We hate to ask you this, but since you actually wrote a book about how to write a novel, we feel we have to. What advice do you have for writers?
JD: Probably the advice you were expecting to hear: read and write every day. No holidays for the writer. We always find time to do the things we love. We only have to want to write as much as we want to go to the movies. And if you don't love writing and reading, do something else. It's too hard, and discipline won't bring you to the writing desk. Only love for stories will do that. Here's Faulkner on reading: "Read, read, read. Read everything — trash, classics, good and bad, and see how they do it. Just like a carpenter who works as an apprentice and studies the master. Read! You'll absorb it." And Chekhov on writing: "Write as much as you can! Write, write, write till your fingers break."
John Dufresne is the author of seven novels, including I Don't Like Where This is Going and No Regrets, Coyote. Among other honors, he has received a Guggenheim Fellowship and is a professor in the MFA program at Florida International University. He lives in Dania Beach, Florida. For more information, please visit www.johndufresne.com.
John will be joining our Pitchapalooza panel in Miami on May 7, 2016, at 2 p.m. Learn more at the Miami Herald. 
JOIN OUR NEWSLETTER TO RECEIVE MORE INTERVIEWS AND TIPS ON HOW TO GET PUBLISHED.