We, The Book Doctors, travel the country going to writers' conferences, book festivals, bookstores, libraries, colleges and universities where writers meet and learn how to get successfully published. We kept hearing about the University of New Mexico Summer Writers' Conference in Santa Fe (formerly the The Taos Summer Writers' Conference) and how freaking awesome it is. We finally got a connection, reached out and lo and behold, we are excited to announce that we will be presenting at this year's conference, July 24-31, in Santa Fe, New Mexico.
One of the best ways to go from being a talented amateur to professionally published author is to be around a bunch of professionally published authors. There are few places you can do this outside of writers' conferences like this one. Whether it's learning the craft of plotting a novel, understanding how to shape your life into a memoir, or figuring out the nuts and bolts of how to navigate the stormy seas of publishing, there's just so much to learn and so many brains to pick.
Plus, we're totally psyched about going to Santa Fe. New Mexico will be our eight-year-old daughter's 34th state. What's not to love about that? If you're there, please look us up and say hello.
We spoke with Sharon Oard Warner, founding director of UNM Summer Writers' Conference in Santa Fe, about the conference, reading and her advice for writers.
Read the interview on the Huffington Post.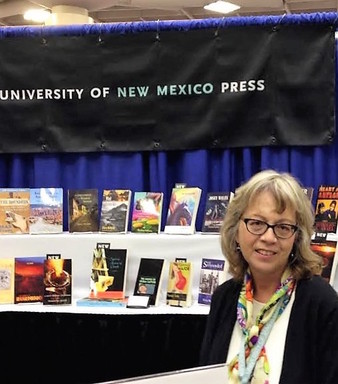 Sharon Oard Warner at AWP 2015
The Book Doctors: What were your favorite books as a kid and why?
Sharon Oard Warner: My first favorite book was The Little Red Caboose, a Little Golden Book. My dad swears he read that book to me a hundred times or more. I do remember loving it, so much so that when my own sons were small, I bought them a ginormous version, so big that my younger son could hide behind it, which is the only real purpose the book served. As might be expected, The Little Red Caboose just didn't do it for my sons. After seeing the gift book titled Everything I Need to Know I Learned from a Little Golden Book, I began to wonder about the long-term impact of my childhood obsession with The Little Red Caboose. Had I been marked for life by the book's message? It turns out, yes, I had.
TBD: How were you marked for life by your childhood obsession with The Little Red Caboose?
SW: In order to get the attention he craves–the waves and cheers of children–the caboose has to come to the rescue. In other words, he has to put on the brakes and resist mightily the forces of gravity and the weight of all the other cars bearing down on him. He has to save the train.
Off and on throughout my life, I have been defiant in the face of forces larger than I am. I have thrown on the brakes and stubbornly resisted being moved. Right now, I am trying to save the D. H. Lawrence Ranch, and I am reaching out to other writers for assistance. Anyone out there want to help?
TBD: How did you learn to be a writer?
SW: Reading, first, last, and always.
TBD: How did moving around so much affect your childhood? How did it affect your writing?
SW: I went to twelve elementary schools–two a year through sixth grade–and all of these schools were in the Dallas metropolitan area. In first grade, I was outgoing, exuberant even, but by third grade, I kept to myself. Rather than make friends with children I would soon say goodbye to, I turned to books for my support and solace. I checked out stacks from the school library and from whatever public library was in walking distance of my home. I read every moment I wasn't otherwise engaged.
TBD: How has teaching writing made you a better writer?
SW: As I said earlier, I learned to write by reading. However, most of what I'd absorbed in all those hours of reading was largely instinctual. I couldn't articulate it for others. I couldn't analyze it for myself. Teaching, then, required me to deepen my understanding in order to share what I knew with others. Case in point: Like many graduate students, I was a teaching assistant, which meant instructing a freshman writing class. Grading essays is the most time-consuming part of teaching such a class, and for me, grading was arduous. I could rewrite my student's work, but I couldn't correct or critique it.
Because my schooling was so haphazard, I never learned the fundamentals of grammar. Once I recognized my deficiency, I was forced to address it. I had to learn or relearn subject/verb agreement, pronoun reference, sentence faults, dangling participles and so forth. Teaching has often taught me what I don't know, but never more forcefully than in my first year at the front of the class. By the way, teaching requires social skills. I had to shrug off my introversion and relate to my students.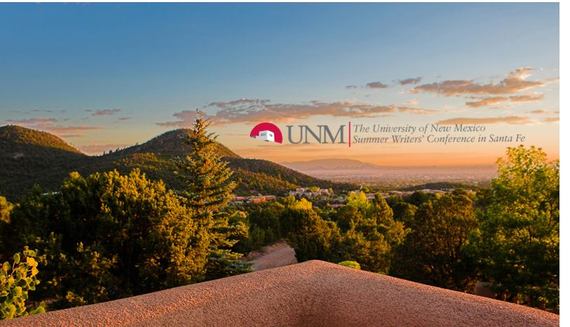 SW: When I started the conference, it was held in Taos, and it was called The Taos Summer Writers' Conference. My reason for creating the conference was simple: I wanted to make a connection between the University of New Mexico (UNM) Creative Writing Program in Albuquerque and the D. H. Lawrence Ranch outside of Taos, New Mexico. I have been advocating for the property for many years now, but the success of the conference has not really brought attention and support to the ranch, not yet, anyway.
TBD: What can writers get from attending the conference?
SW: Our goal is to create a nourishing literary community for writers, one in which everyone can form lasting relationships and create great work.
A number of writers who first attended the conference as participants have gone on to publish their work and build writing careers. Some of them have come back years later as instructors: Summer Wood, Laura Dave, Frances Washburn, Laura Brodie, Richard Vargas, and Margaret Wrinkle, to name a few.
Margaret Wrinkle is teaching a weekend fiction workshop at the 2016 conference. She first participated as an attendee, 12 years ago. Of the conference she says, "My time in Taos was so pivotal. I found my best reader there, and the novel I was working on when I came in 2004 was recently published by Grove Atlantic. In a great coincidence, my book deal came through the same week as that of another student in my Taos workshop named Kristen Kittscher, so the Taos connection brought us back together after many years." Margaret's book, Wash, released in 2013, was deemed "a masterly literary work" by the New York Times Book Review, and Wrinkle was named one of Time magazine's "21 Female Authors You Should Be Reading."
TBD: What have you learned from your years of being involved with the conference?
SW: So much, but what comes to mind is this undeniable fact: Many of us have compelling, important stories to tell, stories that should be/need to be shared with others. It's been my pleasure and privilege to assist in the storytelling endeavor, first as a reader and as a writer, and later as a teacher and as founding director of the UNM Summer Writers' Conference in Santa Fe.
TBD: What projects are you working on now?
SW: I am finishing the second draft of a screenplay, a father/daughter story with a bit of a mystery thrown in for good measure. And I've just received a pre-completion contract for a writing craft book that will take writers through what I call the "intermediate step." Rather than jump from writing short stories to writing a novel–a painful leap to be sure–I urge prospective novelists to create something intermediate, a novella. How did Goldilocks put it: "Not too large and not too small but just right!"
TBD: What advice would you give to writers?
SW: Finish things. Life is full and it's easy to lose track of projects you've set aside. Only this morning, while looking for a place to make notes on these questions, I discovered a journal full of jottings for a story called "The Last Bee." As soon as I finish the screenplay, I'm going to return to the story, which is about the plight of our honeybees.
Sharon Oard Warner is Professor of English and Associate Chair for Undergraduate Studies in the English Department at the University of New Mexico. She is also Founding Director of UNM Summer Writers' Conference in Santa Fe (formerly the Taos Summer Writers' Conference) as well as Co-chair for the newly formed D. H. Lawrence Ranch Initiatives.

She has published four books–a collection of short fiction, Learning to Dance and Other Stories; an edited anthology, The Way We Write Now: Short Stories from the AIDS Crisis; as well as two novels, Deep in the Heart and Sophie's House of Cards.
Her stories have been published in Prairie Schooner, The Laurel Review, Other Voices, Green Mountains Review, and elsewhere. Her scholarly essays have appeared in Studies in the Novel, Studies in the Short Story, Best Writing on Writing, The Writer's Handbook, and in selected anthologies. She is currently completing a screenplay.
JOIN OUR NEWSLETTER TO RECEIVE MORE INTERVIEWS AND TIPS ON HOW TO GET PUBLISHED. 
We first met Patricia Perry Donovan when she won our Pitchapalooza (think American Idol for books) down the shore in New Jersey, sponsored by one of our favorite bookstores, BookTowne (know and love thy local indie bookstore!). She dazzled us with her story, her presence, and her writing. Now that her book Deliver Her is out, we thought we'd pick her brain about how the heck she did it.
To read the full interview on the Huffington Post, click here.
The Book Doctors: When did you start being a writer, and how did you learn to be one?
Patricia Perry Donovan: I've always loved writing. My mother claims I was eight when I announced I would write a book. I began college with a major in languages, but when my French professor criticized my accent, I switched to journalism. It was the era of All the President's Men, and we all wanted to be the next Bob Woodward or Carl Bernstein. I always made a living as a writer, but only began writing fiction in earnest five years ago.
P.S. I had the last laugh on that college professor: In my thirties, I moved to France for several years and became fluent in the language.
TBD: What are some of your favorite books, and why?
PD: My first job as a teen was as a page (yes, my actual title) in the children's library, where I read voraciously. I have fond memories of the works of Judy Blume, Maud Hart Lovelace, Roald Dahl, and Isaac Asimov, to name a few. I would read a few pages of each book before reshelving it. In recent years, I've re-read and dissected Olive Kitteridge by Elizabeth Strout. I would love to write a novel of connected stories like that one day. Of late I've shed tears over Kristin Hannah's Nightingale and All the Light We Cannot See by Anthony Doerr, and swooned over Mary-Louise Parker's extraordinary prose in Dear Mr. You.
TBD: Why did you decide to write this particular book?
PD: Having heard about families desperate enough to resort to this type of solution for their child, I was fascinated by both circumstances that might lead to this arrangement and the sort of people (both transporter and client) involved. Also, I have family in New Hampshire, and the White Mountains seemed the perfect setting for Carl and Alex's journey.
TBD: How has being a journalist influenced your fiction writing?
PD: Working as a reporter trained me to write efficiently. It also made me a thorough researcher. For the last fifteen years, I've covered the healthcare industry, which is probably why Meg Carmody is a nurse in Deliver Her and is so knowledgeable about insurance. Healthcare is a fascinating field; there are a few topics I'd like to explore in future books.
TBD: How did you get your fiction published in literary journals?
PD: With a thick skin, and perseverance. Using a subscription database of writers' markets, I targeted smaller publications and sites with higher acceptance rates. It took a while, and a fair amount of rejection, but eventually I had some success. It's refreshing to take a break from writing a book and play around with an essay or flash fiction. Often a "darling" excised from a work in progress is the perfect starting point for a short story.
The important thing is not to give up. Just because a piece is not right for one publication doesn't mean another won't love it. Keep trying!
TBD: Tell us about your road to publication.
PD: In 2012, I entered The Book Doctors' Pitchapalooza event at BookTowne, my local bookstore. My pitch was chosen as the winning entry; the only problem was, I had written only about 25 pages of the book! The award motivated me, however; less than a year later, I delivered my manuscript to the agent assigned to read it. Although extremely generous with her feedback, she ultimately passed. I then set out to find an agent on my own, and after querying about a dozen agents, I received an offer of representation from Elisabeth Weed of The Book Group, a very hands-on agent who was determined to find a home for Deliver Her. In fall 2015, I signed a two-book deal with Lake Union Publishing.
TBD: How in Heaven's name did you manage to get 285 reviews before your book was even officially released?
PD: Deliver Her was pre-released in digital format on April 1 as an Amazon Kindle First, a program in which Amazon editors select books from next month's new releases that readers can preview early. That's why Deliver Her has close to 300 reviews in advance of its official May 1 release.
TBD: What exactly is Lake Union Publishing?
PD: Lake Union is one of about a dozen imprints under Amazon's full-service publishing arm (an arm completely separate from Kindle Direct Publishing). Lake Union specializes in contemporary and historical fiction, memoir, and popular non-fiction. My Lake Union team has championed and supported Deliver Her–and me–from day one. It's been an extremely positive experience.
TBD: What do you love most about writing fiction?
PD: The surprising directions in which your story and characters will take you if you are open to them. Initially I imagined Deliver Her as a love story between the transporter and a woman who comes to his aid. The client was just a means to get Carl to Iris. But once I began writing, the mother-daughter relationship started to drive the story. I had to let go and enjoy the ride.
TBD: What are you working on for your next project?
PD: My next novel, At Wave's End, is the story of a Manhattan chef whose estranged mother comes East after winning a Jersey Shore bed-and-breakfast in a lottery. All is not as it seems, however; in the aftermath of a hurricane, secrets about the B and B surface, threatening the inn's future and fraying the already fragile mother-daughter bonds. The anticipated publication date is August 2017.
TBD: We hate to ask you this, but what advice do you have for writers?
PD: Having come late to the fiction game, I wish I had started doing this 25 years ago. So if you are a writer and feel that tug, that story begging to be told, don't ignore it. Sit down and tell it.
That said, it's never too late. Beginning this second act in my fifties, I have a well of experience and life lessons to draw from. I hope my characters are richer for it. Now I joke that while I'll probably never suffer from writers' block, I may run out of time to write all the stories I want to tell. That's not such a terrible problem for a writer to have.
Patricia Perry Donovan is a journalist who writes about healthcare. Her fiction has appeared at The Bookends Review, Gravel Literary, Bethlehem Writers Roundtable and in other literary journals. The mother of two grown daughters, she lives at the Jersey shore with her husband. Learn more at www.patriciaperrydonovan.com
JOIN OUR NEWSLETTER TO RECEIVE MORE INTERVIEWS AND TIPS ON HOW TO GET PUBLISHED. 
We live in Montclair, New Jersey. John Dufresne lives in southern Florida. So naturally, we met him at the South Dakota Festival of Books. We were sitting next to him waiting for people to show up to sign our books. Let's just say there wasn't a huge line. Normally, this would really be a downer, but this time we realized it was good luck because we got the chance to talk with John.
John has had a long and distinguished career as a writer. He also teaches writing. Now that his new book, I Don't Like Where This Is Going, is out, we picked his brain about writing, books, publishing, and life.
To read the full interview on the Huffington Post, click here.
The Book Doctors: When did you first start becoming a writer, and how did you learn to be one?
John Dufresne: I was a storyteller first, even if I didn't know I was. My father told me a bedtime story every night. Fairy tales. Only I thought he made them up because he had no book. I thought he invented wolves. He may be why I loved stories and wanted to make up my own. I had a couple of narratives going when I was seven or eight or so in which I was the central character. They both took place in my neighborhood. In one I was the leader of a band of good guys with white hats and spirited horses. Cowboys on Grafton Hill in Worcester, Mass. The only real horse we ever saw on the Hill was the ragman's nag, whom we loved to pat. Every night in bed I continued the story from where it ended when I had dozed off the night before. I did this for years. And during the day, I was thinking of what I would now call plot points and creating new characters. The other narrative was similar with me as a sports hero. Whenever I heard sirens, I imagined the house the fire trucks were heading for and the people trapped inside the burning house and how they would be saved. Or not.
TBD: What were some of your favorite books as a kid, and why?
JD: I grew up in a house without very many books. We did have 26-volumes of the Universal Standard Encyclopedia, bought for 99 cents a week at the A&P on Grafton Street. I read them in order, not quite thoroughly. One month every subject I talked about at the supper table began with A. Afghanistan, alligator, antbirds. With volume 13, it was everything between Idaho and Jewel Cave. I loved information, loved knowing the names of things. I didn't much like the stories we read in my grammar school, stories about kids who had horses and good fortune. I couldn't find anyone like me, someone who grew up in a housing project, in them. Then I happened on a series of books that I devoured, the Chip Hilton series for boys, written by Claire Bee. I think it was David Mamet who described drama as two outs, bottom of the ninth, man on first, 3-2 count, and your team down by one. That describes Clutch Hitter, a book in the series that illustrated to me, the little jock that I was, how exciting, compelling, and tense a story could be.
TBD: Your new book, I Don't Like Where This Is Going, is a wild, wacky ride that fits squarely into the noir tradition, but it seems to break as many rules as it follows. How did you get the idea for the book, and does writing in this genre inform how you work?
JD: I found a character I liked in a short story I wrote. I wrote the story, my first bit of crime fiction, on request. The character was Wylie Melville, a therapist and police consultant; the story was "The Timing of Unfelt Smiles," and it appeared in Miami Noir and in Best American Mystery Stories 2007. I wanted to give Wylie a much larger problem to solve and to put his life in great danger. That's what got me started, that and the long legacy of police and political corruption in South Florida, rich material to work with. Then, having done it once, I thought, I'll do it again. I liked Wiley and Bay and wondered what mayhem would follow them and where would they go. They went to Vegas so that Bay could ply his trade at the poker tables. To be honest, I hadn't read much crime fiction before I wrote crime fiction. Sherlock Holmes, of course, books my friends Les Standiford, James W. Hall, and Dennis Lehane wrote. So if I broke any rules, I may not have known what they were. I wrote the two novels like I wrote every book with the focus on characters and themes, not on plot. This is what it means to be a human being and this is how it feels.
TBD: What do you want people to take away from your novel?
JD: Before I was a writer, and before I was a house painter, I worked for a while in social service organizations, a suicide prevention hotline, like the one Wylie works at in Vegas, a youth center, a drug prevention program. So I was in touch with that difficult life that so many people have here. In America. I worked with so many people who had lost hope and others who were in terrible emotional pain. And I've never lost that feeling that we don't do enough to take care of the less fortunate. The exploitation and oppression of unfortunate people is something I'd hope the reader would think about. Daily violence is a norm here, but it's easy to look the other way. And I want the reader to care about Wylie and his friends.
TBD: What were some of the pleasures and perils of writing this book?
JD: I spoke glibly above saying how theme and character drove the novel. Plot's always been the most difficult aspect of novel writing for me. It's so damn hard. So when I wrote the first Coyote novel, I got to about 250 pages when I realized I didn't know who committed those murders in the opening chapter, and I thought, this is why the crime writers make the big money: they have to write a novel and solve a crime. Too late then to bring a bad guy with a gun onto the stage. So it was pack to page one. Same thing this time. As possible suspects entered the novel, I paid attention and watched them looking for clues. Anyone of them could have done the deed, but who really did? Wylie's no Sherlock Holmes, no consulting detective, but he is a man who pays attention. And he doesn't work alone. He has the illusionist Bay and the bedlamite Open Mike by his side.
TBD: Tell us about how you got your first book published?
JD: It was a book of short stories, and I had probably published six or seven stories in literary journals. I had a bunch of others, and I put them together as a book, and I went through one of those books Writer's Digest put out or something like that. And I looked through all of the agents looking for short story collections, and there were three.
TBD: I'm surprised there were three!
JD: I know, I know! So I wrote to the three of them, and one of them got back to me. He was very enthusiastic. I would tell anybody who is looking for an agent, make sure the agent is excited about you and your project. Not just, "I'll do it…" Because it's hard for an agent to sell a book. Especially if it's short stories. So my agent sent my book of stories around for about a year. It finally sold to Jill Bialosky at Norton, and I've been with Jill and Norton ever since. I remember my editor saying, "You're the last guy I'll ever sell a book of stories for."
TBD: Your career is interesting and highly unusual for today in terms of sticking with one publisher for each book. And it's a publisher that's independent but has real chops in this business. Not to mention the fact that you write very quirky books that are not highly commercial, mainstream, etcetera. How can other writers achieve this kind of elusive success?
JD: First of all, the best readers you're going to get are your agent and your editor. They're generous. They want your book to succeed. And they know what they're talking about. Even if you disagree with them, I always say, just do what they tell you to do. Because they know the business. I don't know anything about the business. I don't want to know; I want to write. I also say, if you write something beautiful and moving and telling, it'll get published. But it may not get published when you want it to be, or where you want it to be. The important thing for a lot of young writers is getting it published. I steer them away from self-publishing. Some of them have, and that's alright. But you want to get the imprimatur of somebody else. Somebody else who believes in you. Small presses are as good a place to be published as large presses… I mean obviously you're not getting the same money. But the money isn't like it was before. You used to be sent on book tours. Now you're lucky if they give you lunch money. The important thing is to get yourself into the game. You get your book around. You have people reading it. Just don't give up. You owe it to your characters that you love to get other people to read about them. Until you get an agent, you're going to do the business work too, and persist with it. I think in some ways publishing is more democratic than it ever was.
TBD: When we go to these conferences, there's always one person who's telling writers, "You have to be on Facebook! You have to be on Twitter! You have to have a website, blah blah blah-" And you can see the blood draining out of writers' faces.
JD: The publishers want you to do work with them, which I understand. When I did my first book of stories, I set up what I called the Motel Six tour. I told them, "Get me the books and a bookstore, and I'll drive. I'll take my wife and my kid, and we'll drive to all the bookstores." And that's what I did. And they were all really happy, because this was before social media. I printed up a fake newspaper from Louisiana Power and Light, and Norton sent it around, and got hard copies to people. It was fun. They appreciated that I was willing to do it. I still do it. Somebody just asked me to do a bookstore in Baltimore. But I'm thinking, "How much is this going to cost me?" In the old days, they put me up in beautiful hotels. Paid for everything. Now, at least for mid-list people like me, it's not happening. And I don't think it's happening too much in general anymore. I also have gotten on Facebook because Norton said to do that. A guy helped me out. My wife is good at the computer. I think that's been kind of helpful. It's a nice way to spread the news. I saw there was a good review of my new book in the Tampa Bay paper on Sunday, and I put it online. Lots of people have liked it already. They know about the book, they buy the book. Twitter I've never been on. I remember once, Carol Houck Smith (who was an editor at Norton for years) and I were sitting together by these editors, and they were all answering questions with, "You need a platform." And Carol muttered under her breath, "I don't need a goddamn platform, I need a great book!"
TBD: What are you reading now?
JD: I tend to read a lot of books at the same time. I'm reading Lee Martin's new novel Late One Night, which begins with the death of a mother and three kids in a fire that may or may not have been arson. And I started Campbell McGrath's new poetry collection, XX, in which he writes a poem for every year in the last century, in the voices of some of the century's prominent figures, like Picasso. Mao, and Elvis. Also reading Wired to Create, by Kaufman and Gregoire, and Actual Minds, Possible Worlds by Jerome Bruner. I'm loving, if not completely understanding, Lawrence M. Krauss's A Universe from Nothing and Carlo Rovelli's Seven Brief Lessons on Physics.
TBD: How does teaching fiction help or hinder you as a fiction writer?
JD: It only helps. Every reading and every discussion of a story helps me see how stories work or don't work, including my own. We're all apprentices in a craft where no one is a master–I think Hemingway said that. This is the craft so long to learn. I always feel better at the end of class than at the start. I always feel like rushing home (which is actually impossible on Biscayne Boulevard) and getting back at whatever it is I'm writing. To be honest, there are moments that I would rather be learning about my central character's secrets than reading a story about goblins with swords, but I know I'll learn something about setting a scene, let's say, in the goblin story that will be valuable to my students and to me.
TBD: We hate to ask you this, but since you actually wrote a book about how to write a novel, we feel we have to. What advice do you have for writers?
JD: Probably the advice you were expecting to hear: read and write every day. No holidays for the writer. We always find time to do the things we love. We only have to want to write as much as we want to go to the movies. And if you don't love writing and reading, do something else. It's too hard, and discipline won't bring you to the writing desk. Only love for stories will do that. Here's Faulkner on reading: "Read, read, read. Read everything — trash, classics, good and bad, and see how they do it. Just like a carpenter who works as an apprentice and studies the master. Read! You'll absorb it." And Chekhov on writing: "Write as much as you can! Write, write, write till your fingers break."
John Dufresne is the author of seven novels, including I Don't Like Where This is Going and No Regrets, Coyote. Among other honors, he has received a Guggenheim Fellowship and is a professor in the MFA program at Florida International University. He lives in Dania Beach, Florida. For more information, please visit www.johndufresne.com.
John will be joining our Pitchapalooza panel in Miami on May 7, 2016, at 2 p.m. Learn more at the Miami Herald. 
JOIN OUR NEWSLETTER TO RECEIVE MORE INTERVIEWS AND TIPS ON HOW TO GET PUBLISHED. 
The other day, we got one of the best emails an author can get. It was from two dudes and it said, "Recently we released a memoir (Soft Skull Press) called, Buskers: The On the Streets, In the Trains, Off the Grid Memoir of Two New York City Street Musicians. We never could have done it without you AND your book The Essential Guide To Getting Your Book Published. We wanted to say hi and thank you!"  Of course, we wanted to know more. So we wrote back and said, "Do tell how it all happened!" and they did. Here's their story:
We would be hanging out at a party, getting our drink on, and guests would find out we were street musicians. That's when the Q's & A's would fly fast and furious. No shit? How much do you guys make an hour? (between $0.00 & $200.00) Do you need a permit to play on the streets? (not unless they catch you) Is there a union you had to join? (what are you, nuts?!)  And folks ate up our juicy busking war stories.  Like the time we beat a mugger into submission with our trusty microphone stands after he helped himself to about two hours worth of hard earned tips.  The conversation would almost always end with: "You guys should write a book!"
Yes, but how do we do that? The answer remained a mystery until destiny intervened. A mutual friend at Simon and Schuster recommended we pick up a copy of Arielle and David's book The Essential Guide to Getting Your Book Published—that's when the veil of confusion lifted. EGGYP provided the road map we desperately needed for organizing our thoughts into a solid proposal. With our confidence bolstered, we spent the next six months meticulously focusing on each and every component, until the Outline, Overview, Competition, Sample Chapters etc…  became a part of what several literary agents eventually deemed "the most thorough book proposal they'd ever seen."
Next, by adhering to the guidelines in the righteous chapter, Locating, Luring, and Landing the Right Agent we managed to concoct a rather killer query letter. Here is an excerpt . .
"Hi,
My brother and I are street musicians in a duo called Heth and Jed ( www.hethandjed.com ). Perhaps you've seen us playing in the subways. Over the last four years we've performed in excess of 1,000 shows, and sold more than 50,000 copies of our independently released CDs–all without ever leaving New York City. Together we've written a proposal for a book entitled, Buskers: The-On-the-Streets, In-the-Trains, Off-the-Grid Memoir of Two New York City StreetMusicians. We'd be thrilled if you would review our proposal and consider representing us."
Then it was GO TIME!  With the book proposal and query letter "in the can", we plunked down twenty bucks to join publishersmarketplace.com and sifted through a list of the Top 100 Deal Making agents. After boldly firing off an arsenal of query letters we sat back and hoped for the best. Within hours our inbox was filling up with top agents requesting a look-see at our proposal. For the first time we held out tentative hope that we might someday know the thrill of having our magnum opus published.  The more we sat and thought about the whole thing, the more surreal it became. Here we were, two accomplished musicians who couldn't get a record company to give us the time of day, but within hours of the initial mailing, the gatekeepers of the literary world appeared to be welcoming two guys with the combined SAT scores of around 900, with open arms.
In the end, we met with a bunch of prominent agents and eventually signed with Andrea Somberg at the Harvey Klinger Agency. We swear we didn't sign because she was the only one schmoozing us over pitchers of Brooklyn Lager . . . or maybe we did! At any rate, she was way cool and we believed she could sell our book.
Soft Skull Press subsequently published Buskers and our band was finally on the musical and literary map, receiving recognition not from the previously envisioned Rolling Stone or Spin Magazine, but in the form of book reviews from such sweet ass publications as theNew Yorker.
Presently, our book continues to unlock unexpected creative doors as we begin the process of adapting our story for the stage. Having our book "out there" has also separated us from the generic rock n' roll pack and we couldn't have done it without Arielle and David by our side. Like those two rockers from Aurora, Illinois once famously said, "We're not worthy!"
Our fabulous Kansas City Pitchapalooza winner, Genn Albin, gives us part 3 of 4 of her journey to a six-figure deal for her YA dystopian fantasy novel, Crewel: 
I was an agented writer. Now it was time to whip the manuscript into shape and outline the sequels. Mollie and I worked like fiends for three weeks, passing revisions back and forth and discussing submission strategies. During that time a sneak peek to one editor turned into a pre-empt offer. We kept working on revisions and opted to submit to a list of editors on the Friday before Memorial Day. On Tuesday we got our second offer with a choice of editors at the house. I took four phone calls that day to discuss editorial and marketing strategies. The next day we had two more, and a fifth offer came in on Thursday. That afternoon my agent asked for everyone to submit best offers and marketing plans.
Once again I found myself torn between two amazing choices. I knew I couldn't go wrong either way, but by the end of Thursday a final offer and an amazing marketing plan landed in my email. As soon as I saw it, I knew my choice was made. Not only did I have an enthusiastic editor offering, her enthusiasm was shared by her whole imprint.
My agent suggested I sleep on it to be sure and I spoke to her early in the morning to let her know I was sure. On Friday, June 3rd, exactly one month since my first meeting with Mollie, she sold my book in a three book deal to Farrar, Straus, and Giroux. I was going to be a published author!
As soon as I had the official announcements, I emailed it to Arielle and David. I can't share what David said because it's not PG enough for a blog post, but, suffice it to say, they were ecstatic.
So that's my wild ride, and what did I learn from it? A lot of people think this business is about luck, but I believe we make our own luck. It can be scary to tae chances and put your work out there, but there are so many opportunities if you're just willing to take a chance. I could have left my name out of the box at Pitchapalooza. I could have given up on getting my query into the live event. I could have chosen an agent who wanted to run spell check and submit. Those would have been the easy choices. But I was tired of dipping my toes in the water, so I jumped in the pool. And what do you know? I can swim.
We are asked all the time, "Do I really need an author website?" We are big believers in author websites, but we decided to take this question to the person we consider the expert on the subject: Annik LaFarge. Annik is the author of The Author Online: A Short Guide to Building Your Website, Whether You Do it Yourself (and you can!) or You Work With Pros. She also happens to have spent twenty-five years as an executive in the book publishing business, working at Random House, Simon & Schuster, Addison-Wesley, and Bloomsbury USA. She began her career as a publicist, and went on to become an associate publisher, marketing director, senior editor, and publishing director. And she was involved in the early efforts to create e-books and develop strategies for digital publishing. In the late 1990s, at the height of the dot com boom, Annik took a year away from publishing to join entrepreneur and journalist Steven Brill in the development and launch of Contentville.com, where she published an original series of e-books and oversaw the website's bookstore. In 2008 she left publishing to start her own company, Title TK Projects, which specializes in website project management, editorial work, and consulting on digital strategy. Author websites she has project-managed include MitchAlbom.com, FrenchWomenDontGetFat.com, MireilleGuiliano.com and TaraParkerPope.com. Clearly, Annik knows what the heck she's talking about. So we asked her to share with us the benefits of author websites. She was also kind enough to share with us her 10 ½ tips for being a more effective author online.
THE BOOK DOCTORS: In this age of social media, why is a website still important? Is it possible to just get away with a blog/Facebook page/Twitter presence?
ANNIK LAFARGE: Even in this age of social media, having a website is really, really important. A recent study by the Codex Group showed that that websites are one of the key ways people find out about books. Surprisingly, in terms of new book discovery, Facebook and Twitter are much less influential than author websites. Some of the reasons for this have to do with SEO (search engine optimization) and keywords. When you type in an author's name, his/her website is first thing that comes up. To be the first result that pops up in a Google search is reason enough to have a website. This visibility gives you the opportunity to control your message and to craft the experience that you want that person who is interested in your work—that person who has taken the time to Google you—to see.
Your website also gives you the opportunity to capture people's email addresses and to build a newsletter list. Your mailing list is extremely important, even if you're a literary fiction writer. People who give you their names and email addresses are telling you that they're interested in you and your work and want to know more about you; they want to be kept up to date. Even just a 100-person list matters because you can use it as a mini-focus group, testing book covers and plot ideas, and you can easily alert your fans about new releases. And over time that list will grow and grow.
THE BOOK DOCTORS: What are the top mistakes authors make when designing their websites?
ANNIK LAFARGE: The biggest mistake I've seen is building a website and not using it. People get excited, build the engine and then let it just sit there. You need to have a plan for your website—a monthly and yearly plan: what sort of content will you launch with? What will you add as time goes by? How frequently will you post new material? Enough to blog? If so, what will the voice of your blog be? What will be the first 10 things you write about? I tell authors to plan for their website the way they do for a new book: write an outline, like a book proposal, that includes not only the "big think" – the overall substance and point of view of the website – but also a list of all the different pages and what they'll contain. Think of it as a business plan for your site. Or to put it in more literary terms, it's like mapping out a long piece of nonfiction – for both the hardcover and the paperback edition.
THE BOOK DOCTORS: A lot of struggling writers are concerned about the costs of setting up a website. I know you write about doing it yourself, but if you don't have the time or inclination, what's the minimum a person can spend and still have something that looks professional?
ANNIK LAFARGE: Anybody should be able to get a fine looking blog/website using WordPress, Sandvox (only available for Mac) or Squarespace; these are content management systems that allow you to customize a site off an easy-to-use template for nothing (in the case of WordPress, which is purely open source) or less than a hundred bucks. If you're working with WordPress pick a theme you like at themeforest.net—my favorite of the theme sites but there are zillions on the web. And if you're intimidated by technology then hire a designer who can create a nice banner and who knows how to do the basic programming (so you don't have to hire a separate programmer). This can be done for as little as $500 and most designers these days are very comfortable in WordPress particularly. BUT, there is a very strong argument to be made for building a website yourself. Writers care enormously about how they present their ideas and their presence on the page, and having control over their own "content" is extremely important. Understanding how your website or blog works – how to post new material, set up new sections, add photos and videos, link up with Facebook and other social media venues – means that you can always make changes and additions whenever you like; you'll never be dependent on a webmaster or an overworked publicist again. For many authors a website is their beating heart in the public space. Creating one can feel daunting – anything more technical than Microsoft Word intimidates many writers – but it's enormously empowering and creative, and the technology has evoloved to the point where honestly anyone can do it.
You can map out the structure for your website – e.g. create your own "wireframe," which is to a website what a blueprint is to an architectural project – at a cool new site called GoMockingbird which is very easy to use and inexpensive. Or you can do it the old-fashioned way, using a pencil and an 8 ½ x 11 sheet of manuscript paper. But sketching out a site – putting your plan on paper – is a great way to work through your ideas about who you want to be on the web, and it can save you lots of time and frustration later on.
THE BOOK DOCTORS: You are now a self-published writer. What platform did you use? What was the costliest part of the process? What was your favorite part of the process.
ANNIK LAFARGE: I went the more complex route by setting up my book at many different retailers. I used Amazon's CreateSpace for the POD (print-on-demand) paperback version of my book and am very happy with them; they have great customer service and excellent help documentation. Early on I decided I wanted my book to look like a real book – even the ebook version – so I paid a designer to do a proper interior and a cover. I thought I could do the Kindle conversion myself but I made a real hash of it, so I sent the manuscript to ebookconversion.com and let them create the ePub edition. Then I set up accounts at Apple's iBookstore (using iTunes Connect), Barnes & Noble's PubIt! (for the Nook), and Google Editions, and I simply uploaded the file at each place, created all the metadata (description, bio, etc.), and I was in business. For awhile I even sold a PDF of the book myself, on TheAuthorOnline.com, using an online tool called e-junkie, which allows you to sell digital products very easily and inexpensively. I could have gone to Lightning Source, which is a great company, and they would have streamlined the whole process for me, but I wanted to learn about each and every step along the way myself, and I make more money this way on every sale. It was time-consuming, but generally fairly easy to do. The most complicated part was dealing with Bowker who you have to go through to acquire an ISBN (the unique identifier for your book that retailers use to display and sell your book). But I've trained myself to go into what my partner Ann calls "the Sufi state" and become deeply patient before I visit any e-commerce site I want to partner with. I've found that eventually I can slog through and figure out just about everything I need to do, and there's a particular satisfaction in that. Call it author empowerment.
What I love about ebooks and POD is how nimble they allow an author to be. You can update the content any time you like, and also change the price at will. You don't get locked into decisions. And if you set up your own website, as I did with TheAuthorOnline.com, you get the benefit of the huge amount of traffic data that Google Analytics provides – for free. So you can learn a great deal about who your readers are.
My advice: start slow, be smart, have fun, and just get on with it.
Annik's 10 1/2 Tips for Being a More Effective Author Online
No. 1: Think Like An Author
One of the things that authors (unlike other mere mortals) do is organize their thoughts and ideas. You don't just sit down and write a book from page 1 to 300; you do a lot of thinking, researching, and planning. Tip #1 is to approach your web project in the same spirit. Put on your author hat and make notes and an outline. Start with several general questions that will help inform the overall organization of your website or blog:
– Who am I as an author? If you were writing the opening graf of a newspaper profile of yourself, what would you consider the ideal description of your work? Where would you place the greatest emphasis? Where the least?
– And then: What do my readers want? What sort of questions do they ask you when you make public appearances? What do they say when they write letters or emails to you?
– And: What do I want my readers to know about me that they may not currently know? This is your chance to write the Ur Q&A. Consider it a work-in-progress: post it, then keep adding to it as time goes by and your writing and career develop.
No. 2: Make a Content Plan, Part 1: Static Elements
Make a list of static elements that you want to include on your website: content that doesn't get constantly updated or newly created like entries in a blog. First focus on things that you already have or would be easy to create: sample chapter(s); biography; reviews; Q&A; etc. Then start another list: stuff you'd love to add in the future (The Author Online contains an exhaustive list of features that readers say they like on author websites). Then go back and prioritize your master list and arrange the items into broad categories that could serve as the navigation on your site: Books (do you subdivide Fiction & Non-Fiction?), Bio, Journalism, About, etc. These are the categories that make sense to you, based on the work you did in Tip No. 1.
No. 3: Make a Content Plan, Part 2: New Elements
Consider where your new content will come from. Do you want to blog? (Do you have time to blog? Will you run out of steam after 3 months?) Will you write occasional articles/essays to post on your site? Will you share early chapters with your fans? Invite them to vote on jacket art from your publisher? Will you constantly post new links to bloggers, videos, new studies/research in your field, etc.?
No. 4: Be Smart Today and Plan to Grow in the Future
Websites evolve. The best thing you can do is be smart and focused at the beginning, and assume that you'll grow your online presence with time and valuable feedback from fans, traffic data, and other sources. So if you're just starting out be honest with yourself about how much time you can devote to your site; be ambitious but also realistic about your plan for adding new content. Focus on quality of content not quantity, and always circle back to the questions you asked yourself in No. 1: what do your readers want? What do you want them to know about you? Then think about what's the best way to deliver that on your site and map out a plan for the coming months. And be sure to keep a handy list of "Future Features" and ideas for new content. Tip 4a: Set up a Dropbox account and keep your list in the cloud so you can always access and update it. This is particularly handy if you travel a lot, and you can install Dropbox on any mobile device. (See here for more about how Dropbox works. While you're there, check out Evernote, another great app that helps you keep track of stuff you find online.)
No. 5: Build a Mailing List
Even if you don't intend to send out an email newsletter create a sign-up form and place it conspicuously on every page of your website or blog. Do this on Day 1. You may not see a reason to have an e-letter today, but in a year or so you may. People come to your website because they like your work or they're interested in your subject; give them a simple way to stay in touch. An author's email list has tremendous value, and it will grow over time. Start now.
No. 6: Use an ESP
Use a professional email service provider (ESP) like MailChimp or Constant Contact. Some of these services are free until your list reaches a certain size (like MailChimp) and there are many benefits: they provide simple templates for creating professional-looking emails; easy opt-out links for your subscribers; and vast riches of analytic data about who opened your emails, what they clicked on, how many times they forwarded it, where they live, etc. From that data you will learn to do things better and more effectively in the future.
No. 7: Be Creative About Your Newsletter Signup
You don't go on the radio and simply say "buy my book, it's a great read." You say: "buy my book because I describe all the best tools and strategies for killing a zombie and tell you how to prepare yourself in both an urban and a rural setting." So in your newsletter signup offer some specifics about what your emails will deliver. For a very good example of a smart newsletter sign-up see the form that SocialMediaExaminer.com uses. They promise a value-add (a free video tutorial on using Twitter), and the text has a real voice. Another example of a creative newsletter signup is the blog CrazySexyLife.com. The first signup box I saw there (in 2009) had three separate options: daily, weekly and monthly, so the reader could choose how much of author Kris Carr's stuff she really wanted. Recently Carr updated her newsletter signup and it's still great, but very different and now she also offers a free piece of content for folks who sign up. You'll find screenshots of all these examples at TheAuthorOnline.com/newsletter
No. 8: Use Google Analytics
Set up your Google Analytics account on Day 1 and get addicted. As you gain traffic you will find this a terrific editorial tool because you'll know what your readers are looking for, what they actually spend time reading, where they come from (country, state, city), and much more valuable data. Nothing will teach you more about how you're doing online than Google Analytics, and it's free. Don't forget: launch it on Day 1.
No. 9: Visit Your Own Site Regularly
Go to your website at least once every few weeks and test your links (they have an uncanny way of breaking for no apparent reason). While you're there, chances are that something will strike you: "gee, I could do this better," or "that featured article is feeling a bit long in the tooth, it's time to replace it with something else." Be objective, be critical, be creative. Test new things and check the results in Google Analytics. Then lather, rinse, repeat.
No. 10: Have Fun, Be Empowered
Websites are stressful – everybody knows that. But remember all those times you had a great idea for your publicist and it just never got off the ground? Well, guess what: with your own website you can do a whole lot on your own. And once you start understanding how to use it well, and you get in the groove (and you build up your mailing list, social networking fan base, RSS subscribers….) you'll be able to reach your readers directly whenever, however, you want. And you can invite them to provide their feedback, both publicly (through blog comments, message boards, and of course in social networking environments) or you can keep things quiet and just enable people to email you via the site. You can start small and grow. Most of all, can you can do it yourself. Visit TheAuthorOnline.com for a rich (and constantly updated) list of resources, sample author and book-specific websites, online tools, articles, links, and more. Please email me and tell me what you think I can do better, or simply alert me to your web project. I'm interested, and many others are too. Most of all, have fun.
Good luck with your project!
annik lafarge
,
author websites
,
barnes & noble PubIt
,
constant contact
,
crazysexylife
,
createspace
,
dropbox
,
e-junkie
,
ebook
,
ebookconversion
,
gomockingbird
,
How to market a book
,
mailchimp
,
publish an ebook
,
sandvox
,
Self publish your book
,
self-publishing
,
social media examiner
,
squarespace
,
the author online
,
the book doctors
,
themeforest
,
wordpress
http://www.likoma.com/the-essential-guide-to-getting-your-book-published/
Arielle Eckstut
,
Book doctor
,
Book editing
,
book publishing process
,
David Henry Sterry
,
find a book publisher
,
Get a book published
,
get my book published
,
get published
,
getting a novel published
,
getting your book published
,
how to
,
How to get a book published
,
how to get books published
,
how to get my book published
,
how to get your book published
,
How to market a book
,
How to write a book
,
how to write a book and get published
,
how to write a book proposal
,
how to write a query letter
,
independent book publishers
,
internet book publishing
,
non fiction book publishers
,
on demand book publishing how to market a book
,
poetry book publishers
,
publish an ebook
,
publish my book
,
publish my own book
,
Publish your book
,
publishing a novel
,
publishing help
,
Query letter
,
Self publish
,
Self publish your book
,
small book publishers. how to find a literary agent
,
Social media for writer
,
steps to publishing a book
,
the essential guide to getting your book published
,
writer's help
,
Writing guide
Bradley Charboneau is THE MAN when it comes to authors & websites. Check it out!
Arielle Eckstut
,
Book doctor
,
Book editing
,
book publishing process
,
David Henry Sterry
,
find a book publisher
,
Get a book published
,
get my book published
,
get published
,
getting a novel published
,
getting your book published
,
how to
,
How to get a book published
,
how to get books published
,
how to get my book published
,
how to get your book published
,
How to market a book
,
How to write a book
,
how to write a book and get published
,
how to write a book proposal
,
how to write a query letter
,
independent book publishers
,
internet book publishing
,
non fiction book publishers
,
on demand book publishing how to market a book
,
poetry book publishers
,
publish an ebook
,
publish my book
,
publish my own book
,
Publish your book
,
publishing a novel
,
publishing help
,
Query letter
,
Self publish
,
Self publish your book
,
small book publishers. how to find a literary agent
,
Social media for writer
,
steps to publishing a book
,
the essential guide to getting your book published
,
writer's help
,
Writing guide
We were lucky enough to share a Pitchapalooza stage in Pittsburgh with one of the savviest writers we've ever met: Nancy Martin. She's written 50 books. 50 BOOKS! When she told us that we felt small & stupid. She's the winner of the 2009 Lifetime Achievement award for mystery writing from Romantic Times magazine. Her tag line says it all: Just keep reading & nobody gets hurt. She also helped found a writer's workshop/conference called Pennwriters.
Here 's her advice for new writers: First of all, the best way to start writing is…to start writing. You can talk about your ideas until the cows come home, read how-to books until you′re cross-eyed and whine that you can″t find the time to fulfill your dream because of your job, your family or other outside pressures. Thing is, only you can make a career in writing happen…
This is her very cool website: http://www.nancymartinmysteries.com/
Thanks Nancy!
Arielle Eckstut
,
Book doctor
,
Book editing
,
book publishing process
,
David Henry Sterry
,
find a book publisher
,
Get a book published
,
Get a book published How to get a book published
,
get my book published
,
get published
,
getting a novel published
,
getting your book published
,
how to
,
how to get books published
,
how to get my book published
,
how to get your book published
,
How to market a book
,
How to write a book
,
how to write a book and get published
,
how to write a book proposal
,
how to write a query letter
,
independent book publishers
,
internet book publishing
,
Nancy Martin
,
non fiction book publishers
,
poetry book publishers
,
publish an ebook
,
publish my book
,
publish my own book
,
Publish your book
,
publishing a novel
,
publishing help. on demand book publishing how to market a book
,
Query letter
,
Self publish
,
Self publish your book
,
small book publishers. how to find a literary agent
,
Social media for writer
,
steps to publishing a book
,
the essential guide to getting your book published
,
writer's help
,
Writing guide
Robert Gray–Shelf-Awareness columnist, writer, and former bookseller–moderated a panel called "Getting Your Book into Print", on which Arielle sat at the Mountains and Plains Independent Bookseller Association convention last month. Robert had so many interesting things to say about the business that we tracked him down afterwards and interviewed him. Having been at the Northshire Bookstore in Vermont (one of American's best bookstores) for years, Robert had much to say about how authors should approach independents. And perhaps even more to say about how they should not! We've gathered seven essential dos and don'ts here.
Before we get to his list, we wanted to share something Robert said that we love and have used many times since: "Bookstores are the last three feet of the publishing business, the place where the industry and the real world meet." Bookstores are the rare place where you have access to industry professionals without a connection or having to pay large sums of money. You can't just call up or pay a visit to an agent, publisher or editor. But you can do this with a bookseller. That's why it's incumbent upon authors to consider bookstores sacred spaces and booksellers sacred resources!
And now to the list…
1. Don't walk blindly into a store. Secretly explore it first.
2. Check out the "staff pick" cards to find a friend–the person who reads the kind of book you're writing. This person may or may not be a buyer. Then find out when they're working and start up a conversation about what they're reading.
3. Whoever you're talking to at a bookstore, always create a conversation, not a pitch. Booksellers are resistant to pitches.
4. NEVER SAY: Why don't you have my book?!
5. Booksellers are the most under-appreciated and underpaid people in the industry. They're expected to have graduate level reading experience at retail salaries. That's why you must show RESPECT when you approach a bookseller. To receive respect, you must give it!
6. Never go into a bookstore on a Saturday afternoon (and even worse, a Saturday afternoon before Christmas) to hawk your book or get advice from booksellers.
7. Most buyers are not around on Saturdays, often not on Friday either. The exception here is if you're approaching a very small store where everyone does everything. Ask for the buyer's email address and try to make an appointment with the buyer. Be a professional.
And here's one last piece of wisdom from Robert that we didn't want to lose: You may not realize this, but booksellers, much like writers, are constantly dealing with rejection. Your job as an independent bookseller is to hand sell and create a conversation with customers, i.e. to talk people into buying a book (or, even better, multiple books). Booksellers spend their days pitching books to customers with their hearts and souls and get rejected all the time.