Selling your First Novel, Maximizing Writers' Conferences and Making a Living While Writing
We are lucky to live in a town called Montclair, New Jersey. We had no idea when we moved here how many amazing writers would live within a stone's throw of us. One of them is Christina Baker Kline. We got to know her before her New York Times best-selling novel, Orphan Train, was published. She was at the center of the writing community in Montclair, helping writers both published and unpublished to get their foot into the door of the book biz. It often seems like a bestseller comes out of nowhere, fully formed like Athena springing from the head of Zeus. But as you'll see from our interview with Christina, a groundbreaking novel, like Rome, is not built in a day.
The Book Doctors: You were a writer for many years before you had a mega bestseller. Take us down the path of your decision to become a writer, the arc of your career, and how it led up to your most recent success.
Christina Baker Kline: I have always been a working writer, by which I mean I was a scrappy kid. I was raised by professor parents who had no money. My mother taught at a community college. When I was about 11 or 12, she put me in charge of cooking, and she put my sister Cynthia, who was about 18 months younger, in charge of laundry. She had to stand on a box to do laundry. And so we became quite self-sufficient. We also took care of our two baby sisters. We called them The Babies until they were 12. And I remember one of my sisters saying, "You have to stop calling us The Babies. We're not babies anymore."
In college, I majored in English literature. I did a Masters of Arts in literature for graduate school, and then I did an MFA. For me, as it so happened, English was a marketable degree, even though people might not think of it that way, because that's where my skills lie. My masters in English literature helped me get teaching jobs. For my MFA, I knew that I could stave off student loans for two more years, and I also wanted to write a novel, but I knew I would never be able to do it if I was working full-time. So I applied to ten programs. I got full fellowships at two, Michigan and The University of Virginia, to, as far as I was concerned, write a novel. They didn't know I was going to write a novel. MFA programs are not set up to write novels. But I was very directed. I had one shot, and then I was going to be repaying student loans and working. I wrote my first novel in two years while pretending to be writing short stories. I kind of handed in little bits and pieces and old stories.
I also was an entrepreneur, and I had a company called Writing Works, which I started with another grad student. We edited Guggenheim applications, professors' essays, and letters. Books even. Then I came to New York and continued that little company. I've always set up a life in which I was working as an editor and teaching.
I've always assumed I would have to make a living in addition to writing. I have ten books, and I've always gotten reasonable advances. I broke six-figures once in that period of all those books, but I always had high five-figure advances. Sometimes I could support myself for a year, and sometimes I couldn't. But the big picture is, I always knew that I wanted to write, and I always assumed it would also entail making a living in some other way as well. So I never expected to write a book that would mean I wouldn't have to do other jobs.
TBD: What happened to that first novel?
CBK: For my first novel, I got $7,500. It was the little engine that could, and it far surpassed my modest expectations. We sold rights in other countries. We sold film rights, first serial rights. It was a Reader's Digest Condensed Book. For $40,000, Reader's Digest bought it. That was huge because the book had earned out way before it came out. This led to a bidding war for my next novel. Of course, that's how I thought it would continue forever. But the second novel did very poorly, and I had gotten a big advance. So I sold my next novel for a reasonable amount and got myself back on track in terms of publishers not being terrified to take me on. And then my next book was much darker, more serious. That didn't do so well. My career was very up-and-down. That brings us to Orphan Train.
TBD: It's interesting that you've never really experienced full-on rejection in the way that most writers have. Despite the ups and downs, it sounds like a really nice run!
CBK: Not exactly. I have been protected a bit from rejection. But I went through one very dark period. I had this wonderful experience with my first novel. I had a lot of interest in my second novel. But the editor who bought it was a celebrity editor; she was not hands-on. She took on a lot of writers like me, paid them well because she had a big budget, and then waited to see who would rise to the top. She'd tell me she read the manuscript but didn't seem to know the story. Her assistant would call and say it was in the pipeline, and I would know it wasn't. Crazy. I had just had my third child, my second book had done poorly, and my life was kind of a shit show.
TBD: You've written many different kinds of books. Now you have a huge bestseller. Do you feel pressure to recreate Orphan Train?
CBK: As you said, all of my books are really different from each other, and they probably always will be. I don't feel constrained by the weight of Orphan Train. I feel freed by it in a way. Nobody ever thought Orphan Train was going to be a bestseller. There are these books–Eat, Pray, Love, or Water for Elephants, or The Lovely Bones–that writers publish and then have respectable careers, but they don't repeat that level of commercial success. I fully intend to be that kind of writer. I don't plan on having another one. I'm not a writer like Stephen King whose books will always be at the top of the bestseller list. And I don't feel bad about it.
Look at a writer like Claire Messud, who made a big splash with her novel The Emperor's Children. That was her big book, and she's very respected. But if you read her other novels, they are very dark and intense. It's who she is and what she does, and she's not trying to write to an audience.
My next book is quiet and interior; it's about a woman who essentially never leaves her house.
Another thing: after I handed in Orphan Train, before it came out, I called everyone I knew in publishing and asked for jobs. I thought, "I have to get a full-time job as an editor. I can't do this anymore. This book is probably just going to fail." I was editing 50 manuscripts a year and teaching. It was grueling. I had several interviews, and they all basically said, "You're too old. There's no way we're hiring you as an editorial assistant or anything else." They didn't say that, but it was clear. I thought, "What am I going to do? Just work at Starbucks or something?"
TBD: You still teach at writers' conferences. I see you're going to be at the Kauai Writers Conference in November. (So jealous!) What impresses you when you come across someone who has never been published when you're in this environment?
CBK: I was reading The New York Times on the plane yesterday, and there was this person talking about what leads to success. He said there's an equation, which is Talent + Work = Skill. Skill + Work = Success. But Big Success is when you have a vision of how what you're doing makes the world a better place. So what I guess impresses me is when they have the talent, the work ethic, the willingness to read a lot, and are willing to edit their own work–a lot of people aren't. To me, editing is the secret to writing. I edit so much, and I think it's very important. In literary stories and novels the sound and rhythm of words matter. But understand that even if you want to write a literary novel, plot and structure are incredibly important.
TBD: And on the flip side of that, what do you see people doing that's a turnoff
CBK: If people want things from me but they don't know my work, or they haven't read it and have nothing to say about it, then I'm as anonymous to them as they are to me. If I don't feel they have any particular reason for approaching me, I don't have any particular reason for helping them. But if a writer knows my work and has some kind of connection to it, I'm open to being approached. I love discovering and championing great new writing. It's one of the best things about this writing life.
TBD: We can't wait to read the next book, Christina!
Christina Baker Kline is the author of five novels. Her most recent novel, Orphan Train, has spent more than two years on the New York Times bestseller list, including five weeks at # 1, and has been published in 38 countries. More than 100 communities and colleges have chosen it as a "One Book, One Read" selection. Her other novels include The Way Life Should Be, Sweet Water, Bird in Hand, and Desire Lines. Her new novel, based on the iconic painting Christina's World by Andrew Wyeth, will be published in Winter 2017.
In addition to her five novels, Kline has written and edited five nonfiction books. She commissioned and edited two widely praised collections or original essays on the frist year of parenthood and raising young children, Child of Mine and Room to Grow, and a book on grieving, Always Too Soon. She is the coeditor, with Anne Burt, of a collection of personal essays called About Face: Women Write About What They See When They Look in the Mirror, and is co-author, with her mother, Christina Looper Baker, of a book on feminist mothers and daughters, The Conversation Begins. Her essays, articles, and reviews have appeared in The New York Times, the San Francisco Chronicle, Money, More, Psychology Today, among other places.
JOIN OUR NEWSLETTER TO RECEIVE MORE INTERVIEWS AND TIPS ON HOW TO GET PUBLISHED.  
We met JoAnneh Nagler a few years ago. She was such a charismatic, wise, energetic evangelist for artists looking to become better business people and make better financial choices. Now that her new book, How to Be an Artist Without Losing Your Mind, Your Shirt, or Your Creative Compass, is out, we picked her brain about books, writing, art, money, and whatever else we could get out of her.
Read the interview on the Huffington Post.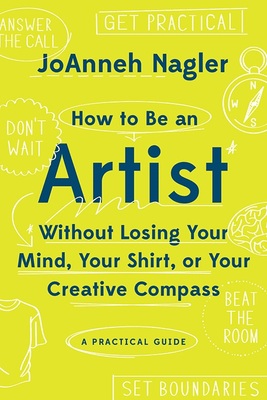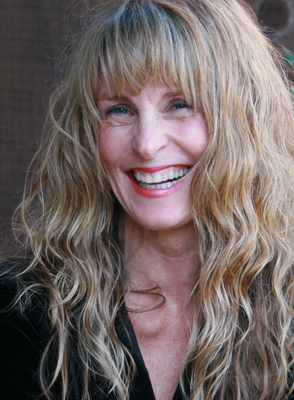 The Book Doctors: You do so many creative things in your life: writing, music, fine art. Where did that creative impulse originate?
JoAnneh Nagler: I realized I was artistic at about the age of seven. When I think about where my well of creative impulses lives inside me, I immediately think of the brilliant Dostoyevsky quote, "Beauty will save the world." I guess that's what I'm up to in my art life–to create more beauty in the world.
What's telling, though, is that when I was growing up and becoming an adult, I didn't think to value my creative gifts above my brain, or give myself permission to develop those talents so I could share them in a serious way. "Artists are poor," I was told. "They fight with their families about whether or not to do their art, and they usually end up giving it up to raise a family or get a job." That extreme thinking caused a lot of suffering in my life, until I found a way to live as an artist without losing it, quite literally.
In my book, How to Be an Artist, I use the term "artist" in the broadest sense of the word, encompassing all of the entrepreneurial stuff that creative people do. That means painters, writers, sculptors, musicians, actors, but also gallery owners, new-millennium bloggers, designers, inventors–you name it. And that's important because there are millions of us creating with ambition. We're not hobbyists.
Hence, the theme of my book: we need to give up the extreme thinking that we either have to starve or be a multi-millionaire in order to live a creative life. We need a new model of balance that helps us live a decent life and make art at the same time. That's what I'm up to in my life and in my book.
TBD: How did you first become a published author?
JN: The road to becoming published began, for me, with an act of service. I had no real ambition to write a personal finance book. I had fallen on my face with debt, and I came up with a simple, five-minute-a-day plan to live debt-free–something so easy that I could keep my head in it without checking out. I started sharing it with friends, and my best friend came to me and said, "You need to write this down. This saved my marriage." So I sat down to see if I had anything to say, and I wrote The Debt-Free Spending Plan.
Writing to be of service was the key that led me to the How to Be an Artist book: understanding that creating is unlike anything else we do in our linear timeline. It requires blocked out hours where we can explore in an undisturbed way, where we can craft something from scratch and experiment. It requires learning how to be of service to our artistry, and that means grabbing hold of a few tools we can apply simply and easily that will help us get our hands in our art.
TBD: What did you learn from your first book, The Debt-Free Spending Plan, that you were able to apply to your second book?
JN: I learned that if I'm going to offer helpful insights to readers, then I need to make them easy and practical in the real world. I want everything I offer to be workable in crazy, pressure-cooker, swirling lives. I'm essentially writing from my own failings in my books–from the stuff that I fell on my face over in art, money, time, motivation, love, crafting a life–stuff that had me face-first on the sidewalk sometimes. Now that I know how to navigate some of this stuff from having learned it the hard way, I'm hoping to offer a short-cut, a painless path for others. I'm offering easy-on-the-soul tools to help us get to fulfillment faster and with less pain than I experienced.
When I wrote The Debt-Free Spending Plan, I had no idea if anyone would publish it, so I wrote one hour a day, four days a week. I was beginning to practice what I now preach: that is, a balanced life, with a "slow, steady steps" approach to making art. That's an important point about writing non-fiction for me: I had to live the principles I was writing about, both for the debt-free book and the art book, and I had to write from a place of my frail and flawed humanity.
For instance, I loved the 1990s books on artistic process that asked me to write in a journal every day, do ramp up exercises, even do my mending when I'm blocked, but realistically, I don't have that kind of time. Most of us don't. We have day jobs and families and crazy-busy lives, and we need practical strategies to get to our art quickly or we won't get there at all.
So that's what I crafted in How to Be an Artist: tools for managing time, work ethics, motivation, balancing a day job–even money clarity–so we can get to the stuff we love right now. I figured out for myself that it's not the glory-outcomes that put me at ease when I'm pressed to create something; it's getting my hands dirty, in my art, on a day-to-day basis.
TBD: Is this a cliché, or have I really noticed that many people who devote their lives to the creative arts seem to be not very good with money?
JN: It's not a cliché. It's true. But it's not true because we artists are flawed individuals who flounder because we can't get it together long enough to address our money or our lives. The truth is, we've been schooled in completely insane and culturally-wacked ideas about what it means to live as an artist, and we instill them in both kids and adults.
We're told that if we're a "real" artist, we should be willing to starve and struggle–tanking our life, essentially–in order to make art. And that doesn't work. We're sensitive creatures, and struggling is like running too much electricity through already delicate circuits–it sucks up all of the air in the room for making art, and it ruins our life, too.
The other end of the pendulum swing is the myth that a "real artist" is someone who's had instant multi-millionaire success or has a grandmother's trust fund to live off of and doesn't need a day job. All of that is bunk.
Here's the definition of a real, working artist: a person who works on his or her creative work on a regular basis. That's it.
That's the whole premise for my book–that we can learn how to put supports under our feet, live artistically, and have a decent life–not just for now, but for years of our life.
Specifically, regarding money, we artists need simple clarity–not so we can be good little corporate citizens or work on our credit scores, but so we can buy ourselves time. Money clarity buys us time; that's the simple truth. It offers us the support we need when the call comes to go to South America for three months and teach music, or the inspiration comes to craft a 16 by 20-foot installation piece and we need to buy supplies. It allows us to answer our own artistic callings, plain and simple.
What we want to build is an artist's life. Not a flash-in-the-pan idea that we're praying is going to save us from having any more responsibilities in the outside world. So we have to give up the 'kick-starter' idea of making an instant, uber-splash and banish all of that cart-before-the-horse hype that says "do what you love and the money will follow." All we own as an artist is our labor. We have no control over how the world will receive our gifts because we are blazing a brand new trail every time we create. But that's why we do it. It's all on us for one simple reason: no one else can replicate our own, exquisite creative voice.
TBD: Why do you think we live in a society where so many creative artists are asked repeatedly to give their work away for free?
JN: I think there's an identity issue wrapped up in this question. For example, a friend of mine likes to say, "I'm a potter, and I fix cars to support myself." That's a very different definition than saying he's a mechanic and does a little pottery "on the side." And that definition affects what he charges for his work and how he approaches showing it. He is a professional potter. And he does something to support himself that he can live with. That's the framework we need to make art over time.
We need to own our identity as an artist. When we do, it tends to make sense of our life choices, our day job, our timelines, and helps us professionalize our work as well. Why do we care if our work is professionalized? Because when we take our artwork out into the light of day we get more than a chance to sell it: we get feedback. We see how it lands on other people's hearts. We see its value. We learn how to tweak and adjust and get better at expressing.
When I wrote my first music CD, I really didn't know much about song structure and I had a tendency to over-write musically. I don't think I was even aware that I was songwriting in the Americana-folk-pop tradition. By my second CD, I knew who I was writing for, and I knew how to get to the form quicker. That professionalization helped me finesse, and it guided me on how to value the product.
I had a mentor who asked me to monetize all the skills I learned songwriting, laying down tracks, co-producing, editing, supervising the mixing, and marketing that CD–meaning, I had to put down a dollar value of what those skills were worth in the outside world. And it woke me up–it was worth hundreds of thousands.
I'm saying we have to get better–and we will as more of us bring our work into the light with a solid support structure under our feet–at finding ways to pay artists, ways to earn. We are beginning to think more entrepreneurially, and as we get clear about our personal time, money, life structure and goals, we will learn the value of investing in the stuff that earns.
TBD: Follow-up: What do you advise artists do when someone keeps asking them to work for free?
JN: I do a lot of different things in my art life. I make music CDs; I paint large abstracts; I write plays, travel articles, and books. I still have things I'm dying to do: design clothes, for instance, and write novels. But I don't know which ones are going to pop. All I know is that I need to answer the call when it comes, or I quite literally start getting agitated and dissatisfied in my daily life. (I have learned this the hard way.)
What I do now is set up my life like school: a handful of hours for my day job, a handful more for my family life and health, and then I map out the rest–my "flex hours," as I like to call them–with the creative things I want to get my hands in. I never know which ones are going to earn. But if I'm supporting myself well with a day job or a situation I can live with–one that's not creating struggle or angst in my life–then I'm free to explore whatever I choose to explore, and the results can take their own course.
That doesn't mean I don't lobby for the best earning power I can command, based on my work. What it does mean is that I'm not in a rush anymore to insist that my projects instantly deliver a payoff. I don't use debt anymore, so I'm not pressed financially and I'm not desperate. I can choose whether I want to give away something to get exposure, or wait and hold back until my art pieces generate the kind of value-field I'm looking to play on.
I'll give you a great example of this approach. As I said before, I wrote my first book by writing one hour a day, four days a week, and it took me a little over a year and a half to finish it. No rush, but not that long in the scheme of things, right? I was just setting aside some time to see whether I had something I really wanted to say. I also worked a couple Sunday afternoons a month recording music, and I wrote travel articles a handful of hours a month. That sounds like I'm just crazy-motivated, since I have another job teaching yoga, too, but it really was the use of a simple tool–a time map I describe in my book–that got me into the things I wanted to explore.
Without the intense cart-before-the-horse pressure to perform that I used to put on my creative work, my projects get a normal growth arc, like a kid. We can't expect our artwork to save us in instantaneous glory, or to have the maturity of a twelve-year-old when it's only a two-year-old.
Art needs time. It's not a paved path to "success," like going to medical school or getting a computer science degree. As artists, we're building the path as we go. Yeah, it's a drag that we sometimes have to give away stuff to get exposure. But when we're supporting ourselves well already, we can choose to play in that pool–or not–depending on what our personal goals are. The point is, we're building something, and that building takes time. We have to be willing to let that growth arc happen, and the way to do that is to put steady supports under our feet while we're creating.
That's a roundabout way of answering your question, but it's the heart of it, I think. Simply put, our pleasure lives in living the life of an artist, not in the outcomes. We deserve to have that pleasure, and we can learn how to support it.
TBD: How do you personally juggle being an artist and entrepreneuse?
JN: I've had to get good at this, and it did not come easy–not by a long shot. I spent years burying my artistic gifts in business jobs, then, on the other extreme, quitting and living on my credit cards because I hated my life without art. I was a victim of the pendulum-extremes of our artist stereotypes, either by underearning and starving, or by burying my art. I was unhappy a lot and terribly frustrated because I couldn't figure out how to live with my gifts.
When I started taking the art life apart, the first thing I had to do was get a day job I could live with. That meant giving up the fast-money, "important" grant writing career (which was bringing me all kinds of grief and frustration) for a more humble yoga-teaching job, which ended up working incredibly well with my writing life. (It makes me get up from the screen and move around.) It meant I had to learn to live on less money and within my means so I could buy myself time to work on whatever I wanted to work on.
Then, with that foundation under me, I had to learn to set aside regular time for creating while having a job and a life. I use a time map that I can sketch out in five minutes, which I share in the book, which gives me moderate goals and buffer zones in case everything goes to hell and tanks my art time. I separate out the hours for creating and the hours for marketing, noting that though we're all hyped up on it, tweeting twenty times a day is not creating art. It's a different animal. I need the animal that calms me down–and that's my art.
I want to keep increasing my earning power, but I need to be content while I'm at it–to give up angst-filled jobs and pressure-cooker situations and craft a life I can live with without getting nutty or being angry.
TBD: What gives you more pleasure, to write a great song or to make a shitload of money?
JN: Both. Truly, when I make money at my artistry–even small amounts–it gives me pleasure because it's a validation of following my own guidance in the world. I'm being recognized for what I'm offering. But I can't work from an outcomes-oriented perspective. That's the point of setting aside time to craft art. I have to silence all of the outside voices–including the need to "succeed" monetarily–so I can hear the callings inside me and get them out. I have to work in both the ethereal, spiritual world of creating art and the practical, feet-on-the-ground realm of the birthing something onto the earth.
I'm not clueless though: I know that I've chosen to walk a path very divergent from what most other people walk. I'm ambitious, so even as I'm writing my "how-to" books, I see the arc of what I'm doing. I'm building a library of ways to help others with the stuff that made me fall on my face–hopefully in a very human tone with all of my failings and frailty present in the text–and my prayer is that it's giving readers shortcuts for an easier walk than mine. My painting and my music are all about finding an intuitive kind of beauty, things that are not intellectual and encourage me to feel and intuit, rather than think. In all of it, I find, I'm coming to some kind of happy acceptance with being human.
Though my ambition certainly involves earning, and sharing, what's at the heart of it is what my dear friend Mary Ellen (now about 97 years old) said to me once. She said, "See the faces of the people you're going to help, the hearts that will be lifted up from your work." That's why I do what I do. And I support it with everything I need that will keep me in it for the long haul, for a whole life of this work I love.
Cheryl Strayed said, "We are here to build our own house." I need–with all my heart–to have my house be a unique creation of my own hands, an un-replicated experience of what's inside me. Who can say why I'm wired this way–to need this expression? I don't know. All I know is that it presses on me, as if I'm pregnant with it, and I have to get it out. It's what makes me happy and content.
TBD: We hate to ask you this, but what advice do you have for writers? And what advice do you have for artists who don't want to lose their minds, shirts or creative compasses?
JN: I was the all-or-nothing girl for years: giant, swooning risks awaiting big-splash results that were supposed to lift me out of the bonds of daily life and responsibilities. I believed that if I loved my art enough I would be visited by glorious, save-me-in-a-moment success. Now I know that I have to build success, stone-by-stone, step-by-step. I have to craft the life of an artist first, support it, and then build on it, year-by-year. Since I'm an adult, I have to have a life while I'm doing it.
My advice for writers–and for all artists, really–is to stop over-expecting. To begin to apply the slow, steady steps approach to art–well supported, with permission to explore and discover and fall in love with the creative forces inside us. To live in balance, and to give ourselves the dignity of learning how. To give ourselves room to get what's in us out, bringing the beauty of our art into our own soul, and then out into the world.
Our artist's job is so clear: we are here to reflect back to the world the crazy, messy, lovely, challenging, exquisite beauty of what it is to be alive in our time.
I believe that happiness is in our own artistic moment. When we measure our success and wealth by our ability to get our hands in what we love, regularly and steadily, we are well on our way to building a heaven on earth.
JoAnneh Nagler is an author, painter, musician, and yoga teacher. She is the author of the new book How to be an Artist Without Losing Your Mind, Your Shirt or Your Creative Compass, and the Amazon Top 100 Book The Debt-Free Spending Plan. Find her at: www.AnArtistryLife.com
JOIN OUR NEWSLETTER TO RECEIVE MORE INTERVIEWS AND TIPS ON HOW TO GET PUBLISHED. 
We, The Book Doctors, travel the country going to writers' conferences, book festivals, bookstores, libraries, colleges and universities where writers meet and learn how to get successfully published. We kept hearing about the University of New Mexico Summer Writers' Conference in Santa Fe (formerly the The Taos Summer Writers' Conference) and how freaking awesome it is. We finally got a connection, reached out and lo and behold, we are excited to announce that we will be presenting at this year's conference, July 24-31, in Santa Fe, New Mexico.
One of the best ways to go from being a talented amateur to professionally published author is to be around a bunch of professionally published authors. There are few places you can do this outside of writers' conferences like this one. Whether it's learning the craft of plotting a novel, understanding how to shape your life into a memoir, or figuring out the nuts and bolts of how to navigate the stormy seas of publishing, there's just so much to learn and so many brains to pick.
Plus, we're totally psyched about going to Santa Fe. New Mexico will be our eight-year-old daughter's 34th state. What's not to love about that? If you're there, please look us up and say hello.
We spoke with Sharon Oard Warner, founding director of UNM Summer Writers' Conference in Santa Fe, about the conference, reading and her advice for writers.
Read the interview on the Huffington Post.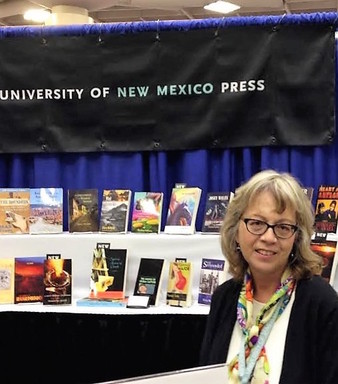 Sharon Oard Warner at AWP 2015
The Book Doctors: What were your favorite books as a kid and why?
Sharon Oard Warner: My first favorite book was The Little Red Caboose, a Little Golden Book. My dad swears he read that book to me a hundred times or more. I do remember loving it, so much so that when my own sons were small, I bought them a ginormous version, so big that my younger son could hide behind it, which is the only real purpose the book served. As might be expected, The Little Red Caboose just didn't do it for my sons. After seeing the gift book titled Everything I Need to Know I Learned from a Little Golden Book, I began to wonder about the long-term impact of my childhood obsession with The Little Red Caboose. Had I been marked for life by the book's message? It turns out, yes, I had.
TBD: How were you marked for life by your childhood obsession with The Little Red Caboose?
SW: In order to get the attention he craves–the waves and cheers of children–the caboose has to come to the rescue. In other words, he has to put on the brakes and resist mightily the forces of gravity and the weight of all the other cars bearing down on him. He has to save the train.
Off and on throughout my life, I have been defiant in the face of forces larger than I am. I have thrown on the brakes and stubbornly resisted being moved. Right now, I am trying to save the D. H. Lawrence Ranch, and I am reaching out to other writers for assistance. Anyone out there want to help?
TBD: How did you learn to be a writer?
SW: Reading, first, last, and always.
TBD: How did moving around so much affect your childhood? How did it affect your writing?
SW: I went to twelve elementary schools–two a year through sixth grade–and all of these schools were in the Dallas metropolitan area. In first grade, I was outgoing, exuberant even, but by third grade, I kept to myself. Rather than make friends with children I would soon say goodbye to, I turned to books for my support and solace. I checked out stacks from the school library and from whatever public library was in walking distance of my home. I read every moment I wasn't otherwise engaged.
TBD: How has teaching writing made you a better writer?
SW: As I said earlier, I learned to write by reading. However, most of what I'd absorbed in all those hours of reading was largely instinctual. I couldn't articulate it for others. I couldn't analyze it for myself. Teaching, then, required me to deepen my understanding in order to share what I knew with others. Case in point: Like many graduate students, I was a teaching assistant, which meant instructing a freshman writing class. Grading essays is the most time-consuming part of teaching such a class, and for me, grading was arduous. I could rewrite my student's work, but I couldn't correct or critique it.
Because my schooling was so haphazard, I never learned the fundamentals of grammar. Once I recognized my deficiency, I was forced to address it. I had to learn or relearn subject/verb agreement, pronoun reference, sentence faults, dangling participles and so forth. Teaching has often taught me what I don't know, but never more forcefully than in my first year at the front of the class. By the way, teaching requires social skills. I had to shrug off my introversion and relate to my students.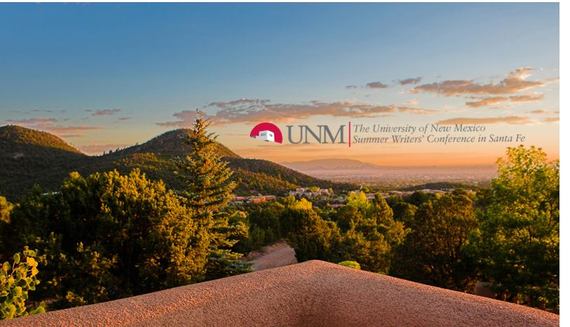 SW: When I started the conference, it was held in Taos, and it was called The Taos Summer Writers' Conference. My reason for creating the conference was simple: I wanted to make a connection between the University of New Mexico (UNM) Creative Writing Program in Albuquerque and the D. H. Lawrence Ranch outside of Taos, New Mexico. I have been advocating for the property for many years now, but the success of the conference has not really brought attention and support to the ranch, not yet, anyway.
TBD: What can writers get from attending the conference?
SW: Our goal is to create a nourishing literary community for writers, one in which everyone can form lasting relationships and create great work.
A number of writers who first attended the conference as participants have gone on to publish their work and build writing careers. Some of them have come back years later as instructors: Summer Wood, Laura Dave, Frances Washburn, Laura Brodie, Richard Vargas, and Margaret Wrinkle, to name a few.
Margaret Wrinkle is teaching a weekend fiction workshop at the 2016 conference. She first participated as an attendee, 12 years ago. Of the conference she says, "My time in Taos was so pivotal. I found my best reader there, and the novel I was working on when I came in 2004 was recently published by Grove Atlantic. In a great coincidence, my book deal came through the same week as that of another student in my Taos workshop named Kristen Kittscher, so the Taos connection brought us back together after many years." Margaret's book, Wash, released in 2013, was deemed "a masterly literary work" by the New York Times Book Review, and Wrinkle was named one of Time magazine's "21 Female Authors You Should Be Reading."
TBD: What have you learned from your years of being involved with the conference?
SW: So much, but what comes to mind is this undeniable fact: Many of us have compelling, important stories to tell, stories that should be/need to be shared with others. It's been my pleasure and privilege to assist in the storytelling endeavor, first as a reader and as a writer, and later as a teacher and as founding director of the UNM Summer Writers' Conference in Santa Fe.
TBD: What projects are you working on now?
SW: I am finishing the second draft of a screenplay, a father/daughter story with a bit of a mystery thrown in for good measure. And I've just received a pre-completion contract for a writing craft book that will take writers through what I call the "intermediate step." Rather than jump from writing short stories to writing a novel–a painful leap to be sure–I urge prospective novelists to create something intermediate, a novella. How did Goldilocks put it: "Not too large and not too small but just right!"
TBD: What advice would you give to writers?
SW: Finish things. Life is full and it's easy to lose track of projects you've set aside. Only this morning, while looking for a place to make notes on these questions, I discovered a journal full of jottings for a story called "The Last Bee." As soon as I finish the screenplay, I'm going to return to the story, which is about the plight of our honeybees.
Sharon Oard Warner is Professor of English and Associate Chair for Undergraduate Studies in the English Department at the University of New Mexico. She is also Founding Director of UNM Summer Writers' Conference in Santa Fe (formerly the Taos Summer Writers' Conference) as well as Co-chair for the newly formed D. H. Lawrence Ranch Initiatives.

She has published four books–a collection of short fiction, Learning to Dance and Other Stories; an edited anthology, The Way We Write Now: Short Stories from the AIDS Crisis; as well as two novels, Deep in the Heart and Sophie's House of Cards.
Her stories have been published in Prairie Schooner, The Laurel Review, Other Voices, Green Mountains Review, and elsewhere. Her scholarly essays have appeared in Studies in the Novel, Studies in the Short Story, Best Writing on Writing, The Writer's Handbook, and in selected anthologies. She is currently completing a screenplay.
JOIN OUR NEWSLETTER TO RECEIVE MORE INTERVIEWS AND TIPS ON HOW TO GET PUBLISHED. 
We first met Patricia Perry Donovan when she won our Pitchapalooza (think American Idol for books) down the shore in New Jersey, sponsored by one of our favorite bookstores, BookTowne (know and love thy local indie bookstore!). She dazzled us with her story, her presence, and her writing. Now that her book Deliver Her is out, we thought we'd pick her brain about how the heck she did it.
To read the full interview on the Huffington Post, click here.
The Book Doctors: When did you start being a writer, and how did you learn to be one?
Patricia Perry Donovan: I've always loved writing. My mother claims I was eight when I announced I would write a book. I began college with a major in languages, but when my French professor criticized my accent, I switched to journalism. It was the era of All the President's Men, and we all wanted to be the next Bob Woodward or Carl Bernstein. I always made a living as a writer, but only began writing fiction in earnest five years ago.
P.S. I had the last laugh on that college professor: In my thirties, I moved to France for several years and became fluent in the language.
TBD: What are some of your favorite books, and why?
PD: My first job as a teen was as a page (yes, my actual title) in the children's library, where I read voraciously. I have fond memories of the works of Judy Blume, Maud Hart Lovelace, Roald Dahl, and Isaac Asimov, to name a few. I would read a few pages of each book before reshelving it. In recent years, I've re-read and dissected Olive Kitteridge by Elizabeth Strout. I would love to write a novel of connected stories like that one day. Of late I've shed tears over Kristin Hannah's Nightingale and All the Light We Cannot See by Anthony Doerr, and swooned over Mary-Louise Parker's extraordinary prose in Dear Mr. You.
TBD: Why did you decide to write this particular book?
PD: Having heard about families desperate enough to resort to this type of solution for their child, I was fascinated by both circumstances that might lead to this arrangement and the sort of people (both transporter and client) involved. Also, I have family in New Hampshire, and the White Mountains seemed the perfect setting for Carl and Alex's journey.
TBD: How has being a journalist influenced your fiction writing?
PD: Working as a reporter trained me to write efficiently. It also made me a thorough researcher. For the last fifteen years, I've covered the healthcare industry, which is probably why Meg Carmody is a nurse in Deliver Her and is so knowledgeable about insurance. Healthcare is a fascinating field; there are a few topics I'd like to explore in future books.
TBD: How did you get your fiction published in literary journals?
PD: With a thick skin, and perseverance. Using a subscription database of writers' markets, I targeted smaller publications and sites with higher acceptance rates. It took a while, and a fair amount of rejection, but eventually I had some success. It's refreshing to take a break from writing a book and play around with an essay or flash fiction. Often a "darling" excised from a work in progress is the perfect starting point for a short story.
The important thing is not to give up. Just because a piece is not right for one publication doesn't mean another won't love it. Keep trying!
TBD: Tell us about your road to publication.
PD: In 2012, I entered The Book Doctors' Pitchapalooza event at BookTowne, my local bookstore. My pitch was chosen as the winning entry; the only problem was, I had written only about 25 pages of the book! The award motivated me, however; less than a year later, I delivered my manuscript to the agent assigned to read it. Although extremely generous with her feedback, she ultimately passed. I then set out to find an agent on my own, and after querying about a dozen agents, I received an offer of representation from Elisabeth Weed of The Book Group, a very hands-on agent who was determined to find a home for Deliver Her. In fall 2015, I signed a two-book deal with Lake Union Publishing.
TBD: How in Heaven's name did you manage to get 285 reviews before your book was even officially released?
PD: Deliver Her was pre-released in digital format on April 1 as an Amazon Kindle First, a program in which Amazon editors select books from next month's new releases that readers can preview early. That's why Deliver Her has close to 300 reviews in advance of its official May 1 release.
TBD: What exactly is Lake Union Publishing?
PD: Lake Union is one of about a dozen imprints under Amazon's full-service publishing arm (an arm completely separate from Kindle Direct Publishing). Lake Union specializes in contemporary and historical fiction, memoir, and popular non-fiction. My Lake Union team has championed and supported Deliver Her–and me–from day one. It's been an extremely positive experience.
TBD: What do you love most about writing fiction?
PD: The surprising directions in which your story and characters will take you if you are open to them. Initially I imagined Deliver Her as a love story between the transporter and a woman who comes to his aid. The client was just a means to get Carl to Iris. But once I began writing, the mother-daughter relationship started to drive the story. I had to let go and enjoy the ride.
TBD: What are you working on for your next project?
PD: My next novel, At Wave's End, is the story of a Manhattan chef whose estranged mother comes East after winning a Jersey Shore bed-and-breakfast in a lottery. All is not as it seems, however; in the aftermath of a hurricane, secrets about the B and B surface, threatening the inn's future and fraying the already fragile mother-daughter bonds. The anticipated publication date is August 2017.
TBD: We hate to ask you this, but what advice do you have for writers?
PD: Having come late to the fiction game, I wish I had started doing this 25 years ago. So if you are a writer and feel that tug, that story begging to be told, don't ignore it. Sit down and tell it.
That said, it's never too late. Beginning this second act in my fifties, I have a well of experience and life lessons to draw from. I hope my characters are richer for it. Now I joke that while I'll probably never suffer from writers' block, I may run out of time to write all the stories I want to tell. That's not such a terrible problem for a writer to have.
Patricia Perry Donovan is a journalist who writes about healthcare. Her fiction has appeared at The Bookends Review, Gravel Literary, Bethlehem Writers Roundtable and in other literary journals. The mother of two grown daughters, she lives at the Jersey shore with her husband. Learn more at www.patriciaperrydonovan.com
JOIN OUR NEWSLETTER TO RECEIVE MORE INTERVIEWS AND TIPS ON HOW TO GET PUBLISHED. 
We live in Montclair, New Jersey. John Dufresne lives in southern Florida. So naturally, we met him at the South Dakota Festival of Books. We were sitting next to him waiting for people to show up to sign our books. Let's just say there wasn't a huge line. Normally, this would really be a downer, but this time we realized it was good luck because we got the chance to talk with John.
John has had a long and distinguished career as a writer. He also teaches writing. Now that his new book, I Don't Like Where This Is Going, is out, we picked his brain about writing, books, publishing, and life.
To read the full interview on the Huffington Post, click here.
The Book Doctors: When did you first start becoming a writer, and how did you learn to be one?
John Dufresne: I was a storyteller first, even if I didn't know I was. My father told me a bedtime story every night. Fairy tales. Only I thought he made them up because he had no book. I thought he invented wolves. He may be why I loved stories and wanted to make up my own. I had a couple of narratives going when I was seven or eight or so in which I was the central character. They both took place in my neighborhood. In one I was the leader of a band of good guys with white hats and spirited horses. Cowboys on Grafton Hill in Worcester, Mass. The only real horse we ever saw on the Hill was the ragman's nag, whom we loved to pat. Every night in bed I continued the story from where it ended when I had dozed off the night before. I did this for years. And during the day, I was thinking of what I would now call plot points and creating new characters. The other narrative was similar with me as a sports hero. Whenever I heard sirens, I imagined the house the fire trucks were heading for and the people trapped inside the burning house and how they would be saved. Or not.
TBD: What were some of your favorite books as a kid, and why?
JD: I grew up in a house without very many books. We did have 26-volumes of the Universal Standard Encyclopedia, bought for 99 cents a week at the A&P on Grafton Street. I read them in order, not quite thoroughly. One month every subject I talked about at the supper table began with A. Afghanistan, alligator, antbirds. With volume 13, it was everything between Idaho and Jewel Cave. I loved information, loved knowing the names of things. I didn't much like the stories we read in my grammar school, stories about kids who had horses and good fortune. I couldn't find anyone like me, someone who grew up in a housing project, in them. Then I happened on a series of books that I devoured, the Chip Hilton series for boys, written by Claire Bee. I think it was David Mamet who described drama as two outs, bottom of the ninth, man on first, 3-2 count, and your team down by one. That describes Clutch Hitter, a book in the series that illustrated to me, the little jock that I was, how exciting, compelling, and tense a story could be.
TBD: Your new book, I Don't Like Where This Is Going, is a wild, wacky ride that fits squarely into the noir tradition, but it seems to break as many rules as it follows. How did you get the idea for the book, and does writing in this genre inform how you work?
JD: I found a character I liked in a short story I wrote. I wrote the story, my first bit of crime fiction, on request. The character was Wylie Melville, a therapist and police consultant; the story was "The Timing of Unfelt Smiles," and it appeared in Miami Noir and in Best American Mystery Stories 2007. I wanted to give Wylie a much larger problem to solve and to put his life in great danger. That's what got me started, that and the long legacy of police and political corruption in South Florida, rich material to work with. Then, having done it once, I thought, I'll do it again. I liked Wiley and Bay and wondered what mayhem would follow them and where would they go. They went to Vegas so that Bay could ply his trade at the poker tables. To be honest, I hadn't read much crime fiction before I wrote crime fiction. Sherlock Holmes, of course, books my friends Les Standiford, James W. Hall, and Dennis Lehane wrote. So if I broke any rules, I may not have known what they were. I wrote the two novels like I wrote every book with the focus on characters and themes, not on plot. This is what it means to be a human being and this is how it feels.
TBD: What do you want people to take away from your novel?
JD: Before I was a writer, and before I was a house painter, I worked for a while in social service organizations, a suicide prevention hotline, like the one Wylie works at in Vegas, a youth center, a drug prevention program. So I was in touch with that difficult life that so many people have here. In America. I worked with so many people who had lost hope and others who were in terrible emotional pain. And I've never lost that feeling that we don't do enough to take care of the less fortunate. The exploitation and oppression of unfortunate people is something I'd hope the reader would think about. Daily violence is a norm here, but it's easy to look the other way. And I want the reader to care about Wylie and his friends.
TBD: What were some of the pleasures and perils of writing this book?
JD: I spoke glibly above saying how theme and character drove the novel. Plot's always been the most difficult aspect of novel writing for me. It's so damn hard. So when I wrote the first Coyote novel, I got to about 250 pages when I realized I didn't know who committed those murders in the opening chapter, and I thought, this is why the crime writers make the big money: they have to write a novel and solve a crime. Too late then to bring a bad guy with a gun onto the stage. So it was pack to page one. Same thing this time. As possible suspects entered the novel, I paid attention and watched them looking for clues. Anyone of them could have done the deed, but who really did? Wylie's no Sherlock Holmes, no consulting detective, but he is a man who pays attention. And he doesn't work alone. He has the illusionist Bay and the bedlamite Open Mike by his side.
TBD: Tell us about how you got your first book published?
JD: It was a book of short stories, and I had probably published six or seven stories in literary journals. I had a bunch of others, and I put them together as a book, and I went through one of those books Writer's Digest put out or something like that. And I looked through all of the agents looking for short story collections, and there were three.
TBD: I'm surprised there were three!
JD: I know, I know! So I wrote to the three of them, and one of them got back to me. He was very enthusiastic. I would tell anybody who is looking for an agent, make sure the agent is excited about you and your project. Not just, "I'll do it…" Because it's hard for an agent to sell a book. Especially if it's short stories. So my agent sent my book of stories around for about a year. It finally sold to Jill Bialosky at Norton, and I've been with Jill and Norton ever since. I remember my editor saying, "You're the last guy I'll ever sell a book of stories for."
TBD: Your career is interesting and highly unusual for today in terms of sticking with one publisher for each book. And it's a publisher that's independent but has real chops in this business. Not to mention the fact that you write very quirky books that are not highly commercial, mainstream, etcetera. How can other writers achieve this kind of elusive success?
JD: First of all, the best readers you're going to get are your agent and your editor. They're generous. They want your book to succeed. And they know what they're talking about. Even if you disagree with them, I always say, just do what they tell you to do. Because they know the business. I don't know anything about the business. I don't want to know; I want to write. I also say, if you write something beautiful and moving and telling, it'll get published. But it may not get published when you want it to be, or where you want it to be. The important thing for a lot of young writers is getting it published. I steer them away from self-publishing. Some of them have, and that's alright. But you want to get the imprimatur of somebody else. Somebody else who believes in you. Small presses are as good a place to be published as large presses… I mean obviously you're not getting the same money. But the money isn't like it was before. You used to be sent on book tours. Now you're lucky if they give you lunch money. The important thing is to get yourself into the game. You get your book around. You have people reading it. Just don't give up. You owe it to your characters that you love to get other people to read about them. Until you get an agent, you're going to do the business work too, and persist with it. I think in some ways publishing is more democratic than it ever was.
TBD: When we go to these conferences, there's always one person who's telling writers, "You have to be on Facebook! You have to be on Twitter! You have to have a website, blah blah blah-" And you can see the blood draining out of writers' faces.
JD: The publishers want you to do work with them, which I understand. When I did my first book of stories, I set up what I called the Motel Six tour. I told them, "Get me the books and a bookstore, and I'll drive. I'll take my wife and my kid, and we'll drive to all the bookstores." And that's what I did. And they were all really happy, because this was before social media. I printed up a fake newspaper from Louisiana Power and Light, and Norton sent it around, and got hard copies to people. It was fun. They appreciated that I was willing to do it. I still do it. Somebody just asked me to do a bookstore in Baltimore. But I'm thinking, "How much is this going to cost me?" In the old days, they put me up in beautiful hotels. Paid for everything. Now, at least for mid-list people like me, it's not happening. And I don't think it's happening too much in general anymore. I also have gotten on Facebook because Norton said to do that. A guy helped me out. My wife is good at the computer. I think that's been kind of helpful. It's a nice way to spread the news. I saw there was a good review of my new book in the Tampa Bay paper on Sunday, and I put it online. Lots of people have liked it already. They know about the book, they buy the book. Twitter I've never been on. I remember once, Carol Houck Smith (who was an editor at Norton for years) and I were sitting together by these editors, and they were all answering questions with, "You need a platform." And Carol muttered under her breath, "I don't need a goddamn platform, I need a great book!"
TBD: What are you reading now?
JD: I tend to read a lot of books at the same time. I'm reading Lee Martin's new novel Late One Night, which begins with the death of a mother and three kids in a fire that may or may not have been arson. And I started Campbell McGrath's new poetry collection, XX, in which he writes a poem for every year in the last century, in the voices of some of the century's prominent figures, like Picasso. Mao, and Elvis. Also reading Wired to Create, by Kaufman and Gregoire, and Actual Minds, Possible Worlds by Jerome Bruner. I'm loving, if not completely understanding, Lawrence M. Krauss's A Universe from Nothing and Carlo Rovelli's Seven Brief Lessons on Physics.
TBD: How does teaching fiction help or hinder you as a fiction writer?
JD: It only helps. Every reading and every discussion of a story helps me see how stories work or don't work, including my own. We're all apprentices in a craft where no one is a master–I think Hemingway said that. This is the craft so long to learn. I always feel better at the end of class than at the start. I always feel like rushing home (which is actually impossible on Biscayne Boulevard) and getting back at whatever it is I'm writing. To be honest, there are moments that I would rather be learning about my central character's secrets than reading a story about goblins with swords, but I know I'll learn something about setting a scene, let's say, in the goblin story that will be valuable to my students and to me.
TBD: We hate to ask you this, but since you actually wrote a book about how to write a novel, we feel we have to. What advice do you have for writers?
JD: Probably the advice you were expecting to hear: read and write every day. No holidays for the writer. We always find time to do the things we love. We only have to want to write as much as we want to go to the movies. And if you don't love writing and reading, do something else. It's too hard, and discipline won't bring you to the writing desk. Only love for stories will do that. Here's Faulkner on reading: "Read, read, read. Read everything — trash, classics, good and bad, and see how they do it. Just like a carpenter who works as an apprentice and studies the master. Read! You'll absorb it." And Chekhov on writing: "Write as much as you can! Write, write, write till your fingers break."
John Dufresne is the author of seven novels, including I Don't Like Where This is Going and No Regrets, Coyote. Among other honors, he has received a Guggenheim Fellowship and is a professor in the MFA program at Florida International University. He lives in Dania Beach, Florida. For more information, please visit www.johndufresne.com.
John will be joining our Pitchapalooza panel in Miami on May 7, 2016, at 2 p.m. Learn more at the Miami Herald. 
JOIN OUR NEWSLETTER TO RECEIVE MORE INTERVIEWS AND TIPS ON HOW TO GET PUBLISHED. 
The Book Doctors first met Andy Ross at Cody's Books, which was one of the most influential bookstores on the West Coast, smack dab in the middle of Telegraph Avenue in book-crazy Berkeley, California. In fact David did his first professional book reading at Cody when his first memoir Chicken came out. Andy's now an agent, and we thought we'd check in with him about how he views the book business from behind a desk dealing with writers rather than behind a cash register dealing with readers. To read on the Huffington Post click here.
The Book Doctors: How did you get started in the ridiculous book business?
Andy Ross: I got into it for ridiculous reasons. I was in graduate school studying German Intellectual History at the University of Oregon. I was unhappy. I didn't understand Kant's Critique of Pure Reason, my girlfriend left me and joined a hippy free love commune, and it rained a lot. I decided I needed a change and I liked bookstores. These were/are not good reasons to set one's path for the rest of his/my life, but still…. That was 40 years ago, and here I am today.
TBD: What did you learn about the book business in your time owning Berkeley's iconic Cody's Books?
AR: That would be a very long list. I owned it for 30 years. What strikes me now is all the things I didn't learn. A bookstore is the end of the literary food chain. By the time I opened the shipment box from the publisher, the books had been written, edited, designed, printed, marketed, and shipped. I only did one thing, but a pretty important thing: I put it into the hands of the book lover.
TBD: How has becoming an agent changed your view of writers, writing, and the publishing industry?
AR: Otto von Bismarck is reputed to have said: "Laws are like sausages. It is better not to see them being made." I think the creative process is like that too. It's pretty messy. But also pretty miraculous, when I see the transformation from a train wreck of a first draft into a masterpiece.
TBD: How has the book business changed since you started, for better and for worse?
AR: I first opened a small store in Sonoma County, California in 1972. It was 600 square feet, about as big as my living room. My first day, my sales were $32. Remember the counter culture? We sold a lot of books, mostly paperbacks, on humanistic psychology, eastern mysticism, and other things spiritual. Fritz Perls, Abraham Maslow, Alan Watts, The Urantia Book, Be Here Now, and Cutting Through Spiritual Materialism were some of my best selling books and authors back then. I made a lot of money on the I Ching (Princeton University Press edition). And, of course, all things having to do with the ever mysterious, Carlos Castañeda. The big topic of conversation was whether Casteñnada really existed – although much later he married a friend of mine. She said he was a rat. But the business still had its share of schock at the top of the lists. It was no worse than it is now.
TBD: What mistakes do you see writers make? What things do you see successful writers do?
AR: Let's talk about mistakes in writing fiction. What I see from inexperienced writers is not knowing when the story starts. Too much literary throat clearing, usually in the form of "prologues." The use and misuse of adverbs. My advice to the writers is: "get rid of all of them." (Andy said authoritatively.) Using too many metaphorical figures of speech is a sign of insecurity in an inexperienced writer. To paraphrase Freud, sometimes a green tree is a green tree.
TBD: What are your pet peeves about writers and their submissions?
AR: We don't have enough time for this, but here are just a few things: In your query letter, don't say "this is a fiction novel" and really don't say "this is a non-fiction novel." Don't mention Eat, Pray, Love; Malcolm Gladwell; or Oprah in the query letter or book proposal. Be honest and transparent to your agent, and I will be/do the same with you/the publisher. I don't know what your advance will be. If any agent tells you: "I can get you a 6 figure deal" or "this book has Hollywood written all over it," best to find a different agent.
TBD: Tell us about the Slush Pile Derby?
AR: I made a bet with somebody that anyone could see talent right away, even if you couldn't explain it. So I took 10 first paragraphs from my slush pile. None of them were horrible. Some of them I decided to represent based on that first paragraph. They were subsequently published. When I do the slush pile derby at writers conferences, pretty much everyone can identify the books that got my attention.
TBD: Do you google potential clients? How much attention do you pay to the platform?
AR: I like to say that platform means one of two things: Either you have an endowed chair at Harvard or you are sleeping with Oprah's hairdresser. Platform is almost essential in non-fiction. But with fiction, it's usually about the story and the style.
TBD: What advice do you have for writers?
AR: For writers of literary fiction, most of it won't find a publisher. If I'm representing you, you are good enough to get published. But commercial publishing is a business. You have to be good, but that isn't enough. They usually make decisions more for marketing reasons than for aesthetic reasons. Rejections are a big part of this business. Learn to live with it and keep writing. If you are writing memoir, it's often even harder to find a publisher. Remember that the journey is the destination. Or as Camus famously said: "The struggle itself is enough to fill a man's heart."
Andy Ross was the owner of the Legendary Cody's Books in Berkeley from 1977-2007. In 2008 he started the Andy Ross Literary Agency. Andy represents books in a wide range of genres including: narrative non-fiction, journalism, history, current events, literary and commercial fiction, and teen fiction. Andy has a popular blog, "Ask the Agent," where he talks about writing, and book publishing and reminisces about his life as a bookseller. You can find Andy's website at www.andyrossagency.com.
2 Pitchapaloozas in 24 hours. 3,000 miles apart.  They said it couldn't be done.  They were wrong.
It all started on a beautiful Virginia Saturday afternoon at the James River Writers Conference, in the shockingly excellent city of Richmond. 
JRWC came into our lives as the result of brutal failure.  Two years ago I set up a DC area mini-tour for an infamous book I put together.  My girl Shawna Kenney (whose memoir I Was a Teenage Dominatrix–which is about when she was a teenage dominatrix) was just optioned by Vince Vaughn) booked us into Poets & Busboys in Washington (packed to the rafters!), Atomic Books in Baltimore (filled to the gills!), and Chop Suey in Richmond.  When Shawna and I walked into Chop Suey, there were exactly 0 customers in the store.  There were
about 15 folding chairs.  None of them had audience asses in them.  Just as we were ready to call it a day, in walked a couple of brave souls who looked like they actually wanted to be there.  One of them was a colleague and dear friend of Shawna Kenney named Valley Haggard.  A ridiculously intimate show like that can actually be liberating, because let's face it, since there are only four people, it really doesn't matter, and you can just let loose.  So I actually had an ecstatic rhapsodic performing experiences.  This is one of the reasons I do it.  Afterwards, Shawna and I went out with Valley Ha
ggard.  First of all, is that not the greatest name ever?  Valley Haggard. 
Born to be an author.  Or a country singer.  Second of all, she was so smart, and funny, and generous, and goofy.  At a certain point she told me she was part of a writing group: The James River Writers.  I told her about Pitchapalooza and BOOM! Next thing you knew, we were on a beautiful Virginia Saturday afternoon about to unleash Pitchapalooza on Richmond.  Beautiful old buildings, a rabid writing community, and the sheer NICENESS of the people make it a go-to destination.  And I am not being paid by the Richmond Visitors Bureau to say that.  Although if they did want to pay me, I would certainly take their money.  One of the cool things about doing a writer's festival is that you get to actually hang out with lots of pretty spectacular authors and writers.  Plus, I did about a dozen seven-minute consultations. 

It's shocking how fast get to know someone in seven minutes.  So it was fun to see all these people that we had connoitered with, filling the auditorium.  By the time we started it was pretty much full, 150 writers and those who love them waiting in breathless anticipation.  We had a very funny and savvy panelist, Michelle Brower, from the Folio Literary Management. 
As we do at every Pitchapalooza, we heard many crackerjack pitches.  A middle-age dragon (Michelle said that a menopausal dragon would be hysterical, and in doing so brought the house down).  I Do, I Did, I Don't, a novel about a society where marriages have to be renewed every 10 years.  Dystopian apocalypses, literary opusi, zombies, werewolves, vampires and hard-boiled dicks.  But our winner was a cut above.  He's a veteran of the war in Afghanistan, where he worked very closely with trained military dogs.  Dogs of war.  His novel, Boots on the Ground, Paws on the Ground, about soldiers battling in life and death circumstances, and their relationships with these brave, loyal, and extraordinary canines brought Arielle to tears.  In 1 minute.  Plus, his man's-man lantern jaw, buff hulking hunky humble manner, and his AWESOME story made him an absolute crowd favorite.  Hurt Locker meets Rin Tin Tin, it just seemed to have bestseller written all over it.  And it was just one of many pitches that screamed: BOOK!
As soon as Pitchapalooza Richmond was done, and I had said heartfelt thanks to my new Richmond peeps, I whipped back to the hotel, grabbed my baggage, got the kind of hug only a four-year-old can give from Olive, kissed Arielle a fond adieu, and was whisked away to the airport.  It was a mad blast to have Olive with us, but we had decided she would go back with Arielle on the train, while I would fly solo to San Francisco, and do Pitchapalooza in San Francisco all by myself.
Having been awakened that morning at 7 AM by Olive begging me to play Biting Piggy (a game we made up about a month ago), I stumbled, mumbled, bumbled and numbled my way off the plane at 1 AM (4 AM EST!), feeling like someone had inserted nozzles into my ear holes and blown cotton candy into my skull.  Red-rimmed pupils, baggage under my eyes bigger than the suitcase I was lugging, guts rumbling from too much bad trail mix and caffeine, I shuffled through the disorientating post-midnight fluorescence of SFO.  I don't know if it's because I've heard too many zombie pitches lately, but being in an airport in the wee, wee hours will totally make you believe in zombies.  As I threw myself into bed at 2 AM (5 AM EST!)  I felt the sting of a tickle catch in my throat.  A cough barked out of me.  Followed by another cough.  Then another.  I could actually feel a flu bug attacking my larynx.  HACK!  HACK!  HACK!  Knowing that the thing I needed most in the world was a good deep night's sleep, I tossed and coughed through a miserable night's stupor.  In my fevered dreams, zombies were pitching me books about werewolves, vampires, hard-boiled dicks, and yes, zombies.  All while eating chunks of my flesh.  It's so depressing when you get out of bed in the morning, and you're more exhausted than when you got in the night before.
Lead-headed, wheezing and sneezing, I coughed my way out the door.  Luckily it was a rare robin-egg-blue sky day in Baghdad-by-the Bay, and a brisk but toasty breeze blowing lifted my spirits. 
Once I got to North Beach, I found, to my surprise and delight, that the massive annual street fair was raging.  Columbus Avenue shut down, tables four deep set up on sidewalks outside restaurants, revelers and tourists and looky-loos cramjampacked in one of my favorite neighborhoods in the world, where Old Italian cannoli/espresso/gelato culture rubs elbows (and many other body parts) with drunken scruffy post-Beat writer types who scribble away in notebooks.
The fair was madness, in the best sense of the word.  A WWII-type float with Andrews Sisters-look-alikes singing Roll Out the Barrel; a high-stepping marching band from Oakland rocking their synchronized syncopation; Chinese slow-motion tai chi masters; kilted-up bag piping bad boys; American flag flying, Harley hog-riders; wild west cowboys on a high-stepping horses, and cowgirls decked out in sparkly costumes that looked like a cross between Dale Evans and Liberace.  It made me so happy to be alive.
I made my way to the Vesuvio's, where I was going to be doing a reading for Litquake, the seismographic orgy of books that blows up San Francisco every October.  For those of you who don't know, Vesuvio's is right across the alley from City Lights Bookstore, the beating heart and pulsating brain of San Francisco literati for 50 years.  Everyone from Dylan Thomas to Lenny Bruce to Jack Kerouac have gotten polluted, plastered and plonkied while waxing poetic at Vesuvio's.  I felt a great wave of history as I walked in, an overpowering sense of honor, humility, and gratitude to be reading at this shrine where so many great writers have drunk until they passed out.  The readers performed from the second floor balcony, looking down as if from Mount Olympus on the pulsating, hooch-fueled throng, shoehorned in wall-to-wall, cheek-by-jowl, the body heat wafting upwards, a crackling electromagneticity rocketing around the room, and ricocheting off those hallowed walls, which have seen so much literary history made over the years.  I was up first, and my adrenal glands were spitting fire, my central nervous system all jacked up, while my heart felt like a hare being chased by the hounds. 
The din of the crowd was so loud it sounded like someone had turned the volume up to 11.  I was worried that they wouldn't shut up and listen to me.  I underestimated the power of MC extraordinaire Mr. Alan Black, master of the pregnant pause and the growling punchline, a man who made his bones running shows at the Edinburgh Castle, where the Tenderloin sits like a festering sore on the bum of San Francisco.  Like a lion tamer who uses a Scottish brogue and slashing wit as his whip and chair to control a room full of wild beasts, he subdued the crowd in 1.2 seconds.  I love that feeling of a tightly packed mass of humanity waiting silently for the performer to try and conjure magic out of thin air.  I took a deep breath, relished the moment, and plunged in.  It was such a joy riding those words in that crowd through my story.  Ridiculously gratifying.
Sadly I had to bolt as soon as I was finished, so I missed the show, and as I strolled back down Columbus Avenue toward the Pyramid Building, the adrenaline speed wore off and I was struck dumb by a numbing wave of exhaustipation.  I had quite forgotten how depleted and drained my battery was, and I worried I'd have to call AAA to jumpstart me before Pitchapalooza Litquake, which was set to start in 20 min.  Caffeine! my brain screamed.  I collapsed into Starbucks.  I coughed.  I hacked.  I wheezed.  I drank. 
I made it to Market Street, rejuvenated, just in time to find the organizers starting to seriously worry that I wasn't going to show up.  It was my great good fortune to have two publishing stalwarts, Sam Barry and Kathi Kamen Goldmark (Write That Book Already!) as my copilots.  They arrived like the cavalry providing reinforcement for my battle weary troops.  And we were off!  A meta-post-modern novel about a writer battling his own book.  A rich girl getting back at her bad dad.  A juicy, gossipy guide to the London Olympics.  An Australian graphic novel about fast food workers who are actually crime fighters: fries and spies!  Dystopian apocalypses, literary opusi, zombies, werewolves, vampires and hard-boiled dicks.  But again, the winner was a cut above: a hysterically told tale set in Liverpool, where soccer is a combination of religious obsession and drunken life-and-death spectacle, and a woman finds she can predict the outcome of matches before they happen.  Madcap antics ensue.
Suddenly it was over.  I staggered in a stupor out onto Market Street, wrung out like a ragged rag, but wildly satisfied.  That night I collapsed into bed moaning and groaning, wracked by hacking spasms.  Slept for 12 hours.  Next night I slept 12 more.  When I awoke, the bug, the tickle, the hack and cough were miraculously gone.  I'm on the plane going back to my Jersey hearth and home.  Happily anticipating the kind of kiss only a four-year-old can give from Olive, and snuggling into my own bed with my lovely and talented wife.
To see all pictures click here.
alan black
,
Atomic Books
,
authors
,
authorship
,
Chop Suey
,
David Henry Sterry
,
Folio Literary Agency
,
get published
,
how to find a literary agent
,
how to get published
,
james river writers conference
,
kathi Kamen Goldmark
,
litquake
,
pitchapalooza
,
Poets & Busboys
,
Richmond
,
Sam BaRRY
,
Shawna Kenney
,
spoken word
,
the book doctors
,
The Essential Guide to Getting Your Book Publishing
,
writers
,
writing

"Can we use that?"
—David Henry Sterry
Of course you can! That's sort of the point, isn't it? Even the authors of books intended to help other authors get published, an Escherian concept if ever there was one, need to get publicity, and a phone interview offers a fine alternative. Assuming the interviewer has the gear at home, then everyone can get what politicians like to call the maximum "bang for the buck." Nobody has to leave home and nobody has to even, in theory, get dressed. Let's presume, however, for the duration of this article, that everyone was indeed dressed. I might note that there is a bit in the book on getting interviewed, and it is not unhelpful.
Eckstutt and Sterry have a pretty full plate these days. They both have separate literary careers (she's an agent, he's a writer), they have a website together, that is The Book Doctors (and what a nice linker I am, eh?), and they have these events, which I've heard about for a while — Pitchapalooza, wherein the would-be's line up at the gate and have a minute to pitch their book. It's speed dating for writers and agents, and while it is perhaps a dangerous precedent, it also gets results. People who have attended get signed.
I talked to the writers-about-writers about their book, their websites and their live show. To me it just makes perfect sense; by offering a platform for writers to hone their pitching skills, they are doing the best possible job of pitching their own skills. You can hear just how good they are by following this link to the MP3 audio file.