We're so excited about the new edition of The Essential Guide to Getting Your Book Published! 
As a thank-you for your support, we've planned all kinds of giveaways and contests designed to help YOU get published! We're giving away a one-hour consultation on your query letter to help you reach the right literary agent or publisher for your book. This is a $250 value.
For your chance to win, sign into the entry form below. Once you've signed in, you'll be able to enter four ways:
Visit our Facebook page
Follow us on Twitter
Join our mailing list
Tweet about the giveaway
You'll get an entry for each of the entry options. You can choose one or do all four for more chances to win.
The giveaway runs from Monday, November 30, until 11:59 p.m. (EST) on December 21, 2015. On December 22, we'll select one random winner. We'll email the winner directly and announce the winner on social media. Be sure to take a look at the terms and conditions.
Good luck!
a Rafflecopter giveaway
Have questions? Email kristi@thebookdoctors.com.
We first met Virginia Pye at the James River Writers Conference (another reason to attend what is a great conference) and we were immediately struck by how curious she was. How she asked questions. How she seemed to want to know. We believe this is one of the most important characteristics an author can have, especially one who is starting out, but it really applies to anyone. We were overjoyed when her first novel came out, and now she has a second. We thought we'd pick her brain about what it's like to go through the process the first time, and then do it all over again.
To read the full interview on the Huffington Post, click here.
The Book Doctors: Your first novel River of Dust did so well, did you feel nervous about the sophomore jinx? Were you aware that second books are doomed to failure?
Virginia Pye: My way of dealing with the second book jinx was to write the next novel right on the heels of my debut. I have my editor to thank for steering me towards the story that became Dreams of the Red Phoenix. I had mentioned an anecdote about my grandmother that got him curious to hear more: in 1937 Japanese-occupied China, my grandmother chased Japanese soldiers off her front porch with a broom. I had always just taken it for granted that my grandparents were complicated and strangely heroic people. It took my editor, Greg Michalson, to nudge me into writing a novel inspired by my grandmother.
After exploring the ingénue character of Grace in River of Dust–a woman who is naïve at the start of the story and becomes steadily stronger as she faces greater and greater challenges and dangers–in my next novel I wanted to focus on a woman who is powerful right from the start and even quite headstrong and arrogant at times. Shirley Carson's arc is almost the opposite of Grace's: she must tone down her self-confidence and finally listen to others in order to genuinely help them and herself.
Once I got involved with Shirley there was no turning back. The story came fast–the first draft was written in a miraculous twenty-eight days. So clearly I had no time to worry about jinxes. I wrote on a tear and then I spent the next year revising with the help of my agent and editor. I really enjoyed myself writing this novel. I hope the reader enjoys it, too!
TBD: How do you get people like Robert Olen Butler and our good friend Caroline Leavitt to write such fantastic things about your work?
VP: My publisher, Unbridled Books, approached Robert Olen Butler and he kindly responded. I was thrilled that he loved the River of Dust. When I read his complimentary words, I thought I could just quit right then: I had done my job.
I met Caroline Leavitt on Facebook. I had noticed how she's always generous with fellow writers, especially new ones, and I love her posts, which are often quite funny. When I noticed that we grew up one town over from each other in the suburbs of Boston and were both preparing to go back to our hometowns to do book events in the same month, I wrote her a private message. She wrote back right away and generously invited me onto her blog for an interview and then offered her kind blurb.
Books, especially first ones, have a way of connecting writers to people in unexpected ways. The enthusiastic blurb I received from Annie Dillard was the most surprising instance of that. Annie had been my teacher back in college. After a full year of studying with her, and working on numerous drafts of the same story, she wrote these words on my final draft: "I believe more than ever that you will write books for the rest of my life." I took her words seriously and set out to do as she predicted.
Annie always had a policy of not encouraging former students to stay in touch. I respected that boundary, but had in mind for years that I would contact her when I finally published a novel. It took far longer than I had hoped, but approximately thirty years later, I finally sent her my first published novel. I didn't ask her for anything, but simply thanked her for the crucial, life-directing role she had played when she encouraged me as a young writer. Apparently, I didn't even include a return address or contact information. I just wanted the satisfaction of sharing my accomplishment with my former teacher.
To my surprise, two weeks later I received an email from her. She had tracked down my email address from my website and wrote to say that she was proud of me and that she was glad that I'd sent her the novel, but that she couldn't promise to have time to read. As I composed a brief email reply in my mind that I intended to send to her the next day, I woke to discover a second email from her. She had stayed up all night reading River of Dust! She loved it and offered the most significant comments I could imagine. When I read her complimentary words, I truly felt that I had accomplished the life goal I had set for myself many, many years before.
Her emailed comments eventually became the blurb that appears on the paperback of River of Dust. Like so much about the writing process, I learned a lesson from that experience: sometimes things come to you precisely because you don't push for them. Patience can be its own reward and can give greater gifts than we can imagine.
TBD: We've heard such great things about Unbridled Books. What are they like to work with? How do they approach getting you and your book out into the world?
VP: I can't say enough good things about Unbridled Books. I have had the privilege of working with Greg Michalson, whose judgment and wisdom as an editor has been honed over decades. He has an unwavering sense of what works in a piece of fiction. I have learned an enormous amount from him about how not to overwrite and how to trust the reader to understand the intention of words carefully chosen. He is the master of eliciting the light touch in fiction.
Everyone who works for Unbridled is equally top notch. I've been impressed by their copy editor, Connie Oehring, whose work was flawless with both books. And the book designs for both River of Dust and Dreams of the Red Phoenix feature original covers by Kathleen Lynch and interior designs by Claire Vaccaro that capture the essence of each book and are impeccably done and, I think, quite beautiful!
The Unbridled publicity team has also been terrific. Working within a tight budget, they need to be especially smart and strategic. They've set me up at wonderful bookstores and conferences. Caitlin Hamilton Summie, who works for Unbridled and also has her own excellent marketing agency, is brilliant at positioning a book before publication and arranges terrific book tours.
I've also reached out a lot myself to local and regional bookstores. Each book event has been a meaningful opportunity to meet the crucial people who bring books into readers' lives.
TBD: You spent a lot of your writing life doing short pieces. What has it been like as a writer to now approach the novel length story? What advice do you have about writing longer pieces?
VP: I have published short stories for years in literary magazines–which, incidentally, is no easy task. The success rate is something like less than one percent. But I have persisted at it for many years.
But my main love all along and main effort has gone into writing novels. I wrote my first novel in the Fiction MFA program at Sarah Lawrence. Shortly after graduation, a big, highly respected New York agent represented it and we both assumed it would establish me as an up-and-coming writer. But sadly, she failed to sell it. I was disappointed, but went back to writing and wrote a second novel before our first child was born. That novel also found an agent, but more work was needed on it, and I became distracted as a full-time mother of first a daughter, and then three years later, a son. When he went off to kindergarten, I finally delved back into my work and wrote a third novel. That one found a third agent who came close to selling it, but no luck.
Each unsold novel went into a drawer, and while that felt terrible, I could even tell at the time that they weren't actual failures. I had learned an enormous amount about novel writing from the process of creating each new one.
With my fourth novel, I had the confidence to try a more complex story about three generations of an American family with ties to China. That bigger, more sprawling book took five years, and even then it never felt fully accomplished. Over thirty agents read it, some more than once. Eventually, I set it aside, too.
I then wrote a contemporary novel set in Richmond. That fifth novel has a very different tone–less literary and more a romantic comedy. I'm looking forward to returning to it and polishing it soon, in hopes of seeing it published someday.
After that change of pace, I returned to the opening forty pages of the sprawling multi-generational story set in China, and turned them into River of Dust: my sixth novel written, and the first to be published. I was able to write a deeper book, a more mature work, because of all the effort I had put into the previous ones.
Since finishing River of Dust, I've been on a tear, writing like I never have before. I immediately dove into the follow up book: Dreams of the Red Phoenix. And I've also now returned to the multi-generational work that tormented and fascinated me for years and have now revised it completely. I hope it will be the third and final novel I publish set in China.
In other words, my advice to writers who want to learn how to write novels is simple: write them. Write one, and when it doesn't find a home with a publisher, or if you're lucky and it does, go ahead and write the next. The only way to get better at writing novels is to practice.
TBD: Do you think getting an MFA is a big huge waste of money? Or not?
VP: My MFA degree bought me time. Two years to focus on my writing, though I did work at the same time. But, I enjoyed having the excuse to write and getting into the rhythm of always working on a book. Being in an MFA program offers a feeling of legitimacy that can help a less-established writer take herself seriously.
Getting an MFA also helped me to land teaching jobs as an adjunct at NYU and then U. Penn. I was also able to connect to my first agent through my MFA teachers, so that worked out, at least at first. As I mentioned, I've gone on to have other agents, and in the end am very happy with my current agent who I came to unconnected to my MFA.
I think that today's MFA programs offer far more than when I was in grad school. They seem to teach more about craft and about the business. And they are a way to get to know your peers and, if you're lucky, make lifelong writing friends.
But there are other ways to build community around yourself as a writer that are definitely less expensive. Many cities now have writing non-profit organizations that bring writers together and introduce them to publishers and agents. Going to conferences is a great way to take yourself seriously as a writer and to make contacts with people in the writing world. You can apply for residencies at artists' colonies or retreats. There are many more options now than ever to find resources as writer–online and in person. Getting an MFA isn't the only way to establish your career and to buy time to write, but it can be very helpful.
TBD: How has being involved with James River Writers helped you as an author? Why should writers attend a conference like the James River Writers Conference?
VP: Writing can be both lonely and discouraging. I have blithely shared my story of seven novels written and two published. I would have loved to be able to report a higher percentage published, but that wasn't to be. As a result, I faced a lot of rejection. All along, as I was writing and submitting short stories, it became routine to find returned manila envelopes in my mailbox. I really could have plastered my walls with rejections slips, like the writer in Larry Brown's Big Bad Love.
Though, as an aside, those slips steadily became more personal and encouraging over the years. We're all just people in this business and if you subscribe to the same journals, and keep sending your stories or poems to the same editors, they notice that you care about what they do, and eventually vice versa.
The only way I know to not become too desperate in the face of these odds is to hang out with other writers who are facing similar challenges. I loved being a part of James River Writers, a literary non-profit in Richmond, Virginia. I ended up helping to run the organization for seven years. We had a membership of around four hundred people, which I think is great for a smaller size city. JRW puts on an annual conference, bringing in established authors and publishing professionals. I learned a lot from being around published writers, interviewing them on panels, and moderating their talks. And I learned a lot about the business from meeting agents and editors and publishers.
By being part of a writers' organization, I became knowledgeable about how to be a published author long before I ever had my first novel taken. I think that helps a lot to demystify the process in which books are chosen. Breaking the isolation of writing is key to joining the world of published authors.
TBD: I hate to ask you this, but what advice do you have for writers?
VP: No need to apologize. I love this question! I have been through the hard knocks school of writing and am happy to share my insights, especially if it helps prepare emerging writers in any way, though we all have our own paths. I've already stressed that the most important thing is to not stop writing. If you get discouraged, write your way through it. Assume you have not just one book in you, but many. If one is rejected by the world at this moment, set it aside and try the next. The time may come later for the rejected one to find its place in the sun. But your writerly mind needs to constantly be challenged. Don't get so attached to a single manuscript that you think it is the only one that will make you a writer. Press on and try again. Believe, as Annie did about me, that you will write books for the rest of your life.
And all the while as you're writing, read. Read only the best. Don't clog up your brain with crappy prose. Read Maugham and Chekov, Carver and Trevor, Paley and Munro. Follow the careers–meaning read the books!–of current authors whose work you admire. And establish a budget that allows you to purchase and read contemporary fiction. Go to readings. Support fellow writers. Approach them and buy their latest and egg them on. They will be grateful and do the same for you when your time comes. Generosity and not jealousy will propel your career forward better than just about anything, except perhaps continuing to write the best books you can write.
Virginia Pye is the author of the novels Dreams of the Red Phoenix and River of Dust (Unbridled Books, 2015 & 2013). Her award-winning short stories have appeared in numerous literary magazines and her essays can be found at The New York Times Opinionator blog, The Rumpus, Brain, Child, and elsewhere. She holds an MFA from Sarah Lawrence and has taught writing at NYU and U. Penn. She divides her time between Richmond, Virginia, and her hometown of Cambridge, Massachusetts.
Join our newsletter to receive more interviews and tips on how to get published. 
As many of you know, we regularly interview authors on the Huffington Post. There's one question we always like to ask: What advice do you have for writers? Below, we've culled some of our favorite answers. These gems might just help you get through another writing day!

Irvine Welsh: If you think about the market you are in a very different game. Write what you want to write; work out how it sell it when it's done.
Click here to read Irvine's full interview. 

Jenny Milchman: If I had to boil all advice down to one single nugget it would be this: Know that anything we write can always use more work. It is never as good or done as we think it is. Critical feedback is like gold. Whether we accept it or not. Hearing different takes on what we create is the only way we will make it appeal to a broad range of readers. And that's what we're all hoping for, isn't it? That's why we write and read. To find the story that will carry us away.
Click here to read Jenny's full interview.

Lance Rubin: Here's my two cents: whether you're published or not, you need to start operating as if you're a published writer. Make writing a part of your daily routine, as if it's your job. Don't wait for inspiration to strike; just sit down and do the work every day. If you don't take yourself seriously in this way, then the universe won't be able to, either.
Click here to read Lance's full interview. 
Jerry Stahl: My only advice: don't listen to me.
Beyond that, I don't give advice. My experience, however, is if writing about your life (or writing in general) is a choice, you probably don't need to be doing it. If, however, you're doing this… thing–and are compelled to keep doing it–then you probably wouldn't listen to anybody anyway. From the time I was 16 on, I had people telling me not to write, to get a day job, etc… etc… If I could have, I would have. But I have no particularly marketable skills, so of course I became a writer. I admire people who can come up with gimmicky ideas and make a shit-ton of money. I just don't find them particularly interesting. At the end of the proverbial day, I'm always gonna take Raskolnikov over Romney.
Click here to read Jerry's full interview. 

Ylonda Gault Caviness: You've gotta go for what you know. It's the only way to be truly authentic. And if people don't get it, the hell with them. You have to keep on keeping on.
Click here to read Ylonda's full interview. 

Andy Ross: For writers of literary fiction, most of it won't find a publisher. If I'm representing you, you are good enough to get published. But commercial publishing is a business. You have to be good, but that isn't enough. They usually make decisions more for marketing reasons than for aesthetic reasons. Rejections are a big part of this business. Learn to live with it and keep writing. If you are writing memoir, it's often even harder to find a publisher. Remember that the journey is the destination. Or as Camus famously said: "The struggle itself is enough to fill a man's heart."
Click here to read Andy's full interview. 

Stephen Mooser: My advice is for the new writer just entering the field. The competition is stiff–publishers get tens of thousands of manuscripts every year so you have to give them something that they have never seen before. I go to the movies once a week and I enjoy many of them, but most of them are just a variation on a theme–but every once in a while I see something that knocks me out–Star Wars, Pulp Fiction, Moonrise Kingdom were for me those films. If you come up with something fresh, whether a story idea or a character or an art style, you will sell that book even if you don't have a track record or an agent. So, think hard, study hard and work hard and you will succeed–I promise you–in my forty plus years of children's books I've seen that hundreds of times.
Click here to read Stephen's full interview. 

Bruce Holsinger: Keep writing, keep writing, keep writing, and don't spend time fretting about a publishing industry that doesn't recognize your genius. It took me fifteen years and two manuscripts in the drawer to get a novel picked up. All the clichés about persistence are true!
Click here to read Bruce's full interview. 

Judith Fertig: Adjust your book as you go along. You may start writing and a new character can appear or a plot twist present itself or something equally surprising can occur when you're into it. AND join a good writers group. Feedback is so important.
Click here to read Judith's full interview. 

Jon Pressick: Start a blog. Have a public space you write in and contribute to it often. Let people know they can read it. Encourage feedback. Fight for your words when people critique you…but at the same time take time to learn and admit as much when you fail. Write without shame, but don't shame others. Work hard at finding your voice, your technique and your power. You have it, find it.
Click here to read Jon's full interview. 

Cathy Camper: One crucial tip I'll pass on is that so much of the quirky DIY stuff I did for many years for free ended up being what led to this book. For example, for decades I've written reviews of books for School Library Journal, Kirkus and Lambda Literary. I've also written and published zines and supported them as a zine librarian. I didn't see it until now, but those things not only honed my writing skills, they created two huge support networks of people who knew my work. The adventures I've had and the people I've met via DIY vs. mainstream connections are equal. Don't underestimate the value of what you do just because it's not mainstream.
Also, as a librarian, I'd tell writers, don't write in a bubble. Be aware of the market your book will fall into, its audience, and the reason why people will read it. If you're going to spend time writing a book, do research, talk to librarians and bookstore folk about what people are reading, read other books in your category so you'll know who your competition is. Think about what would make a publisher sink time and money to back your work. Your book may fall in a large category everyone already reads or it might be the first to fulfill a long-felt need, but that should to be part of your pitch, and an intrinsic part of the book you write.
Click here to read Cathy's full interview.

Join our newsletter to receive more interviews and tips on how to get published. 
We first met Josh Funk at the New England SCBWI Conference. (If you're not a member of this group and you're interested in books for kids, as soon as you're done reading this piece and sharing it with everyone you know, go join that group. If you haven't been to one of their conferences, ditto.) We were struck with Josh's fabulous combination of goofiness and seriousness. It's something we aspire to at The Book Doctors. And when we found out his debut picture book was going to be dropping, we had a wonderful wave of serious goofiness come over us. It's called Lady Pancake & Sir French Toast, and it's a ripping barnburner full of outlandish action, heroic and dastardly characters, roller coaster rhymes and some absolutely fabulous illustrations by Brendan Kearney. So we thought we'd sit down with Señor Funk and see what's new on Funk Island.
To read this interview on the Huffington Post, click here.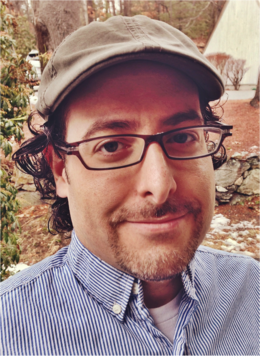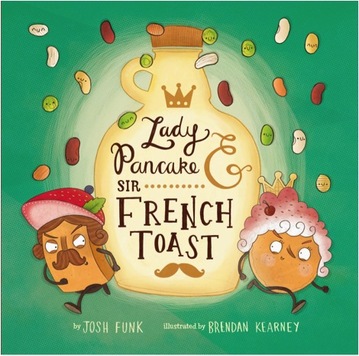 The Book Doctors: First of all, congratulations. What did it feel like when you saw that first box of books arrive and you tore it open and there it was, your own baby book?
Josh Funk: Ahh, the Back to the Future moment: "If you put your mind to it, you can accomplish anything."
Well, I didn't exactly have the 'open the box moment' that you see in the movies (or at least that one movie). The first physical copy of Lady Pancake & Sir French Toast that I got a copy of was the one the Sterling sales rep gave to Porter Square Books (in Cambridge, MA). I got a tweet from a friendly bookseller at PSB who said she found my book, so I immediately rushed to Cambridge.
The first thing I noticed was the amazing design. I knew it was going to have an embossed cover with foil, but it was really stunning. The book creaked a little when I opened it. I had seen a digital copy, but the clarity of the images on the pages was overwhelming compared to seeing it on the screen. And I think it smelled a little bit like maple syrup.
And then I jumped around giddily for about ten minutes before the booksellers asked me to leave out of fear I was scaring away all of their customers.
TBD: Why in the name of all that's good and holy would you choose to get into the publishing business? Have you had your head examined recently? Been checked for brain parasites?
JF: Haven't had my head examined lately. It's possible I'm housing parasites. But the real reason is that I always read a lot of books to my kids. One day I thought, 'I can do this.'
But once I joined my first critique group, then attended my first Society of Children's Book Writers and Illustrators conference, I realized I had a lot to learn. But I also noticed that the kidlit community is so warm and welcoming and just plain fun. I quit my fantasy football leagues and started taking writing more seriously.
I'd like to think that even if I never sold a book, I'd still be happy just to be a part of the kidlit world.
TBD: How did you go about getting a book contract not only for Lady Pancake, but also for your next two books which are coming out?
JF: In the May of 2013, I gave up on trying to acquire a literary agent. I was getting almost no responses to my queries. Out of 35 queries for Lady Pancake, 1 agent responded with a rejection implying she read it (or at least read the title). The other 34 were made up of 10 form rejections and 24 black holes. I felt I was better than that, so I submitted Lady Pancake to 10 publishers via snail mail.
Around the same time, there was an open submission period to Scholastic via author/illustrator Debbie Ridpath Ohi's Inkygirl blog. The Scholastic editor was looking for material suited for ages 0-5, and the only manuscript I had written for that age group was Pirasaurs! (most of my picture books are geared toward kids ages 4-8).
And then as late summer rolled around, I finished revising another manuscript (Dear Dragon) and decided to send it out to publishers that accepted submissions via email and online form.
By early November, Scholastic told me they were taking Pirasaurs! to acquisitions, Dear Dragon had garnered interest from two small publishers, and Sterling made an offer for Lady Pancake & Sir French Toast. All of that, plus a personal recommendation from a friend helped me obtain representation with an (awesome) agent. Over the next two months, my agent finalized the deals with Sterling and Scholastic and found a home for Dear Dragon at Penguin/Viking.
And that's how I got an agent and sold three picture book manuscripts between November of 2013 and January of 2014. I know it's a non-traditional path, but I feel extremely fortunate with the way it worked out.
TBD: Hasn't anyone told you that rhyming books don't sell? How did you overcome this ridiculous idea, and why do you think people keep saying that?
JF: Oh, boy. I have thought about this a LOT. Many rhyming picture books get published every year. So why do people say not to write in rhyme? Why is there this stigma? Well, there's a single simple reason.
It's very easy to write bad rhyme.
And lots of people do (please note that if you're reading this and you like to write rhyming picture books, I'm not talking about you).
Everyone grew up reading and loving Dr. Seuss. Therefore, many people think that picture books are supposed to rhyme. When they start writing picture books, that's how they write them. This includes me.
It's a flawed way of thinking. Not everyone is cut out to write rhyming picture books. It's actually rather difficult. I personally believe that a good rhyming picture book has an added level of charm. But there are so many mistakes you can make when writing a rhyming picture book (mostly to do with rhythm, all of which I've discussed in depth on my website and while leading workshops).
But here's the problem. When a literary agent receives a query for a rhyming picture book manuscript, there's a 99% chance that it's bad rhyme. And it's not worth the agent's time to read 99 bad rhyming manuscripts, just to get to the one good one. And I completely understand and agree with that policy. Add to that the fact that it'll be nearly as hard for an agent to sell a rhyming manuscript to an editor. I truly believe that this is why my query response rate was so utterly abysmal (in retrospect, I shouldn't have said that the manuscript rhymed in the query).
I overcame this hurdle by first worked very hard to improve my rhyming, spending lots of time reverse-engineering critique partners' comments.
Second, I bypassed agents. An agent is (rightfully) concerned with a writer's entire body of work and career. If you submit a single rhyming manuscript embedded in an email query and that's all they have to go on, it doesn't make you a particularly enticing prospective client. But an editor is more concerned with a single manuscript. It's not that they don't care about you or your career, but if they like a manuscript, rhyming or not, that's all they have to commit to.
I figured I'd have better odds of someone actually reading my manuscript at a publishing house. And at least in this case, I was correct.
TBD: What are some of your favorite things about being a professional author? What are some of the most horrifying things about being a professional author?
JF: I love getting to meet fun people. Like other awesome authors I admire. And super cool teachers and librarians like those in the Nerdy Book Club. Seeing my son's face the first time someone asked me for an autograph (part confusion, part amazement, part pride) – that was pretty cool. I also get to travel a little more than I used to.
Horrifying? I guess a Misery-type situation would be horrifying. Other than that, I'm all peaches and roses.
TBD: We are big lovers of pancakes and French toast around here. I, myself, leaned toward the pancake. Olive, our eight-year-old, often leans toward the French toast. I think you can divide all of humanity into these two categories. How did you come up with this fantastic idea for a book?
JF: One Saturday morning, I asked my kids what they wanted for breakfast. One said, "Pancakes." The other said, "French toast." "Pancakes." "French toast." "Pancakes!" "French toast!"
While the arguing continued, I checked the kitchen, and as you might have expected, all we had were waffles. To top it off (literally and figuratively), we had enough maple syrup left to fill a single square on a waffle grid.
It was on the way to the diner that I came up with the idea.
TBD: What was it like working with your editor? Illustrator? Agent?
JF: Zaneta Jung (my editor at Sterling) is terrific. We had one phone conversation discussing her revision notes, went back and forth for a week over email finalizing the manuscript, and that was pretty much it. Zaneta (pronounced 'zuh-net-ta') has so much energy and excitement for kids' books. She has a great eye for picking out illustrators, too. She definitely had a hand in finding Brendan Kearney.
Like many author/illustrator relationships, Brendan and I didn't really talk much (or at all). Rumor has it that the publishers like it this way. Author talks to editor editor talks to art director art director talks to illustrator. This way, the publisher maintains complete control of the message (good or bad). I've had nothing but good things to say about Brendan's work on Lady Pancake, which I think have been relayed to him. I've had a handful of quick conversations with Brendan over Google chat, but that's about it.
My agent, Kathleen Rushall, is a rock star! I was extremely fortunate to sign with her while she was actively building her picture book list. She represents picture books through young adult at Marsal Lyon Literary Agency and is strong in every aspect you'd want from an agent. She has a fabulous editorial eye, she has a good sense of what particular editors are looking for, she knows the business and contracts side, she's extremely communicative, and she's a genuine pleasure to work with. We, her clients, affectionately refer to ourselves at #TeamKrush. We even have a logo designed by author Jessie Devine for PitchWars.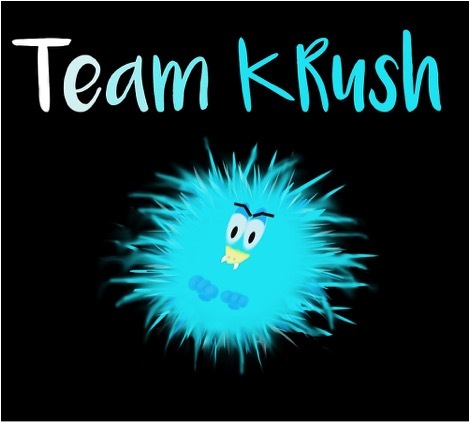 TBD: What do you see is the value of going to a writer's conference? And specifically how has being a member of SCBWI helped you in your career and as a person?
JF: I think going to a writer's conference is valuable at many levels of your career. If you're brand new to the writing world, you'll be able to learn the basics. It's important to learn not only the craft of writing, but also about the industry and its expectations (e.g. picture book manuscripts should be around 300-500 words).
Once you've learned the basics, you might meet people who will ultimately become your critique partners (this has happened to me).
Perhaps you'll read a picture book manuscript at an event's open mic session, which will validate that you're on the right track (also happened to me).
Maybe you'll have a good time, make some friends, and get to watch the one-of-a-kind #Pitchapalooza led by The Book Doctors (again, happened to me).
Conferences avail the opportunity to connect with agents and editors for critiques or casual conversations (networking is so important).
SCBWI kickstarted everything for my writing life. In 2012, I attended my first New England SCBWI Regional Conference as one of about 700 attendees. And in 2016, I'll be co-coordinating the conference alongside Heather Kelly, writer and founder of The Writers' Loft (planning is already heavily underway for next spring's event).
In 2016, we're trying something new. We thought it might be nice to hear from (and get face time with) leading educators and booksellers. We're bringing in a panel tentatively called "The Voice of Reading" with Elizabeth Bluemle (author, bookseller, blogger at PW's Shelftalker), Donalyn Miller (teacher, author of The Book Whisperer and Reading in the Wild, Nerdy Book Club co-founder), Susannah Richards (professor, expert in all things children's literature), and John Schumacher (AKA Mr. Schu, school librarian, newly appointed Ambassador of School Libraries for Scholastic Book Fairs).
SCBWI has helped me so much in such a short period, I'm grateful for the opportunity to volunteer my time to plan the 2016 (and 2017) NE Regional Conferences.
TBD: I hate to ask you this, but what advice do you have for writers?
JF: Keep writing. When you finish a manuscript, write the next one. It'll be even better than the last. Networking is half the battle. I've written a 12-Step Guide to Writing Picture Books available (for free) on my website here.
TBD: And finally, how do you keep it so funky?
JF: I eat lots of candy corn. I wear Old Spice deodorant. And I'm 17% psychic.
Josh Funk is the author of Lady Pancake & Sir French Toast (Sterling), available now. Josh is also the author of the forthcoming picture books Dear Dragon(Viking/Penguin 2016), Pirasaus! (Scholastic 2017), and more. Josh spends his days as a software engineer writing Java code and Python scripts, and his nights and weekend drinking Java coffee and writing picture book manuscripts, alongside his wife, children, and assorted pets and monsters. Josh is a board member of The Writers' Loft in Sherborn, MA, and the co-coordinator of the 2016 and 2017 New England Regional SCBWI Conferences. Find out more about Josh, his books, his schedule for public appearances, and more at www.joshfunkbooks.com and on Twitter at @joshfunkbooks.
Join our newsletter to receive more interviews and tips on how to get published. 
Arielle Eckstut
,
author
,
Book Publishing
,
children's books
,
David Henry Sterry
,
how to get an agent
,
how to get published
,
How to publish a book
,
Josh Funk
,
Lady Pancake and Sir French Toast
,
Literary Agents
,
Picture Books
,
pitchapalooza
,
publishing
,
Society of Children's Book Writers and Illustrators
,
the book doctors
We first met Ann Ralph when she won our Pitchapalooza with one of the greatest elevator pitches we've ever heard: The Elements of Style for fruit trees. It made total sense even as it was counterintuitive. It communicated something so clearly, with such economy, intelligence and style. She also presented it in such a smart, relaxed, fun and yet information-packed way you couldn't help but sit up and pay attention. Plus, who doesn't love a great fruit tree? So now that her book Grow a Little Fruit Tree: Simple Pruning Techniques for Small-Space, Easy Harvest Fruit Trees is out, we thought we'd pick her brain and find out exactly how she did it.
To read this interview on the Huffington Post, click here.
The Book Doctors: How is your garden?
Ann Ralph: The garden is thirsty, but so far, so good. These dry winters are unusual and scary. Long, dry summers are nothing new. In most of California rain stops in May and won't start again until November. I planted with this in mind. The plants on a hot bank behind my house do entirely without summer water. The roadside tree trimmers left behind a huge pile of chipped prunings last fall. This stuff is gold to me. I applied it as a deep mulch around my fruit trees and ornamentals. Mulch helps tremendously with transpiration. I water my established fruit trees only about once a month. Mulch improves soil quality and sequesters carbon, too.
TBD: How did you get started as a writer?
AR: Nursery work was meant to be a placeholder until I got a real job. I got waylaid in a composition class on the way to a respectable career, then abandoned pretense for the work I liked, low pay, the outdoors, a cavalcade of interesting questions, great people, and writing in my off hours.
TBD: What are some of your favorite books and why?
AR: However beautifully rendered, nonfiction is constrained by facts. I get more sustenance from the truth in fiction: I think of the Salman Rushdie character who cooks grievances into her chutneys. I wish everyone would read All the King's Men, A Passage to India, and A Place on Earth. When our president quotes Marilynne Robinson, I feel sure we'll be okay.
TBD: How did you get started as a fruit tree enthusiast? What are some of your favorite fruit trees and why?
AR: I grew up in the San Joaquin Valley. We were awash in fresh fruit all year long. I went out the front door for Meyer lemons. Neighbors left bags of nectarines on the front porch. Teachers, like my dad, graded and weighed peaches for Del Monte in the summertime. He brought home leftover lug boxes full of fruit. My mother canned peaches and apricots to tide us over until summer came again. I had no idea how good we had it until I left California for New York. This last weekend I visited friends in Ripon and came home with a huge box of tree-ripe grapefruit. There is never too much grapefruit at my house.
TBD: What were some of the joys and difficulties of taking your passion and turning it into a book?
AR: I had a good idea about what made fruit trees confusing and difficult for people, and what was missing from existing books on the subject. Storey asked me to double the content. How right they were! Every step in the process led to a better book. The photography was more complicated than I expected it to be. Marion Brenner was generous with her time and up for anything. The trees, weather, light, and backgrounds weren't as cooperative. The photos took another year, the design a third. I sometimes despaired that I'd ever see the thing in print.
TBD: You've gotten some wonderful reviews. What did you do to promote and market the book?
AR: Storey Publishing has reach into the book business I could never have managed on my own. My sister has been a buyer for independent bookstores for thirty-five years. She drilled into me a sense of my shared responsibility for the book's promotion. I knew my audience. I also knew I had a book that people needed and would want to buy. I have great garden connections from Berkeley Horticultural Nursery. I'm easily evangelical on the subject of fruit trees.
TBD: The environment is going through some terrible times. What do you think are some solutions to bring back a balance with nature?
AR: Humans wield a lot of clout in the natural world. The organics now in markets are there because we wanted to buy them. We can look to decisions we make everyday, regarding packaging for one. We're drowning in plastic. Recycling is better than nothing, I suppose, but recycling plastics is a dirty business. I make yogurt at home. Its deliciousness aside, this small action by one person eliminates a need for hundreds of plastic containers. The environment doesn't exist apart from us. We're in the thick of it. For good or ill, we build it as we go.
TBD: How did you get a book deal?
AR: The Book Doctors pulled my name out of a hat at a Pitchapalooza at Book Passage in Corte Madera. They liked my pitch. I shopped a proposal around to several publishers with interest but without success, always on the heels of another fruit book. Arielle took the idea to Storey Publishing. I strengthened the proposal based on information from The Essential Guide to Getting Your Book Published. I'm sure that made the difference. I'm not just saying this because the Book Doctors happen to be asking the question. It's true.
TBD: What advice do you have for fruit tree growers?
AR: Keep your fruit trees small enough to manage. I wish I could take credit for my favorite pruning advice. It came from a UC Davis seminar, "If you don't know what to do, cut some stuff out." Fruit trees are forgiving. If you goof it up, they give you another chance.
TBD: What advice do you have for writers?
AR: Let's leave fruit advice to me and writing advice to Anne Lamott.
Ann Ralph is the author of Grow a Little Fruit Tree: Simple Pruning Techniques for Small-Space, Easy Harvest Fruit Trees. Publisher's Weekly called the book "a thrilling read for the backyard farmer." She is a fruit tree specialist with 20 years of nursery experience. She lives in the Sierra Foothills near Jackson, California.
Ann Ralph
,
Arielle Eckstut
,
author
,
authorship
,
book publishing process
,
David Henry Sterry
,
find a book publisher
,
Get a book published
,
get my book published
,
get published
,
Grow a Little Fruit Tree: Simple Pruning Techniques for Small-Space Easy Harvest Fruit Trees
,
how to get published
,
pitchapalooza
,
publishing
,
the essential guide to getting your book published
,
writer
,
writing
This is originally from a great website called Novel Pitch. 
Gloria Chao was the winner of the 2015 Pitchapalooza contest put on by The Book Doctors. She and I connected via twitter. The following is her experience from the event.
I am honored that NovelPitch has invited me to share my experience pitching in The Book Doctor's 2015 Pitchapalooza contest. I'm a strong supporter of writers helping writers, and am excited to give back (though I wish I could give more!) to the community that has helped in my journey thus far. Thank you, Ralph, for your Novel Pitch efforts, and thank you, fellow writers, for your constant support.
I heard about the Pitchapalooza contest through Twitter and submitted my query. Based on The Book Doctors' comments, I believe my pitch stood out because of the specifics—namely, the wording and humor. Since my novel is multicultural, I used words that gave a taste of Chinese culture, e.g. "sticking herself with needles" and "fermented tofu." I also highlighted the wacky characters with phrases such as "expiring ovaries," "unladylike eating habits," and "Taiwanese Ivy Leaguer." I think capturing the manuscript's voice in the query was why my pitch was chosen.
Winning Pitchapalooza gave me confidence and the courage to keep fighting. It also helped bring my manuscript to the next level. I had struggled with my genre, pitching NA contemporary for the contest. The Book Doctors helped me realize this was the incorrect categorization, pointing me toward adult with suggestions to age up my manuscript by changing from first person to third. This released a flood of ideas, and I spent the next several months rewriting—adding 24K words, changing the POV, and writing with a women's fiction audience in mind. I ended up with a manuscript that finally felt right.
The journey to publication is infamous for being long and relentless, but enjoying the small accomplishments along the way (and the writing, of course!) is what keeps me motivated. Putting ideas into words, sharing work with others, getting a personalized rejection, receiving a request, winning a contest—these are all achievements that require courage and are worth celebrating. And the writing community, including myself, will always be happy to celebrate with you!
Here are some of my tips for making your query stand out:
If you're new to querying, check out Query Shark, published authors' blogs, Writer's Digest, and craft books.
Keep the 250 word count in mind, but only at the end. When you first start, just write. You're more likely to have gems if you're whittling down.
Avoid clichés, generalities, and obvious stakes. Use unique words to convey your voice (and do this in your manuscript as well).
Cut out every word that's not essential. Too much detail bogs the story down.
When you think your query is ready, get fresh eyes on it—family (my husband read a thousand versions of my pitch), friends, and other writers you meet through Twitter. Start with those familiar with your book, then end with people who know nothing about it. The latter will help identify confusing elements and will let you know if the pitch as a whole is not grabbing enough. Then, seize every critique opportunity by entering contests.
You can read Gloria's winning pitch for AMERICAN PANDA here.
About Gloria:
I earned a bachelor's degree from MIT and graduated magna cum laude from Tufts Dental—the perfect Taiwanese-American daughter. Except I wasn't happy. To get through practicing dentistry, I wrote. It took years to gather the strength to push my dental career aside, against my parent's wishes, to pursue writing full-time. Our relationship suffered, but my most recent novel, AMERICAN PANDA, strengthened our bond by forcing me to ask questions I never dared before. Now, my mother and I laugh about fermented tofu and setups with the perfect Taiwanese boy (though I think she still worries about my expiring ovaries).
You can find out more about Gloria at her website and on twitter.
Website: https://gloriachao.wordpress.com/
Twitter: https://twitter.com/gloriacchao
We first met Melissa Cistaro when she pitched her book to us at a Pitchapalooza we did for Book Passage (one of America's great bookstores) in Corte Madera, California. We've been doing this so long we can usually tell when someone has a book in them and is capable of getting it out successfully. And we knew Melissa had the right stuff as soon as she opened her mouth. Arielle then made a suggestion to Melissa that she calls perhaps her greatest move as a Book Doctor: she told Melissa that she should get a job working at Book Passage. This is what separates the doers from the talkers. Melissa actually did it; she got a job at Book Passage. Eventually she became the person who introduces authors when they do events at Book Passage. Some of the greatest authors in the world come through that bookstore. Now Melissa gets to move from being the person who presents authors to the author being presented. So we thought we would pick her brain to see how she did it.
To read this interview on the Huffington Post, click here.
The Book Doctors: How did you get started as a writer?
Melissa Cistaro: This may sound odd, but I think that becoming a mother is what turned me into a writer. Even in college, I still considered writing one of my greatest weaknesses. But when I saw my own child for the first time, I knew I had to figure out how to tell the stories that had been hiding inside of me for so long. I started taking classes at UCLA Extension, and it was there that I caught a glimpse of my writing voice–and after that, I couldn't stop writing. I've always believed that motherhood opened a portal inside of me that gave me permission to write. If I hadn't become a mother, I don't know that I would have become a writer.
TBD: What are some of your favorite books and why?
MC: In the house I grew up in, we rarely had access to books. I was not a child who discovered books early–they came late for me, and when they did, I had a lot of catching up to do. One of the first books to completely mesmerize me was Arundhati Roy's The God of Small Things. The language was magical and the story deep, evocative and riveting. I am often pulled into stories through language. Fugitive Pieces is another book that I drew me in with its incredible poetic narrative. Divisadero by Michael Ondaatje and a short story collection by John Murray called A Few Short Notes on Tropical Butterflies. Oh this is hard! I could go on and on with favorite books.
TBD: What made you decide to write a memoir?
MC: I started this story as a work of fiction. It was easier for me to dive into it as someone else's narrative rather than my own. For years, I wrote calling myself Paisley Chapin in the story, but eventually I realized that I wasn't very good at drifting away from the truth, as I knew it. Early on, I showed my oldest brother some chapters, and he said to me, "Sorry Sis, but this ain't fiction you are writing."
TBD: How has your family reacted to seeing themselves in print?
MC: The book was very difficult to hand to my father. There were many facets of our childhood that he wasn't aware of–and it was definitely emotional for him to take in our story on paper. He has been exceptionally supportive of the book and, ultimately, a proud father. My brothers also have been generous and supportive. Naturally, there were some details that we recalled in different ways, and we have since had some great conversations about our childhood.
TBD: You attended a number of writing programs, do you recommend this? What are some of the benefits and liabilities?
MC: Classes and workshops were crucial along the way, as was being in a writing group. But I eventually got to a place in the process where outside input began to stifle me as a writer. The feedback was always helpful, but I also had to take responsibility for what I ultimately wanted to write. If there are too many voices and opinions, it can get overwhelming. I've become less fond of workshopping and more of a fan of having a few select and trusted readers.
TBD: Which helped you more as a writer, being an equestrian or a mom?
MC: Whoa–this is an interesting question. I don't know if I've ever considered how riding has informed my writing. Communicating with an animal requires a great deal of paying attention and observing, and I think that certainly translates into the writing process. I once had to throw myself off of a horse that was running at full speed back towards the barn. I could see the low awning of the barn ahead, and I knew I had lost control of the horse. I didn't want to end up trapped under the awning or thrown dangerously sideways–so I made a decision to pull my feet out of the stirrups and make a flying dismount. I skidded and tumbled across the hard summer dirt, landing safely (and sorely) between two spindly birch trees. I think, whether we are parenting or writing or on a runaway horse, we have to make big decisions and sometimes we don't know precisely what the outcome will be.
TBD: Did working at a bookstore help you as a writer?
MC: Absolutely. If you love books as much as I do and you want to surround yourself with likeminded people, go work in an independent bookstore. Bookstores are magical places. You get to meet authors and discover new books all the time. I also learned how sometimes great books thrive and other equally beautiful books can sometimes wither on the shelf. I quickly gleaned how subjective the world of books can be. This armored me with very humble and realistic expectations as I entered the publishing arena with my own book. I had a completed draft of my memoir when I started working at Book Passage, and I decided to put it in the proverbial drawer for a year so that I could focus on other books and writers. This turned out to be a great plan. Two years later, I met my agent during an event I was hosting.
TBD: You've now seen hundreds of authors do events as event coordinator at one of the great bookstores in America, Book Passage. What mistakes do you see writers make? What do you see successful writers do to help themselves?
MC: I have a wonderful job at Book Passage. I introduce authors, host their events and read their books. I find that, for the most part, authors are truly grateful and gracious when they come to Book Passage. I learn something new at every event I host. I take a lot of notes. We always appreciate when an author stands up and thanks independent bookstores for the hard work they do, because we certainly don't do this work for the money (which is essentially minimum wage). We do this work because we love working in the landscape of books, ideas and creative minds.
TBD: What did you learn about finding an agent and publisher that you think unpublished writers would like to know?
MC: Finding that one agent who falls in love with your work takes a lot of time, patience and perseverance. Expect a lot of rejection. Grow extremely thick skin. And keep writing what you are passionate about. When you find that agent, he or she will help get your manuscript to the right publisher.
TBD: What was the most frustrating part of the publishing process from idea through publication for you?
MC: The publishing process is full of surprises, and I had to carry my publishing "Bible" with me everywhere. (That would be your book!). There are so many things you can learn in advance about how publishing works and all the ins-and-outs of contracts, deals, agents, etc. It was a tremendous and challenging education going through the publishing process. The landscape is changing so fast that it's important to keep informed.
TBD: How can writers best use their local bookstore to help them in their career?
MC: Support your local bookstore. This means buying books from them. Attend their events. Introduce yourself to the booksellers and tell them you are a writer. Ask them for advice and book recommendations. Let them know you are not going to get a recommendation and then go purchase it for a few dollars less online. Today there are many ways a writer can professionally self-publish their books, and this is a perfectly respectable way to publish. Just make sure that if you self-publish, it's on a platform that is compatible with independent bookstores. (This is kind of homework that authors need to do when looking into their publishing options!)
I love meeting writers at Book Passage, and I appreciate when they tell me they are a writer because I know how challenging this path is. I also know that one day they may come in and tell me that their book is being published–and guess who is going to make sure that they get a reading at Book Passage?
TBD: What advice do you have for writers?
MC: If there is a story you need to tell, you must do it. You must keep writing and writing until you are both empty and full. No story is too small for this world.
Melissa Cistaro's stories have been published in numerous literary journals, including the New Ohio Review, Anderbo.com, and Brevity as well as the anthologies Cherished and Love and Profanity. She works as a bookseller and event coordinator at Book Passage, the esteemed independent bookstore in Northern California. Between the years of raising her children, writing, bookselling, teaching horseback riding, and curating a business in equestrian antiques – Melissa completed her first memoir, Pieces of My Mother.
Arielle Eckstut and David Henry Sterry are co-founders of The Book Doctors, a company that has helped countless authors get their books published. They are also co-authors of The Essential Guide to Getting Your Book Published: How To Write It, Sell It, and Market It… Successfully (Workman, June 2015). They are also book editors, and between them they have authored 25 books, and appeared on National Public Radio, the London Times, and the front cover of the Sunday New York Times Book Review.
Arielle Eckstut
,
book
,
book passage
,
Book Publishing
,
bookstores
,
California
,
Corte Madera
,
David Henry Sterry
,
equestrian
,
horses
,
how to get published
,
independent bookstores
,
Melissa Cistaro
,
memoir
,
Motherhood
,
Pieces of My Mother
,
pitchapalooza
,
publishing industry
,
the book doctors
,
the essential guide to getting your book published
We first met Jenny Milchman when we heard about some crazy book tour she was doing that seemed almost as ridiculous as the book tour we were doing. Essentially, The Book Doctors have been on tour for seven years, during which time we've done over 300 events. We wanted to connect with Jenny to see how she was doing it, and maintaining her sanity. When we reached out to her, we found out she was not only a wonderful writer, but also a wonderful human, generous, smart, funny, down-to-earth, full of joy and expertise. Now that she has a new book out, we thought we might pick her brain about books and writing and yes, touring.
To read this interview on the Huffington Post, click here.
The Book Doctors: How did you first become interested in being a writer?
Jenny Milchman: I don't remember a time when I didn't want to be one. In fact, the desire, or predilection, or bug apparently predates conscious memory. All of my [failed] college essays began with the line, "I wanted to be a writer before I knew how to write," which came from an anecdote my mother told about how she used to write down bedtime stories that I dictated at the age of two.
TBD: How did you learn how to become a writer?
JM: I did a lot of workshop-type things between high school and college. Summer Arts Institute in New Jersey was formative, and I studied with poets like the late Kenneth Koch and Robert Kelly in college. But the way I learned to write a novel, a whole, structured work of long-form fiction, instead of just scribbling lines and starts until I'd lost interest, was by reading every book on craft I could get my hands on. I called it my self-inflicted MFA and during the years I was inflicting it, I must've read every book in the Writer's Digest catalog. And a whole lot more. Albert Zuckerman of Writers House fame wrote a great book called Writing the Blockbuster Novel. Donald Maass wrote The Breakout Novel. Anne Lamott, Bret Lott, Stephen King, James N. Frey–not the scandalous one–the list goes on and on and on and on. Those authors schooled me more than any class.
TBD: What are some of your favorite books, who were some of your favorite authors, and why?
JM: Oh, gosh, this is always the toughest. Impossible really. I loved the great short storyists growing up. Shirley Jackson's "The Lottery," Richard Connell's "The Most Dangerous Game," W.W. Jacobs' "The Monkey's Paw." Anything by O. Henry. I studied the Victorians in college and all three Bronte sisters, George Eliot, and Henry James were great favorites of mine. But perhaps the most visceral authors, the ones who really took my heart in their hands and squeezed it into a ball, were the great horror writers of the 1970s. Ira Levin, Frank De Felitta, David Seltzer, William Peter Blatty, and of course, Stephen King.
TBD: How did you get your first book deal?
JM: It took me 11 years, 3 agents, and 8 novels before I finally landed a book deal with Ballantine. How it happened required all eleven of those years: reading those books on craft, going to events at bookstores and seeing how real authors did it, building a circle that included people like you, David, and Arielle. But in the sense that big events do come to one single moment in time…this one rested on a favorite author, Nancy Pickard, who read my eighth novel in manuscript form and passed it on to her editor. I've been with the same editor for both books since my debut, and I hope we never part. My third novel is dedicated to Nancy and our mutual editor.
TBD: How do you deal with rejection?
JM: I stomp around and cry and whine and scream. I break computer screens. Seriously–when a much loved bookstore declined to do an event with me, I fell over my computer sobbing, and the screen cracked. Don't be like me.
Rejection is part and parcel of this business–I just never got good at accepting that.
TBD: What is your new book about?
JM: If I tell you that As Night Falls is about two convicts, one huge and one wiry, who escape from an Adirondack prison, would you believe me? But on a deeper level, it's about how a mother's love can go awry, twisting and thwarting the generations to come in one unending double helix. When the convicts encounter a family contained by a snowstorm in their mountain home, only unveiling the secrets from the past will allow for true escape.
TBD: Why did you decide to go on the longest book tour in the world, and how did you go about setting it up?
JM: You mean not every published author rents out her house, trades in two cars for an SUV that can handle Denver in February, asks her spouse to work from the front seat while the kids are car-schooled in the back, and hits the road for 50,000 miles? What??? Oh right. My publisher was skeptical, too.
But when it takes you eleven years to get published, you either make a lot of friends or a lot of enemies along the way. I was lucky enough to make friends. And when I finally had a book released, I wanted to go out and thank them. Face-to-face. The world's longest book tour–as Shelf Awareness called it–made the virtual world come alive, and that's when true magic sparks, in my opinion.
And since my debut novel wound up going into six printings in hardcover, people became a little less skeptical. I wouldn't say that sending authors around the country for seven months has quite become standard operating procedure for the Big 5, but by this third tour, my publisher is helping with some of the events and cost. I also have a crack independent publicity team, a husband who is heck at the traveling salesman problem, and a whole country full of bookstores, libraries, book clubs, writers' organizations like Sisters in Crime, and readers who know how to unroll one beautiful red carpet.
TBD: What are some of the things you love and hate about being a professional writer?
JM: At the risk of sounding Pollyanna-like, I love almost everything about it. This might be due to the whole eleven year thing. I'm so grateful to be where I am–I get paid to make up stories, and people actually want to read them–that sometimes it's hard to see straight. Seeing a book of mine on a shelf catapults me back to the time when I was a small child, reaching for a title, and knowing that a whole other world awaited me inside. Getting to meet other writers, readers, booksellers, librarians, reviewers, journalists, interviewers, radio personalities, TV hosts, editors, agents, publishers…the people who keep this world of words churning, is an honor every single time. Writers' conferences are sheer bliss for me. There's one coming up–ThrillerFest–and I get tingles of excitement imagining being there. I honestly can't think of a more thrilling industry–and we're not as mean as Hollywood or Nashville.
But one thing does bum me out. I have trouble getting past a bad review. At least I haven't broken any computer screens over a review. Yet.
TBD: When you win the Mary Higgins Clark award, does she come to your house and hang out with you? Who do you have to pay to win one of those awards?
JM: Well, in all seriousness, Mary does hand the award to you herself. And let me tell you, she is the most elegant doyenne anyone could hope to meet. After eleven years of rejection, that night provided balm for some wounded nerves. I would've paid a lot for it, but the truth is I think the awards process is fairly pure. A few years ago, I judged a major award and was a conduit for the most representative taste, not the big hits, nor the expected favorites, or the books that got the biggest push. It's gratifying to me, especially as we come up to a big election year, that some things really can't be corrupted.
TBD: I hate to ask, but what advice do you have for writers?
JM: Do ask! Please ask! I love this one. First, come find me, either virtually or on the road, because sharing, not advice (what do I know?), but a compendium of perspectives, tips, and stories gleaned from meeting many, many writers, struggling and successful, as well as publishing people, is one of the things I most love to do.
But if I had to boil all advice down to one single nugget it would be this. Know that anything we write can always use more work. It is never as good or done as we think it is. Critical feedback is like gold. Whether we accept it or not. Hearing different takes on what we create is the only way we will make it appeal to a broad range of readers. And that's what we're all hoping for, isn't it? That's why we write and read. To find the story that will carry us away.
Jenny Milchman is the author of the summer thriller, As Night Falls, a July Indie Next Pick. She has just hit the road on her third "world's longest book tour." Find her–literally–at http://jennymilchman.com/tour/bring-on-the-night-2015.
To receive more interviews like this one, join our newsletter. 
One of the fun things about being a Book Doctor is that we get to travel to cool places and meet cool people. If you haven't been to San Antonio, do yourself a favor and go. It's a beautiful city. The San Antonio Book Festival was really a blast: great authors, great craft stuff for Olive, our daughter, and most importantly, lots of readers. While we were there, we met Lance Rubin at the party they have for authors. He explained what his first book is about, and it's great. We decided to pick his brain about writing, publishing, and how he got his first book deal. To read on the Huffington Post, click here.
The Book Doctors: How did you get started as a writer?
Lance Rubin: Since I was eight years old, I always thought I was going to be a professional actor. So the writing I did through most of my life was often in service of that. When I was younger, I wrote skits and short films with friends that we would perform. In college, I wrote and performed a one-man show. After college, I co-wrote and performed a sketch comedy show called The Lance and Ray Show at the Upright Citizens Brigade Theatre. Then, several years ago, I was finding my acting career frustrating and unfulfilling right around the same time I read The Hunger Games. I really loved it, and I thought, "Maybe I'll try to write a YA novel." It wasn't a fully rational decision, but I started writing, and I was having such a good time–feeling empowered and creatively fulfilled in new, exciting ways–that I kept at it. Even though I hadn't written long-form fiction before, I think all the various writing I'd been doing my whole life completely informed this book.
TBD: What are some of your favorite books and why?
LR: Some favorites include:
The Harry Potter series by J.K. Rowling. Such brilliant storytelling: magical situations always grounded in humanity; a complex story that weaves and intertwines through seven books; humor that comes from a place of love; and fully fleshed-out characters who truly care about each other. I could go on and on. Anyone who's been resisting reading these is a fool.
The Amazing Adventures of Kavalier and Clay by Michael Chabon. Not only does Chabon spin the most delightful, acrobatic sentences, but he tells a completely engaging story of friendship, love, comic books, WWII, and superheroes.
The Spontaneous Fulfillment of Desire by Deepak Chopra. This nonfiction is all about the power of coincidences and synchronicity. I try to read it every couple years because it makes life more fun; you start to find coincidences everywhere, like a code from the universe you have to solve.
The Stinky Cheese Man and Other Fairly Stupid Tales by Jon Scieszka and Lane Smith. When I first read it as a kid, it made me aware of the way books can subvert narrative expectations and make you laugh out loud.
TBD: How did being a professional actor help and/or hinder you as a writer?
LR: As an actor, I was always trying to get inside the head of a character, figure out how that character thinks and responds to the world. When I started writing this book, with its first-person narrator, I realized there was a surprising amount of overlap, as I was essentially doing the same thing: figuring out how the main character (and all of the other characters, too) thinks and responds to the world. And it was even better because now I got to actually come up with what the characters say! That said, since I come from the world of acting and comedy, I'm often so focused on dialogue that the descriptive parts of my writing are severely lacking. But hey, that's what rewriting is for!
TBD: The idea for your new book, Denton Little's Deathdate, is so cool. How did you come up with it?
LR: I think about time a lot. I'm always taking inventory of my life in terms of dates. I'll think things like, "What was going on in my life a year ago today? Two years ago today? Three?" And so on. And I'm usually able to remember. So one day I thought, "What if I could take inventory of my life in terms of a future date? Specifically, themost important date, the day I'm going to die?" I wondered how this would change the way I lived. Or if maybe it wouldn't change a thing. And then I thought, "What ifeveryone knew the day they were going to die?" So then there was the idea: in a world where everyone knows their deathdate, the protagonist is going to die tomorrow. That was pretty much all I had for a few years. The rest came later.
TBD: How did you go about getting a book deal?
LR: I just Googled "book deal," clicked on the first link that appeared, and signed up! Isn't that how it works for everybody?
Apologies for that dumb joke. I did have a relatively charmed journey to a book deal, as my best friend since I was three, Zack Wagman, has worked in publishing for over a decade and is a brilliant editor, currently at Ecco. He was one of a handful of close people in my life who read the first draft of my book and gave feedback, and then was one of a duo of close people in my life (along with my wife, Katie Schorr) who gave feedback on the three or four subsequent drafts over the next year. Finally, once I had a draft that was in solid shape, Zack connected me to agent Mollie Glick at Foundry Literary + Media, who responded to the book and signed me. (I know getting an agent is not supposed to be such a smooth process, so I understand if writers out there want to spit in my proverbial soup. I've faced a ton of rejection in my life, too, if that makes you feel better. See: abandoned acting career.) Mollie is terrific, and she guided me through one last big rewrite before submitting to various publishing houses. In November 2013, Denton was sold to Knopf Books for Young Readers.
TBD: What was it like working with your editor?
LR: Super. I feel so fortunate that I ended up working with Nancy Siscoe. She's smart and kind and funny, and she loves all the same things about my book that I do. By the time she got my first book, it had already been rewritten a lot, so her changes were minor but really insightful as to things that would make the story clearer and more satisfying. My second book, which comes out in April 2016, was pretty much a mess when she got it. So I was truly relieved when I received her pages and pages of single-spaced notes and they all resonated with me. It was like, "Oh man, she has great ideas about how to make this less of a mess. Thank god."
TBD: We're intrigued by the musical you're writing. What exactly is Annie Golden: Bounty Hunter, Yo!?
LR: Hey, thanks for asking! It's a musical I co-wrote with Joe Iconis and Jason "SweetTooth" Williams about a veteran musical theater actress named Annie Golden (to be played by veteran musical theater actress Annie Golden, known to many as Norma on Orange is the New Black) who gets pulled into the world of bounty hunting and starts kicking ass in ways she never imagined she could. It's a comedy highly inspired by exploitation movies of the 1970s and '80s–both story-wise and musically–but it's also about breaking out of the boxes society puts people into. It's been an exciting project to work on. We're hoping it will have its first production in the not-so-distant future.
TBD: Did you outline your book before you started writing? What kind of a routine do you have as a writer?
LR: Thus far in the two books I've written, I haven't outlined before starting my first drafts. I generally have some broad ideas about where the story might go and a page or two of notes on characters and potential plot points, but then I just start writing and discover as I go. In the case of my second book, I got about 15,000 words in, realized I hated where the story was going, scrapped it, and started again. Outlining might have helped me avoid that, but it's still the way I prefer to work.
As far as writing routine, I have several coffee shops and libraries that I bounce between. Last year, I worked almost exclusively at the Tea Lounge in Brooklyn. Then it closed out of nowhere in December, which was quietly devastating. I now keep a rotation of several spots because I'm not gonna get hurt like that again.
When I'm working on a first draft, I'm always aiming for word count, which was something I took from Stephen King's On Writing. With my first book, I tried to get 1,000 words a day. With my second, I aimed for 2,000 (and often only got to around 1,700).
I work way better in the morning, so it's often an 8:30 am – 3 pm workday, give or take an hour (and sometimes I'm needed on Dad duty for my 1-year-old son, so that timing's always subject to change).
I usually listen to music while I write, and the headphones going in is my indicator to myself: "Okay, stop dicking around on the internet. Time to work."
TBD: I noticed your book has been translated into several languages. It was really fun for me when I saw my book in Russian and its different covers. What was it like seeing the book you wrote in a language you can't read?
LR: That's absolutely been one of the most surreal parts of the experience. Each cover has had its own wonderfully distinct take on the story, which has been so cool, but it's the different-language part that is truly hard to wrap my head around. I heard an audiobook sample of the German edition last week, and I think my brain exploded. This story I plunked out on my laptop in random coffee shops has ended up in a recording booth in Germany, being read aloud by some talented German actor. That's nuts.
TBD: We admire the fact that you publicly admit to loving the New York Knicks. How are you holding up during this very difficult time?
LR: Oh man, it's been so rough. I mean, maybe there's some historical joy in knowing I just lived through the Worst Knicks Season of All Time. No, there really isn't. What a joke of a season. I miss Jeremy Lin.
TBD: I hate to ask you this, but what advice do you have for writers?
LR: Ha, I love the disclaimer at the beginning of that question. Here's my two cents: whether you're published or not, you need to start operating as if you're a published writer. Make writing a part of your daily routine, as if it's your job. Don't wait for inspiration to strike; just sit down and do the work every day. If you don't take yourself seriously in this way, then the universe won't be able to, either.
Lance Rubin is a New Jersey native who has worked as an actor and written sketch comedy, including successful runs of The Lance and Ray Show at the Upright Citizens Brigade Theatre. He's also co-writing a new musical called Annie Golden: Bounty Hunter, Yo! and loves Pixar, the Knicks, and Back to the Future. Lance lives in Brooklyn with his wife and son. His debut novel, Denton Little's Deathdate, is out now from Knopf Books for Young Readers, to be followed by a second Denton book in 2016. Learn more at lancerubin.com and follow him on Twitter @lancerubinparty.
Arielle Eckstut
,
author
,
authorship
,
book publishing process
,
David Henry Sterry
,
Denton Little's Deathdate
,
Get a book published
,
getting a novel published
,
how to get published
,
Lance Rubin
,
publishing
,
the essential guide to getting your book published
,
The Reading Room
,
writer
,
writing
,
writing tips
This article originally appeared in our monthly newsletter. You can view the full newsletter here. Join our newsletter to receive more FREE information on how to get your book successfully published.
David has now been a writer for 15 years.  Before that, he was a professional actor for 15 years.  In that time, he located, lured and landed over 50 agents.  In fact, he got so good at it that he eventually got an agent to marry him and be the mother of his child.  Sadly, on their wedding day, she fired him as a client.  For those of you who don't know, that agent is Arielle.
We've seen lots of agents try to tell writers how to find an agent.  The sad truth is agents have no idea how to find an agent.  All they have to do is look in the mirror, and there is an agent staring back at them.  They look around the office; they're surrounded by agents.  Agents can tell you what things not to do and what things annoy them.  But they also often give bad advice because, quite frankly, they don't want the competition.
We see lots of agents tell writers not to do multiple submissions.  But, in fact, it can take an agent nine months to get to your manuscript.  That's how long it took Arielle to read David's manuscript after he submitted it to her.  And we went on to get married! Imagine if it took nine months for every agent to get back to you, it would take you seven years to query 10 agents. Of course, agents don't want you to do multiple submissions.  They want you all to themselves.
David also heard an agent say a writer should never submit a book that's already been self-published.  She said it in such a dismissive and entitled way.  You find this a lot with agents; they tend to develop a dismissive, entitled, bitter, jaded, snarky outer shell.  You can't blame them because they are constantly inundated, and everyone wants the agent to make their dreams come true.  In fact, a great agent can make your dreams come true. David is living proof of that.  However, he also did exactly what the dismissive, entitled agent said couldn't be done.  One of his books went out-of-print, and people kept asking where they could buy it.  So, as an experiment, he decided to self-publish the book.  It was a great experience, and he learned an amazing amount from doing it.  It cost him nothing because the book had already been published; and he bartered with people to make him a new cover, a new layout for the printed version and an e-book.  He immediately started making money on the book.  At the same time, he went out to a number of agents and editors, and lo and behold, got a book contract.  When that happened, he immediately took the book down from where it was available, and no one was the wiser.  Mind you, he didn't tell the people he was submitting a book that had already been self-published.  But if they had asked, he certainly would not have lied.  They didn't ask.  He didn't tell.
So how do you find an agent?
1. Research
There is a fine line between research and stalking.  The Book Doctors firmly believe it's important to stay on the research side of that line.  The first thing David does is make a list of 10 to 15 books that are similar, in the biggest broadest sense of that word, to his book.  Let us emphasize in no uncertain terms that we mean big broad strokes.  And please, for goodness sake, don't say that your book is like no book ever written.  Because that book will never be published.  Lots of our clients have no idea what books are similar to their books.  That's a problem.
One of the most important things you can do as a writer is to read, and you have to become an expert in the section of the bookstore where your book is going to live.  Recently, someone pitched us a piece of noir.  We asked him if it was more like Raymond Chandler, Dennis Lehane, or James Elroy.  He looked at us like a confused puppy and said, "Who are they?"  They're only three of the most successful and brilliant noir writers in history.  If you are lucky enough to get an agent or editor interested, and they ask you if your book is similar to another book on the shelf, you have to be able to say, "Oh yes, I love that book, and readers of that book will love my book, but it's different in these ways …"
2. Find Books Similar to Yours
Take a field trip to your local independent bookstore.  When the phones aren't ringing off the hook and the cash registers aren't going crazy, find a person who is the expert, or as close to an expert there is, in the kind of book you're writing.  Then ask them what books they have that are similar to your book. Start making a list of books that are similar to yours, again in the broadest, largest sense. List books that looked interesting to you, that looked like they were done by people you'd like to do business with.  In the acknowledgments section of those books, look for the agent and/or editor.
3. Make a List and Create an Environment of Competition for Your Book
Your agent list should be a little bit like a high school senior putting together their college list.  You should have some well-known agents at the top of your list, some agents you admire but aren't bigwigs yet, and some agents that have just started out or whose lists are small.
As soon as anyone expresses interest, you immediately email everyone else on your list.  There's nothing that's going to get you a response faster than having someone else interested.  That's human nature.  It's like the sorta cute kid in high school who shows up with a beautiful cheerleader on his arm.  Immediately, he becomes much more attractive.  He's exactly the same guy he was yesterday; only now someone else wants him.  You see, every agent who's been in the business for any length of time has a recurring nightmare in which they're walking down the street, people are pointing at them, laughing and giggling, whispering to each other, "There goes the agent who passed on Harry Potter!"  That's because every agent has passed on a book that has become wildly successful.
4. Know Thy Agent-to-Be
Make a file on each of the agents.  Where are they from? Where did they go to college?  What are their hobbies?  Where have they been interviewed?  What books have they agented?  Are they a dog person? You're going to use all this information when you write your query letter.
One of the biggest mistakes that most amateur writers make is that they just send anonymous letters without doing any research.  In lots and lots of places, it says that Arielle does not like fantasy and science fiction; and yet every week she gets another email from a writer that says, "Dear Agent, I know you're going to love my book; it's the first in a 37 book series. It's called the Unicorns of Narnia."  Arielle used to actually answer those emails.  She doesn't answer them anymore.  They go directly into the trash.
5. Make it Easy for an Agent to Say Yes
Agents are trained to say no.  They're just looking for a reason to reject you.  It sounds cold and cruel from a writer's perspective; but having lived with an agent for so long now, David totally understands it.  They are inundated and overwhelmed, mostly overworked and underpaid.  They've got 50 submissions that arrived in their inbox today, they had 50 yesterday, and will have 50 tomorrow. It's relentless.  That's why they're looking for a reason to say no. These reasons include:
Spelling or punctuation mistakes—we can't tell you how many people have spelled Arielle's name wrong
Over-promising and under-delivering
Too much horn-tooting and butt-kissing
Using obvious and overblown comp titles (i.e. Harry Potter, Eat Pray Love, Hunger Games)
Not following agent submission guidelines—you can't believe the percentage of submissions that do one or more of the above.
That's why if you just do the basics, it already ups your odds by loads.
6. Don't Submit Your Book Until It's Fully Polished
Writers are under the mistaken impression that an agent will help them fix their books.  The agent is almost certainly not going to help you fix your book.  If your book is not ready, the agent will reject you and your book.  Almost certainly, that bridge will be burned.
7. Develop a Coping Mechanism for Rejection
JK Rowling was rejected 25 times.  What makes you think you're any better than JK Rowling?  Thicken your skin.  Everyone has her own method of doing this.  David subscribes to the Godfather model: It's never personal; it's always business.  He also enjoys accumulating lists of people who've rejected him; so that when he finally gets a deal he's been looking for, he can send them all a very sweet email, and rub their noses right in it.  But again, everyone has to come up with their own personal method.
8. Keep Up-to-Date
Sign up for Publishers Marketplace and Shelf Awareness.  Keep abreast of who is selling books and making deals. Know what agents have awesome blogs.  Speaking of which, here's a shout out to Jennifer Laughran, who has an absolutely awesome blogfor those of you writing children's books.
9. Go to Writers Conferences, Seminars and Workshops
There are very few places a writer can actually get face time with an agent.  Conferences, seminars or workshops are one of them.  You can listen to agents make presentations, and sometimes you can even have one-on-one sessions with them.
10. Join a Writers Group
When David lived in San Francisco, he found an amazing writing group.  One of the writers was a very handsome, very charming, ridiculously talented writer.  Plus he was a doctor.  You wanted to hate him, but he was just too nice to hate.  You knew if he caught a break, he was going to be huge.  Well, he did catch a break. He wrote a little book called The Kite Runner and became an international sensation.  His name is Khaled Husseini. Now David is connected with his agent by one degree of separation.
11. Attend Readings at Bookstores and Libraries
Any time an author whose work is similar to yours in any way, shape, or form comes to town to do a reading, GO!  Buy a book.  Be the last person in line at the signing.  If someone comes behind you, get behind him/her.  This is important because when you get up to the front of the line to have the author sign the book, it's very rude to have a conversation if there's someone waiting behind you.  If you're the last one, then there's no pressure to move along.  Sometimes the writer will want to talk to you; sometimes the writer will not want to talk to you.  Pay very close attention to body language.  Ask the writers if they're happy with their agent.  If they say yes, this gives you the opening to contact the agent and say, "I was talking to your client yesterday, and she said how much she enjoyed having you as her agent."
12. Write a Killer Query
Three paragraphs.  The first is always customized.  Why should this agent be your agent?  The second paragraph is your pitch.  The third paragraph is a short bio.  The whole query should reflect the voice of your book whether that be funny, authoritative, lyrical or whatever.  This is your audition to show what a fabulous writer you are.
13. Persevere and Follow Up
Don't ever assume if you don't hear back from an agent that they are rejecting you.  Assume they haven't even looked at your query or manuscript.  David's maxim is: keep submitting until they say yes or the agent tells you to go to hell.  He tries to have the Zen attitude that it doesn't matter whether they say yesor no.  Because when someone says no, it's like you bought another lottery ticket.  You have increased your chances of winning.
However, there are two kinds of perseverance:  smart perseverance and stupid perseverance.  The Book Doctors highly advocate smart perseverance.  Always try to make your query/proposal/manuscript a little better.  Polish, buff, shine until is evolves into the best versions of itself.
Whenever you are rejected, ask if there's anything you can do to make your work better.  Time and again, David has seen people be very generous with their advice.  When David first approached Arielle, he didn't know her. In fact, David didn't know anyone in the publishing business.  After making initial contact, he sent her his manuscript.  A week later he followed up, just to make sure she received the manuscript.  It turned out she had already lost it.  He sent another.  A month later, when he hadn't heard anything, he called her on the phone.  Generally speaking, agents don't want you to call them on the phone.  But this is David's strength.  We had a very nice conversation; he never even mentioned his manuscript.  He found out afterwards that because he'd been so nice, Arielle felt very guilty.  One month later, he did the same thing.  This went on, as he mentioned earlier, for nine months.  One human gestation period.  Finally, he told her he was coming to New York for Christmas.  He lived in Venice Beach at the time, and in fact he wasn't going to New York at all; but he had a feeling that if he said that, she would read his manuscript.  He was right.  As soon as they hung up, he went and booked a ticket to New York.  Six months later, after she had helped him craft his proposal, she sold it for six figures in less than two hours. Ten years after that, they had the most amazing daughter ever.
This article originally appeared in our monthly newsletter. You can view the full newsletter here. Join our newsletter to receive more FREE information on how to get your book successfully published.