A great title and/or subtitle can land a book sale. Your title must make readers want to pick up your book, buy it, and read it. Play our Title Word Pool Game with your friends to find a brilliant title for your book.
SUBSCRIBE and never miss a video
INSTRUCTIONS FOR INSERTING POLLS
📊  Facebook https://www.facebook.com/help/1575289…
📊  Instagram Stories https://www.instafollowers.co/blog/ho…
📊 Instagram DM https://help.instagram.com/3242530981…
📊 Twitter https://help.twitter.com/en/using-twi…
📊 YouTube Post https://support.google.com/youtube/an…
📊 YouTube In Video https://support.google.com/youtube/an…
WHAT WE COVER IN THIS VIDEO
Titles can be metaphoric, clever, poetic, or silly. It doesn't really matter how, but your title must make readers want to read your book. And for nonfiction, it must express clearly what your book is about. A subtitle can be just as important as a title.
0:22 A great title can sell a book, especially nonfiction. Arielle has sold a book based on the title alone. We give examples!
0:42 Introducing the Word Pool Game for finding your title
0:49 Step 1 – On a big board, write down every word you can think of related to your book.
1:10 Step 2 – Assemble a group of friends. Pro tip: get some literate and interesting friends.
1:30 Step 3 – Start mixing words to form titles that are new, catchy, and spark joy.
1:55 Step 4 – Take notes as you and your friends are throwing out titles. Think about main title and subtitle.
2:48 Step 5 – Narrow down to a short list of about six titles. Share those titles and ask for opinions. Have people rate the titles they like best. Try a poll on social media to see which title readers like best.
3:50 Rick Beyer thought his title was stupid. Arielle convinced him to share it, and that title — THE GREATEST STORIES NEVER TOLD — went on to be a mega-bestseller.
RELATED VIDEOS
Book Titles & Subtitles: How to Title Your Book https://youtu.be/Bo9hmQj1LTw
How to Get a Blurb For Your Book https://youtu.be/3TsT3KWrOyk
Query Letters: How to Write a Query Letter Subject Line https://youtu.be/axEfMg6pBjY
How to Write a Novel | The First Five Pages https://youtu.be/hVKgX2eyozY
How to Write a Memoir https://youtu.be/wH1WffOuAl4
Write Your Passion | Publish Your Book https://youtu.be/bqGY3TF6i74
How to Write an Elevator Pitch For Your Book https://youtu.be/u6-mft9qT-s
We first met Cathie Borrie years ago on our trips around the publishing world. It was immediately apparent upon reading her stuff that she was an amazing storyteller and an exquisite wordsmith with a true gift for poetic articulation. But her book was about such a difficult subject, we knew she'd have a hard time getting a traditional publisher interested. That didn't stop her. She wrote a deep, moving, glorious book, and eventually, after years of ridiculously hard work, she found her audience. We thought we check in with her to see exactly how the heck she did it.
To read the full interview on the Huffington Post, click here.
The Book Doctors: When did you first start becoming a writer, and how did you learn to be one?
Cathie Borrie: No doubt you are aware of that stale, sorrowful mantra: "I've always wanted to. . . " That cliché was my writing story. I dabbled in poetry as a child, followed by decades during which I had marvelous experiences and adventures but did not write. When my mother became ill and went on to develop dementia, everything changed for me, turned direction, and stopped. Her language evolved into one of extraordinary insight, humor, and poetic sensibility. I wanted to keep her voice, and began to tape our conversations. I think this time of quieting down, of listening and taping, served as muse for the release of my own writing voice. Mother living with dementia, as muse! My goal became to convey that the story is not a long goodbye, and that she had not become an empty shell.
How does anyone learn to be a writer? Can it be learned? I began my vignette-like pencil scratchings in 2004, when my mother was still alive and living with dementia. I have always loved learning, and loved going to school. It suits me: the discipline, the homework, the camaraderie, and I was thrilled when, in 2005, I was accepted into The Writer's Studio program at Simon Fraser University. This course changed everything for me and for my writing. Under the expert tutelage of author and then-director Betsy Warland, I honed the words I had already written and added thousands more. After the program, a number of us formed an inter-genre writing group, which provided me with an enormous opportunity to continue with my writing and editing.
TBD: What are some of your favorite books or authors, and why?
CB: Treasured genres: literary fiction, short stories, poetry. The ever evolving author list: Annie Dillard, Harriet Doerr, Lydia Davis, Ann Michaels, Anita Brookner, Yeats, Jane Yolen, John Kennedy Toole, because they write in a sparing beauty and I crave that. Favorite book: Kenneth Grahame's The Wind in the Willows, the 1980 edition with illustrations by Michael Hague.
TBD: Read any good books lately?
CB: I am reading or re-reading, and loving, The Conference On Beautiful Moments by Richard Burgin, The Night Sky by Mary Morris, Tinkers by Paul Harding, Seamus Heaney's Wintering Out, and Molly Peacock's Alphabetique: 26 Characteristic Fictions.
TBD: We've heard over and over from New York publishing people that books about Alzheimer's don't sell. We tell writers that they know more about their audience than New York publishing oftentimes does. Tell us about Cathie's wild ride to publication.
CB: I finished the work around 2008, at the time of the economic crash. Agents and publishers were pulling back on taking new clients, especially platform-less memoirists. On top of this dismal scene, I kept hearing that books about Alzheimer's don't sell, or that the market is saturated with memoirs about Alzheimer's. But non-fiction topics leave room for different perspectives, and I knew this work wasn't like anything else in the field, in form or content. It uniquely included the voice of an elderly woman living with dementia and no author had taken that approach with this topic. Also, I wrote a memoir with broader themes, which I set in context of family relationships, and, although its center revolved around dementia, it included universal stories that would, I believed, appeal to a wider memoir readership.
In September, 2010, Francesca Rosenberg, Director of Community, Access and School Programs for the Museum of Modern Art in New York, invited me to present The Long Hello for World Alzheimer's Month. I had been doing theatrical readings based on the manuscript internationally for a number of years, as I continue to do. For this event, Melia McLure accompanied me by reading my mother's voice. MoMA expressed interest in having the book available so I took a deep breath, and self-published. For the next four years I marketed the book to the best of my abilities and although I possess drive and determination, my tolerance for rejection is shaky, at best. At the time, media were not interested in a self-published author, and I still held dreams of being part of a publishing team. In 2014, author and memoirist Molly Peacock referred me to a literary agent, Marilyn Biderman, who secured a contract with Simon & Schuster Canada. Publication with a major trade publisher ushered in a sunny day for The Long Hello, and for me. Marilyn then placed The Long Hello with Arcade, an old and esteemed independent house that had recently been bought and resurrected by a larger independent, Skyhorse, while maintaining some of the members of its original editing department. I continue to perform excerpts from The Long Hello, sometimes accompanied by live musicians, and more recently have completed the stage play, co-written with playwright James Fagan Tait.
TBD: Tell us about delivering your keynote performance at MoMA for the World Alzheimer's Day event. What was that experience like? What were the repercussions?
CB: I think we can all agree that a call from MoMA would be considered a highlight in any author's career, as it certainly was in mine. MoMA runs a marvelous program for people living with Alzheimer's and their care partners: Meet Me at MoMA. To be able to tell my story, to hear my mother's magical words that defy the Alzheimer's stereotype, in that beautiful space, was unforgettable. I met wonderful people and received additional invitations after my appearance at MoMA.
TBD: What was it like to take some of the worst experiences in your life and make art out of them?
CB: My writing style has been described as "lyrical, poetic, and spare." The chapters about childhood, birds, horses, dance, even about sports' day, lent themselves to that form. But when I knew I had to bite the bullet and write about my parents' divorce, the death of my brother, my mother's last days, I looked down at the yellow paper with those perfectly spaced wide lines and despaired. How could I take those stories and render them in lyrical form? I hardly wanted to think about them. But, as other writers have described, beauty and meaning are available in the darkest of places, and I found that wonderful memories surfaced alongside the difficult ones. I recalled a poignant incident that occurred shortly after the death of my grandfather.
I would climb a tree after school to wait for my mother to come home from work every day, feeling a deep pleasure in looking out over the beautiful farms scattered throughout the valley, and breathing in the pleasing scent of pine, my fingers sticky with pitch.
In other parts, or scenes, as I think of them, sad memories were often infused with bird song, always birds . . .singing, and the moody sea, offering solace. Homesick at boarding school, my beloved English teacher reveals what it means to love by reading Yeats to us, her eyes closed, a thin private smile etched across her face. And finally, I found a euphoric comfort and sustenance in the writing process itself: that burning need to write sparingly, and the commitment to edit every sentence hundreds of times so that no word is unnecessary, or wasteful, or unfit.
TBD: What was it like to get a quote from Maya Angelou? It must be so gratifying to get so many amazing blurbs from doctors, writers, reporters.
CB: Maya Angelou's one word, "Joy!" was an absolutely astounding response to the work. Imagine a memoir centered on dementia, described with this one perfect word – "Joy!" I am deeply grateful for all those generous people who endorse The Long Hello: Maya Angelou, Lisa Genova, MoMA's Francesca Rosenberg, and others whose names warm my heart and whose words fill that uncertain place in which a writer, manuscript completed, waits to be published.
TBD: What's next?
CB: My current manuscript is a genre busting work for children. My wish list:
1.The stage adaptation, performed in theatres. 2. Just the right people to bring The Long Hello to the screen, with eyes knowing how to unearth the back-stories, the landscape, the beauty.
TBD: We hate to ask you this, but what advice do you have for writers?
CB: Edit your work so that when you send it to prospective agents and publishers, it is in pristine shape. To survive the process, muster: tenacity, a relentless drive, resilience, and a sturdy constitution.
Cathie Borrie briefly tried her hand at theater school, trained as a nurse, holds a bachelor of science in nursing from the University of British Columbia and a Master of Public Health from Johns Hopkins University. She has a law degree from the University of Saskatchewan and received her Certificate in Creative Writing from the Writer's Studio at Simon Fraser University. She continues to write new work, and to perform adaptations of The Long Hello, and is no longer an active actor, a nurse, or a lawyer. She lives in North Vancouver. You can see Cathie's website at: www.cathieborrie.com
Arielle Eckstut and David Henry Sterry are co-founders of The Book Doctors, a company that has helped countless authors get their books published. They are co-authors of The Essential Guide to Getting Your Book Published: How To Write It, Sell It, and Market It… Successfully (Workman, 2015). They are also book editors, and between them they have authored 25 books, and appeared on National Public Radio, the London Times, and the front cover of the Sunday New York Times Book Review.
Join our newsletter to receive more interviews and tips on how to get published. 
It's pretty rare when we, The Book Doctors, are reading the same book. Arielle tends to love books written by people who've been dead for several hundred years. Or doorstop-sized biographies, and giant non-fiction tomes about people doing bad things, like the brilliant book about Bernie Madoff, The Wizard of Lies. I tend to gravitate toward books with tragically flawed heroes and gorgeous mysterious dames who are never quite what they seem to be at first blush. I tend to like bullets, bombs, uncontrollable passions, epic gruesome one-of-a-kind murders. Raymond Chandler, Cloud Atlas, Game of Thrones. But we both absolutely adored Dear Committee Members by Julie Schumacher. We love it so much we've become evangelists for the book, telling everyone who will listen that they MUST read this novel. When you read it, you'll find out why. So we decided we would interview Julie and see what she had to say for herself.
To read the full interview on the Huffington Post, click here.
ARIELLE: Because we edit books, we're always interested in how a novel is constructed. Yours is one of the most brilliant constructions that we've ever seen! You've managed to write a novel that is made up solely of recommendation letters from a Professor of English at a University. It's a brilliant high-concept idea, but it's one that seems impossible to pull off before you read it. We were wondering how you conceived of the idea and how you constructed it?
JULIE: The idea came to me sort of accidentally. I was teaching an undergrad fiction class at the University of Minnesota, which I often do, and I was telling the students that typically we don't start with plot and structure, but sometimes if you're stuck, you might try to begin a short story or a short work of fiction by coming up with some kind of format. Maybe you could come up with a short story in the form of a to-do list. Or a series of definitions. Or there's a couple of pieces of fiction written in alphabetical order. Is there some way in which they could jumpstart and experiment with something by coming up with a form first? And one of the students asked me, "Is this something you usually do?" And I said, "No, actually, I never do that. I don't start with structure. It's not the way I write. I always start with character." And they kind of pushed me on it. And someone asked, "Well, if you were going to do that, what would you do?" So I said, kind of facetiously, "Well, something in the form of letters of recommendation because I always write them for you people."
DAVID: That's hilarious! So what happened next?
JULIE: I was thinking about the idea and didn't know if it would be feasible or doable. I told the idea to a colleague, and he said, "I hope you're going to do that." And I thought, well, maybe I could just give it a whirl. I realized pretty early on the two major challenges would be: One, how do you make the letters stick together? Where's the narrative glue? And two, how do I portray my main character if he's supposed to always be invisibly describing other people? He's supposed to be behind the scenes as an author of these letters, rather than on stage. But I thought, having written a zillion letters myself, just finding them frustratingly dull and full of praise but also very boring at the same time that I could create a guy who would just insert himself all over the place. Talk about himself when he's supposed to be talking about other people. I thought that could actually be good fun!
ARIELLE: What were your next steps?
JULIE: I decided to try to write a few pages a day and see if it went anywhere, and if it didn't, I'd throw it away. I started it in the summer, and probably by the end of the summer I had a good piece of it done. And I was having the time of my life writing it. I loved writing this book. I had so much fun. Writing is not always a good time, you know? But this was a great time.
ARIELLE: Did you already have an agent? And if so, at what point did you talk about the idea or send some pages, and what was his or her reaction?
JULIE: Yeah, I do. I'd been trying to get her to sell a collection of short stories, and she was giving me the big yawn.
DAVID: Yeah, good luck with that. You had already written a number of books that had sold, right?
JULIE: Yeah. I had two books for them that were out of print, then I had written five novels for kids. In part because my own kids were young, and I was reading what they were reading. I was urging them, "Why don't you try this book or that book?" and that was where my mind sort of was. Because my agent was not terribly excited, to say the least, about my short story collection, I wrote to her when I was about half done with Dear Committee Members, and said, "Maybe they would want my stories if they knew I was working on a novel as well." She said, "Well, what are you working on?" And I said, "Well, it's kind of a weird thing, it's not done." And she said, "Send it to me anyway." I was kind of nervous sending it to her because I thought maybe it's just amusing to me, and anybody else will think it's a dumb idea. But she immediately wrote back and said, "Forget your story! We'll sell this!"
ARIELLE: And did you pitch her the idea over the phone or an email before sending her the manuscript?
JULIE: No, no, I didn't.
ARIELLE: David and I both heard Maureen Corrigan review your book on Fresh Air while driving and we were both so intrigued we went out and bought the book.
DAVID: It was an incredible review. It was basically a letter of recommendation for your book!
JULIE: I was so thrilled with that review. I think I was in the car too, but I must have been listening to another station. My sister called me and was shouting over the phone at me. "Turn the radio on!"
DAVID: One of the things I love about the book is the way that we watch not only the Creative Writing department, but this man himself, deteriorate through the course of these letters. Was this a conscious decision, or did that just come about as the book went forward?
JULIE: I think his deterioration came about as I was writing the book. I realized early on, "Okay, I've got to have several people that he writes to more than once, so it'll stick together. I started out with his poor student Darren."
DAVID: We won't give away what happens. I'll just say, poor schmuck!
JULIE: Yeah! And then I thought, "Okay, he's got to have an ex," so I added Janet. And then I thought, "I should have some backstory to him," so I created the seminar and his pals from that time. But I wasn't really sure. I did start to worry when I was about halfway or two-thirds of the way through. Is he just going to seem monochromatic? So I thought, "Okay, I've got to kill Darren off."
DAVID: Well, you just gave it away!
JULIE: Actually, I had an argument with the editor when he bought it. Again, I had sent the agent the first half of it that was finished. The back half was in draft form, I was fairly sure at that point what was happening. But it wasn't polished enough that I wanted to send it anywhere. And the editor called me up and said, "What's gonna happen at the end?" And I said, "Well, I'm going to kill Darren off." And he said, "Oh no no no. Don't like that idea." And I said, "Well, Darren's going."
ARIELLE: Wait, so you sold this on half a novel?!
JULIE: Yeah!
ARIELLE: That's wonderful and very unusual. How did the editor influence what you ended up writing in the second half?
JULIE: I had long conversations with the editor about what was going to happen. And he was worried about Darren. He wasn't sure that was going to be justified. And he was also worried that there wouldn't be any sort of change in Fitger (my protagonist) himself. He wanted me to include a letter written by someone else that would recommend Fitger for something. And I kept saying, "No no no, I don't want to do that. I want them all to be outgoing because I thought that would make him seem lonelier somehow." He said, "Okay, you can kill Darren off, but I still want somebody to write a letter for Fitger." And I said, "No no no no no." But we did finally compromise with the letter at the end, in which Fitger quotes someone saying about him: "He's not as much of an ass as he thinks he is."
DAVID: Had you worked with this editor before?
JULIE: No. So it was kind of nerve-wracking.
ARIELLE: So what happened? It was sent as an exclusive?
JULIE: No, she sent it to four or five places. I think one or two of them thought about it and passed. And there were two that did want it at the end. Doubleday was one. And I talked to both editors. That had never happened to me before. It was terrific.
ARIELLE: Who was your editor?
JULIE: Gerald Howard.
ARIELLE: Oh, lucky you!
JULIE: Yeah it was really lucky. But again, I didn't know him at all. And I had never met him. And I was kind of nervous as I was finishing this thing. But it turned out to be a really good editing relationship.
DAVID: Fitger's character is so unlikeable in certain ways. He's a liar. He's petty. He's narcissistic. But in the end, you kind of end up loving the guy because his heart seems to be in the right place in many ways.
JULIE: I definitely see him that way. I know there's been a few people who've read it who clearly see him as a 100 percent curmudgeon. Just a jerk. They would want to avoid him. But no! He's sorely lacking in diplomatic skills, and tact, and some common sense. But he cares about things people in the arts care about. And he does care about his students. And I think any shift at the end is demonstrated in the fact that he does start to recognize that he's not done right by Darren. And he should have said to him early on, "Bad idea. It's a bad book." And he didn't. He was selfishly advocating for Darren in part because it was sort of a vicarious relationship, and selfishly he wanted his program to live on, and Darren's his last chance.
ARIELLE: I just want to go back to one thing, because we get this question from clients all the time about, "How do I say no to my editor, and when do I say no?"
JULIE: I think that's really hard. In the past, I think it was the second story I ever published, I was 28, 29 years old, and had a really bad experience where an editor just ran roughshod over my story in a way I thought was offensive. And in retrospect, I think I should have just said, "No, you can't do that to my story." But you know, I was 28, I really wanted a credit and something on my resume, and I let him screw with my work. I think right now, I'd say, "I'm taking it back." But back then, I didn't have the wherewithal to do it. But most of the time, everything other than that one story, I've had really good experiences with editors. In the kid-book world, the editorial hand is extremely heavy. I think I'm not the only one who's found that. You send in your completed manuscript and feel very happy about it, and they say, "Oh, we still like your book. We're so excited!" And then they send you a 12 or 15 page letter. "Here are the things we're really excited to see you do." So those were sometimes excruciating to receive, and I would get snarly and defensive and take long walks for a few days, and then would realize, well, they were right. Ninety percent of the time, I was just going to do what they asked.
ARIELLE: Gerry Howard is a guy with best-sellers longer than both of his arms. What, in that case — I'm sure you agreed to many of the changes that he made — but what was it in the places you did say no, that made you say no?
JULIE: The only one that was of consequence was his desire for somebody to write a letter for Fitger at the end. He pressed on that and pressed on that, but when I suggested a compromise, and wrote it in, he said fine.
DAVID: But killing off Darren is also a huge thing.
JULIE: Yeah, and he did not like that idea. But once I sent him the completed manuscript, he went, "Oh okay. I see what you want to do. That makes sense." When I talked to him on the phone after he was thinking about buying it based on the first pass, he said to me, "I'm a reasonable person. I'm not going to ask you to do things to your book that you think are going to ruin it. We'll be able to talk about ideas. We'll bat things back and forth. I want you to be able to trust me." He was great.
ARIELLE: So, Professor Fitger is very helpful to his students who want to get their books published. But we've found that, typically, there's a lack of education, or even just snobbery, by academic and MFA programs about how to get published. I'm wondering how you prepare your students for the very harsh realities of today's publishing world.
JULIE: I don't know. I haven't found any snobbery. I've certainly found among creative writing faculty people who say, "Let's bring editors and agents in here, let's help with the professional life of the writer." And on the other hand, some faculty who say, "Let's create a more sheltered environment in which people can purely work on their writing, and worry about publishing, et cetera, later. Now is not the time to be thinking of marketplace issues. Now is the time to be writing. Let's consider this a sort of retreat." I understand both those points of view. I think some programs in particular, Iowa and Columbia – Iowa because it's Iowa, Columbia because it's in New York – are very good at bringing in agents, editors, et cetera, to look over people's work. I've certainly had students who, when we have occasionally brought in editors to the U of M, say, "I don't want to meet with them. I'm busy on my novel. I can't do that right now." Which I totally respect.
ARIELLE: And do you, for example, teach people how to write a proper query letter? Or do you give wisdom from your own experience of having books published? As we all know, you can have a perfect book that doesn't get published.
JULIE: Yeah, definitely. I don't teach to a whole group of people how to write a query letter. Or here's how to find an agent. Here's how to self-publish. I would say on a more individual basis, "This book is on its way to being terrific. I don't think it's there yet. I don't think you're going to profit by sending it out right now. I think you need more time." In the rare case where people are ready to sell something while they're still a student, I and other faculty will try to hook them up with an agent.
ARIELLE: You do? Oh, that's great!
DAVID: And how did you make the leap from writing for adults to writing for kids? Did you find it a difficult transition, or what?
JULIE: For me it wasn't hard at all because the short stories I had been writing, and many of which were in my first book of short stories — first and only so far!– were about parents and kids and families. A bunch of them had child narrators. It felt to me like a small or relatively subtle shift to go from writing about children for an adult audience to writing about children for a younger audience. I think in Kid Lit there's a greater directness in plot and structure, and a greater emphasis on, y'know, what happens next.
DAVID: Action.
JULIE: Yeah. I had started working on the first kid book I wrote, and realized I am not good at plot. I really needed to teach myself how to do it. Again, my own kids were young. I was reading aloud to them, reading E.B. White. I must've reread Charlotte's Web ten times. My kids love that book. I thought, here's a plot, clicking into place like little Lego pieces. A leads to B leads to C. I'm going to teach myself how to do this. I'm going to learn cause-and-effect in narrative. And I'm going to build a book. And I very, almost mechanically, outlined a book. Conflicts would start on page one. There's a mother and a daughter disagreeing. Each chapter was going to be 8 to 10 pages long. There were going to be fifteen chapters. I thought, "It's probably not going to be any good. I'll probably just toss it away. But I'll learn something!" And at the end of the year, I had written a book, and I really liked it! Then I kind of fooled myself into thinking it will be so easy writing children's books, y'know? Every new project refuses to cooperate in its own unique way.
ARIELLE: We saw that you're teaching a course on the child narrator. And you sort of answered this question, but we're curious about, for you, what separates YA from adult fiction if you have a child narrator? Prep, for example, was published as adult fiction.
JULIE: I think that's a really interesting question. I taught a class on child narrators. Again, I think it's a matter of emphasis. You would read something like Push by Sapphire and simply because of the subject matter, the sexual violence, you would decide, not for a kid. But The Curious Incident of a Dog in the Nighttime was published in Britain in two simultaneous editions with two different covers. One for kids, one for adults. Same book. In the U.S, for whatever marketing reasons, it was decided that it was for adults, but eventually kids started reading it anyway. There's this whole crossover phenomenon. To me, typically, the hallmarks of a kid book are a greater directness, in plot and structure on the one hand, and maybe in the emotions on the other. I just reread The Yearling. I haven't read it in ages, and it's a beautiful thing. There's nothing in that book that would not satisfy an adult reader. But it's not as subtle, emotionally. As an adult you can feel that your emotions are about to be worked on in a particular way, but it's no less beautiful or literary for that.
DAVID: We hate to ask you this, but what advice do you have for writers?
JULIE: Oh, persistence. I just think persistence is key. At some point, in the dark of the night, you ask yourself, "Am I more foolish for continuing along this path and hoping, or would I be more foolish for giving up?" You don't know sometimes.
DAVID: Yeah, there is an element of blind faith, isn't there?
JULIE: Yeah. It is about blind faith, and believing in yourself. I think part of that is you want to believe in yourself not because you are sure that vast success is on its way, but you're sure that this matters to you. And that it will offer you some reward even at its most frustrating. There will still be something in it for you.
Julie Schumacher graduated from Oberlin College and Cornell University. Her first published story, "Reunion," written to fulfill an undergraduate writing assignment ("tell a family tale") was reprinted in The Best American Short Stories 1983. Subsequent stories were published in The Atlantic, MS, Minnesota Monthly, and Prize Stories: The O. Henry Awards 1990 and 1996. Her first novel, The Body Is Water, was published by Soho Press in 1995 and was an ALA Notable Book of the Year and a finalist for the PEN/Hemingway Award and the Minnesota Book Award. Her other books include Dear Committee Members, An Explanation for Chaos, and five novels for younger readers, all from Delacorte. Ms. Schumacher lives in St. Paul and is a faculty member in the Creative Writing Program and the Department of English at the University of Minnesota.
Join our newsletter to receive more interviews and tips on how to get published. 
We at The Book Doctors love National Novel Writing Month (NaNoWriMo). For those of you who don't know, they are an organization that gets together in informal ways all over the world, and in the month of November, WriMos (NaNoWriMo participants) write 50,000 words. No plot, no problem. Many, many writers have gone on to get book deals after participating. Every year, we do an online Pitchapalooza with NaNoWriMo, and we get some fantastic pitches. One of our winners, Stacy McAnulty, had such a great pitch, and wrote such a wonderful book, that she got a book deal. Her book is out now, so we wanted to check in with her to see what it was like to go from NaNoWriMo to getting a book deal. We're doing another online NaNoWriMo Pitchapalooza until March 31, 2016. See below for details.
ANY PARTICIPANT WHO BUYS THE ESSENTIAL GUIDE TO GETTING YOUR BOOK PUBLISHED
GETS A FREE 20 MINUTE CONSULTATION  WITH THE BOOK DOCTORS (email with proof of purchase to Sterryhead@Gmail.com)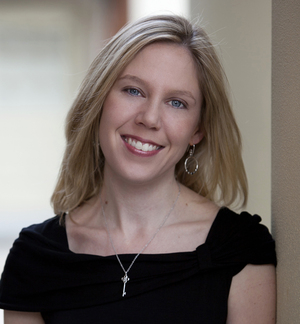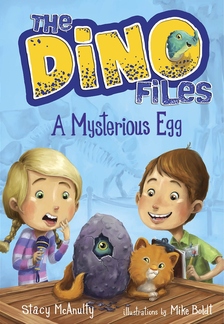 The Book Doctors: What were your favorite books as a kid, and why?
Stacy McAnulty: We're starting with the question that always embarrasses me because I didn't read as a young kid. I can remember sitting in fourth grade with the book How to Eat Fried Worms open on my desk, and instead of reading the words, I literally counted them. I'd count all the words, then turn the page so the teacher would assume I was quietly reading.
Also, we didn't have many books in the house. I remember enjoying Little Golden Books and the picture book The Fourteen Bear Summer and Winter (which was held together with duct tape).
I didn't fall in love with a book until high school, and that was Pillars of the Earth by Ken Follett. I never counted the words in that book. It's about 1,000 pages; the word count must be in the mid six-figures. That novel blew me away and was also held together with tape.
TBD: What made you want to do something as ridiculous as write a book?
SM: It is ridiculous! It's a crazy challenge similar to climbing Mount Everest or swimming the English Channel. But I guess what appeals to me about writing a book (over climbing or swimming) is you can do it in your PJs. And while eating gummy worms. And you likely aren't going to fall to your death or be eaten by a shark. Not much physical danger involved in writing a book. Though today my right shoulder is a little tight.
I have to write. It's almost a sickness. Plots, crazy ideas, and conversations with imaginary characters are constantly running through my head. The only way to get these persistent thoughts out of my head is to write them down (or type them up). Maybe it is a sickness?! Multiple Mass Ideas Sickness. Obsessive Writing Disorder.
TBD: Where did you get the idea for The Dino Files series?
SM: My son asked for a "real-life dinosaur" for his fifth birthday. Obviously, he was about sixty-five million years too late. I started writing the first draft for him. I'd write a chapter during karate class and read it to him immediately after. It was great motivation having someone eager to hear the next segment of the story.
TBD: What were some of the joys and difficulties of writing in the voice of a kid?
SM: I've been told I'm immature (not sure if it was meant as a compliment, but I'll take it). I like to joke around, and I love to learn. Isn't that the makings of a kid? Children get to be crazy. They can blow a giant bubble with gum and truly believe this is a reasonable transportation method for traveling to the moon. Their world has many rules. Don't touch that. Don't go there. Quiet down. Be still. But their imaginary worlds are still full of endless possibilities. Gravity? We don't need no stinkin' gravity. Writing for kids lets me be a kid.
As for difficulties? There are some limits to the language and sentence structure. Fortunately, I have a limited vocabulary. You don't want to discourage a reader, but you also don't want to talk down to a kid. They'll pick up on that quick. The biggest challenge in The Dino Files series is the word count. My editor wanted between ten and eleven thousand words. We needed to leave room for Mike Boldt's pictures and teaser chapters for the next book. That meant reducing the first manuscript by twenty-five percent. Cutting can be harder than adding words. At least for me. I had to slash jokes, description, and even characters. I learned to stay true to the story and focus on the action.
TBD: Did you have kids read the book as you were developing it?
SM: In general, I only share my work with the kids I cook dinner for–which is a small group of three. As I mentioned, I read the first draft to my son as I was writing it. Unfortunately, young kids don't appreciate revision. When I created the next draft, I asked my son if he wanted to hear it. The answer was no. Luckily, I have two other kids. My eldest is a teenager. You want honest feedback? Ask a teen to critique your work. She read the next few drafts aloud to me. It's great to hear your words interpreted in someone else's brain and mouth. She also loved to point out my inconsistencies, and she would yawn dramatically at the boring parts (which have all now been cut!).
TBD: How did you go about getting your book deal?
SM: I'd published a picture book in 2013 with a small press (unagented). I knew that if I wanted a career, an agent was vital. I entered contests and went to conferences. But, in the end, I was pulled from the dreaded slush pile. I queried my now-agent with a picture book. I was sending out about a dozen queries a month. Lori Kilkelly offered representation based on that book, but I asked her to read The Dino Files before I accepted her offer. I wanted to know if she liked my longer works as well. Lori did see potential in The Dino Files. Potential is code word for needs another revision.
About seven months later, we went out with The Dino Files. Random House Kids replied a few weeks later: What a great read! Does the author have ideas for future books in the series? Those are the moments writers live for.
TBD: What are you doing to promote and market your book?
SM: Marketing a book for kids is tricky. You want to connect with the reader, which, for The Dino Files, are kids ages seven to ten. But this demographic doesn't have Twitter or Facebook accounts, not to mention credit cards for online buying or the ability to drive the minivan to the bookstore. So I need to connect through the adults in their lives first. I offer free Skype visits for classrooms. I've created a website with printouts and videos that parents and teachers can share with their kids. I've sent postcards to libraries and bookstores. I know there are dino-loving kids out there. I want to meet them. I want them to tell me I say Deinonychus wrong. I want them to tell me what kind of dinosaur would make the best pet. I want to inspire future paleontologists (and future writers!).
TBD: It's so exciting to get a three-book deal. Are you already working on the next book?
SM: All the books are done and hitting shelves this year! The Dino Files series is intended for kids in elementary school. We hope they fall in love with the first book. And if they do, we can't expect them to wait a year for the next book. Kids are binge readers. They want more. We are ready to give them more.
I'm currently working on a middle-grade novel about a twelve-year-old math savant. She has been homeschooled and is technically ready for college, but her grandmother insists she give public middle school a try first. And I'm always working on picture books.
TBD: How did National Novel Writing Month help you write your book and get it published?
SM: Full disclosure, the first draft of The Dino Files was not an official NaNoWriMo win. The word count was only twenty thousand. (And the printed version is under eleven thousand.) But I have completed the fifty-thousand-word NaNoWriMo marathon three times. NaNoWriMo makes you accountable. Resolutions, promises written on sticky notes, self-imposed deadlines–none of these have the power and prestige of NaNoWriMo. NaNoWriMo could only be improved if, somehow, they could send an electric shock through your keyboard when you failed to meet a daily goal or if there was a multi-million-dollar cash prize at the end.
TBD: We hate to ask you this, but what advice do you have for writers?
SM: Yep, this is a tough question. Luckily, I have a definitive answer on what all writers must do. I'll call it Stacy's Top Commandments on Writing.
Never talk about your first draft. (This is actually one of Stephen King's rules.) If you're telling your spouse or your hairdresser or your hedgehog all about your next project, you're wasting your breath. Unless your hedgehog can take dictation. These people likely don't care. Or at least, don't care as much as you do. And when you actually sit down to write your story, it'll feel like work. So when a coworker or a neighbor asks what you're working on, just give them a title. But be vague. Maybe something like Sunset at Dawn.
Carry a book everywhere. No, not your phone with a book app, not your Kindle, and definitely not a tablet. Writers read. If you're carrying a book everywhere, you're likely to read it. And it's good karma to "advertise" another writer's book.
Compare yourself to everyone. Let's be serious. You're going to do it anyway. I'm just giving you permission. That way, you won't feel guilty. Compare yourself to bestselling authors. Compare yourself to the guy in your critique group that just got a six-figure deal for a memoir about camping with his three-legged dog. Compare yourself to Jennifer Lawrence (because we all secretly want to be Jennifer Lawrence or her best friend). When you're done comparing, move on to number four.
Write every day. I hate this rule. It's a cliché at this point like New Year's resolutions and diets that start tomorrow. But…I do believe this strategy (can you call three words a strategy?) works for a first draft. You must add to your work in progress each day. Or you risk your pesky muse fleeing the scene.
Get professional help. Of course, you may need help for your physical and mental problems, but I'm talking about your plot problems. Your character problems. Your spelling problems. You need to invest in yourself. I draw this inspiration from Vin Diesel. (Aren't we all inspired by Vin Diesel?) He told a story on a talk show about saving up forty-some thousand dollars. Instead of buying a car or something flashy, he invested that money in himself. He made a small film with a friend to showcase his talent. That little movie led to a role in Saving Private Ryan. So if you are debating between buying a BMW and taking a writing class, take the class. Deciding between buying a Tesla and hiring an editor, get the editor. (Warning: And if you have forty-thousand dollars to pay an editor, I'm totally available.)
Celebrate good times! It's easy to get excited when an agent offers representation or when a publisher makes a deal or when a review is accompanied by a star. We know those are the rare, exciting moments in a writer's life. But we must also celebrate the other big moments. When you type 'the end' on a manuscript, you deserve a dinner out. When you come up with that ultimate plot twist after you've been brainstorming (and crying about it) for a week, you deserve a glass of your favorite beverage. When you recover your work in progress from a fried hard drive, you deserve a glazed donut with sprinkles. (Guess how I spent my morning?) Take the time to celebrate your victories.
You need writer friends. Of all my rules, this is a must. I would not be a published author without the support of my writerly friends. Your family won't understand your problems and frustrations. Unless you are a family of writers. Your non-author friends won't understand plot arcs and rejection letters. Your neighbors don't understand these acronyms: WIP, YA, ARC. Writer friends can empathize like no others. They will listen for hours about rejection letters while your mom will give you two minutes (tops!) and then she'll suggest you try something new like painting because you always liked to color when you were a child. Just today, a writer friend convinced me not to quit a project I've already sunk a year of my life into. Writer friends have given me advice on everything from how you organize an author visit, to how long should I wait before following up with an editor, to does this author photo make me look fun or crazy? Writers, while not exactly a rare breed (nine out of ten retirees are working on a memoir, and the other one has a picture book called The Adventures of [insert some animal that her grandson just loves]), work best in a nurturing, warm community. Just like bacteria.
Sixth Annual NaNoWriMo Pitchapalooza
For those of you not familiar with Pitchapalooza, here's the skinny: You get 250 words to pitch your book. Twenty-five pitches will be randomly selected from all submissions. We will then critique the pitches online so you get to see what makes a great pitch. We will then choose one winner from the group. The winner will receive an introduction to an agent or publisher appropriate for his/her manuscript. We will also crown a fan favorite who will receive a free one-hour consult with us (worth $250).
Beginning February 1, 2016, you can email your pitch to nanowrimo@thebookdoctors.com. Please do not attach your pitch, just embed it in the email. All pitches must be received by 11:59PM PST on February 29, 2016. The 25 random pitches will be posted on March 14, 2016. Winners will be announced on April 1, 2016. Anyone can vote for fan favorite, so get your social media engine running as soon as the pitches go up!
Learn more about the sixth annual NaNoWriMo Pitchapalooza here.
Stacy McAnulty grew up outside of Albany, New York and received her B.S. in Mechanical Engineering from the University at Buffalo. She currently lives in Kernersville, NC with her three children and two dogs. The Dino Files chapter book series follows a nine-year-old dinosaur expert, his paleontologist grandparents, a cat named Saurus, and fossils that might not be so extinct!
Join our newsletter to receive more interviews and tips on how to get published. 
Arielle Eckstut
,
author
,
book deal
,
book promotion
,
children's literature
,
David Henry Sterry
,
editing
,
how to get published
,
How to publish a book
,
How to write a book
,
marketing
,
NaNoWriMo
,
National Novel Writing Month
,
Picture Books
,
pitchapalooza
,
Stacy McAnulty
,
the book doctors
,
The Dino Files
,
writing
,
writing craft
We first met Josh Funk at the New England SCBWI Conference. (If you're not a member of this group and you're interested in books for kids, as soon as you're done reading this piece and sharing it with everyone you know, go join that group. If you haven't been to one of their conferences, ditto.) We were struck with Josh's fabulous combination of goofiness and seriousness. It's something we aspire to at The Book Doctors. And when we found out his debut picture book was going to be dropping, we had a wonderful wave of serious goofiness come over us. It's called Lady Pancake & Sir French Toast, and it's a ripping barnburner full of outlandish action, heroic and dastardly characters, roller coaster rhymes and some absolutely fabulous illustrations by Brendan Kearney. So we thought we'd sit down with Señor Funk and see what's new on Funk Island.
To read this interview on the Huffington Post, click here.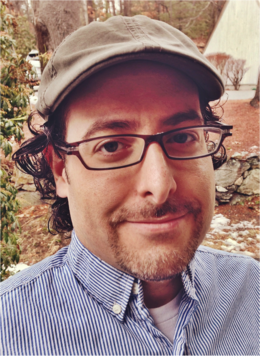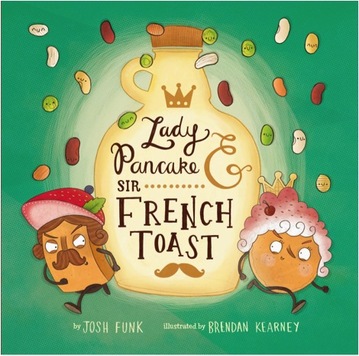 The Book Doctors: First of all, congratulations. What did it feel like when you saw that first box of books arrive and you tore it open and there it was, your own baby book?
Josh Funk: Ahh, the Back to the Future moment: "If you put your mind to it, you can accomplish anything."
Well, I didn't exactly have the 'open the box moment' that you see in the movies (or at least that one movie). The first physical copy of Lady Pancake & Sir French Toast that I got a copy of was the one the Sterling sales rep gave to Porter Square Books (in Cambridge, MA). I got a tweet from a friendly bookseller at PSB who said she found my book, so I immediately rushed to Cambridge.
The first thing I noticed was the amazing design. I knew it was going to have an embossed cover with foil, but it was really stunning. The book creaked a little when I opened it. I had seen a digital copy, but the clarity of the images on the pages was overwhelming compared to seeing it on the screen. And I think it smelled a little bit like maple syrup.
And then I jumped around giddily for about ten minutes before the booksellers asked me to leave out of fear I was scaring away all of their customers.
TBD: Why in the name of all that's good and holy would you choose to get into the publishing business? Have you had your head examined recently? Been checked for brain parasites?
JF: Haven't had my head examined lately. It's possible I'm housing parasites. But the real reason is that I always read a lot of books to my kids. One day I thought, 'I can do this.'
But once I joined my first critique group, then attended my first Society of Children's Book Writers and Illustrators conference, I realized I had a lot to learn. But I also noticed that the kidlit community is so warm and welcoming and just plain fun. I quit my fantasy football leagues and started taking writing more seriously.
I'd like to think that even if I never sold a book, I'd still be happy just to be a part of the kidlit world.
TBD: How did you go about getting a book contract not only for Lady Pancake, but also for your next two books which are coming out?
JF: In the May of 2013, I gave up on trying to acquire a literary agent. I was getting almost no responses to my queries. Out of 35 queries for Lady Pancake, 1 agent responded with a rejection implying she read it (or at least read the title). The other 34 were made up of 10 form rejections and 24 black holes. I felt I was better than that, so I submitted Lady Pancake to 10 publishers via snail mail.
Around the same time, there was an open submission period to Scholastic via author/illustrator Debbie Ridpath Ohi's Inkygirl blog. The Scholastic editor was looking for material suited for ages 0-5, and the only manuscript I had written for that age group was Pirasaurs! (most of my picture books are geared toward kids ages 4-8).
And then as late summer rolled around, I finished revising another manuscript (Dear Dragon) and decided to send it out to publishers that accepted submissions via email and online form.
By early November, Scholastic told me they were taking Pirasaurs! to acquisitions, Dear Dragon had garnered interest from two small publishers, and Sterling made an offer for Lady Pancake & Sir French Toast. All of that, plus a personal recommendation from a friend helped me obtain representation with an (awesome) agent. Over the next two months, my agent finalized the deals with Sterling and Scholastic and found a home for Dear Dragon at Penguin/Viking.
And that's how I got an agent and sold three picture book manuscripts between November of 2013 and January of 2014. I know it's a non-traditional path, but I feel extremely fortunate with the way it worked out.
TBD: Hasn't anyone told you that rhyming books don't sell? How did you overcome this ridiculous idea, and why do you think people keep saying that?
JF: Oh, boy. I have thought about this a LOT. Many rhyming picture books get published every year. So why do people say not to write in rhyme? Why is there this stigma? Well, there's a single simple reason.
It's very easy to write bad rhyme.
And lots of people do (please note that if you're reading this and you like to write rhyming picture books, I'm not talking about you).
Everyone grew up reading and loving Dr. Seuss. Therefore, many people think that picture books are supposed to rhyme. When they start writing picture books, that's how they write them. This includes me.
It's a flawed way of thinking. Not everyone is cut out to write rhyming picture books. It's actually rather difficult. I personally believe that a good rhyming picture book has an added level of charm. But there are so many mistakes you can make when writing a rhyming picture book (mostly to do with rhythm, all of which I've discussed in depth on my website and while leading workshops).
But here's the problem. When a literary agent receives a query for a rhyming picture book manuscript, there's a 99% chance that it's bad rhyme. And it's not worth the agent's time to read 99 bad rhyming manuscripts, just to get to the one good one. And I completely understand and agree with that policy. Add to that the fact that it'll be nearly as hard for an agent to sell a rhyming manuscript to an editor. I truly believe that this is why my query response rate was so utterly abysmal (in retrospect, I shouldn't have said that the manuscript rhymed in the query).
I overcame this hurdle by first worked very hard to improve my rhyming, spending lots of time reverse-engineering critique partners' comments.
Second, I bypassed agents. An agent is (rightfully) concerned with a writer's entire body of work and career. If you submit a single rhyming manuscript embedded in an email query and that's all they have to go on, it doesn't make you a particularly enticing prospective client. But an editor is more concerned with a single manuscript. It's not that they don't care about you or your career, but if they like a manuscript, rhyming or not, that's all they have to commit to.
I figured I'd have better odds of someone actually reading my manuscript at a publishing house. And at least in this case, I was correct.
TBD: What are some of your favorite things about being a professional author? What are some of the most horrifying things about being a professional author?
JF: I love getting to meet fun people. Like other awesome authors I admire. And super cool teachers and librarians like those in the Nerdy Book Club. Seeing my son's face the first time someone asked me for an autograph (part confusion, part amazement, part pride) – that was pretty cool. I also get to travel a little more than I used to.
Horrifying? I guess a Misery-type situation would be horrifying. Other than that, I'm all peaches and roses.
TBD: We are big lovers of pancakes and French toast around here. I, myself, leaned toward the pancake. Olive, our eight-year-old, often leans toward the French toast. I think you can divide all of humanity into these two categories. How did you come up with this fantastic idea for a book?
JF: One Saturday morning, I asked my kids what they wanted for breakfast. One said, "Pancakes." The other said, "French toast." "Pancakes." "French toast." "Pancakes!" "French toast!"
While the arguing continued, I checked the kitchen, and as you might have expected, all we had were waffles. To top it off (literally and figuratively), we had enough maple syrup left to fill a single square on a waffle grid.
It was on the way to the diner that I came up with the idea.
TBD: What was it like working with your editor? Illustrator? Agent?
JF: Zaneta Jung (my editor at Sterling) is terrific. We had one phone conversation discussing her revision notes, went back and forth for a week over email finalizing the manuscript, and that was pretty much it. Zaneta (pronounced 'zuh-net-ta') has so much energy and excitement for kids' books. She has a great eye for picking out illustrators, too. She definitely had a hand in finding Brendan Kearney.
Like many author/illustrator relationships, Brendan and I didn't really talk much (or at all). Rumor has it that the publishers like it this way. Author talks to editor editor talks to art director art director talks to illustrator. This way, the publisher maintains complete control of the message (good or bad). I've had nothing but good things to say about Brendan's work on Lady Pancake, which I think have been relayed to him. I've had a handful of quick conversations with Brendan over Google chat, but that's about it.
My agent, Kathleen Rushall, is a rock star! I was extremely fortunate to sign with her while she was actively building her picture book list. She represents picture books through young adult at Marsal Lyon Literary Agency and is strong in every aspect you'd want from an agent. She has a fabulous editorial eye, she has a good sense of what particular editors are looking for, she knows the business and contracts side, she's extremely communicative, and she's a genuine pleasure to work with. We, her clients, affectionately refer to ourselves at #TeamKrush. We even have a logo designed by author Jessie Devine for PitchWars.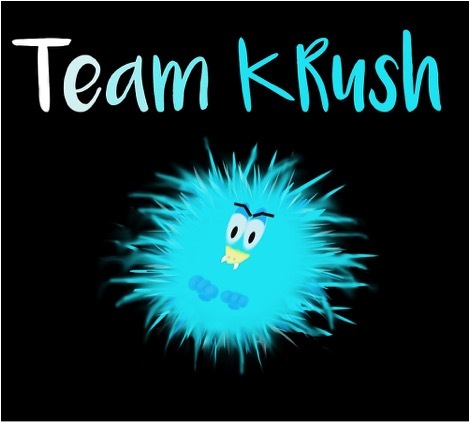 TBD: What do you see is the value of going to a writer's conference? And specifically how has being a member of SCBWI helped you in your career and as a person?
JF: I think going to a writer's conference is valuable at many levels of your career. If you're brand new to the writing world, you'll be able to learn the basics. It's important to learn not only the craft of writing, but also about the industry and its expectations (e.g. picture book manuscripts should be around 300-500 words).
Once you've learned the basics, you might meet people who will ultimately become your critique partners (this has happened to me).
Perhaps you'll read a picture book manuscript at an event's open mic session, which will validate that you're on the right track (also happened to me).
Maybe you'll have a good time, make some friends, and get to watch the one-of-a-kind #Pitchapalooza led by The Book Doctors (again, happened to me).
Conferences avail the opportunity to connect with agents and editors for critiques or casual conversations (networking is so important).
SCBWI kickstarted everything for my writing life. In 2012, I attended my first New England SCBWI Regional Conference as one of about 700 attendees. And in 2016, I'll be co-coordinating the conference alongside Heather Kelly, writer and founder of The Writers' Loft (planning is already heavily underway for next spring's event).
In 2016, we're trying something new. We thought it might be nice to hear from (and get face time with) leading educators and booksellers. We're bringing in a panel tentatively called "The Voice of Reading" with Elizabeth Bluemle (author, bookseller, blogger at PW's Shelftalker), Donalyn Miller (teacher, author of The Book Whisperer and Reading in the Wild, Nerdy Book Club co-founder), Susannah Richards (professor, expert in all things children's literature), and John Schumacher (AKA Mr. Schu, school librarian, newly appointed Ambassador of School Libraries for Scholastic Book Fairs).
SCBWI has helped me so much in such a short period, I'm grateful for the opportunity to volunteer my time to plan the 2016 (and 2017) NE Regional Conferences.
TBD: I hate to ask you this, but what advice do you have for writers?
JF: Keep writing. When you finish a manuscript, write the next one. It'll be even better than the last. Networking is half the battle. I've written a 12-Step Guide to Writing Picture Books available (for free) on my website here.
TBD: And finally, how do you keep it so funky?
JF: I eat lots of candy corn. I wear Old Spice deodorant. And I'm 17% psychic.
Josh Funk is the author of Lady Pancake & Sir French Toast (Sterling), available now. Josh is also the author of the forthcoming picture books Dear Dragon(Viking/Penguin 2016), Pirasaus! (Scholastic 2017), and more. Josh spends his days as a software engineer writing Java code and Python scripts, and his nights and weekend drinking Java coffee and writing picture book manuscripts, alongside his wife, children, and assorted pets and monsters. Josh is a board member of The Writers' Loft in Sherborn, MA, and the co-coordinator of the 2016 and 2017 New England Regional SCBWI Conferences. Find out more about Josh, his books, his schedule for public appearances, and more at www.joshfunkbooks.com and on Twitter at @joshfunkbooks.
Join our newsletter to receive more interviews and tips on how to get published. 
Arielle Eckstut
,
author
,
Book Publishing
,
children's books
,
David Henry Sterry
,
how to get an agent
,
how to get published
,
How to publish a book
,
Josh Funk
,
Lady Pancake and Sir French Toast
,
Literary Agents
,
Picture Books
,
pitchapalooza
,
publishing
,
Society of Children's Book Writers and Illustrators
,
the book doctors