We first met Tamim Ansary many years ago through an intern who went to the same college as David and Tamim. David attended the San Francisco Writers Workshop, which Tamim ran for many years, and was startled again and again by how smart, kind and wise Mr. Ansary is. Having been a professional writer for four decades and taught hundreds of writers in general, and memoirists in particular, David thought he would pick Tamim's brain about writing, publishing and storytelling, in anticipation of his new memoir Road Trips.
Read the interview on the Huffington Post.
The Book Doctors: Tell us about your new book, what inspired it, and what were some of the joys and difficulties of writing it?
TA: This book started out as an anecdote I wanted to tell my sister about a time I drove across the country in a cheap car with just enough money to cover gas. The crux was, I got caught in a blizzard. But when I started telling the tale, it turned out that it wasn't enough to talk about the blizzard or the cheap car, I had to include why I was on that journey and what led to it. By the time I was done—hours later (my sister was patient, bless her heart)—I found myself obsessed with the idea that every journey is an odyssey if you consider it as a whole, especially if the destination is far away and difficult to reach, and you include what led to leaving and what came of having gone. So I decided to pick three iconic journeys and write each one up from start to finish in a single sitting, and that way produce a book in, you know, three nights. That was 12 years ago. I just finished. Ah well. The journeys in Road Trips all took place in the late '60s, early '70s. I was a newbie in America, then, coming of age at a remarkable moment in history. The book isn't about history; it's a personal story about coming of age. The '60s was just the context. I have to say, though, now that I've finished the book, it feels strangely relevant to right now. I mean, here we stand, at the threshold of the Age of Trump and it's important, I think, to remember that there was another time so totally unlike this one. To recover that memory.
TBD: As someone who has written and taught memoirs, why do you think people are so drawn to reading about other people's pain and misery?
TA: Is a memoir necessarily about pain and misery? Not sure I agree with that. Road Trips has some pain and misery in it, sure, but it also has humor, adventure, romance, pratfalls, pompous philosophical rumination–anything that might turn up in life. Because everything does. The pain and misery genre of memoir taps the impulse that makes us slow down to gawk at car accidents. And there's a place for that. Mos'def. Memoirs like that can draw us into empathy with experiences we ourselves will never have to endure. That could be me, you think. But it can work the other way too. It can give you a glad sense of separation from experiences you'll never have. Thank God, that's not me. The kind of memoir that interests me is today's version of the storytelling our species did 40,000 years ago, when we were little bands of hunter-gatherers huddled around our fires. That kind of memoir stokes our sense of human interconnection because it's not just the people who were raised by wolves who have stories. We all have stories. In fact, we all are stories. When we hear one another's stories, if they're well-told, we experience the story-like quality of our own lives.
TBD: Why did you decide to start your own publishing company? What are some of the challenges involved in making your own book, and then actually selling it to readers?
TA: The publishing company you're referring to is Kajakai Press, and it came out of a grant I wrote seven years ago, funded by the Christenson Fund. I proposed to help young Afghan-Americans write about their lives, because here was a generation of young people who felt they had nothing to say. They were growing up in the shadow of their parents' catastrophe, the holocaust in Afghanistan. Their parents had incredibly dramatic experiences to recount–imprisonment, torture, bombs, abandoning all they owned, running for their lives. Their children? They felt alienated in high school. Big deal! But my premise was, they had stories too, these children. The loneliness of living in the cracks—that's a story. Growing up in the shadow of a catastrophe and feeling like you have no story—that's a story. So I did the project, we got some great stuff, and I set up Kajakai Press to publish their work as Snapshots: This Afghan-American Life.
We sold out our print run and let the book go out of print but now, years later, I look at all the people who go through my memoir writing workshops and I feel like I want to help some of them—not all of them but some of them—get their stories to an audience. Because the writers I want to publish do have an audience. There are people out there who want to hear them. What they don't have is a mass audience. And traditional publishers, unfortunately, can't publish for many niche audiences—increasingly less so. Fortunately, technology has opened up new vistas with print-on-demand publishing that individual writers or small concerns like mine can access through Createspace, Nook Press, and others.
Distribution is the big problem, though. People often tell me they won't order a book from Amazon, they'll only buy books at a bookstore because they want to side with the little guy. I heartily endorse this position. Bookstores and books by traditional publishers offer something vital to the reading public, and that system must not be allowed to perish. But individual authors and imprints like mine are even littler guys. The only way this new niche-audience publishing can survive is for alternative distribution mechanisms to form, and that'll only happen if readers open up to these alternative systems. Ordering online is going to be part of that. So it's a process. We have to keep exploring, we have to keep opening up alternatives channels between writers and readers.
TBD: Tell us about your Memoir Pool project.
TA: Last year, I decided to start a website dedicated to the art of telling real life stories. Every week (except when circumstances intrude—like this presidential election) I publish a new story, by me or by someone else. As I said, I'm interested in the stories-told-around-a-campfire kind of memoir and with Memoir Pool I hope to help develop and promote that kind of memoir. Here, the premium is not what happened but what the writer made of it and how he or she told the story. So the stories at Memoir Pool might be about anything. There's one by Colleen McKee, for example, about her mother giving out 59-cent pads of paper when she worked at "a private insane asylum" in Missouri. There's another by Rick Schmidt about getting a really good deal on a sandwich thirty years ago. If those don't sound like stories to you, look them up at www.memoirpool.com. You might change your mind.
TBD: What were some of your favorite books as a kid, and why? What are you reading right now?
TA: As a kid I liked big 19th century European novels—Dostoevsky, Tolstoy, Turgenev. Elliot and Stendhal. I consumed Dickens and Melville. The sweep! The tapestry! Today, I mainly read suspense thrillers: Lee Childs, Michael Connelly, Harlan Coban. The quicker they move, the better I like 'em. You see a trajectory here? I do. The thing is, these days, I have to do such a ton of reading for my next project, a history of the world called Ripple Effects, How We Came to Be So Interconnected and Why We're Still Fighting. You wouldn't believe how much information you have to gather when you're trying to tell the story of everything that ever happened from the big bang to the day after tomorrow. Modern literary fiction generally attracts me less than the classics used to or than crime fiction does today, although I have been recommending The Book of Strange New Things by Michael Farber to everyone who will listen.
TBD: You ran the famous San Francisco Writers Workshop for many years. What did you learn as a writer from listening to all those writers read all those words? Do you think that writers should be part of a writing group?
TA: The SFWW got started in 1946 and has met every Tuesday evening since then in some public venue. It's free and no one maintains it except whoever's in it at a given time—it's operated this way for 70 years and counting. If that's not a mystical phenomenon, I don't know what is. I ran it for 22 years, but when I stepped down someone else took the reins and it's still going strong. The great thing about that workshop is that writers flow through. It's not some single static collection. On any given evening, you see both familiar faces and new faces. I learned a lot about writing by opening my ears to the staggering variety of things people thought worth writing about and the many ways they thought to go about it. Honing in on how to make a piece work when it's not something you would have written flexes writing muscles you didn't know you had and opens you up to new directions. Plus, at this workshop, people read their work aloud to whoever's there, and I'm telling you, when you read what you've written to a group strangers and acquaintances, you can feel when you've got 'em, and when you don't. Apart from any formal critique you get. You can feel it. There's no substitute for that. So yes, I think every writer could profit from being part of a writer's group.
TBD: How is it different writing a history book than writing a book about your own history?
TA: Well, in a sense, history is memoir writ large, and memoir is history writ small. We live the lives we do because we're alive at a certain time and place within the context of a much bigger story going on. What's different about writing history, though, is that before you can start writing, you have to gather information that you didn't have before, and you have to steep yourself in those facts until you start to see the story that is in those facts. With memoir, research is a final phase. You start with memory.
TBD: You've also edited many books. What has that taught you about being a writer?
TA: One part of writing is getting your voice going and getting out of the way. You have to do that, but what you produce when you're doing that, even if you're doing it really, really well, isn't usually suitable to show to anyone except your cat. Or your dog if you want an enthusiastic response. Once you're done getting the draft out, however, you have to put your brain to work and get your heart out of the way. Editing is purely about this kind of brainwork. By editing lots of other people's work, you learn how to pick words, construct sentences of any length, brevity, or complexity, make them work, make them sing, purely on the level of diction and syntax. If you're a cabinet-maker, it's not enough to design a great piece of furniture: you have to have good tools. Language—words, sentences, paragraphs, structure—those are your tools as a writer, and those you can hone quite apart from any particular thing you want to say.
TBD: What if you've never done anything famous or important or sensational. Can such a person write a memoir?
TA: Absolutely. To me, there are really two kinds of memoir. One kind is an adjunct to the news. You hear about something of public interest, you want to hear about it from someone closer to the scene, an eyewitness maybe, a principal, even. With that kind of memoir, what you're really interested in is the news event. I wrote one of those myself. West of Kabul, East of New York was published in 2002, right after 9/11; it was about the bicultural aspect of my life, growing up in Afghanistan, growing old in America. The transition between them, I didn't really talk about. "I arrived in America, twelve years passed during which I never saw another Afghan"—that's about all I have to say about that. I skipped over those years because they weren't pertinent to the news event.
But those twelve years were a story too, and that's the one I've tried to tell in Road Trips. I was a freak in Afghanistan because my mother was the first American woman there, and when I came America, the '60s were just getting underway, and there was this whole movement of people, millions of people, who were calling themselves freaks and dropping out of American society, and I joined them, even though I wasn't part of American society. I did it to find "my people." In that I was not unique. We were all declaring ourselves freaks so we wouldn't have to feel like freaks. I had my version of a story millions of us lived through, and that's kinda the point.
The stories that matter are the ones we've all lived. Growing up, getting lost, soaring high, crashing, falling in love, falling out of love, getting dumped, breaking it off with someone—all that stuff. Building a home. Raising children. Growing old. How was that for you? That's the question. Those are the stories. The things we all go through are different for each of us, that's what makes life so fascinating.
TBD: We hate to ask you this, but what advice do you have for writers?
TA: My advice to writers is this. Talk about writing all you want, that's fine. That's what we've been doing here. But don't talk about writing as a substitute for writing. If you find writing painful, if getting the words out feels like pushing a camel through the eye of a needle—remember: that's just what writing feels like. That's how it probably felt to Flaubert and Raymond Chandler. But the aha! moments when you break through, when you nail it, when you get said exactly what you meant to say—in my experience, those are worth the struggle.
---
Afghan-American author and writing guru Tamim Ansary was born in Kabul, Afghanistan. He moved to America in 1964, attended Reed College in the late sixties, and later joined a countercultural newspaper collective called The Portland Scribe. Ansary wrote West of Kabul, East of New York, San Francisco's "One City One Book" selection for 2008, and Destiny Disrupted: A History of the World through Islamic Eyes, winner of a Northern California Book Award for nonfiction. His new book Road Trips is about three tumultuous journeys that began and ended in Portland, Oregon.
JOIN OUR NEWSLETTER TO RECEIVE MORE INTERVIEWS AND TIPS ON HOW TO GET PUBLISHED.  
As book doctors, we have the privilege of traveling all over the country and connecting with organizations that help writers get successfully published. We've been hearing about GrubStreet for years, and when we started investigating, we found out what an amazing organization it is. So when we discovered that Katherine A. Sherbrooke, GrubStreet's board chair, was coming out with a new book, Fill the Sky, we thought we'd pick her brain about writing, writers groups, and the joys and perils of switching from memoir to fiction.
Read the interview on the Huffington Post.
The Book Doctors: We understand you've always wanted to be a writer since you were a kid. Why in God's name would you want to be a writer?
Katherine A. Sherbrooke: I suppose in the same way a kid watching the lunar landing decides they want to be an astronaut, or the way the 1980 Winter Olympics spawned legions of hockey players. Witnessing something extraordinary makes you want to do it. Reading books transported me in that way. Plus, I'm claustrophobic and afraid of heights, so space travel was definitely out.
TBD: What were some of your favorite books as a kid, and why?
KS: I vividly remember being mesmerized by James and the Giant Peach, and The Lion the Witch and the Wardrobe, I suppose in part because they opened my eyes to the power of imagination combined with ink and paper. One of my all-time favorites had to be The Velveteen Rabbit. Its metaphor of fraying fur and missing buttons as proof of love, of being real, moved me deeply.
TBD: How did you learn the craft of writing?
KS: I was blessed with incredible English teachers in my early days, and built a strong foundation for writing through (don't laugh) diagramming sentences until I was blue in the face, and later learning the art of a well-written essay and the importance of good structure. While that gave me a certain confidence with the written word, creative writing requires a whole added set of skills. The first teacher was good novels, reading a lot of them. The rest I learned at GrubStreet, mostly getting feedback on my work from other writers so I could hear first hand what techniques were working and which ones weren't.
TBD: Tell us about GrubStreet and your involvement with it. What have you learned about writing and writers from being involved with this organization?
KS: GrubStreet is one of the largest creative writing organizations in the country, open to writers of all levels. It is an organization that believes deeply in the power of narrative to transform us as humans, and the desperate need for us to hear stories from all walks of life, a mission very close to my heart. So I fell in love with them from the minute I walked in the door and immediately wanted to help. From a writer's point of view, I describe GrubStreet as the lifeline of my creative pursuits. Many people think of writing as a lonely endeavor, and I suppose the actual act of sitting down and putting thoughts on paper can feel that way, but there is much more to the process than that if you are willing to give and accept help. I have found the most incredible community of writers at GrubStreet. This is a group of amazingly talented and generous people who truly want to help each other succeed. I have learned everything I know about what it takes to actually complete a novel and get it out into the marketplace through classes, conferences and the community at Grub.
TBD: You're also an entrepreneur. We are too. What did you learn about being a writer by inventing and running a business?
KS: My co-founder of Circles used to say that there is a fine line between entrepreneurs and mad men: they both see things that aren't there. Writing is the same. You have to believe that what you have to offer has a place out there in the world, even when it's not finished, even if it doesn't fly off the shelf at first. Entrepreneurship, in my view, takes a whole lot of really hard work, a good measure of luck, a legion of people keen to help the project succeed, and a willingness to take a deep breath and fling yourself off the cliff. Trying to get a book out into the world isn't much different. Or maybe I'm still just crazy.
TBD: Your first book was a memoir, and it was about your family. After David's memoir came out, his family didn't speak to him for five years. What were some of the dangers and joys of writing and publishing your memoir?
KS: My parents had a classic, tumultuous love story leading up to their marriage that they would occasionally indulge me or my siblings by telling. We had each heard different snippets, but none of us had all the detail, all the various pieces. When my mother was overcome by dementia, I realized that I had to sit down with my father (who thankfully has an iron-clad memory) and get the whole story on paper before it was too late. The best part were the hours of conversation I had with my dad about his younger days, including touring through every corner of Newark, NJ with him to set the scene: where he grew up, his high school, his father's old tavern, where they went on dates, etc. I walked away with much more material than fit in the book, but they were conversations I might never have had without that impetus. On the flip side, handing my own version of my parent's love story back to my father to read was terrifying. Thankfully he loved it. He emails me all the time to tell me he stayed up all night to read it again.
TBD: How was it transitioning from writing non-fiction to being able to make stuff up and create a novel?
KS: Really hard! As restrictive as the requirement to stick to the facts felt at times while I was writing the memoir, I was handed a great cast of characters, a fantastic plot, and a setting that I didn't have to invent. I added a little research to corroborate what my father had told me, and voila, my book was born. When I turned to fiction, having absolutely no boundaries on any of that made the process much harder, and take much longer. That said, it is really satisfying to have a new plot point or a new character pop into my head while I'm out for a walk and suddenly know that my story has taken a turn for the better. And having the license to explore through fiction things that have never actually happened to me is pretty amazing.
TBD: What was your inspiration for your new novel Fill the Sky?
KS: I love reading books that take me to a place or time I have never been to so I can learn through the ease of a great story. I was beginning to hunt around for a book idea when I happened to go on a trip to Ecuador with a group of friends to spend some time with local shamans. The trip was a life-changer for me, and it struck me as an incredible and unique setting for a novel. The premise is fictional (we didn't travel there for health reasons) but all the rituals in the book save one are things I have actually experienced.
TBD: What is your next project?
KS: I'm at work on another novel. Stay tuned.
TBD: We hate to ask you this, but what advice do you have for writers?
KS: Find trusted readers, people who are willing to read your entire manuscript and give you honest and detailed feedback. They do not have to be writers; in fact, some of the best input can come from avid readers. But don't just do this because you want applause and adoration. It is really important to be open to their feedback. It can be very hard to hear that a scene that had you weeping while you wrote it barely registered with your reader, or that your favorite character leaves them cold (and you may need several days or weeks to process what they have to say), but that is precisely the kind of input you want. I find it very hard to see my work for what it is without the guiding hands of intelligent readers. They are worth their weight in gold.
Katherine A. Sherbrooke received her B.A. from Dartmouth College and M.B.A. from Stanford University. An entrepreneur and writer, she is the author of Finding Home, a family memoir about her parents' tumultuous and inspiring love affair. This is her first novel. She lives outside Boston with her husband, two sons, and black lab. Visit her online at www.kasherbrooke.com, Facebook, or Twitter.
David first met Frances Stroh when he read on the same bill as her during a Litquake event in a bar in San Francisco's North Beach that stank of beer. When he found out who she was and what the book was about, it seemed weirdly appropriate. Besides being a wonderful artist and writer, Frances is also part of a family that made wildly successful and popular beer for many decades. And then all the beer money dried up. And so she became yet another version of the American Dream: family dreams of making a fortune in the beer business, family makes a fortune in the beer business, family loses a fortune in the beer business. And now she's written a memoir to prove it. Since her book, Beer Money, just came out, we thought we'd pick her brain about alcohol, money, family and writing it all down.
Read the interview on the Huffington Post.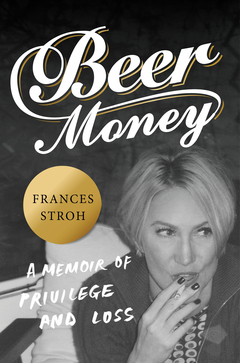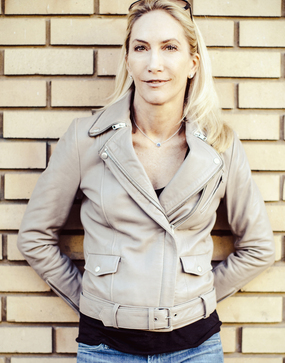 The Book Doctors: First of all, why in the name of all that is good and holy did you decide to write a memoir?
Frances Stroh: I'd been working on a novel set in the late nineties New York art world about an artist protagonist whose family had lost their wealth. It was a true work of fiction but echoed some of the themes in my own life. Deep down I knew the real book I needed to write was my own coming of age story as an artist as it related to my family's tragic decline, and the door to do this opened in 2009 when the family company announced that dividends would end because the company was broke, followed a few months later my father's sudden death. My father had appointed me as the executor of his estate and as I combed through his many collections of antique firearms, vintage cameras and guitars, and stacks of artwork, preparing them for auction, a maelstrom of memories was triggered. These memories of the complex dynamics behind the painful events in my family eventually became the book.
TBD: What books did you love when you were growing up?
FS: I devoured everything by Hemingway and Fitzgerald in high school, as well Tom Wolfe and all the Beat writers. Around that time I read a biography of Edie Sedgwick by George Plimpton that was as much about Andy Warhol and the Factory as it was about Edie, and this book hugely impacted my view of art and what it could be.
TBD: How did you learn to be a writer?
FS: In the very beginning, I studied with writers whose work I deeply respected–Tom Barbash and Julie Orringer. Their influence on my development was immense. Then it was time to just do the work, one early morning writing session at a time, followed by a late morning session, and an afternoon session. I kept reminding myself of Woody Allen's famous line, "Eighty percent of success is just showing up." In my case, this meant showing up at my desk physically and emotionally–being present.
TBD: What was your road to publication like?
FS: Surprisingly smooth. I had put in a good deal of work on the book to get it in shape, working with an excellent freelance editor–Zoë Rosenfeld–before sending out to agents. I signed on with the amazing Rob McQuilkin one week after I mailed him the manuscript. A month later we sold the book to HarperCollins at auction. I was extremely fortunate. At Harper I worked with Jennifer Barth, for whose keen eye and sensitivity I have a deep respect. From beginning to end, the publication experience has been very positive, down to all the renowned authors with whom I did my "in conversation" events on my book tour.
TBD: Did your work as a visual artist influence your writing?
FS: I explore issues of identity, point of view, and the mythologies that define us across all media, and the family video installation piece I describe in the prologue of the book was really the genesis for the memoir. The seeds for the memoir were also present in the high school application essay I describe in the book, where, as a thirteen-year-old, I write about my brother's drug bust and how it affected my family. I think the writing and the visual work influenced each other in the sense that the same themes kept coming up, no matter the medium. Writing the memoir was a way to deepen my exploration of these themes.
TBD: How did being a member of the San Francisco Writers' Grotto help you in your development as a writer?
FS: I waited to join the Grotto until I was finished with the book, and yet the support I have felt as a member of that community while bringing the book into the world has been huge. There's truly no replacement for working among and socializing with seasoned writers who have been down the road one is about to embark on. I am very grateful for the friends I have made at the Grotto and the immeasurable impact they've had on my path as a writer.
TBD: When David's first memoir, Chicken, came out, his family basically didn't speak to him for five years. Have there been any repercussions from your family about writing a story in which many of them are characters?
FS: I published a chapter of the memoir two years ago with Shebooks, a publisher of short ebooks by women writers based in San Francisco, to the applause of everyone in my immediate family. My brother told me it read like a "modern day version of The Catcher in the Rye." Since then, my mother has been a huge champion of the memoir, rallying her friends with galleys and attending many of my book tour events. The extended Stroh family, most of which are not in the book, have been quieter on the subject, but some have sent letters of praise and support and attended events as well. Overall, I feel the reception of the book has been positive.
TBD: Between the two of us, we've written, agented, publicized, and performed more memoirs than we care to remember. What were some of the joys and difficulties of taking the seemingly random events of your life and turning them into a plot with a beginning, middle and an end?
FS: I view the memoir as a love letter to my past, and a book I needed to write in order to reconcile with that past. Throughout my life the tension of one challenging event had built upon the next one with no outlet. From an early age, I was told that it wasn't okay to talk about money, family difficulties, or anything of any import. And all the while these idealized photos of the perfect American family were piling up all over our house. My father's photographs now seem haunting in the context of my truth-telling narrative, a juxtaposition in the book I view as a wonderful collaboration between my father and me. By reconstructing the past through the writing of the book I was able to reclaim many of the feelings that I'd had to push aside through the years, feelings I hadn't been able to feel at the time because the events that triggered them were too taboo to talk about, such as my brother Charlie's decline into drugs and eventual death. As I wrote the book, patterns began to form, links that connected events that had never before seemed connected–such as the simultaneous unraveling of my family, our business, and Detroit. A new kind of understanding took hold within me. I call it "strange alchemy." Only through the writing of the book did I come to see how these links were all there, all along, on a somewhat epic scale, making the story of the family, our livelihood, our hometown, and our shared destinies a kind of American story. It became something bigger than my own personal story, while at the same time it's told in a very personal voice.
TBD: Do you have any advice for writers?
FS: Find the voice that wants to tell your story. Once your narrator is there, the book will essentially write itself. All you have to do is show up at your desk, every day, and give that voice free reign. And don't think about any kind of an end goal. Following that voice, and the writing itself, is the real reward.
Frances Stroh was born in Detroit and raised in Grosse Pointe, Michigan. She received her B.A. from Duke University and her M.A. from Chelsea College of Art in London as a Fulbright Scholar. She practiced as an installation artist, exhibiting in Los Angeles, San Francisco, and London, before turning to writing. Frances is a member of the San Francisco Writers' Grotto, and her work across all media explores issues of identity, point of view, and the mythologies that define us.
JOIN OUR NEWSLETTER TO RECEIVE MORE INTERVIEWS AND TIPS ON HOW TO GET PUBLISHED.