When we first moved to New Jersey, we were lucky to meet a few local writers. One of them was Caroline Leavitt. We kept running into her at writers conferences and book festivals, and we became huge fans of her and her books. She is the quintessential writer's writer. When we found out about her new book, Cruel Beautiful World, we picked her brain on the state of writing, publishing, and how the heck she got Scott Simon to interview her on National Public Radio.
Read the interview on the Huffington Post.
The Book Doctors: We have often thought that it is a cruel beautiful world, so your title really captured our eye. How did you come up with that cruel and beautiful title?
Caroline Leavitt: My 20-year-old actor son Max came up with it, and it seemed to fit, because I was writing about that time when the innocence of the '60s slammed into the dangerous reality of the '70s. I'm awful at titles. They always get changed by Algonquin. But this one seemed to stick. Plus, I'm like you. I think the word is so, so beautiful, with so much joy, but to appreciate that joy, you have to experience the absolute cruelty of it, as well.
TBD: We heard you recently on
NPR with Scott Simon
. How did that interview come about, and what was it like to talk about your book with Mr. Simon?
CL: My genius publicist got me on! It was a blast. Scott Simon is really calming and funny—and I was really happy that I was able to make him laugh. Plus, he asked such thoughtful questions. I was just so honored.
TBD: What is your daily routine for writing a novel at this point? How many drafts did it take to get Cruel Beautiful World ready for publication? Do you rely on readers and editors to help along the way?
CL: I try to write four hours every day. I have to know the beginning and the end, and I usually do a 30-page writer's synopsis that changes every time I sit down to write. It took about 28 drafts for Cruel Beautiful World, maybe more, because I lost count, and it morphed into a very different book than what I initially thought it would be. I totally relied on my Algonquin editor, Andra Miller, who seemed to know what I needed to do before I did it. And I totally rely on other writers to read drafts and discuss things with me. I couldn't do it alone.
TBD: What was your inspiration, the diving board that led you to plunge into the pool of this book?
CL: I wanted to write this story when I was 17. I sat behind a girl in study hall who had a much older fiancé who was controlling, which I thought was weird. Then a year later, she broke up with him and he stabbed her. I was horrified! But I couldn't write about it because I kept wondering, how did she stay with someone for five years and not know he was capable of this? Ah, then ten years passed, and two weeks before my wedding, my fiancé dropped dead in my arms. I was so cataclysmic with grief that I knew I would die if I had to keep doing it. So against all advice, I hurled myself into a relationship with a man who wouldn't let me eat (I was 100 pounds but he thought I was too heavy), monitored what I wore, didn't want me to see my friends or his friends. Why did I stay? Because if I left, then I'd have to grieve. The final countdown was when I discovered he had deleted a page or so of my novel in progress and replaced it with a Groucho Marx series of jokes. When I protested, he said, "What's yours is mine. We are the same person."So I understood staying in a controlling relationship, losing yourself, but I didn't have the novel until four years ago, when I noticed an online request from my high school friend's sister. She was still haunted by the crime and wanted anyone who knew anything to talk to her. Then I had my story!
TBD: The novel seems to be in some ways about dangerous love, and about a strangely taboo subject in our culture: love in old age. What made you decide to tackle these topics?
CL: See above for the dangerous love! Love in old age is my homage to my mom. She was jilted at 17, married my father, a brute, and when he died in his 50s, she swore off men. Hated them! She lived alone until she was 90, when she couldn't handle the house and we moved her into an independent living place. She hated it, screamed at me to take her home. And then suddenly she didn't. She met this man Walter and impulsively kissed him, and they fell in love—she told me "for the first time." They were inseparable for four years, and then my mom began to get dementia. And after she did, Walter fell and died, and my sister and I never told our mother. So my mom, who is now 99, thinks he is still alive, that she has just seen him, that he is living with his kids and will call her soon. It's kind of lovely how happy she is.
TBD: We were watching Aquarius, David Duchovny's new show, and one of the characters in it is Charles Manson. Why do you think we still have this intense fascination with a man who has a Nazi swastika carved into his forehead?
CL: Because what you initially saw was not what you ended up getting. Manson looked just like any '60s hippie. He had all the extras. He lived on a communal ranch. He preached love and everyone was welcome. Even Dennis Wilson liked him and had Susan Atkins babysit his kids! The Manson Girls adored him. When you think of who he really was, it gets scarier because I keep thinking—I could have been a Manson girl in the '70s. So could a lot of girls. Manson still being alive and around fascinates us because he really is pure evil—this tiny little old man now—still scares us.

TBD: David was coming of age in that strange period between the '60s and the '70s, when America went from being obsessed with flower power and the Grateful Dead to disco and cocaine. What draws you to this strange crossroads in American history?

CL: Oh, I was coming of age then, too. I wanted to go out to San Francisco and wear flowers in my hair and "meet some gentle people" but I was too young. So I hung out at the Love-Ins in Boston with my older sister. There was such profound hope in the '60s, a sense that we really could change the world for the better. And then the '70s hit. And Nixon invaded Cambodia. And Kent State happened. And the Mansons. What happens when dreams turn into a reality you didn't expect? Can you still find meaning in your life? That's what really interested me.

TBD: We work with so many writers who have a bizarre conception of what it is to be a writer: you're suddenly filled with inspiration, you dash off your opus, and then you sit in your cabin by the lake while the royalty checks roll in. Of course, anyone who's written a book knows it's mostly sitting by yourself in a room, slogging away and trying to chisel out a work of art and commerce from a lump of clay you have to create with your imagination. As authors who've been writing for decades, we have to ask, why the heckfire do you do it?

CL: I firmly believe if I didn't do it, I would be insane. And also because I love the whole sensation of being in another world, of creating characters. Maybe I am a bit of a masochist, but I love the hard, hard work.
TBD: We must confess that we've known Caroline Leavitt for quite some time, we are fellow New Jersey writers, and we know that she, like so many of our distinguished writer friends, spends portions of her life being terribly nervous. Why do you think that is?
CL: Ha, that made me laugh! I think writers are perhaps more broken than the average person, that writing heals us. And, of course, that means, when we aren't writing, we are searching for that stray Valium we just know was around here.
TBD: When we were looking for a publisher for The Essential Guide to Getting Your Book Published, we turned down a much larger offer from one of the Big 5 publishing houses to go with Workman, an independent publisher. We believe our book would now be out-of-print, instead of in its third edition, if we had taken more money and gone with a publisher who really didn't know how to reach our audience, one owned by a corporation whose guiding principal is profit as opposed to developing and nurturing writers. What are your thoughts about finding the right publisher for your book?
CL: The right publisher is everything. I have had five (count 'em) before I got to Algonquin. Two small ones went out of business. Three big ones ignored me. My sales were enough to buy groceries. When I got to Algonquin, everything changed. I kept saying, "You know I don't sell, right?" And they kept saying back, "You will now." Six weeks before Pictures of You came out, it was in its sixth printing. The month it was out, it was on the New York Times Best Seller List. All of a sudden I had a career, and the people who wouldn't take my calls before were now calling me! I've never been treated so well. Algonquin respects their authors, they keep selling a book long after it's been out—and they totally work out of the box, which gets amazing results. I call them the gods and goddesses for good reason.
TBD: What are you currently writing? What are you currently reading?

CL: I'm writing the first chapter of my new book, and I'm too superstitious to say anything about it. I'm reading Shelter in Place by Alexander Maksik, which is fabulous, and I have this book Idaho by Emily Ruskovich.

TBD: We hate to have to ask you this, but we do. What advice do you have for writers?
CL: Never ever ever ever give up. Never. Someone says, "no"? The next person might say, "yes." And do not write to the marketplace. Write the book that speaks to you, that is going to change YOUR life. If your book can do that, well then, it will change the lives of others, too.
Caroline Leavitt is the author of the Indie Next Pick
Cruel Beautiful World
, and the New York Times Bestsellers
Pictures of You
and
Is This Tomorrow
. She reviews books for the San Francisco Chronicle, The Boston Globe and People, and she teaches novel writing online at UCLA Writers Program Extension and Stanford, as well as working with private clients. She can be reached at 
www.carolineleavitt.com
.
I came away from our workshop inspired, hopeful, informed, and once again in love with writing, writers, and even agents (well, some of them)!
Come Pitch Yr Book!: The Book Doctors on Richard Eeds Radio Show: Pitchapalooza 7-29 6:30 UNM Summer Writers Conf Santa Fe http://bit.ly/2aa3Rrv
We live in Montclair, New Jersey. John Dufresne lives in southern Florida. So naturally, we met him at the South Dakota Festival of Books. We were sitting next to him waiting for people to show up to sign our books. Let's just say there wasn't a huge line. Normally, this would really be a downer, but this time we realized it was good luck because we got the chance to talk with John.
John has had a long and distinguished career as a writer. He also teaches writing. Now that his new book, I Don't Like Where This Is Going, is out, we picked his brain about writing, books, publishing, and life.
To read the full interview on the Huffington Post, click here.
The Book Doctors: When did you first start becoming a writer, and how did you learn to be one?
John Dufresne: I was a storyteller first, even if I didn't know I was. My father told me a bedtime story every night. Fairy tales. Only I thought he made them up because he had no book. I thought he invented wolves. He may be why I loved stories and wanted to make up my own. I had a couple of narratives going when I was seven or eight or so in which I was the central character. They both took place in my neighborhood. In one I was the leader of a band of good guys with white hats and spirited horses. Cowboys on Grafton Hill in Worcester, Mass. The only real horse we ever saw on the Hill was the ragman's nag, whom we loved to pat. Every night in bed I continued the story from where it ended when I had dozed off the night before. I did this for years. And during the day, I was thinking of what I would now call plot points and creating new characters. The other narrative was similar with me as a sports hero. Whenever I heard sirens, I imagined the house the fire trucks were heading for and the people trapped inside the burning house and how they would be saved. Or not.
TBD: What were some of your favorite books as a kid, and why?
JD: I grew up in a house without very many books. We did have 26-volumes of the Universal Standard Encyclopedia, bought for 99 cents a week at the A&P on Grafton Street. I read them in order, not quite thoroughly. One month every subject I talked about at the supper table began with A. Afghanistan, alligator, antbirds. With volume 13, it was everything between Idaho and Jewel Cave. I loved information, loved knowing the names of things. I didn't much like the stories we read in my grammar school, stories about kids who had horses and good fortune. I couldn't find anyone like me, someone who grew up in a housing project, in them. Then I happened on a series of books that I devoured, the Chip Hilton series for boys, written by Claire Bee. I think it was David Mamet who described drama as two outs, bottom of the ninth, man on first, 3-2 count, and your team down by one. That describes Clutch Hitter, a book in the series that illustrated to me, the little jock that I was, how exciting, compelling, and tense a story could be.
TBD: Your new book, I Don't Like Where This Is Going, is a wild, wacky ride that fits squarely into the noir tradition, but it seems to break as many rules as it follows. How did you get the idea for the book, and does writing in this genre inform how you work?
JD: I found a character I liked in a short story I wrote. I wrote the story, my first bit of crime fiction, on request. The character was Wylie Melville, a therapist and police consultant; the story was "The Timing of Unfelt Smiles," and it appeared in Miami Noir and in Best American Mystery Stories 2007. I wanted to give Wylie a much larger problem to solve and to put his life in great danger. That's what got me started, that and the long legacy of police and political corruption in South Florida, rich material to work with. Then, having done it once, I thought, I'll do it again. I liked Wiley and Bay and wondered what mayhem would follow them and where would they go. They went to Vegas so that Bay could ply his trade at the poker tables. To be honest, I hadn't read much crime fiction before I wrote crime fiction. Sherlock Holmes, of course, books my friends Les Standiford, James W. Hall, and Dennis Lehane wrote. So if I broke any rules, I may not have known what they were. I wrote the two novels like I wrote every book with the focus on characters and themes, not on plot. This is what it means to be a human being and this is how it feels.
TBD: What do you want people to take away from your novel?
JD: Before I was a writer, and before I was a house painter, I worked for a while in social service organizations, a suicide prevention hotline, like the one Wylie works at in Vegas, a youth center, a drug prevention program. So I was in touch with that difficult life that so many people have here. In America. I worked with so many people who had lost hope and others who were in terrible emotional pain. And I've never lost that feeling that we don't do enough to take care of the less fortunate. The exploitation and oppression of unfortunate people is something I'd hope the reader would think about. Daily violence is a norm here, but it's easy to look the other way. And I want the reader to care about Wylie and his friends.
TBD: What were some of the pleasures and perils of writing this book?
JD: I spoke glibly above saying how theme and character drove the novel. Plot's always been the most difficult aspect of novel writing for me. It's so damn hard. So when I wrote the first Coyote novel, I got to about 250 pages when I realized I didn't know who committed those murders in the opening chapter, and I thought, this is why the crime writers make the big money: they have to write a novel and solve a crime. Too late then to bring a bad guy with a gun onto the stage. So it was pack to page one. Same thing this time. As possible suspects entered the novel, I paid attention and watched them looking for clues. Anyone of them could have done the deed, but who really did? Wylie's no Sherlock Holmes, no consulting detective, but he is a man who pays attention. And he doesn't work alone. He has the illusionist Bay and the bedlamite Open Mike by his side.
TBD: Tell us about how you got your first book published?
JD: It was a book of short stories, and I had probably published six or seven stories in literary journals. I had a bunch of others, and I put them together as a book, and I went through one of those books Writer's Digest put out or something like that. And I looked through all of the agents looking for short story collections, and there were three.
TBD: I'm surprised there were three!
JD: I know, I know! So I wrote to the three of them, and one of them got back to me. He was very enthusiastic. I would tell anybody who is looking for an agent, make sure the agent is excited about you and your project. Not just, "I'll do it…" Because it's hard for an agent to sell a book. Especially if it's short stories. So my agent sent my book of stories around for about a year. It finally sold to Jill Bialosky at Norton, and I've been with Jill and Norton ever since. I remember my editor saying, "You're the last guy I'll ever sell a book of stories for."
TBD: Your career is interesting and highly unusual for today in terms of sticking with one publisher for each book. And it's a publisher that's independent but has real chops in this business. Not to mention the fact that you write very quirky books that are not highly commercial, mainstream, etcetera. How can other writers achieve this kind of elusive success?
JD: First of all, the best readers you're going to get are your agent and your editor. They're generous. They want your book to succeed. And they know what they're talking about. Even if you disagree with them, I always say, just do what they tell you to do. Because they know the business. I don't know anything about the business. I don't want to know; I want to write. I also say, if you write something beautiful and moving and telling, it'll get published. But it may not get published when you want it to be, or where you want it to be. The important thing for a lot of young writers is getting it published. I steer them away from self-publishing. Some of them have, and that's alright. But you want to get the imprimatur of somebody else. Somebody else who believes in you. Small presses are as good a place to be published as large presses… I mean obviously you're not getting the same money. But the money isn't like it was before. You used to be sent on book tours. Now you're lucky if they give you lunch money. The important thing is to get yourself into the game. You get your book around. You have people reading it. Just don't give up. You owe it to your characters that you love to get other people to read about them. Until you get an agent, you're going to do the business work too, and persist with it. I think in some ways publishing is more democratic than it ever was.
TBD: When we go to these conferences, there's always one person who's telling writers, "You have to be on Facebook! You have to be on Twitter! You have to have a website, blah blah blah-" And you can see the blood draining out of writers' faces.
JD: The publishers want you to do work with them, which I understand. When I did my first book of stories, I set up what I called the Motel Six tour. I told them, "Get me the books and a bookstore, and I'll drive. I'll take my wife and my kid, and we'll drive to all the bookstores." And that's what I did. And they were all really happy, because this was before social media. I printed up a fake newspaper from Louisiana Power and Light, and Norton sent it around, and got hard copies to people. It was fun. They appreciated that I was willing to do it. I still do it. Somebody just asked me to do a bookstore in Baltimore. But I'm thinking, "How much is this going to cost me?" In the old days, they put me up in beautiful hotels. Paid for everything. Now, at least for mid-list people like me, it's not happening. And I don't think it's happening too much in general anymore. I also have gotten on Facebook because Norton said to do that. A guy helped me out. My wife is good at the computer. I think that's been kind of helpful. It's a nice way to spread the news. I saw there was a good review of my new book in the Tampa Bay paper on Sunday, and I put it online. Lots of people have liked it already. They know about the book, they buy the book. Twitter I've never been on. I remember once, Carol Houck Smith (who was an editor at Norton for years) and I were sitting together by these editors, and they were all answering questions with, "You need a platform." And Carol muttered under her breath, "I don't need a goddamn platform, I need a great book!"
TBD: What are you reading now?
JD: I tend to read a lot of books at the same time. I'm reading Lee Martin's new novel Late One Night, which begins with the death of a mother and three kids in a fire that may or may not have been arson. And I started Campbell McGrath's new poetry collection, XX, in which he writes a poem for every year in the last century, in the voices of some of the century's prominent figures, like Picasso. Mao, and Elvis. Also reading Wired to Create, by Kaufman and Gregoire, and Actual Minds, Possible Worlds by Jerome Bruner. I'm loving, if not completely understanding, Lawrence M. Krauss's A Universe from Nothing and Carlo Rovelli's Seven Brief Lessons on Physics.
TBD: How does teaching fiction help or hinder you as a fiction writer?
JD: It only helps. Every reading and every discussion of a story helps me see how stories work or don't work, including my own. We're all apprentices in a craft where no one is a master–I think Hemingway said that. This is the craft so long to learn. I always feel better at the end of class than at the start. I always feel like rushing home (which is actually impossible on Biscayne Boulevard) and getting back at whatever it is I'm writing. To be honest, there are moments that I would rather be learning about my central character's secrets than reading a story about goblins with swords, but I know I'll learn something about setting a scene, let's say, in the goblin story that will be valuable to my students and to me.
TBD: We hate to ask you this, but since you actually wrote a book about how to write a novel, we feel we have to. What advice do you have for writers?
JD: Probably the advice you were expecting to hear: read and write every day. No holidays for the writer. We always find time to do the things we love. We only have to want to write as much as we want to go to the movies. And if you don't love writing and reading, do something else. It's too hard, and discipline won't bring you to the writing desk. Only love for stories will do that. Here's Faulkner on reading: "Read, read, read. Read everything — trash, classics, good and bad, and see how they do it. Just like a carpenter who works as an apprentice and studies the master. Read! You'll absorb it." And Chekhov on writing: "Write as much as you can! Write, write, write till your fingers break."
John Dufresne is the author of seven novels, including I Don't Like Where This is Going and No Regrets, Coyote. Among other honors, he has received a Guggenheim Fellowship and is a professor in the MFA program at Florida International University. He lives in Dania Beach, Florida. For more information, please visit www.johndufresne.com.
John will be joining our Pitchapalooza panel in Miami on May 7, 2016, at 2 p.m. Learn more at the Miami Herald. 
JOIN OUR NEWSLETTER TO RECEIVE MORE INTERVIEWS AND TIPS ON HOW TO GET PUBLISHED. 
Books are rejected for two main reasons:
The editor (or agent) doesn't connect with the voice.
The editor doesn't connect with the character.
In this video, we explain how writers can revise their pitches and query letters to appeal to literary agents and editors. We cover fiction, practical non-fiction, narrative non-fiction, and memoir.
Click here to watch the video.
Join our newsletter to receive more tips on how to get published. 
Can writers get book deals at writers conferences and workshops? Yes! It's incredibly important to put yourself in the company of literary agents, editors, publishers, and other writers. Writers conferences and workshops are the single easiest way to make this happen. Learn how to make the most of your writer conference/workshop experience by watching our most recent video.
Click here to watch the video.
On

February 13

, we're leading a step-by-step conference to take writers through the entire publishing process.
We'll remove the smoke and mirrors from the confusing world of publishing to help you find your path to a successfully published book.
Publishing: Traditional, Independent, or Self?
Perfect Your Pitch
Locate, Lure, and Land the Right Agent
Pitchapalooza
And More!
Arielle Eckstut
,
authorship
,
book deal
,
Book Doctors
,
books how to find a publisher
,
Changing Hands Bookstore
,
David Henry Sterry
,
editing
,
how to find a literary agent
,
how to get published
,
How to Get Published Successfully Conference
,
literary agent
,
pitchapalooza
,
publishing
,
video
,
writers conference
,
writers workshop
,
writing
THE BOOK DOCTORS BRING PITCHAPALOOZA BACK TO THE JERSEY SHORE BOOK TOWNE MARCH 3, 6:30 pm
The Book Doctors have helped countless writers go from talented amateurs to professionally published authors (including Genn Albin, their KC winner who got a 3-book mid-six figure deal). Now they're bringing Pitchapalooza, their signature event, to Rutgers University.
WHAT: Pitchapalooza is American Idol for books (only kinder & gentler). Twenty writers will be selected at random to pitch their book. Each writer gets one minute—and only one minute!
WHO: Arielle Eckstut and David Henry Sterry are co-founders of The Book Doctors, a company dedicated to helping authors get their books published. They are also co-authors of The Essential Guide to Getting Your Book Published: How To Write It, Sell It, and Market It… Successfully (Workman, 2010). Arielle Eckstut has been a literary agent for over 20 years at The Levine Greenberg Literary Agency. She is also the author of nine books and the co-founder of the iconic brand, LittleMissMatched. David Henry Sterry is the best-selling author of 16 books, on a wide variety of subject including memoir, sports, YA fiction and reference.  His first book has been translated into 10 languages and optioned by HBO, his latest book was featured on the cover of the Sunday New York Times Book Review.  They've taught their workshop on how to get published everywhere from Stanford University to Smith College. They have appeared everywhere from The New York Times to NPR's Morning Edition to USA Today. .
HOW: At Pitchapalooza, judges will help you improve your pitch, not tell you how bad it is. Judges critique everything from idea to style to potential in the marketplace and much, much more. Authors come away with concrete advice as well as a greater understanding of the ins and outs of the publishing industry. Whether potential authors pitch themselves, or simply listen to trained professionals critique each presentation, Pitchapalooza is educational and entertaining for one and all. From Miami to Portland, from LA to NYC, and many stops along the way, Pitchapaloozas have consistently drawn standing-room-only crowds, press and blog coverage, and the kind of bookstore buzz reserved for celebrity authors.
PRIZE: At the end of Pitchapalooza, the judges will pick a winner. The winner receives an introduction to an agent or publisher appropriate for his/her book.
PRICE OF ADMISSION: To sign up to pitch, you must purchase a copy of The Essential Guide To Getting Your Book Published. Anyone who buys a copy of receives a FREE 20 minute consultation, a $100 value. If you don't want to pitch, the event is FREE.
WHEN: March 3, 6:30pm
WHERE: The Brielle Public Library, 610 South St, Brielle, NJ. NEW LOCATION
Washington Post: http://thebookdoctors.com/the-book-doctors-pitchapalooza-in-washington-post
New York Times article: http://tinyurl.com/3tkp4gl.
Pitchapalooza mini movie: http://bit.ly/vm9YSu
Pitchapalooza on NBC: http://thebookdoctors.com/the-book-doctors-pitchapalooza-on-nbc-television
Here's what people are saying about Pitchapalooza:
"We came to Pitchapalooza with an idea and six months later we got a book deal with a prominent publisher. We simply couldn't have done this without this opportunity and without David and Arielle. We had been working on this project for several years, on our own, and struggling without any guidance. We were really discouraged by the entire process. Winning Pitchapalooza, and working with these two, really helped us focus and renew our enthusiasm in the project. And now we're going to be published authors!"—Nura Maznavi and Ayesha Mattu, Pitchapalooza winners Litquke, San Francisco, Oct. 2010
Here's what people are saying about The Essential Guide To Getting Your Book Published:
"I started with nothing but an idea, and then I bought this book. Soon I had an A-list agent, a near six-figure advance, and multiple TV deals in the works. Buy it and memorize it. This little tome is the quiet secret of rockstar authors."—New York Times best-selling author Timothy Ferris, The 4-Hour Workweek: Escape 9-5, Live Anywhere, and Join the New Rich,
NaNoWriMo Nation!
You wrote your 50,000 words (give or take a few thousand). Now how do you get published?
Get a free 20-minute consultation from the Book Doctors. 
To claim your consultation:
Purchase a copy of the new edition of The Essential Guide to Getting Your Book Published.
Email David at david@thebookdoctors.com and attach a copy of your receipt. Put "NaNoWriMo Nation" in the subject.
The consultations will take place over the telephone or Skype. You can pitch us your book or ask any questions about any subject you wish. It's also a great gift for a fellow WriMo!
We first met Virginia Pye at the James River Writers Conference (another reason to attend what is a great conference) and we were immediately struck by how curious she was. How she asked questions. How she seemed to want to know. We believe this is one of the most important characteristics an author can have, especially one who is starting out, but it really applies to anyone. We were overjoyed when her first novel came out, and now she has a second. We thought we'd pick her brain about what it's like to go through the process the first time, and then do it all over again.
To read the full interview on the Huffington Post, click here.
The Book Doctors: Your first novel River of Dust did so well, did you feel nervous about the sophomore jinx? Were you aware that second books are doomed to failure?
Virginia Pye: My way of dealing with the second book jinx was to write the next novel right on the heels of my debut. I have my editor to thank for steering me towards the story that became Dreams of the Red Phoenix. I had mentioned an anecdote about my grandmother that got him curious to hear more: in 1937 Japanese-occupied China, my grandmother chased Japanese soldiers off her front porch with a broom. I had always just taken it for granted that my grandparents were complicated and strangely heroic people. It took my editor, Greg Michalson, to nudge me into writing a novel inspired by my grandmother.
After exploring the ingénue character of Grace in River of Dust–a woman who is naïve at the start of the story and becomes steadily stronger as she faces greater and greater challenges and dangers–in my next novel I wanted to focus on a woman who is powerful right from the start and even quite headstrong and arrogant at times. Shirley Carson's arc is almost the opposite of Grace's: she must tone down her self-confidence and finally listen to others in order to genuinely help them and herself.
Once I got involved with Shirley there was no turning back. The story came fast–the first draft was written in a miraculous twenty-eight days. So clearly I had no time to worry about jinxes. I wrote on a tear and then I spent the next year revising with the help of my agent and editor. I really enjoyed myself writing this novel. I hope the reader enjoys it, too!
TBD: How do you get people like Robert Olen Butler and our good friend Caroline Leavitt to write such fantastic things about your work?
VP: My publisher, Unbridled Books, approached Robert Olen Butler and he kindly responded. I was thrilled that he loved the River of Dust. When I read his complimentary words, I thought I could just quit right then: I had done my job.
I met Caroline Leavitt on Facebook. I had noticed how she's always generous with fellow writers, especially new ones, and I love her posts, which are often quite funny. When I noticed that we grew up one town over from each other in the suburbs of Boston and were both preparing to go back to our hometowns to do book events in the same month, I wrote her a private message. She wrote back right away and generously invited me onto her blog for an interview and then offered her kind blurb.
Books, especially first ones, have a way of connecting writers to people in unexpected ways. The enthusiastic blurb I received from Annie Dillard was the most surprising instance of that. Annie had been my teacher back in college. After a full year of studying with her, and working on numerous drafts of the same story, she wrote these words on my final draft: "I believe more than ever that you will write books for the rest of my life." I took her words seriously and set out to do as she predicted.
Annie always had a policy of not encouraging former students to stay in touch. I respected that boundary, but had in mind for years that I would contact her when I finally published a novel. It took far longer than I had hoped, but approximately thirty years later, I finally sent her my first published novel. I didn't ask her for anything, but simply thanked her for the crucial, life-directing role she had played when she encouraged me as a young writer. Apparently, I didn't even include a return address or contact information. I just wanted the satisfaction of sharing my accomplishment with my former teacher.
To my surprise, two weeks later I received an email from her. She had tracked down my email address from my website and wrote to say that she was proud of me and that she was glad that I'd sent her the novel, but that she couldn't promise to have time to read. As I composed a brief email reply in my mind that I intended to send to her the next day, I woke to discover a second email from her. She had stayed up all night reading River of Dust! She loved it and offered the most significant comments I could imagine. When I read her complimentary words, I truly felt that I had accomplished the life goal I had set for myself many, many years before.
Her emailed comments eventually became the blurb that appears on the paperback of River of Dust. Like so much about the writing process, I learned a lesson from that experience: sometimes things come to you precisely because you don't push for them. Patience can be its own reward and can give greater gifts than we can imagine.
TBD: We've heard such great things about Unbridled Books. What are they like to work with? How do they approach getting you and your book out into the world?
VP: I can't say enough good things about Unbridled Books. I have had the privilege of working with Greg Michalson, whose judgment and wisdom as an editor has been honed over decades. He has an unwavering sense of what works in a piece of fiction. I have learned an enormous amount from him about how not to overwrite and how to trust the reader to understand the intention of words carefully chosen. He is the master of eliciting the light touch in fiction.
Everyone who works for Unbridled is equally top notch. I've been impressed by their copy editor, Connie Oehring, whose work was flawless with both books. And the book designs for both River of Dust and Dreams of the Red Phoenix feature original covers by Kathleen Lynch and interior designs by Claire Vaccaro that capture the essence of each book and are impeccably done and, I think, quite beautiful!
The Unbridled publicity team has also been terrific. Working within a tight budget, they need to be especially smart and strategic. They've set me up at wonderful bookstores and conferences. Caitlin Hamilton Summie, who works for Unbridled and also has her own excellent marketing agency, is brilliant at positioning a book before publication and arranges terrific book tours.
I've also reached out a lot myself to local and regional bookstores. Each book event has been a meaningful opportunity to meet the crucial people who bring books into readers' lives.
TBD: You spent a lot of your writing life doing short pieces. What has it been like as a writer to now approach the novel length story? What advice do you have about writing longer pieces?
VP: I have published short stories for years in literary magazines–which, incidentally, is no easy task. The success rate is something like less than one percent. But I have persisted at it for many years.
But my main love all along and main effort has gone into writing novels. I wrote my first novel in the Fiction MFA program at Sarah Lawrence. Shortly after graduation, a big, highly respected New York agent represented it and we both assumed it would establish me as an up-and-coming writer. But sadly, she failed to sell it. I was disappointed, but went back to writing and wrote a second novel before our first child was born. That novel also found an agent, but more work was needed on it, and I became distracted as a full-time mother of first a daughter, and then three years later, a son. When he went off to kindergarten, I finally delved back into my work and wrote a third novel. That one found a third agent who came close to selling it, but no luck.
Each unsold novel went into a drawer, and while that felt terrible, I could even tell at the time that they weren't actual failures. I had learned an enormous amount about novel writing from the process of creating each new one.
With my fourth novel, I had the confidence to try a more complex story about three generations of an American family with ties to China. That bigger, more sprawling book took five years, and even then it never felt fully accomplished. Over thirty agents read it, some more than once. Eventually, I set it aside, too.
I then wrote a contemporary novel set in Richmond. That fifth novel has a very different tone–less literary and more a romantic comedy. I'm looking forward to returning to it and polishing it soon, in hopes of seeing it published someday.
After that change of pace, I returned to the opening forty pages of the sprawling multi-generational story set in China, and turned them into River of Dust: my sixth novel written, and the first to be published. I was able to write a deeper book, a more mature work, because of all the effort I had put into the previous ones.
Since finishing River of Dust, I've been on a tear, writing like I never have before. I immediately dove into the follow up book: Dreams of the Red Phoenix. And I've also now returned to the multi-generational work that tormented and fascinated me for years and have now revised it completely. I hope it will be the third and final novel I publish set in China.
In other words, my advice to writers who want to learn how to write novels is simple: write them. Write one, and when it doesn't find a home with a publisher, or if you're lucky and it does, go ahead and write the next. The only way to get better at writing novels is to practice.
TBD: Do you think getting an MFA is a big huge waste of money? Or not?
VP: My MFA degree bought me time. Two years to focus on my writing, though I did work at the same time. But, I enjoyed having the excuse to write and getting into the rhythm of always working on a book. Being in an MFA program offers a feeling of legitimacy that can help a less-established writer take herself seriously.
Getting an MFA also helped me to land teaching jobs as an adjunct at NYU and then U. Penn. I was also able to connect to my first agent through my MFA teachers, so that worked out, at least at first. As I mentioned, I've gone on to have other agents, and in the end am very happy with my current agent who I came to unconnected to my MFA.
I think that today's MFA programs offer far more than when I was in grad school. They seem to teach more about craft and about the business. And they are a way to get to know your peers and, if you're lucky, make lifelong writing friends.
But there are other ways to build community around yourself as a writer that are definitely less expensive. Many cities now have writing non-profit organizations that bring writers together and introduce them to publishers and agents. Going to conferences is a great way to take yourself seriously as a writer and to make contacts with people in the writing world. You can apply for residencies at artists' colonies or retreats. There are many more options now than ever to find resources as writer–online and in person. Getting an MFA isn't the only way to establish your career and to buy time to write, but it can be very helpful.
TBD: How has being involved with James River Writers helped you as an author? Why should writers attend a conference like the James River Writers Conference?
VP: Writing can be both lonely and discouraging. I have blithely shared my story of seven novels written and two published. I would have loved to be able to report a higher percentage published, but that wasn't to be. As a result, I faced a lot of rejection. All along, as I was writing and submitting short stories, it became routine to find returned manila envelopes in my mailbox. I really could have plastered my walls with rejections slips, like the writer in Larry Brown's Big Bad Love.
Though, as an aside, those slips steadily became more personal and encouraging over the years. We're all just people in this business and if you subscribe to the same journals, and keep sending your stories or poems to the same editors, they notice that you care about what they do, and eventually vice versa.
The only way I know to not become too desperate in the face of these odds is to hang out with other writers who are facing similar challenges. I loved being a part of James River Writers, a literary non-profit in Richmond, Virginia. I ended up helping to run the organization for seven years. We had a membership of around four hundred people, which I think is great for a smaller size city. JRW puts on an annual conference, bringing in established authors and publishing professionals. I learned a lot from being around published writers, interviewing them on panels, and moderating their talks. And I learned a lot about the business from meeting agents and editors and publishers.
By being part of a writers' organization, I became knowledgeable about how to be a published author long before I ever had my first novel taken. I think that helps a lot to demystify the process in which books are chosen. Breaking the isolation of writing is key to joining the world of published authors.
TBD: I hate to ask you this, but what advice do you have for writers?
VP: No need to apologize. I love this question! I have been through the hard knocks school of writing and am happy to share my insights, especially if it helps prepare emerging writers in any way, though we all have our own paths. I've already stressed that the most important thing is to not stop writing. If you get discouraged, write your way through it. Assume you have not just one book in you, but many. If one is rejected by the world at this moment, set it aside and try the next. The time may come later for the rejected one to find its place in the sun. But your writerly mind needs to constantly be challenged. Don't get so attached to a single manuscript that you think it is the only one that will make you a writer. Press on and try again. Believe, as Annie did about me, that you will write books for the rest of your life.
And all the while as you're writing, read. Read only the best. Don't clog up your brain with crappy prose. Read Maugham and Chekov, Carver and Trevor, Paley and Munro. Follow the careers–meaning read the books!–of current authors whose work you admire. And establish a budget that allows you to purchase and read contemporary fiction. Go to readings. Support fellow writers. Approach them and buy their latest and egg them on. They will be grateful and do the same for you when your time comes. Generosity and not jealousy will propel your career forward better than just about anything, except perhaps continuing to write the best books you can write.
Virginia Pye is the author of the novels Dreams of the Red Phoenix and River of Dust (Unbridled Books, 2015 & 2013). Her award-winning short stories have appeared in numerous literary magazines and her essays can be found at The New York Times Opinionator blog, The Rumpus, Brain, Child, and elsewhere. She holds an MFA from Sarah Lawrence and has taught writing at NYU and U. Penn. She divides her time between Richmond, Virginia, and her hometown of Cambridge, Massachusetts.
Join our newsletter to receive more interviews and tips on how to get published. 
We first met Josh Funk at the New England SCBWI Conference. (If you're not a member of this group and you're interested in books for kids, as soon as you're done reading this piece and sharing it with everyone you know, go join that group. If you haven't been to one of their conferences, ditto.) We were struck with Josh's fabulous combination of goofiness and seriousness. It's something we aspire to at The Book Doctors. And when we found out his debut picture book was going to be dropping, we had a wonderful wave of serious goofiness come over us. It's called Lady Pancake & Sir French Toast, and it's a ripping barnburner full of outlandish action, heroic and dastardly characters, roller coaster rhymes and some absolutely fabulous illustrations by Brendan Kearney. So we thought we'd sit down with Señor Funk and see what's new on Funk Island.
To read this interview on the Huffington Post, click here.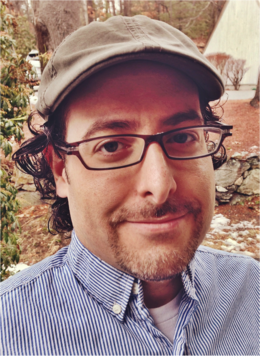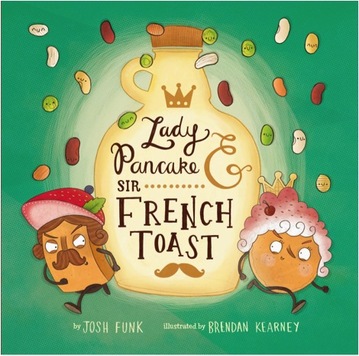 The Book Doctors: First of all, congratulations. What did it feel like when you saw that first box of books arrive and you tore it open and there it was, your own baby book?
Josh Funk: Ahh, the Back to the Future moment: "If you put your mind to it, you can accomplish anything."
Well, I didn't exactly have the 'open the box moment' that you see in the movies (or at least that one movie). The first physical copy of Lady Pancake & Sir French Toast that I got a copy of was the one the Sterling sales rep gave to Porter Square Books (in Cambridge, MA). I got a tweet from a friendly bookseller at PSB who said she found my book, so I immediately rushed to Cambridge.
The first thing I noticed was the amazing design. I knew it was going to have an embossed cover with foil, but it was really stunning. The book creaked a little when I opened it. I had seen a digital copy, but the clarity of the images on the pages was overwhelming compared to seeing it on the screen. And I think it smelled a little bit like maple syrup.
And then I jumped around giddily for about ten minutes before the booksellers asked me to leave out of fear I was scaring away all of their customers.
TBD: Why in the name of all that's good and holy would you choose to get into the publishing business? Have you had your head examined recently? Been checked for brain parasites?
JF: Haven't had my head examined lately. It's possible I'm housing parasites. But the real reason is that I always read a lot of books to my kids. One day I thought, 'I can do this.'
But once I joined my first critique group, then attended my first Society of Children's Book Writers and Illustrators conference, I realized I had a lot to learn. But I also noticed that the kidlit community is so warm and welcoming and just plain fun. I quit my fantasy football leagues and started taking writing more seriously.
I'd like to think that even if I never sold a book, I'd still be happy just to be a part of the kidlit world.
TBD: How did you go about getting a book contract not only for Lady Pancake, but also for your next two books which are coming out?
JF: In the May of 2013, I gave up on trying to acquire a literary agent. I was getting almost no responses to my queries. Out of 35 queries for Lady Pancake, 1 agent responded with a rejection implying she read it (or at least read the title). The other 34 were made up of 10 form rejections and 24 black holes. I felt I was better than that, so I submitted Lady Pancake to 10 publishers via snail mail.
Around the same time, there was an open submission period to Scholastic via author/illustrator Debbie Ridpath Ohi's Inkygirl blog. The Scholastic editor was looking for material suited for ages 0-5, and the only manuscript I had written for that age group was Pirasaurs! (most of my picture books are geared toward kids ages 4-8).
And then as late summer rolled around, I finished revising another manuscript (Dear Dragon) and decided to send it out to publishers that accepted submissions via email and online form.
By early November, Scholastic told me they were taking Pirasaurs! to acquisitions, Dear Dragon had garnered interest from two small publishers, and Sterling made an offer for Lady Pancake & Sir French Toast. All of that, plus a personal recommendation from a friend helped me obtain representation with an (awesome) agent. Over the next two months, my agent finalized the deals with Sterling and Scholastic and found a home for Dear Dragon at Penguin/Viking.
And that's how I got an agent and sold three picture book manuscripts between November of 2013 and January of 2014. I know it's a non-traditional path, but I feel extremely fortunate with the way it worked out.
TBD: Hasn't anyone told you that rhyming books don't sell? How did you overcome this ridiculous idea, and why do you think people keep saying that?
JF: Oh, boy. I have thought about this a LOT. Many rhyming picture books get published every year. So why do people say not to write in rhyme? Why is there this stigma? Well, there's a single simple reason.
It's very easy to write bad rhyme.
And lots of people do (please note that if you're reading this and you like to write rhyming picture books, I'm not talking about you).
Everyone grew up reading and loving Dr. Seuss. Therefore, many people think that picture books are supposed to rhyme. When they start writing picture books, that's how they write them. This includes me.
It's a flawed way of thinking. Not everyone is cut out to write rhyming picture books. It's actually rather difficult. I personally believe that a good rhyming picture book has an added level of charm. But there are so many mistakes you can make when writing a rhyming picture book (mostly to do with rhythm, all of which I've discussed in depth on my website and while leading workshops).
But here's the problem. When a literary agent receives a query for a rhyming picture book manuscript, there's a 99% chance that it's bad rhyme. And it's not worth the agent's time to read 99 bad rhyming manuscripts, just to get to the one good one. And I completely understand and agree with that policy. Add to that the fact that it'll be nearly as hard for an agent to sell a rhyming manuscript to an editor. I truly believe that this is why my query response rate was so utterly abysmal (in retrospect, I shouldn't have said that the manuscript rhymed in the query).
I overcame this hurdle by first worked very hard to improve my rhyming, spending lots of time reverse-engineering critique partners' comments.
Second, I bypassed agents. An agent is (rightfully) concerned with a writer's entire body of work and career. If you submit a single rhyming manuscript embedded in an email query and that's all they have to go on, it doesn't make you a particularly enticing prospective client. But an editor is more concerned with a single manuscript. It's not that they don't care about you or your career, but if they like a manuscript, rhyming or not, that's all they have to commit to.
I figured I'd have better odds of someone actually reading my manuscript at a publishing house. And at least in this case, I was correct.
TBD: What are some of your favorite things about being a professional author? What are some of the most horrifying things about being a professional author?
JF: I love getting to meet fun people. Like other awesome authors I admire. And super cool teachers and librarians like those in the Nerdy Book Club. Seeing my son's face the first time someone asked me for an autograph (part confusion, part amazement, part pride) – that was pretty cool. I also get to travel a little more than I used to.
Horrifying? I guess a Misery-type situation would be horrifying. Other than that, I'm all peaches and roses.
TBD: We are big lovers of pancakes and French toast around here. I, myself, leaned toward the pancake. Olive, our eight-year-old, often leans toward the French toast. I think you can divide all of humanity into these two categories. How did you come up with this fantastic idea for a book?
JF: One Saturday morning, I asked my kids what they wanted for breakfast. One said, "Pancakes." The other said, "French toast." "Pancakes." "French toast." "Pancakes!" "French toast!"
While the arguing continued, I checked the kitchen, and as you might have expected, all we had were waffles. To top it off (literally and figuratively), we had enough maple syrup left to fill a single square on a waffle grid.
It was on the way to the diner that I came up with the idea.
TBD: What was it like working with your editor? Illustrator? Agent?
JF: Zaneta Jung (my editor at Sterling) is terrific. We had one phone conversation discussing her revision notes, went back and forth for a week over email finalizing the manuscript, and that was pretty much it. Zaneta (pronounced 'zuh-net-ta') has so much energy and excitement for kids' books. She has a great eye for picking out illustrators, too. She definitely had a hand in finding Brendan Kearney.
Like many author/illustrator relationships, Brendan and I didn't really talk much (or at all). Rumor has it that the publishers like it this way. Author talks to editor editor talks to art director art director talks to illustrator. This way, the publisher maintains complete control of the message (good or bad). I've had nothing but good things to say about Brendan's work on Lady Pancake, which I think have been relayed to him. I've had a handful of quick conversations with Brendan over Google chat, but that's about it.
My agent, Kathleen Rushall, is a rock star! I was extremely fortunate to sign with her while she was actively building her picture book list. She represents picture books through young adult at Marsal Lyon Literary Agency and is strong in every aspect you'd want from an agent. She has a fabulous editorial eye, she has a good sense of what particular editors are looking for, she knows the business and contracts side, she's extremely communicative, and she's a genuine pleasure to work with. We, her clients, affectionately refer to ourselves at #TeamKrush. We even have a logo designed by author Jessie Devine for PitchWars.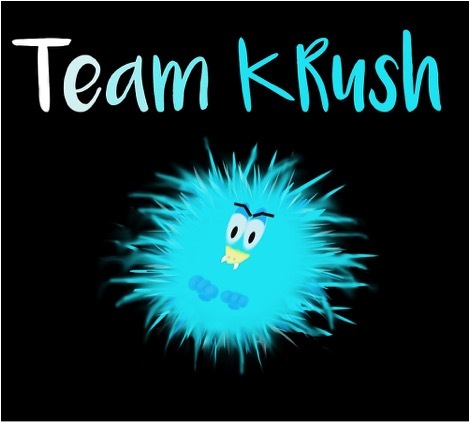 TBD: What do you see is the value of going to a writer's conference? And specifically how has being a member of SCBWI helped you in your career and as a person?
JF: I think going to a writer's conference is valuable at many levels of your career. If you're brand new to the writing world, you'll be able to learn the basics. It's important to learn not only the craft of writing, but also about the industry and its expectations (e.g. picture book manuscripts should be around 300-500 words).
Once you've learned the basics, you might meet people who will ultimately become your critique partners (this has happened to me).
Perhaps you'll read a picture book manuscript at an event's open mic session, which will validate that you're on the right track (also happened to me).
Maybe you'll have a good time, make some friends, and get to watch the one-of-a-kind #Pitchapalooza led by The Book Doctors (again, happened to me).
Conferences avail the opportunity to connect with agents and editors for critiques or casual conversations (networking is so important).
SCBWI kickstarted everything for my writing life. In 2012, I attended my first New England SCBWI Regional Conference as one of about 700 attendees. And in 2016, I'll be co-coordinating the conference alongside Heather Kelly, writer and founder of The Writers' Loft (planning is already heavily underway for next spring's event).
In 2016, we're trying something new. We thought it might be nice to hear from (and get face time with) leading educators and booksellers. We're bringing in a panel tentatively called "The Voice of Reading" with Elizabeth Bluemle (author, bookseller, blogger at PW's Shelftalker), Donalyn Miller (teacher, author of The Book Whisperer and Reading in the Wild, Nerdy Book Club co-founder), Susannah Richards (professor, expert in all things children's literature), and John Schumacher (AKA Mr. Schu, school librarian, newly appointed Ambassador of School Libraries for Scholastic Book Fairs).
SCBWI has helped me so much in such a short period, I'm grateful for the opportunity to volunteer my time to plan the 2016 (and 2017) NE Regional Conferences.
TBD: I hate to ask you this, but what advice do you have for writers?
JF: Keep writing. When you finish a manuscript, write the next one. It'll be even better than the last. Networking is half the battle. I've written a 12-Step Guide to Writing Picture Books available (for free) on my website here.
TBD: And finally, how do you keep it so funky?
JF: I eat lots of candy corn. I wear Old Spice deodorant. And I'm 17% psychic.
Josh Funk is the author of Lady Pancake & Sir French Toast (Sterling), available now. Josh is also the author of the forthcoming picture books Dear Dragon(Viking/Penguin 2016), Pirasaus! (Scholastic 2017), and more. Josh spends his days as a software engineer writing Java code and Python scripts, and his nights and weekend drinking Java coffee and writing picture book manuscripts, alongside his wife, children, and assorted pets and monsters. Josh is a board member of The Writers' Loft in Sherborn, MA, and the co-coordinator of the 2016 and 2017 New England Regional SCBWI Conferences. Find out more about Josh, his books, his schedule for public appearances, and more at www.joshfunkbooks.com and on Twitter at @joshfunkbooks.
Join our newsletter to receive more interviews and tips on how to get published. 
Arielle Eckstut
,
author
,
Book Publishing
,
children's books
,
David Henry Sterry
,
how to get an agent
,
how to get published
,
How to publish a book
,
Josh Funk
,
Lady Pancake and Sir French Toast
,
Literary Agents
,
Picture Books
,
pitchapalooza
,
publishing
,
Society of Children's Book Writers and Illustrators
,
the book doctors