Aloha! The Book Doctors are headed to Hawaii.
Pack your swimsuits and manuscripts and join us at the Kauai Writers Conference, November 4 – 10, 2019, where we'll be presenting with a cavalcade of world-class writers, agents and editors. Do yourself and your book a favor and come to the Garden Island, where bestselling and award-winning writers will help you get your manuscript ready for the world; where top agents and publishers (not the typical young and inexperienced publishing folks who normally show up at these conferences) will be ready and waiting to hear your pitch; where four-day master classes on how to build a platform (with us!) and how to turn life into art, among many others, will be served up with mai tais with little umbrellas in them.
Because this is such a rare and wonderful opportunity, we asked if our readers could receive a 10% discount. And the kind folks at the Kauai Writers Conference have said YES! The code is bookdr789. Enter it on the checkout page.
We hope you'll move fast because they are almost out of rooms at the hotel (great conferences sell out super fast). The conference hotel is the place to be. While you can stay anywhere on the island, the conference hotel is where you may run into the agent or editor of your dreams one night in the Tiki Lounge! This is how careers get made.
Featured Authors
In addition to yours truly, Kauai Writers Conference has a lineup of rockstar authors, agents, and publishing insiders.
Paula McLain
Greg Iles
Meg Wolitzer
Christina Baker Kline
Téa Obreht
Lisa Wingate
And more!
Where It's Located
Kauai, the oldest of the Hawaiian islands, has waterfalls, rainforests, rare habitats, sculpted cliffs, and more beaches than the other islands. The conference is held at an exquisite resort nestled in a cove, a perfect spot for novice surfers.
What It Includes
Four days of master classes (November 4 – 7)
A three-day conference (November 8 – 10)
Talks by beloved authors
Intimate small group discussions
Individual sessions with literary agents
Group and individual consultations with leading experts on alternatives to traditional publishing
An immersive Hawaiian experience
Kumu Sabra Kauka and her halau have opened the Kauai Writers Conference each year with traditional pule, chant, and hula.
Four generations of the Punua family have conducted Kauai's best-loved luau for over sixty years. They offer their performance and classic imu-prepared dishes on the first night of the conference.
Who Should Attend
Any writer looking to get successfully published will benefit immensely from coming to this conference. And frankly, any human will benefit immensely from coming to Kauai. Whether it's in-depth writing instruction with some of the best authors and teachers in the world, or learning about the publishing business from industry insiders, or actually meeting an agent who could take you on as a client, the Kauai Writers Conference will be a boon for writers at all stages in their careers.
The conference sheds light on the ever-changing landscape of the modern book business. Traditional publishing, self-publishing, hybrid models: the faculty roster boasts experts who'll help you realize what's right for you and how to achieve your dreams.
See you in Kauai! Aloha.
Check out our upcoming events for Pitchapaloozas, conferences, and more.
As book doctors, we have the privilege of traveling all over the country and connecting with organizations that help writers get successfully published. We've been hearing about GrubStreet for years, and when we started investigating, we found out what an amazing organization it is. So when we discovered that Katherine A. Sherbrooke, GrubStreet's board chair, was coming out with a new book, Fill the Sky, we thought we'd pick her brain about writing, writers groups, and the joys and perils of switching from memoir to fiction.
Read the interview on the Huffington Post.
The Book Doctors: We understand you've always wanted to be a writer since you were a kid. Why in God's name would you want to be a writer?
Katherine A. Sherbrooke: I suppose in the same way a kid watching the lunar landing decides they want to be an astronaut, or the way the 1980 Winter Olympics spawned legions of hockey players. Witnessing something extraordinary makes you want to do it. Reading books transported me in that way. Plus, I'm claustrophobic and afraid of heights, so space travel was definitely out.
TBD: What were some of your favorite books as a kid, and why?
KS: I vividly remember being mesmerized by James and the Giant Peach, and The Lion the Witch and the Wardrobe, I suppose in part because they opened my eyes to the power of imagination combined with ink and paper. One of my all-time favorites had to be The Velveteen Rabbit. Its metaphor of fraying fur and missing buttons as proof of love, of being real, moved me deeply.
TBD: How did you learn the craft of writing?
KS: I was blessed with incredible English teachers in my early days, and built a strong foundation for writing through (don't laugh) diagramming sentences until I was blue in the face, and later learning the art of a well-written essay and the importance of good structure. While that gave me a certain confidence with the written word, creative writing requires a whole added set of skills. The first teacher was good novels, reading a lot of them. The rest I learned at GrubStreet, mostly getting feedback on my work from other writers so I could hear first hand what techniques were working and which ones weren't.
TBD: Tell us about GrubStreet and your involvement with it. What have you learned about writing and writers from being involved with this organization?
KS: GrubStreet is one of the largest creative writing organizations in the country, open to writers of all levels. It is an organization that believes deeply in the power of narrative to transform us as humans, and the desperate need for us to hear stories from all walks of life, a mission very close to my heart. So I fell in love with them from the minute I walked in the door and immediately wanted to help. From a writer's point of view, I describe GrubStreet as the lifeline of my creative pursuits. Many people think of writing as a lonely endeavor, and I suppose the actual act of sitting down and putting thoughts on paper can feel that way, but there is much more to the process than that if you are willing to give and accept help. I have found the most incredible community of writers at GrubStreet. This is a group of amazingly talented and generous people who truly want to help each other succeed. I have learned everything I know about what it takes to actually complete a novel and get it out into the marketplace through classes, conferences and the community at Grub.
TBD: You're also an entrepreneur. We are too. What did you learn about being a writer by inventing and running a business?
KS: My co-founder of Circles used to say that there is a fine line between entrepreneurs and mad men: they both see things that aren't there. Writing is the same. You have to believe that what you have to offer has a place out there in the world, even when it's not finished, even if it doesn't fly off the shelf at first. Entrepreneurship, in my view, takes a whole lot of really hard work, a good measure of luck, a legion of people keen to help the project succeed, and a willingness to take a deep breath and fling yourself off the cliff. Trying to get a book out into the world isn't much different. Or maybe I'm still just crazy.
TBD: Your first book was a memoir, and it was about your family. After David's memoir came out, his family didn't speak to him for five years. What were some of the dangers and joys of writing and publishing your memoir?
KS: My parents had a classic, tumultuous love story leading up to their marriage that they would occasionally indulge me or my siblings by telling. We had each heard different snippets, but none of us had all the detail, all the various pieces. When my mother was overcome by dementia, I realized that I had to sit down with my father (who thankfully has an iron-clad memory) and get the whole story on paper before it was too late. The best part were the hours of conversation I had with my dad about his younger days, including touring through every corner of Newark, NJ with him to set the scene: where he grew up, his high school, his father's old tavern, where they went on dates, etc. I walked away with much more material than fit in the book, but they were conversations I might never have had without that impetus. On the flip side, handing my own version of my parent's love story back to my father to read was terrifying. Thankfully he loved it. He emails me all the time to tell me he stayed up all night to read it again.
TBD: How was it transitioning from writing non-fiction to being able to make stuff up and create a novel?
KS: Really hard! As restrictive as the requirement to stick to the facts felt at times while I was writing the memoir, I was handed a great cast of characters, a fantastic plot, and a setting that I didn't have to invent. I added a little research to corroborate what my father had told me, and voila, my book was born. When I turned to fiction, having absolutely no boundaries on any of that made the process much harder, and take much longer. That said, it is really satisfying to have a new plot point or a new character pop into my head while I'm out for a walk and suddenly know that my story has taken a turn for the better. And having the license to explore through fiction things that have never actually happened to me is pretty amazing.
TBD: What was your inspiration for your new novel Fill the Sky?
KS: I love reading books that take me to a place or time I have never been to so I can learn through the ease of a great story. I was beginning to hunt around for a book idea when I happened to go on a trip to Ecuador with a group of friends to spend some time with local shamans. The trip was a life-changer for me, and it struck me as an incredible and unique setting for a novel. The premise is fictional (we didn't travel there for health reasons) but all the rituals in the book save one are things I have actually experienced.
TBD: What is your next project?
KS: I'm at work on another novel. Stay tuned.
TBD: We hate to ask you this, but what advice do you have for writers?
KS: Find trusted readers, people who are willing to read your entire manuscript and give you honest and detailed feedback. They do not have to be writers; in fact, some of the best input can come from avid readers. But don't just do this because you want applause and adoration. It is really important to be open to their feedback. It can be very hard to hear that a scene that had you weeping while you wrote it barely registered with your reader, or that your favorite character leaves them cold (and you may need several days or weeks to process what they have to say), but that is precisely the kind of input you want. I find it very hard to see my work for what it is without the guiding hands of intelligent readers. They are worth their weight in gold.
Katherine A. Sherbrooke received her B.A. from Dartmouth College and M.B.A. from Stanford University. An entrepreneur and writer, she is the author of Finding Home, a family memoir about her parents' tumultuous and inspiring love affair. This is her first novel. She lives outside Boston with her husband, two sons, and black lab. Visit her online at www.kasherbrooke.com, Facebook, or Twitter.
Selling your First Novel, Maximizing Writers' Conferences and Making a Living While Writing
We are lucky to live in a town called Montclair, New Jersey. We had no idea when we moved here how many amazing writers would live within a stone's throw of us. One of them is Christina Baker Kline. We got to know her before her New York Times best-selling novel, Orphan Train, was published. She was at the center of the writing community in Montclair, helping writers both published and unpublished to get their foot into the door of the book biz. It often seems like a bestseller comes out of nowhere, fully formed like Athena springing from the head of Zeus. But as you'll see from our interview with Christina, a groundbreaking novel, like Rome, is not built in a day.
The Book Doctors: You were a writer for many years before you had a mega bestseller. Take us down the path of your decision to become a writer, the arc of your career, and how it led up to your most recent success.
Christina Baker Kline: I have always been a working writer, by which I mean I was a scrappy kid. I was raised by professor parents who had no money. My mother taught at a community college. When I was about 11 or 12, she put me in charge of cooking, and she put my sister Cynthia, who was about 18 months younger, in charge of laundry. She had to stand on a box to do laundry. And so we became quite self-sufficient. We also took care of our two baby sisters. We called them The Babies until they were 12. And I remember one of my sisters saying, "You have to stop calling us The Babies. We're not babies anymore."
In college, I majored in English literature. I did a Masters of Arts in literature for graduate school, and then I did an MFA. For me, as it so happened, English was a marketable degree, even though people might not think of it that way, because that's where my skills lie. My masters in English literature helped me get teaching jobs. For my MFA, I knew that I could stave off student loans for two more years, and I also wanted to write a novel, but I knew I would never be able to do it if I was working full-time. So I applied to ten programs. I got full fellowships at two, Michigan and The University of Virginia, to, as far as I was concerned, write a novel. They didn't know I was going to write a novel. MFA programs are not set up to write novels. But I was very directed. I had one shot, and then I was going to be repaying student loans and working. I wrote my first novel in two years while pretending to be writing short stories. I kind of handed in little bits and pieces and old stories.
I also was an entrepreneur, and I had a company called Writing Works, which I started with another grad student. We edited Guggenheim applications, professors' essays, and letters. Books even. Then I came to New York and continued that little company. I've always set up a life in which I was working as an editor and teaching.
I've always assumed I would have to make a living in addition to writing. I have ten books, and I've always gotten reasonable advances. I broke six-figures once in that period of all those books, but I always had high five-figure advances. Sometimes I could support myself for a year, and sometimes I couldn't. But the big picture is, I always knew that I wanted to write, and I always assumed it would also entail making a living in some other way as well. So I never expected to write a book that would mean I wouldn't have to do other jobs.
TBD: What happened to that first novel?
CBK: For my first novel, I got $7,500. It was the little engine that could, and it far surpassed my modest expectations. We sold rights in other countries. We sold film rights, first serial rights. It was a Reader's Digest Condensed Book. For $40,000, Reader's Digest bought it. That was huge because the book had earned out way before it came out. This led to a bidding war for my next novel. Of course, that's how I thought it would continue forever. But the second novel did very poorly, and I had gotten a big advance. So I sold my next novel for a reasonable amount and got myself back on track in terms of publishers not being terrified to take me on. And then my next book was much darker, more serious. That didn't do so well. My career was very up-and-down. That brings us to Orphan Train.
TBD: It's interesting that you've never really experienced full-on rejection in the way that most writers have. Despite the ups and downs, it sounds like a really nice run!
CBK: Not exactly. I have been protected a bit from rejection. But I went through one very dark period. I had this wonderful experience with my first novel. I had a lot of interest in my second novel. But the editor who bought it was a celebrity editor; she was not hands-on. She took on a lot of writers like me, paid them well because she had a big budget, and then waited to see who would rise to the top. She'd tell me she read the manuscript but didn't seem to know the story. Her assistant would call and say it was in the pipeline, and I would know it wasn't. Crazy. I had just had my third child, my second book had done poorly, and my life was kind of a shit show.
TBD: You've written many different kinds of books. Now you have a huge bestseller. Do you feel pressure to recreate Orphan Train?
CBK: As you said, all of my books are really different from each other, and they probably always will be. I don't feel constrained by the weight of Orphan Train. I feel freed by it in a way. Nobody ever thought Orphan Train was going to be a bestseller. There are these books–Eat, Pray, Love, or Water for Elephants, or The Lovely Bones–that writers publish and then have respectable careers, but they don't repeat that level of commercial success. I fully intend to be that kind of writer. I don't plan on having another one. I'm not a writer like Stephen King whose books will always be at the top of the bestseller list. And I don't feel bad about it.
Look at a writer like Claire Messud, who made a big splash with her novel The Emperor's Children. That was her big book, and she's very respected. But if you read her other novels, they are very dark and intense. It's who she is and what she does, and she's not trying to write to an audience.
My next book is quiet and interior; it's about a woman who essentially never leaves her house.
Another thing: after I handed in Orphan Train, before it came out, I called everyone I knew in publishing and asked for jobs. I thought, "I have to get a full-time job as an editor. I can't do this anymore. This book is probably just going to fail." I was editing 50 manuscripts a year and teaching. It was grueling. I had several interviews, and they all basically said, "You're too old. There's no way we're hiring you as an editorial assistant or anything else." They didn't say that, but it was clear. I thought, "What am I going to do? Just work at Starbucks or something?"
TBD: You still teach at writers' conferences. I see you're going to be at the Kauai Writers Conference in November. (So jealous!) What impresses you when you come across someone who has never been published when you're in this environment?
CBK: I was reading The New York Times on the plane yesterday, and there was this person talking about what leads to success. He said there's an equation, which is Talent + Work = Skill. Skill + Work = Success. But Big Success is when you have a vision of how what you're doing makes the world a better place. So what I guess impresses me is when they have the talent, the work ethic, the willingness to read a lot, and are willing to edit their own work–a lot of people aren't. To me, editing is the secret to writing. I edit so much, and I think it's very important. In literary stories and novels the sound and rhythm of words matter. But understand that even if you want to write a literary novel, plot and structure are incredibly important.
TBD: And on the flip side of that, what do you see people doing that's a turnoff
CBK: If people want things from me but they don't know my work, or they haven't read it and have nothing to say about it, then I'm as anonymous to them as they are to me. If I don't feel they have any particular reason for approaching me, I don't have any particular reason for helping them. But if a writer knows my work and has some kind of connection to it, I'm open to being approached. I love discovering and championing great new writing. It's one of the best things about this writing life.
TBD: We can't wait to read the next book, Christina!
Christina Baker Kline is the author of five novels. Her most recent novel, Orphan Train, has spent more than two years on the New York Times bestseller list, including five weeks at # 1, and has been published in 38 countries. More than 100 communities and colleges have chosen it as a "One Book, One Read" selection. Her other novels include The Way Life Should Be, Sweet Water, Bird in Hand, and Desire Lines. Her new novel, based on the iconic painting Christina's World by Andrew Wyeth, will be published in Winter 2017.
In addition to her five novels, Kline has written and edited five nonfiction books. She commissioned and edited two widely praised collections or original essays on the frist year of parenthood and raising young children, Child of Mine and Room to Grow, and a book on grieving, Always Too Soon. She is the coeditor, with Anne Burt, of a collection of personal essays called About Face: Women Write About What They See When They Look in the Mirror, and is co-author, with her mother, Christina Looper Baker, of a book on feminist mothers and daughters, The Conversation Begins. Her essays, articles, and reviews have appeared in The New York Times, the San Francisco Chronicle, Money, More, Psychology Today, among other places.
JOIN OUR NEWSLETTER TO RECEIVE MORE INTERVIEWS AND TIPS ON HOW TO GET PUBLISHED.  
Last weekend, we presented at the University of New Mexico Summer Writers' Conference in Santa Fe. We heard great pitches; we met fantastic writers. One of those writers blogged about the conference and pitching David. Thanks to R.A. Schneider and Beyond Belief for allowing us to share UNM 2016: Counting Chickens.
---
It reads like a fairytale:   A man, afraid of pursuing his dreams, takes a leap of faith toward them.  He attends The University of New Mexico Summer Writers' Conference in Santa Fe, on the wings of his wife's benediction, "I just want you to be happy."
The conference goes well; beyond his wildest dreams, in every aspect.  Keynote speaker Sandra Cisneros reaches into his chest and wrests convulsive tears. Workshop peers share trust and experience with genuine good will.
Reactions to his workshop writing sample place him in a state of shock:  "Real-Deal"  "Killer" "Reminds me of Bernard Cooper."  "At its best, reminiscent of 'Glass Castle'." "Can you get a full draft ready for the Master Class next year?"  Surreal.
Friday night holds one last opportunity to extend the enchantment: "Pitchapalooza."   Billed as the American Idol of the literary world, lucky writers' (names drawn from a hat) have one minute to pitch their book idea to an expert panel. The winner receives, along with a critique of their pitch, a package of prizes including introduction to an agent; a gateway to book deals.
"Why not," he thinks?  Then he remembers Mary.   She flies in to Albuquerque Friday at 6:45 PM, in the heart of Pitchapalooza's time slot.
An epic dilemma.  Conflict in act two?
There has to be a way to pitch and pick her up.  Think!  Ask Mary to sit in the Albuquerque airport for three hours while he pitches?   She would not be happy.  Wasting her night would be bad enough, but there's no guarantee his name will be drawn from the hat.  Worst and best case scenarios both fail. An airport shuttle? $145 one-way.  That's out.  Light Rail?   Last train leaves for Santa Fe before her touch-down.  Damocles laughs.
Forced to choose priorities, the pitch must wait.  "Besides," he tells himself, "my writing's not that good; delusions of grandeur." He sleeps, resigned to missing Pitchapalooza, while preserving the happiness of she who makes him happiest.
Friday. The man shuffles to the hotel breakfast bar, with its promise of self-made waffles, over-ripe fruit, and guests in Crocs, or worse — bare feet.   What kind of people come to a breakfast bar in bare feet?   He scans up from the man's wiggling toes, past ragged shorts and sleeveless faux-frat T-shirt with a mock coat of arms: "Reed College:  "Atheism. Communism.Free Love."  Barefootie is writing in a composition book, making a public show like all the wannabe's; like the man himself has done.  His eyes come to rest on the face, the wild shock of gray hair.  He has to say something.
Carpe mother-fucking Diem.
"Excuse me, but Could I e-mail a pitch to you?   I can't make it to Pitchapalooza tonight. I have to pick up my wife in Albuquerque at the same time, and marriage comes before art."
David Sterry, co-inventor of Pitchapalooza and one half of "The Book Doctors,"
 puts his pen down and looks at the man. "Wow…sometimes the universe conspires against you, eh? But sure. Here's my card."  The man begins to thank Sterry for the opportunity, turning to leave.
"So what's your book about," Sterry asks? The man stops dead, along with his heart, turning back.
"Seriously?  You'll let me pitch you?"  He sits and pitches. It's a flawed pitch. It's a spiked change-up, a slider in the dirt, but he completes it in the allotted minute.
Sterry sits back, rakes his fingers through his electric mane, and exhales, eyes bugging…"Whoooo!  That's a hell of a story!  That's something one of the major houses would be interested in, if you can get it right.  That's got a lot of 'Running With Scissors' to it."
Always an if. A huge if. Twenty-five years of "What if?"
But this is the second time this week published memoirists have looked him in the eye and said this:  Potential for major publishing-house interest.  If.  Twice more the man tries to rise and thank the Book Doctor, attempting to minimize the breakfast imposition.
"No, wait…let me tell you how to fix the pitch."  Sterry spends 10 minutes teaching, more than the five minutes promised at Pitchapalooza, finishing with this:  "…and when you've perfected the pitch, get it to me.  Memoirs are our specialty… we have a huge network of agents, and it's in our best interests to make you as successful as we can."
The shock has returned.   The man stands, shakes Sterry's hand, and walks away to prepare for the last day of workshop. The magical, the enchanting  University of New Mexico Summer Writers' Conference.  He warms to the thought of meeting his wife at the gate.
Sometimes the universe conspires with you. He is happy, and he will return. No "if."
---
This post first appeared on Beyond Belief by R.A. Schneider.
We, The Book Doctors, travel the country going to writers' conferences, book festivals, bookstores, libraries, colleges and universities where writers meet and learn how to get successfully published. We kept hearing about the University of New Mexico Summer Writers' Conference in Santa Fe (formerly the The Taos Summer Writers' Conference) and how freaking awesome it is. We finally got a connection, reached out and lo and behold, we are excited to announce that we will be presenting at this year's conference, July 24-31, in Santa Fe, New Mexico.
One of the best ways to go from being a talented amateur to professionally published author is to be around a bunch of professionally published authors. There are few places you can do this outside of writers' conferences like this one. Whether it's learning the craft of plotting a novel, understanding how to shape your life into a memoir, or figuring out the nuts and bolts of how to navigate the stormy seas of publishing, there's just so much to learn and so many brains to pick.
Plus, we're totally psyched about going to Santa Fe. New Mexico will be our eight-year-old daughter's 34th state. What's not to love about that? If you're there, please look us up and say hello.
We spoke with Sharon Oard Warner, founding director of UNM Summer Writers' Conference in Santa Fe, about the conference, reading and her advice for writers.
Read the interview on the Huffington Post.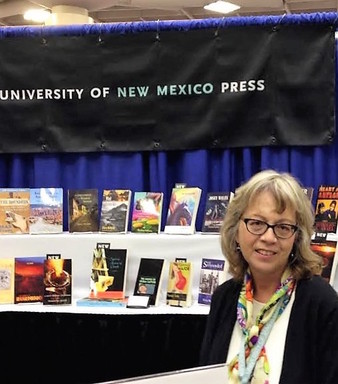 Sharon Oard Warner at AWP 2015
The Book Doctors: What were your favorite books as a kid and why?
Sharon Oard Warner: My first favorite book was The Little Red Caboose, a Little Golden Book. My dad swears he read that book to me a hundred times or more. I do remember loving it, so much so that when my own sons were small, I bought them a ginormous version, so big that my younger son could hide behind it, which is the only real purpose the book served. As might be expected, The Little Red Caboose just didn't do it for my sons. After seeing the gift book titled Everything I Need to Know I Learned from a Little Golden Book, I began to wonder about the long-term impact of my childhood obsession with The Little Red Caboose. Had I been marked for life by the book's message? It turns out, yes, I had.
TBD: How were you marked for life by your childhood obsession with The Little Red Caboose?
SW: In order to get the attention he craves–the waves and cheers of children–the caboose has to come to the rescue. In other words, he has to put on the brakes and resist mightily the forces of gravity and the weight of all the other cars bearing down on him. He has to save the train.
Off and on throughout my life, I have been defiant in the face of forces larger than I am. I have thrown on the brakes and stubbornly resisted being moved. Right now, I am trying to save the D. H. Lawrence Ranch, and I am reaching out to other writers for assistance. Anyone out there want to help?
TBD: How did you learn to be a writer?
SW: Reading, first, last, and always.
TBD: How did moving around so much affect your childhood? How did it affect your writing?
SW: I went to twelve elementary schools–two a year through sixth grade–and all of these schools were in the Dallas metropolitan area. In first grade, I was outgoing, exuberant even, but by third grade, I kept to myself. Rather than make friends with children I would soon say goodbye to, I turned to books for my support and solace. I checked out stacks from the school library and from whatever public library was in walking distance of my home. I read every moment I wasn't otherwise engaged.
TBD: How has teaching writing made you a better writer?
SW: As I said earlier, I learned to write by reading. However, most of what I'd absorbed in all those hours of reading was largely instinctual. I couldn't articulate it for others. I couldn't analyze it for myself. Teaching, then, required me to deepen my understanding in order to share what I knew with others. Case in point: Like many graduate students, I was a teaching assistant, which meant instructing a freshman writing class. Grading essays is the most time-consuming part of teaching such a class, and for me, grading was arduous. I could rewrite my student's work, but I couldn't correct or critique it.
Because my schooling was so haphazard, I never learned the fundamentals of grammar. Once I recognized my deficiency, I was forced to address it. I had to learn or relearn subject/verb agreement, pronoun reference, sentence faults, dangling participles and so forth. Teaching has often taught me what I don't know, but never more forcefully than in my first year at the front of the class. By the way, teaching requires social skills. I had to shrug off my introversion and relate to my students.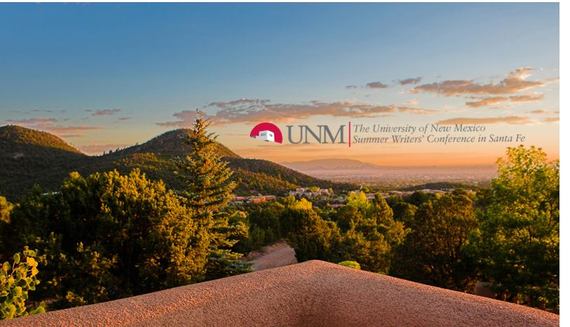 SW: When I started the conference, it was held in Taos, and it was called The Taos Summer Writers' Conference. My reason for creating the conference was simple: I wanted to make a connection between the University of New Mexico (UNM) Creative Writing Program in Albuquerque and the D. H. Lawrence Ranch outside of Taos, New Mexico. I have been advocating for the property for many years now, but the success of the conference has not really brought attention and support to the ranch, not yet, anyway.
TBD: What can writers get from attending the conference?
SW: Our goal is to create a nourishing literary community for writers, one in which everyone can form lasting relationships and create great work.
A number of writers who first attended the conference as participants have gone on to publish their work and build writing careers. Some of them have come back years later as instructors: Summer Wood, Laura Dave, Frances Washburn, Laura Brodie, Richard Vargas, and Margaret Wrinkle, to name a few.
Margaret Wrinkle is teaching a weekend fiction workshop at the 2016 conference. She first participated as an attendee, 12 years ago. Of the conference she says, "My time in Taos was so pivotal. I found my best reader there, and the novel I was working on when I came in 2004 was recently published by Grove Atlantic. In a great coincidence, my book deal came through the same week as that of another student in my Taos workshop named Kristen Kittscher, so the Taos connection brought us back together after many years." Margaret's book, Wash, released in 2013, was deemed "a masterly literary work" by the New York Times Book Review, and Wrinkle was named one of Time magazine's "21 Female Authors You Should Be Reading."
TBD: What have you learned from your years of being involved with the conference?
SW: So much, but what comes to mind is this undeniable fact: Many of us have compelling, important stories to tell, stories that should be/need to be shared with others. It's been my pleasure and privilege to assist in the storytelling endeavor, first as a reader and as a writer, and later as a teacher and as founding director of the UNM Summer Writers' Conference in Santa Fe.
TBD: What projects are you working on now?
SW: I am finishing the second draft of a screenplay, a father/daughter story with a bit of a mystery thrown in for good measure. And I've just received a pre-completion contract for a writing craft book that will take writers through what I call the "intermediate step." Rather than jump from writing short stories to writing a novel–a painful leap to be sure–I urge prospective novelists to create something intermediate, a novella. How did Goldilocks put it: "Not too large and not too small but just right!"
TBD: What advice would you give to writers?
SW: Finish things. Life is full and it's easy to lose track of projects you've set aside. Only this morning, while looking for a place to make notes on these questions, I discovered a journal full of jottings for a story called "The Last Bee." As soon as I finish the screenplay, I'm going to return to the story, which is about the plight of our honeybees.
Sharon Oard Warner is Professor of English and Associate Chair for Undergraduate Studies in the English Department at the University of New Mexico. She is also Founding Director of UNM Summer Writers' Conference in Santa Fe (formerly the Taos Summer Writers' Conference) as well as Co-chair for the newly formed D. H. Lawrence Ranch Initiatives.

She has published four books–a collection of short fiction, Learning to Dance and Other Stories; an edited anthology, The Way We Write Now: Short Stories from the AIDS Crisis; as well as two novels, Deep in the Heart and Sophie's House of Cards.
Her stories have been published in Prairie Schooner, The Laurel Review, Other Voices, Green Mountains Review, and elsewhere. Her scholarly essays have appeared in Studies in the Novel, Studies in the Short Story, Best Writing on Writing, The Writer's Handbook, and in selected anthologies. She is currently completing a screenplay.
JOIN OUR NEWSLETTER TO RECEIVE MORE INTERVIEWS AND TIPS ON HOW TO GET PUBLISHED. 
Can writers get book deals at writers conferences and workshops? Yes! It's incredibly important to put yourself in the company of literary agents, editors, publishers, and other writers. Writers conferences and workshops are the single easiest way to make this happen. Learn how to make the most of your writer conference/workshop experience by watching our most recent video.
Click here to watch the video.
On

February 13

, we're leading a step-by-step conference to take writers through the entire publishing process.
We'll remove the smoke and mirrors from the confusing world of publishing to help you find your path to a successfully published book.
Publishing: Traditional, Independent, or Self?
Perfect Your Pitch
Locate, Lure, and Land the Right Agent
Pitchapalooza
And More!
Arielle Eckstut
,
authorship
,
book deal
,
Book Doctors
,
books how to find a publisher
,
Changing Hands Bookstore
,
David Henry Sterry
,
editing
,
how to find a literary agent
,
how to get published
,
How to Get Published Successfully Conference
,
literary agent
,
pitchapalooza
,
publishing
,
video
,
writers conference
,
writers workshop
,
writing
Yes! Look, you can't call up HarperCollins and say, "Hello! I've written a great book, could I please speak to Mr. Harper or Mr. Collins?" If you're an unknown quantity, and you aren't sleeping with someone at a literary agency–or even if you are, in some cases–it's virtually impossible to get face time with a publishing professional, be it an agent, editor, or publisher. Your blind query is usually dropped with a plop into the slop of the dreaded and aptly named slush pile, where it is then skimmed over by an eighteen-year-old unpaid intern. The fate of your book, the object of your passion and hard work, is frightfully beyond your control. Luckily, at the best writers conferences and workshops, and even some of the top-drawer bookfairs and festivals, you can personally meet, speak with, and sometimes even pitch to real publishing professionals. We know. We've met amazing writers at all of these places and helped them get book deals.
"I'd already begun the pitch process by mail and email, and it felt like yelling into the void most of the time," recalls Roxanna Elden, whose experiences looking for an agent to represent her first book are all too typical. "There were agents who took six months to respond to emails, and one who asked me to send a hard copy of the manuscript overnight, then rejected me weeks later with a one-line, all-lowercase email that said something like, 'love the title but not for me sorry.'"
Nura Maznavi and Ayesha Mattu thought they had won the lottery when they almost immediately landed an agent. Their agent shopped their proposal to a dozen big New York City publishers and one by one they were rejected. "Soon after," Nura explained, "our agent dumped us because she no longer had faith in the project."
Roxanna, Nura, and Ayesha knew they needed to get in front of professionals. Roxanna signed up for Miami Writers Institute, an annual conference at Miami Dade College. There, she attended a talk by agent Rita Rosenkranz. "By this time, I had perfected my pitch and built my platform and had some idea of what I hoped to find in an agent. Then, in her talk, Rita mentioned that many agents wrongly ignore books for niche markets, which my first book was. She also said she was looking for authors who showed the willingness to hustle to promote their work. Everything she said made her seem like an incredibly good fit for my work. I walked up to her after the talk, handed her my card, and emailed her as fast as I could. She answered my email within 24 hours… and still does!" Rita went on to sell not only Roxanna's first book, See Me After Class, but also her children's picture book, Rudy's New Human.
Nura and Ayesha took themselves to Litquake, San Francisco's biggest literary festival. They signed up for an event we do around the country called Pitchapalooza (think American Idol for books), and they won an introduction to an agent or editor who was appropriate for their book, Love InshAllah: The Secret Love Lives of American Muslim Women. One call later, they had a book deal. "A year later, our book was published and we were on the front page of the New York Times Arts section. And, two years later, we had a follow up book, Salaam, Love: American Muslim Men on Love, Sex & Intimacy!"
But just attending a writers conference, workshop, or book festival is no guarantee of a book deal. How you present yourself (and to whom) matters as much as your idea and your book. You have to pick the right agent or editor. Present yourself as a complete package. Seize every opportunity at just the right moment.
Lana Krumwiede, whose attendance at the James River Writers Conference helped land her first book deal for Just Itzy, advises, "Be as prepared as possible by researching the agents, editors, and authors who will be speaking. You'll get more out of the conference that way and you'll feel more confident talking to people. Get out there and talk to people! Ask (appropriate) questions and take in as much as you can. And if you have an appointment with an editor or an agent, don't fall into the trap of thinking of it as your 'one big chance.' There is no such thing as 'one big chance.' You will have as many chances as you create for yourself."
Victoria Skurnick, a literary agent at Levine Greenberg Rostan Literary Agency, has this advice for first-time attendees, "There are ways to an agent's heart at conferences for writers. The first is–be normal. This is harder for some people than you might have thought. The second, be helpful. The people who provided me with a club soda when they noticed my voice cracking, who offered to pick me up and drive me to a dinner far away–I will be grateful to them for the rest of my life."
We agree. Here are our top ten tips for scoring at a writers conference, workshop, or bookfair.

The Book Doctors Top 10 Tips for Scoring at a Writers Conference, Workshop or Bookfair
Look good, smell good, and don't be late. Pretend you're a guest on The Today Show–act and dress accordingly.
Be respectful of publishing professionals. Don't just blast over and bombard them. Be patient, wait for your opening. Never pitch your book unless they ask you to, and if they do, don't go longer than a minute. And please, we beg you, don't follow them into the bathroom! This has happened to us more times than we care to remember.
Listen more than you talk. Your goal should not be to pitch at all costs. Better to have a good conversation where you get to know an editor or agent.
Research! Make sure the event caters to the kind of book you're selling. Make note of who is presenting, and plan your approach for whom you want to meet. Sign up early. The most valuable conferences, classes, and one-on-one sessions fill up fast.
How do you get to perform at Carnegie Hall? Practice, practice, practice. The same is true with pitching books. Workshop your pitch whenever possible. Tell everybody who will listen, honing your delivery so the pitch lasts less than a minute. Try rehearsing with other conference attendees. All this extra effort will have a make-or-break effect on an agent or editor.
Have an excellent business card and don't be afraid to use it. Collect as many cards as you can.
After the event, follow up all leads as quickly as possible. Early birds strike while the iron is hot.
Network! Meet as many fellow writers as possible. These encounters can blossom into all sorts of relationships. You never know who will be published one day.
Buy books written by people you want to approach. Ask them to sign the book for you if they are willing. Use this as an informal opportunity to make a connection.
Connect! Do something nice for booksellers, agents, editors, writers, and publishing professionals using social media. If done actively and appropriately, tweeting, facebooking, instagramming, and blogging are great ways of staying in touch and making yourself a known quantity.
The Book Doctors travel across America to feature in writers workshops, conferences, bookfairs, and festivals. On February 13th, we're holding a conference and Pitchapalooza at one of the greatest bookstores in the country, Changing Hands. If you are in the Phoenix area, come hang out, polish your skills, and maybe take a selfie with us. But please, don't follow us into the bathroom.
To read this article on the Huffington Post, click here.
Roxanna Elden has been a teacher for eleven years and is the author of See Me After Class: Advice for Teachers by Teachers. Her inspiration for Rudy's New Human came from watching her dog, Rudy Elden, as he adjusted to having a new baby human in the house. She lives in Miami, Florida, with Rudy and his (now two!) little humans.
Lana Krumwiede began her writing career by creating stories and poems for publications such as Highlights, High Five, Spider, Babybug, The Friend, and Chicken Soup for the Child's Soul. Her first novel, Freakling (Candlewick, 2012) was named a finalist for SCBWI's Crystal Kite Member's Choice Award and an honor book for the International Reading Association's Intermediate Fiction Award. Freakling was followed by two more novels, Archon (2013) and True Son (2015). Lana is also the author of the picture book Just Itzy (2015). She lives with her husband and daughter in Richmond, where she sits on the board of directors for James River Writers and runs a local writers' group.
Ayesha Mattu is a writer, editor and international development consultant who has worked in the field of women's human rights since 1998. She was selected a 'Muslim Leader of Tomorrow' by the UN Alliance of Civilizations & the ASMA Society and has served on the boards of IDEX, the Women's Funding Network, and World Pulse. Ayesha is an alumna of Voices of Our Nations writers' workshop and a member of the San Francisco Writers' Grotto.
Nura Maznavi is an attorney, writer, and Fulbright Scholar. She has worked with migrant workers in Sri Lanka, on behalf of prisoners in California, and with a national legal advocacy organization leading a program to end racial and religious profiling. She lives in Chicago.

Victoria Skurnick came to Levine Greenberg Rostan Literary Agency after being at The Book-of-the Month Club for almost twenty years. As Editor-in-Chief, she relished the opportunity to devour every kind of book, from the finest literary fiction to Yiddish for Dogs. She also is the co-author (with Cynthia Katz) of seven novels written by "Cynthia Victor."
Arielle Eckstut and David Henry Sterry are co-founders of The Book Doctors, a company that has helped countless authors get their books published. They are co-authors of The Essential Guide to Getting Your Book Published: How To Write It, Sell It, and Market It… Successfully (Workman, 2015). They are also book editors, and between them they have authored 25 books, and appeared on National Public Radio, the London Times, and the front cover of the Sunday New York Times Book Review.
Arielle Eckstut
,
Ayesha Mattu
,
Book Contract
,
book deal
,
Book Publishing
,
Changing Hands Bookstore
,
David Henry Sterry
,
editors
,
elevator pitch
,
james river writers conference
,
Levine Greenberg Rostan Literary Agency
,
Literary Agents
,
litquake
,
Miami Writers Institute
,
Nura Maznavi
,
pitch
,
pitchapalooza
,
publishers
,
publishing industry
,
Rita Rosenkranz
,
roxanna elden
,
the book doctors
,
Victoria Skurnick
,
writers conference
,
writers workshop
one of our favorite writers conferences in the whole world, pound for pound possibly the best, James River Writers Conference.  If you want to learn about writing, if you want to meet writers and agents and publishers and have a great time, this is the conference for you.