THE BOOK DOCTORS BRING PITCHAPALOOZA BACK TO THE JERSEY SHORE BOOK TOWNE MARCH 3, 6:30 pm
The Book Doctors have helped countless writers go from talented amateurs to professionally published authors (including Genn Albin, their KC winner who got a 3-book mid-six figure deal). Now they're bringing Pitchapalooza, their signature event, to Rutgers University.
WHAT: Pitchapalooza is American Idol for books (only kinder & gentler). Twenty writers will be selected at random to pitch their book. Each writer gets one minute—and only one minute!
WHO: Arielle Eckstut and David Henry Sterry are co-founders of The Book Doctors, a company dedicated to helping authors get their books published. They are also co-authors of The Essential Guide to Getting Your Book Published: How To Write It, Sell It, and Market It… Successfully (Workman, 2010). Arielle Eckstut has been a literary agent for over 20 years at The Levine Greenberg Literary Agency. She is also the author of nine books and the co-founder of the iconic brand, LittleMissMatched. David Henry Sterry is the best-selling author of 16 books, on a wide variety of subject including memoir, sports, YA fiction and reference.  His first book has been translated into 10 languages and optioned by HBO, his latest book was featured on the cover of the Sunday New York Times Book Review.  They've taught their workshop on how to get published everywhere from Stanford University to Smith College. They have appeared everywhere from The New York Times to NPR's Morning Edition to USA Today. .
HOW: At Pitchapalooza, judges will help you improve your pitch, not tell you how bad it is. Judges critique everything from idea to style to potential in the marketplace and much, much more. Authors come away with concrete advice as well as a greater understanding of the ins and outs of the publishing industry. Whether potential authors pitch themselves, or simply listen to trained professionals critique each presentation, Pitchapalooza is educational and entertaining for one and all. From Miami to Portland, from LA to NYC, and many stops along the way, Pitchapaloozas have consistently drawn standing-room-only crowds, press and blog coverage, and the kind of bookstore buzz reserved for celebrity authors.
PRIZE: At the end of Pitchapalooza, the judges will pick a winner. The winner receives an introduction to an agent or publisher appropriate for his/her book.
PRICE OF ADMISSION: To sign up to pitch, you must purchase a copy of The Essential Guide To Getting Your Book Published. Anyone who buys a copy of receives a FREE 20 minute consultation, a $100 value. If you don't want to pitch, the event is FREE.
WHEN: March 3, 6:30pm
WHERE: The Brielle Public Library, 610 South St, Brielle, NJ. NEW LOCATION
Washington Post: http://thebookdoctors.com/the-book-doctors-pitchapalooza-in-washington-post
New York Times article: http://tinyurl.com/3tkp4gl.
Pitchapalooza mini movie: http://bit.ly/vm9YSu
Pitchapalooza on NBC: http://thebookdoctors.com/the-book-doctors-pitchapalooza-on-nbc-television
Here's what people are saying about Pitchapalooza:
"We came to Pitchapalooza with an idea and six months later we got a book deal with a prominent publisher. We simply couldn't have done this without this opportunity and without David and Arielle. We had been working on this project for several years, on our own, and struggling without any guidance. We were really discouraged by the entire process. Winning Pitchapalooza, and working with these two, really helped us focus and renew our enthusiasm in the project. And now we're going to be published authors!"—Nura Maznavi and Ayesha Mattu, Pitchapalooza winners Litquke, San Francisco, Oct. 2010
Here's what people are saying about The Essential Guide To Getting Your Book Published:
"I started with nothing but an idea, and then I bought this book. Soon I had an A-list agent, a near six-figure advance, and multiple TV deals in the works. Buy it and memorize it. This little tome is the quiet secret of rockstar authors."—New York Times best-selling author Timothy Ferris, The 4-Hour Workweek: Escape 9-5, Live Anywhere, and Join the New Rich,
We first met Josh Funk at the New England SCBWI Conference. (If you're not a member of this group and you're interested in books for kids, as soon as you're done reading this piece and sharing it with everyone you know, go join that group. If you haven't been to one of their conferences, ditto.) We were struck with Josh's fabulous combination of goofiness and seriousness. It's something we aspire to at The Book Doctors. And when we found out his debut picture book was going to be dropping, we had a wonderful wave of serious goofiness come over us. It's called Lady Pancake & Sir French Toast, and it's a ripping barnburner full of outlandish action, heroic and dastardly characters, roller coaster rhymes and some absolutely fabulous illustrations by Brendan Kearney. So we thought we'd sit down with Señor Funk and see what's new on Funk Island.
To read this interview on the Huffington Post, click here.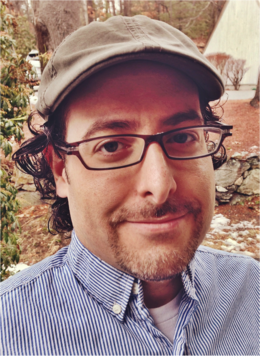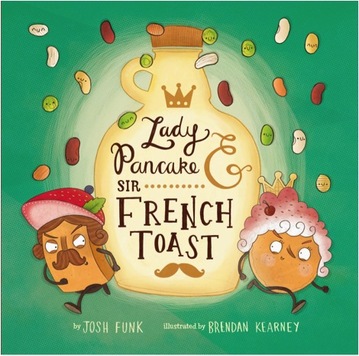 The Book Doctors: First of all, congratulations. What did it feel like when you saw that first box of books arrive and you tore it open and there it was, your own baby book?
Josh Funk: Ahh, the Back to the Future moment: "If you put your mind to it, you can accomplish anything."
Well, I didn't exactly have the 'open the box moment' that you see in the movies (or at least that one movie). The first physical copy of Lady Pancake & Sir French Toast that I got a copy of was the one the Sterling sales rep gave to Porter Square Books (in Cambridge, MA). I got a tweet from a friendly bookseller at PSB who said she found my book, so I immediately rushed to Cambridge.
The first thing I noticed was the amazing design. I knew it was going to have an embossed cover with foil, but it was really stunning. The book creaked a little when I opened it. I had seen a digital copy, but the clarity of the images on the pages was overwhelming compared to seeing it on the screen. And I think it smelled a little bit like maple syrup.
And then I jumped around giddily for about ten minutes before the booksellers asked me to leave out of fear I was scaring away all of their customers.
TBD: Why in the name of all that's good and holy would you choose to get into the publishing business? Have you had your head examined recently? Been checked for brain parasites?
JF: Haven't had my head examined lately. It's possible I'm housing parasites. But the real reason is that I always read a lot of books to my kids. One day I thought, 'I can do this.'
But once I joined my first critique group, then attended my first Society of Children's Book Writers and Illustrators conference, I realized I had a lot to learn. But I also noticed that the kidlit community is so warm and welcoming and just plain fun. I quit my fantasy football leagues and started taking writing more seriously.
I'd like to think that even if I never sold a book, I'd still be happy just to be a part of the kidlit world.
TBD: How did you go about getting a book contract not only for Lady Pancake, but also for your next two books which are coming out?
JF: In the May of 2013, I gave up on trying to acquire a literary agent. I was getting almost no responses to my queries. Out of 35 queries for Lady Pancake, 1 agent responded with a rejection implying she read it (or at least read the title). The other 34 were made up of 10 form rejections and 24 black holes. I felt I was better than that, so I submitted Lady Pancake to 10 publishers via snail mail.
Around the same time, there was an open submission period to Scholastic via author/illustrator Debbie Ridpath Ohi's Inkygirl blog. The Scholastic editor was looking for material suited for ages 0-5, and the only manuscript I had written for that age group was Pirasaurs! (most of my picture books are geared toward kids ages 4-8).
And then as late summer rolled around, I finished revising another manuscript (Dear Dragon) and decided to send it out to publishers that accepted submissions via email and online form.
By early November, Scholastic told me they were taking Pirasaurs! to acquisitions, Dear Dragon had garnered interest from two small publishers, and Sterling made an offer for Lady Pancake & Sir French Toast. All of that, plus a personal recommendation from a friend helped me obtain representation with an (awesome) agent. Over the next two months, my agent finalized the deals with Sterling and Scholastic and found a home for Dear Dragon at Penguin/Viking.
And that's how I got an agent and sold three picture book manuscripts between November of 2013 and January of 2014. I know it's a non-traditional path, but I feel extremely fortunate with the way it worked out.
TBD: Hasn't anyone told you that rhyming books don't sell? How did you overcome this ridiculous idea, and why do you think people keep saying that?
JF: Oh, boy. I have thought about this a LOT. Many rhyming picture books get published every year. So why do people say not to write in rhyme? Why is there this stigma? Well, there's a single simple reason.
It's very easy to write bad rhyme.
And lots of people do (please note that if you're reading this and you like to write rhyming picture books, I'm not talking about you).
Everyone grew up reading and loving Dr. Seuss. Therefore, many people think that picture books are supposed to rhyme. When they start writing picture books, that's how they write them. This includes me.
It's a flawed way of thinking. Not everyone is cut out to write rhyming picture books. It's actually rather difficult. I personally believe that a good rhyming picture book has an added level of charm. But there are so many mistakes you can make when writing a rhyming picture book (mostly to do with rhythm, all of which I've discussed in depth on my website and while leading workshops).
But here's the problem. When a literary agent receives a query for a rhyming picture book manuscript, there's a 99% chance that it's bad rhyme. And it's not worth the agent's time to read 99 bad rhyming manuscripts, just to get to the one good one. And I completely understand and agree with that policy. Add to that the fact that it'll be nearly as hard for an agent to sell a rhyming manuscript to an editor. I truly believe that this is why my query response rate was so utterly abysmal (in retrospect, I shouldn't have said that the manuscript rhymed in the query).
I overcame this hurdle by first worked very hard to improve my rhyming, spending lots of time reverse-engineering critique partners' comments.
Second, I bypassed agents. An agent is (rightfully) concerned with a writer's entire body of work and career. If you submit a single rhyming manuscript embedded in an email query and that's all they have to go on, it doesn't make you a particularly enticing prospective client. But an editor is more concerned with a single manuscript. It's not that they don't care about you or your career, but if they like a manuscript, rhyming or not, that's all they have to commit to.
I figured I'd have better odds of someone actually reading my manuscript at a publishing house. And at least in this case, I was correct.
TBD: What are some of your favorite things about being a professional author? What are some of the most horrifying things about being a professional author?
JF: I love getting to meet fun people. Like other awesome authors I admire. And super cool teachers and librarians like those in the Nerdy Book Club. Seeing my son's face the first time someone asked me for an autograph (part confusion, part amazement, part pride) – that was pretty cool. I also get to travel a little more than I used to.
Horrifying? I guess a Misery-type situation would be horrifying. Other than that, I'm all peaches and roses.
TBD: We are big lovers of pancakes and French toast around here. I, myself, leaned toward the pancake. Olive, our eight-year-old, often leans toward the French toast. I think you can divide all of humanity into these two categories. How did you come up with this fantastic idea for a book?
JF: One Saturday morning, I asked my kids what they wanted for breakfast. One said, "Pancakes." The other said, "French toast." "Pancakes." "French toast." "Pancakes!" "French toast!"
While the arguing continued, I checked the kitchen, and as you might have expected, all we had were waffles. To top it off (literally and figuratively), we had enough maple syrup left to fill a single square on a waffle grid.
It was on the way to the diner that I came up with the idea.
TBD: What was it like working with your editor? Illustrator? Agent?
JF: Zaneta Jung (my editor at Sterling) is terrific. We had one phone conversation discussing her revision notes, went back and forth for a week over email finalizing the manuscript, and that was pretty much it. Zaneta (pronounced 'zuh-net-ta') has so much energy and excitement for kids' books. She has a great eye for picking out illustrators, too. She definitely had a hand in finding Brendan Kearney.
Like many author/illustrator relationships, Brendan and I didn't really talk much (or at all). Rumor has it that the publishers like it this way. Author talks to editor editor talks to art director art director talks to illustrator. This way, the publisher maintains complete control of the message (good or bad). I've had nothing but good things to say about Brendan's work on Lady Pancake, which I think have been relayed to him. I've had a handful of quick conversations with Brendan over Google chat, but that's about it.
My agent, Kathleen Rushall, is a rock star! I was extremely fortunate to sign with her while she was actively building her picture book list. She represents picture books through young adult at Marsal Lyon Literary Agency and is strong in every aspect you'd want from an agent. She has a fabulous editorial eye, she has a good sense of what particular editors are looking for, she knows the business and contracts side, she's extremely communicative, and she's a genuine pleasure to work with. We, her clients, affectionately refer to ourselves at #TeamKrush. We even have a logo designed by author Jessie Devine for PitchWars.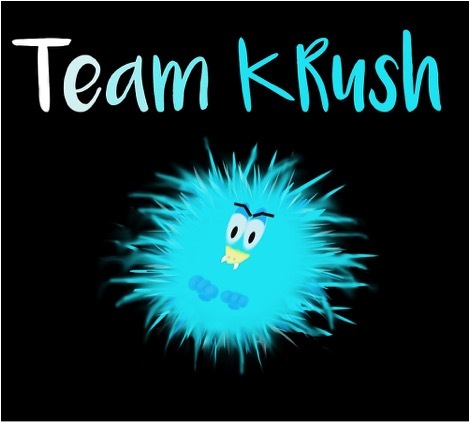 TBD: What do you see is the value of going to a writer's conference? And specifically how has being a member of SCBWI helped you in your career and as a person?
JF: I think going to a writer's conference is valuable at many levels of your career. If you're brand new to the writing world, you'll be able to learn the basics. It's important to learn not only the craft of writing, but also about the industry and its expectations (e.g. picture book manuscripts should be around 300-500 words).
Once you've learned the basics, you might meet people who will ultimately become your critique partners (this has happened to me).
Perhaps you'll read a picture book manuscript at an event's open mic session, which will validate that you're on the right track (also happened to me).
Maybe you'll have a good time, make some friends, and get to watch the one-of-a-kind #Pitchapalooza led by The Book Doctors (again, happened to me).
Conferences avail the opportunity to connect with agents and editors for critiques or casual conversations (networking is so important).
SCBWI kickstarted everything for my writing life. In 2012, I attended my first New England SCBWI Regional Conference as one of about 700 attendees. And in 2016, I'll be co-coordinating the conference alongside Heather Kelly, writer and founder of The Writers' Loft (planning is already heavily underway for next spring's event).
In 2016, we're trying something new. We thought it might be nice to hear from (and get face time with) leading educators and booksellers. We're bringing in a panel tentatively called "The Voice of Reading" with Elizabeth Bluemle (author, bookseller, blogger at PW's Shelftalker), Donalyn Miller (teacher, author of The Book Whisperer and Reading in the Wild, Nerdy Book Club co-founder), Susannah Richards (professor, expert in all things children's literature), and John Schumacher (AKA Mr. Schu, school librarian, newly appointed Ambassador of School Libraries for Scholastic Book Fairs).
SCBWI has helped me so much in such a short period, I'm grateful for the opportunity to volunteer my time to plan the 2016 (and 2017) NE Regional Conferences.
TBD: I hate to ask you this, but what advice do you have for writers?
JF: Keep writing. When you finish a manuscript, write the next one. It'll be even better than the last. Networking is half the battle. I've written a 12-Step Guide to Writing Picture Books available (for free) on my website here.
TBD: And finally, how do you keep it so funky?
JF: I eat lots of candy corn. I wear Old Spice deodorant. And I'm 17% psychic.
Josh Funk is the author of Lady Pancake & Sir French Toast (Sterling), available now. Josh is also the author of the forthcoming picture books Dear Dragon(Viking/Penguin 2016), Pirasaus! (Scholastic 2017), and more. Josh spends his days as a software engineer writing Java code and Python scripts, and his nights and weekend drinking Java coffee and writing picture book manuscripts, alongside his wife, children, and assorted pets and monsters. Josh is a board member of The Writers' Loft in Sherborn, MA, and the co-coordinator of the 2016 and 2017 New England Regional SCBWI Conferences. Find out more about Josh, his books, his schedule for public appearances, and more at www.joshfunkbooks.com and on Twitter at @joshfunkbooks.
Join our newsletter to receive more interviews and tips on how to get published. 
Arielle Eckstut
,
author
,
Book Publishing
,
children's books
,
David Henry Sterry
,
how to get an agent
,
how to get published
,
How to publish a book
,
Josh Funk
,
Lady Pancake and Sir French Toast
,
Literary Agents
,
Picture Books
,
pitchapalooza
,
publishing
,
Society of Children's Book Writers and Illustrators
,
the book doctors
We first met Jenny Milchman when we heard about some crazy book tour she was doing that seemed almost as ridiculous as the book tour we were doing. Essentially, The Book Doctors have been on tour for seven years, during which time we've done over 300 events. We wanted to connect with Jenny to see how she was doing it, and maintaining her sanity. When we reached out to her, we found out she was not only a wonderful writer, but also a wonderful human, generous, smart, funny, down-to-earth, full of joy and expertise. Now that she has a new book out, we thought we might pick her brain about books and writing and yes, touring.
To read this interview on the Huffington Post, click here.
The Book Doctors: How did you first become interested in being a writer?
Jenny Milchman: I don't remember a time when I didn't want to be one. In fact, the desire, or predilection, or bug apparently predates conscious memory. All of my [failed] college essays began with the line, "I wanted to be a writer before I knew how to write," which came from an anecdote my mother told about how she used to write down bedtime stories that I dictated at the age of two.
TBD: How did you learn how to become a writer?
JM: I did a lot of workshop-type things between high school and college. Summer Arts Institute in New Jersey was formative, and I studied with poets like the late Kenneth Koch and Robert Kelly in college. But the way I learned to write a novel, a whole, structured work of long-form fiction, instead of just scribbling lines and starts until I'd lost interest, was by reading every book on craft I could get my hands on. I called it my self-inflicted MFA and during the years I was inflicting it, I must've read every book in the Writer's Digest catalog. And a whole lot more. Albert Zuckerman of Writers House fame wrote a great book called Writing the Blockbuster Novel. Donald Maass wrote The Breakout Novel. Anne Lamott, Bret Lott, Stephen King, James N. Frey–not the scandalous one–the list goes on and on and on and on. Those authors schooled me more than any class.
TBD: What are some of your favorite books, who were some of your favorite authors, and why?
JM: Oh, gosh, this is always the toughest. Impossible really. I loved the great short storyists growing up. Shirley Jackson's "The Lottery," Richard Connell's "The Most Dangerous Game," W.W. Jacobs' "The Monkey's Paw." Anything by O. Henry. I studied the Victorians in college and all three Bronte sisters, George Eliot, and Henry James were great favorites of mine. But perhaps the most visceral authors, the ones who really took my heart in their hands and squeezed it into a ball, were the great horror writers of the 1970s. Ira Levin, Frank De Felitta, David Seltzer, William Peter Blatty, and of course, Stephen King.
TBD: How did you get your first book deal?
JM: It took me 11 years, 3 agents, and 8 novels before I finally landed a book deal with Ballantine. How it happened required all eleven of those years: reading those books on craft, going to events at bookstores and seeing how real authors did it, building a circle that included people like you, David, and Arielle. But in the sense that big events do come to one single moment in time…this one rested on a favorite author, Nancy Pickard, who read my eighth novel in manuscript form and passed it on to her editor. I've been with the same editor for both books since my debut, and I hope we never part. My third novel is dedicated to Nancy and our mutual editor.
TBD: How do you deal with rejection?
JM: I stomp around and cry and whine and scream. I break computer screens. Seriously–when a much loved bookstore declined to do an event with me, I fell over my computer sobbing, and the screen cracked. Don't be like me.
Rejection is part and parcel of this business–I just never got good at accepting that.
TBD: What is your new book about?
JM: If I tell you that As Night Falls is about two convicts, one huge and one wiry, who escape from an Adirondack prison, would you believe me? But on a deeper level, it's about how a mother's love can go awry, twisting and thwarting the generations to come in one unending double helix. When the convicts encounter a family contained by a snowstorm in their mountain home, only unveiling the secrets from the past will allow for true escape.
TBD: Why did you decide to go on the longest book tour in the world, and how did you go about setting it up?
JM: You mean not every published author rents out her house, trades in two cars for an SUV that can handle Denver in February, asks her spouse to work from the front seat while the kids are car-schooled in the back, and hits the road for 50,000 miles? What??? Oh right. My publisher was skeptical, too.
But when it takes you eleven years to get published, you either make a lot of friends or a lot of enemies along the way. I was lucky enough to make friends. And when I finally had a book released, I wanted to go out and thank them. Face-to-face. The world's longest book tour–as Shelf Awareness called it–made the virtual world come alive, and that's when true magic sparks, in my opinion.
And since my debut novel wound up going into six printings in hardcover, people became a little less skeptical. I wouldn't say that sending authors around the country for seven months has quite become standard operating procedure for the Big 5, but by this third tour, my publisher is helping with some of the events and cost. I also have a crack independent publicity team, a husband who is heck at the traveling salesman problem, and a whole country full of bookstores, libraries, book clubs, writers' organizations like Sisters in Crime, and readers who know how to unroll one beautiful red carpet.
TBD: What are some of the things you love and hate about being a professional writer?
JM: At the risk of sounding Pollyanna-like, I love almost everything about it. This might be due to the whole eleven year thing. I'm so grateful to be where I am–I get paid to make up stories, and people actually want to read them–that sometimes it's hard to see straight. Seeing a book of mine on a shelf catapults me back to the time when I was a small child, reaching for a title, and knowing that a whole other world awaited me inside. Getting to meet other writers, readers, booksellers, librarians, reviewers, journalists, interviewers, radio personalities, TV hosts, editors, agents, publishers…the people who keep this world of words churning, is an honor every single time. Writers' conferences are sheer bliss for me. There's one coming up–ThrillerFest–and I get tingles of excitement imagining being there. I honestly can't think of a more thrilling industry–and we're not as mean as Hollywood or Nashville.
But one thing does bum me out. I have trouble getting past a bad review. At least I haven't broken any computer screens over a review. Yet.
TBD: When you win the Mary Higgins Clark award, does she come to your house and hang out with you? Who do you have to pay to win one of those awards?
JM: Well, in all seriousness, Mary does hand the award to you herself. And let me tell you, she is the most elegant doyenne anyone could hope to meet. After eleven years of rejection, that night provided balm for some wounded nerves. I would've paid a lot for it, but the truth is I think the awards process is fairly pure. A few years ago, I judged a major award and was a conduit for the most representative taste, not the big hits, nor the expected favorites, or the books that got the biggest push. It's gratifying to me, especially as we come up to a big election year, that some things really can't be corrupted.
TBD: I hate to ask, but what advice do you have for writers?
JM: Do ask! Please ask! I love this one. First, come find me, either virtually or on the road, because sharing, not advice (what do I know?), but a compendium of perspectives, tips, and stories gleaned from meeting many, many writers, struggling and successful, as well as publishing people, is one of the things I most love to do.
But if I had to boil all advice down to one single nugget it would be this. Know that anything we write can always use more work. It is never as good or done as we think it is. Critical feedback is like gold. Whether we accept it or not. Hearing different takes on what we create is the only way we will make it appeal to a broad range of readers. And that's what we're all hoping for, isn't it? That's why we write and read. To find the story that will carry us away.
Jenny Milchman is the author of the summer thriller, As Night Falls, a July Indie Next Pick. She has just hit the road on her third "world's longest book tour." Find her–literally–at http://jennymilchman.com/tour/bring-on-the-night-2015.
To receive more interviews like this one, join our newsletter. 
This article originally appeared in our monthly newsletter. You can view the full newsletter here. Join our newsletter to receive more FREE information on how to get your book successfully published.
David has now been a writer for 15 years.  Before that, he was a professional actor for 15 years.  In that time, he located, lured and landed over 50 agents.  In fact, he got so good at it that he eventually got an agent to marry him and be the mother of his child.  Sadly, on their wedding day, she fired him as a client.  For those of you who don't know, that agent is Arielle.
We've seen lots of agents try to tell writers how to find an agent.  The sad truth is agents have no idea how to find an agent.  All they have to do is look in the mirror, and there is an agent staring back at them.  They look around the office; they're surrounded by agents.  Agents can tell you what things not to do and what things annoy them.  But they also often give bad advice because, quite frankly, they don't want the competition.
We see lots of agents tell writers not to do multiple submissions.  But, in fact, it can take an agent nine months to get to your manuscript.  That's how long it took Arielle to read David's manuscript after he submitted it to her.  And we went on to get married! Imagine if it took nine months for every agent to get back to you, it would take you seven years to query 10 agents. Of course, agents don't want you to do multiple submissions.  They want you all to themselves.
David also heard an agent say a writer should never submit a book that's already been self-published.  She said it in such a dismissive and entitled way.  You find this a lot with agents; they tend to develop a dismissive, entitled, bitter, jaded, snarky outer shell.  You can't blame them because they are constantly inundated, and everyone wants the agent to make their dreams come true.  In fact, a great agent can make your dreams come true. David is living proof of that.  However, he also did exactly what the dismissive, entitled agent said couldn't be done.  One of his books went out-of-print, and people kept asking where they could buy it.  So, as an experiment, he decided to self-publish the book.  It was a great experience, and he learned an amazing amount from doing it.  It cost him nothing because the book had already been published; and he bartered with people to make him a new cover, a new layout for the printed version and an e-book.  He immediately started making money on the book.  At the same time, he went out to a number of agents and editors, and lo and behold, got a book contract.  When that happened, he immediately took the book down from where it was available, and no one was the wiser.  Mind you, he didn't tell the people he was submitting a book that had already been self-published.  But if they had asked, he certainly would not have lied.  They didn't ask.  He didn't tell.
So how do you find an agent?
1. Research
There is a fine line between research and stalking.  The Book Doctors firmly believe it's important to stay on the research side of that line.  The first thing David does is make a list of 10 to 15 books that are similar, in the biggest broadest sense of that word, to his book.  Let us emphasize in no uncertain terms that we mean big broad strokes.  And please, for goodness sake, don't say that your book is like no book ever written.  Because that book will never be published.  Lots of our clients have no idea what books are similar to their books.  That's a problem.
One of the most important things you can do as a writer is to read, and you have to become an expert in the section of the bookstore where your book is going to live.  Recently, someone pitched us a piece of noir.  We asked him if it was more like Raymond Chandler, Dennis Lehane, or James Elroy.  He looked at us like a confused puppy and said, "Who are they?"  They're only three of the most successful and brilliant noir writers in history.  If you are lucky enough to get an agent or editor interested, and they ask you if your book is similar to another book on the shelf, you have to be able to say, "Oh yes, I love that book, and readers of that book will love my book, but it's different in these ways …"
2. Find Books Similar to Yours
Take a field trip to your local independent bookstore.  When the phones aren't ringing off the hook and the cash registers aren't going crazy, find a person who is the expert, or as close to an expert there is, in the kind of book you're writing.  Then ask them what books they have that are similar to your book. Start making a list of books that are similar to yours, again in the broadest, largest sense. List books that looked interesting to you, that looked like they were done by people you'd like to do business with.  In the acknowledgments section of those books, look for the agent and/or editor.
3. Make a List and Create an Environment of Competition for Your Book
Your agent list should be a little bit like a high school senior putting together their college list.  You should have some well-known agents at the top of your list, some agents you admire but aren't bigwigs yet, and some agents that have just started out or whose lists are small.
As soon as anyone expresses interest, you immediately email everyone else on your list.  There's nothing that's going to get you a response faster than having someone else interested.  That's human nature.  It's like the sorta cute kid in high school who shows up with a beautiful cheerleader on his arm.  Immediately, he becomes much more attractive.  He's exactly the same guy he was yesterday; only now someone else wants him.  You see, every agent who's been in the business for any length of time has a recurring nightmare in which they're walking down the street, people are pointing at them, laughing and giggling, whispering to each other, "There goes the agent who passed on Harry Potter!"  That's because every agent has passed on a book that has become wildly successful.
4. Know Thy Agent-to-Be
Make a file on each of the agents.  Where are they from? Where did they go to college?  What are their hobbies?  Where have they been interviewed?  What books have they agented?  Are they a dog person? You're going to use all this information when you write your query letter.
One of the biggest mistakes that most amateur writers make is that they just send anonymous letters without doing any research.  In lots and lots of places, it says that Arielle does not like fantasy and science fiction; and yet every week she gets another email from a writer that says, "Dear Agent, I know you're going to love my book; it's the first in a 37 book series. It's called the Unicorns of Narnia."  Arielle used to actually answer those emails.  She doesn't answer them anymore.  They go directly into the trash.
5. Make it Easy for an Agent to Say Yes
Agents are trained to say no.  They're just looking for a reason to reject you.  It sounds cold and cruel from a writer's perspective; but having lived with an agent for so long now, David totally understands it.  They are inundated and overwhelmed, mostly overworked and underpaid.  They've got 50 submissions that arrived in their inbox today, they had 50 yesterday, and will have 50 tomorrow. It's relentless.  That's why they're looking for a reason to say no. These reasons include:
Spelling or punctuation mistakes—we can't tell you how many people have spelled Arielle's name wrong
Over-promising and under-delivering
Too much horn-tooting and butt-kissing
Using obvious and overblown comp titles (i.e. Harry Potter, Eat Pray Love, Hunger Games)
Not following agent submission guidelines—you can't believe the percentage of submissions that do one or more of the above.
That's why if you just do the basics, it already ups your odds by loads.
6. Don't Submit Your Book Until It's Fully Polished
Writers are under the mistaken impression that an agent will help them fix their books.  The agent is almost certainly not going to help you fix your book.  If your book is not ready, the agent will reject you and your book.  Almost certainly, that bridge will be burned.
7. Develop a Coping Mechanism for Rejection
JK Rowling was rejected 25 times.  What makes you think you're any better than JK Rowling?  Thicken your skin.  Everyone has her own method of doing this.  David subscribes to the Godfather model: It's never personal; it's always business.  He also enjoys accumulating lists of people who've rejected him; so that when he finally gets a deal he's been looking for, he can send them all a very sweet email, and rub their noses right in it.  But again, everyone has to come up with their own personal method.
8. Keep Up-to-Date
Sign up for Publishers Marketplace and Shelf Awareness.  Keep abreast of who is selling books and making deals. Know what agents have awesome blogs.  Speaking of which, here's a shout out to Jennifer Laughran, who has an absolutely awesome blogfor those of you writing children's books.
9. Go to Writers Conferences, Seminars and Workshops
There are very few places a writer can actually get face time with an agent.  Conferences, seminars or workshops are one of them.  You can listen to agents make presentations, and sometimes you can even have one-on-one sessions with them.
10. Join a Writers Group
When David lived in San Francisco, he found an amazing writing group.  One of the writers was a very handsome, very charming, ridiculously talented writer.  Plus he was a doctor.  You wanted to hate him, but he was just too nice to hate.  You knew if he caught a break, he was going to be huge.  Well, he did catch a break. He wrote a little book called The Kite Runner and became an international sensation.  His name is Khaled Husseini. Now David is connected with his agent by one degree of separation.
11. Attend Readings at Bookstores and Libraries
Any time an author whose work is similar to yours in any way, shape, or form comes to town to do a reading, GO!  Buy a book.  Be the last person in line at the signing.  If someone comes behind you, get behind him/her.  This is important because when you get up to the front of the line to have the author sign the book, it's very rude to have a conversation if there's someone waiting behind you.  If you're the last one, then there's no pressure to move along.  Sometimes the writer will want to talk to you; sometimes the writer will not want to talk to you.  Pay very close attention to body language.  Ask the writers if they're happy with their agent.  If they say yes, this gives you the opening to contact the agent and say, "I was talking to your client yesterday, and she said how much she enjoyed having you as her agent."
12. Write a Killer Query
Three paragraphs.  The first is always customized.  Why should this agent be your agent?  The second paragraph is your pitch.  The third paragraph is a short bio.  The whole query should reflect the voice of your book whether that be funny, authoritative, lyrical or whatever.  This is your audition to show what a fabulous writer you are.
13. Persevere and Follow Up
Don't ever assume if you don't hear back from an agent that they are rejecting you.  Assume they haven't even looked at your query or manuscript.  David's maxim is: keep submitting until they say yes or the agent tells you to go to hell.  He tries to have the Zen attitude that it doesn't matter whether they say yesor no.  Because when someone says no, it's like you bought another lottery ticket.  You have increased your chances of winning.
However, there are two kinds of perseverance:  smart perseverance and stupid perseverance.  The Book Doctors highly advocate smart perseverance.  Always try to make your query/proposal/manuscript a little better.  Polish, buff, shine until is evolves into the best versions of itself.
Whenever you are rejected, ask if there's anything you can do to make your work better.  Time and again, David has seen people be very generous with their advice.  When David first approached Arielle, he didn't know her. In fact, David didn't know anyone in the publishing business.  After making initial contact, he sent her his manuscript.  A week later he followed up, just to make sure she received the manuscript.  It turned out she had already lost it.  He sent another.  A month later, when he hadn't heard anything, he called her on the phone.  Generally speaking, agents don't want you to call them on the phone.  But this is David's strength.  We had a very nice conversation; he never even mentioned his manuscript.  He found out afterwards that because he'd been so nice, Arielle felt very guilty.  One month later, he did the same thing.  This went on, as he mentioned earlier, for nine months.  One human gestation period.  Finally, he told her he was coming to New York for Christmas.  He lived in Venice Beach at the time, and in fact he wasn't going to New York at all; but he had a feeling that if he said that, she would read his manuscript.  He was right.  As soon as they hung up, he went and booked a ticket to New York.  Six months later, after she had helped him craft his proposal, she sold it for six figures in less than two hours. Ten years after that, they had the most amazing daughter ever.
This article originally appeared in our monthly newsletter. You can view the full newsletter here. Join our newsletter to receive more FREE information on how to get your book successfully published.
The Book Doctors first met Andy Ross at Cody's Books, which was one of the most influential bookstores on the West Coast, smack dab in the middle of Telegraph Avenue in book-crazy Berkeley, California. In fact David did his first professional book reading at Cody when his first memoir Chicken came out. Andy's now an agent, and we thought we'd check in with him about how he views the book business from behind a desk dealing with writers rather than behind a cash register dealing with readers. To read on the Huffington Post click here.
The Book Doctors: How did you get started in the ridiculous book business?
Andy Ross: I got into it for ridiculous reasons. I was in graduate school studying German Intellectual History at the University of Oregon. I was unhappy. I didn't understand Kant's Critique of Pure Reason, my girlfriend left me and joined a hippy free love commune, and it rained a lot. I decided I needed a change and I liked bookstores. These were/are not good reasons to set one's path for the rest of his/my life, but still…. That was 40 years ago, and here I am today.
TBD: What did you learn about the book business in your time owning Berkeley's iconic Cody's Books?
AR: That would be a very long list. I owned it for 30 years. What strikes me now is all the things I didn't learn. A bookstore is the end of the literary food chain. By the time I opened the shipment box from the publisher, the books had been written, edited, designed, printed, marketed, and shipped. I only did one thing, but a pretty important thing: I put it into the hands of the book lover.
TBD: How has becoming an agent changed your view of writers, writing, and the publishing industry?
AR: Otto von Bismarck is reputed to have said: "Laws are like sausages. It is better not to see them being made." I think the creative process is like that too. It's pretty messy. But also pretty miraculous, when I see the transformation from a train wreck of a first draft into a masterpiece.
TBD: How has the book business changed since you started, for better and for worse?
AR: I first opened a small store in Sonoma County, California in 1972. It was 600 square feet, about as big as my living room. My first day, my sales were $32. Remember the counter culture? We sold a lot of books, mostly paperbacks, on humanistic psychology, eastern mysticism, and other things spiritual. Fritz Perls, Abraham Maslow, Alan Watts, The Urantia Book, Be Here Now, and Cutting Through Spiritual Materialism were some of my best selling books and authors back then. I made a lot of money on the I Ching (Princeton University Press edition). And, of course, all things having to do with the ever mysterious, Carlos Castañeda. The big topic of conversation was whether Casteñnada really existed – although much later he married a friend of mine. She said he was a rat. But the business still had its share of schock at the top of the lists. It was no worse than it is now.
TBD: What mistakes do you see writers make? What things do you see successful writers do?
AR: Let's talk about mistakes in writing fiction. What I see from inexperienced writers is not knowing when the story starts. Too much literary throat clearing, usually in the form of "prologues." The use and misuse of adverbs. My advice to the writers is: "get rid of all of them." (Andy said authoritatively.) Using too many metaphorical figures of speech is a sign of insecurity in an inexperienced writer. To paraphrase Freud, sometimes a green tree is a green tree.
TBD: What are your pet peeves about writers and their submissions?
AR: We don't have enough time for this, but here are just a few things: In your query letter, don't say "this is a fiction novel" and really don't say "this is a non-fiction novel." Don't mention Eat, Pray, Love; Malcolm Gladwell; or Oprah in the query letter or book proposal. Be honest and transparent to your agent, and I will be/do the same with you/the publisher. I don't know what your advance will be. If any agent tells you: "I can get you a 6 figure deal" or "this book has Hollywood written all over it," best to find a different agent.
TBD: Tell us about the Slush Pile Derby?
AR: I made a bet with somebody that anyone could see talent right away, even if you couldn't explain it. So I took 10 first paragraphs from my slush pile. None of them were horrible. Some of them I decided to represent based on that first paragraph. They were subsequently published. When I do the slush pile derby at writers conferences, pretty much everyone can identify the books that got my attention.
TBD: Do you google potential clients? How much attention do you pay to the platform?
AR: I like to say that platform means one of two things: Either you have an endowed chair at Harvard or you are sleeping with Oprah's hairdresser. Platform is almost essential in non-fiction. But with fiction, it's usually about the story and the style.
TBD: What advice do you have for writers?
AR: For writers of literary fiction, most of it won't find a publisher. If I'm representing you, you are good enough to get published. But commercial publishing is a business. You have to be good, but that isn't enough. They usually make decisions more for marketing reasons than for aesthetic reasons. Rejections are a big part of this business. Learn to live with it and keep writing. If you are writing memoir, it's often even harder to find a publisher. Remember that the journey is the destination. Or as Camus famously said: "The struggle itself is enough to fill a man's heart."
Andy Ross was the owner of the Legendary Cody's Books in Berkeley from 1977-2007. In 2008 he started the Andy Ross Literary Agency. Andy represents books in a wide range of genres including: narrative non-fiction, journalism, history, current events, literary and commercial fiction, and teen fiction. Andy has a popular blog, "Ask the Agent," where he talks about writing, and book publishing and reminisces about his life as a bookseller. You can find Andy's website at www.andyrossagency.com.
Our absolutely fabulous client Leslie Sorrell, whose amazing memoir just won the Texas Writers League Memoir Contest. Can an absolutely fabulous book deal be far behind?
It is impossible to overstate the benefit from listening to published authors and guest editors respond to 20 or so authors pitch their book.  Pitchapalooza is that exciting and useful.  You and your guests led us into the demands of the publishing industry and the rich rewards found in your book The Essential Guide to Getting Your Book Published. Clearly you are serious about your work.   The Essential Guide to Getting Your Book Published is more like dancing than reading.  You suggest steps, require spins, then demand leaps that propel us in directions and through doors that only publishing industry insiders could choreograph. Your sharp caring red pencil corrections force me to put your book down and return to rework my own efforts.  Your purpose is to help one get published, but your writing is a graduate course in communication. — Richard Coulter
I attended Pitchapalooza and all I have talked about since then was how much fun it was.  David's wit made the evening a joy as well as immensely informative.  Also what impressed me was how alive and focused you both were.  — Anand Ami Hadani
I never expected such a heart pounding experience.   I had dropped my name into a jar to be plucked out at random and I had no pitch prepared!   Over three hundred people were about to witness my utter humiliation at the hands of an expert panel. I got out my pen and began to furiously write which is not an easy task when every couple of minutes you are sure your name will be called and voices are booming over microphones and hundreds of people are laughing and clapping. — Guruparwaz Khalsa
I thought the event was great because I learned something from the critiques you gave the other authors and you and Arielle are not intimidating, the opposite of stuffy. This was the first time I came out from the shadows and into the light to speak as an author which took courage on my part. I was able to do it because you made me feel that the risk was worth it to receive valuable personal critique.  — Marsha Cohen
The Pitchapalooza was fantastic.   I found it so informative.  I especially benefited from listening to the various pitches.  By the end of the evening I had completely reformatted my pitch into something I'll be excited to present to you.  The panel gave good advice as well as helpful critiques to all those brave enough to step up to the mike.  That they did it with humor and without malice or sarcasm made for an entertaining evening. — Coleen Nigg
I thought pitchapalooza was great!! Your feedback to other authors was helpful to everyone. Your attitudes showed you were excited about your industry and that transferred to us! I learned how to make a good pitch which I look forward to sharing with you.  The book is easy to read and already marked up with highlighter.  Thanks so much for your interest in new authors! — Deb Farinholt
I thought the Pitchapalooza was helpful and educational and certainly not boring! Most activities surrounding writing are solitary tasks and it is difficult to have an idea about how other people handle the same problems that one grapples with. The Pitchapalooza accorded me the opportunity to observe fellow writers' pitches and their thought processes. — Vaijayanti Bal
I truly enjoyed the Pitchapalooza.  As a novice entering the book world I found it extremely insightful.  It was not only entertaining but disarming.  No one was being judged, rather provided constructive criticism that every person in the room benefited from. — Natalie Cannady
I thought your Pitchapalooza was excellent!   You were both constructive without being harsh and created a positive and exciting forum for upcoming writers to learn.   I was personally beyond impressed and entertained, by halfway through I had completely re-written my pitch based on the advice you were providing. — Bradley Butzin
Pitchapalooza was a hoot!  A good pitch grabbed me like a good movie trailer would and I was all ears whereas the poorly executed pitch had me tuning out, waiting for the painful minute to end, and your gentle constructive criticism to begin. — Dorrie L. Williams
This was entertaining and informative. It let us all know that there is hope for each of our books. It was an opportunity to listen to others' ideas and become informed about our skills and the ins and outs of the publishing world. I so appreciated the suggestions and help! — Charla Waxman
The event was very useful as well as entertaining. It refocused me, refreshing things I'd known and revealing things I hadn't. It was interesting and fun hearing people's pitches, and instructive hearing the feedback to everyone's pitches, not just mine. Of course, the entire exercise of putting together my own pitch and getting feedback on it was invaluable. — Doug
I did think your Pitchapalooza was entertaining and informative. — Fritz Windstein
I was awed and amazed at your Pitchapalooza.  It brought out raw talent, great story ideas, and sparked hope in the hearts of the writers in our small college town. It was also quite educational!  Although I wasn't chosen to pitch, your comments and advice to the writers that pitched enlightened me about the writing, pitching and marketing process. The writing/editing/literary community seemed ivy leagish to me, too far out to even touch.  You made it touchable with your Pitchapalooza.  It was a magical moment. — Kay Hoffner
I did indeed find the Pitchapalooza both entertaining and educational. The material presented was extremely varied, and though the subject matter was invariably unrelated to my own, I found helpful tips with nearly every pitch. The evening felt relaxed and intimate and there was a nice mix of serious discussion and humor. Even though I wasn't selected to pitch, when the evening was over, I wished there was more. — Solace Sheets
Pitchapalooza was both thrilling and terrifying. Zip-lining 700ft over San Francisco last year was less terrifying than standing at that podium. However, the panel's feedback immediately put me at ease and clearly defined how I needed to change my pitch. Overall the event was amazing. The quick pace gave a wonderful energy to the event and the interaction between panel and audience was both entertaining and informative.  When I began delving into the process of writing a proposal, querying agents, working with social media, etc. I bought book after book, trying to find a single one that answered all of my questions. Needless to say, I amassed a substantial stack of books all of which were quickly littered with sticky notes containing the questions they hadn't answered. Your book answered those questions along with a few I hadn't thought of. It really is the Essential Guide. Thank you for a book free of sticky notes! — Melissa Henry
I attended your Pitchapalooza.  Although I spent a good deal of time frantically scribbling notes in case you called my number, and worrying about whether I should pass or not if called, I found the experience to be quite educational.  Thank you for the opportunity to be exposed to a whole new world during my 7th decade. — Charles Peraino
I really enjoyed the Pitchapalooza and found the critiques educational.  I read the book already and it is very helpful in understanding what goes on in the industry.  What also was great is that you brought a local publisher to the event and I found out that they handle the genre I will try to pitch when I contact their company. — Janet Moulton
First, congratulations on your work and thank you for reaching out to help other aspiring writers.  I gained a great deal of insight at the Pitchapalooza as did all that attended.  Those who were selected enjoyed the opportunity to tell their story out loud to a group of supporters.  The key lesson is "Be Prepared" with a written pitch in hand and well rehearsed.  I came away with the above knowledge and also a sense that I may NOT be on the right track as far as my personal effort. Please note that I used to tell people "I am writing a book…"  Now I say "I am learning how to write a book…" Arielle and you make the event.  Enthusiasm and kindness are always palatable. — Thomas Yorke
Your presentation at the Tattered Cover in Denver was phenomenal, and Pitchapalooza was amazingly helpful as an author trying to get published for the first time.  It helped that Denver has so many creative and talented writers, because even though my name wasn't selected, I learned a ton.  Your kinder, gentler critiques provided tremendous insight for knocking down barriers in the highly competitive publishing world. You know your stuff! — Kerry Gleason
I thought the Pitchapalooza was a wonderful idea for prospective authors to have a forum in which to present their idea(s).   I don't know a lot about the publishing world but I would think that they probably would not otherwise have had such an opportunity to express their ideas and get feedback & constructive criticism.  Being an avid reader myself, I enjoyed hearing all the book ideas presented. — Pam Smith, Huntington, NY
I thought Pitchapolooza was great fun. I had no idea we'd be pitching our book ideas to the masses and I felt a bit like I was suddenly in the Roman Forum, but the dimension of unanticipated public theater only added depth to an evening full of learning. — Diana Donlon
I really enjoyed the Pitchapalooza. It was definitely entertaining and educational. As a new and aspiring writer, I appreciated the sober dose of reality about the challenges of getting published, but it was well balanced with support. I also like hearing about what others are writing, how they frame the story in a sound bite and the reaction of the pros. It's a good reality check for me. — John Brooks
Your event at Book Passage was the most fun I have had in ages.  Your book is great!  I will recommend it to my friends, including those who are not writers, but definitely readers. — Anand Hadani
My pitch wasn't chosen; however, the entire evening was fun and informative.  Your responses entertained and, more importantly, enlightened me about the pitch process. — Kate Hoffner
Wow, thank you for coming out to do your Pitchapalooza at TC tonight.   You were so warm and welcoming and nice, not at all Simon Cowell-like, and I appreciate your obvious commitment to helping everyone get published, even if their pitch isn't quite ready yet.  Even though I wasn't able to pitch, I experienced your incredible energy, heard your critiques of others, and left feeling inspired and happy I invested my time attending your event. — Cindy Rold
I thought the event was great. I had never heard of anything like it before. I thought a majority of the pitches were quite impressive and the format of the event with the panel was very well organized and productive. It was more than worth the drive from the city! It inspired me to get back into my big second draft of my current work which says a lot considering it's been stagnant for a bit. — Mandy Soderstrom
Going into Pitchapalooza yesterday at Kepler's, I heard it would be entertaining but was unexpectedly surprised at the quality of the pitches and the panel's commentary.  It was a great opportunity to take in your comments and make meaningful revisions.  Thank you! — Paula Chapman
Arielle Eckstut
,
author
,
authorship
,
Book doctor
,
book publishing process
,
books
,
David Henry Sterry
,
find a book publisher
,
Get a book published
,
get my book published
,
get published
,
how to get an agent
,
how to get published
,
pitchapalooza
,
publishing
,
small book publishers. how to find a literary agent
,
steps to publishing a book
,
the book doctors
,
the essential guide to getting your book published
,
writer
,
writer's help
,
writers
,
writing
,
Writing guide
Here are just some of the testimonials we've gotten from Pitchapalooza.  We've loved every second of it.  Thanks America!
I am still resonating from the experience. — Larry Kirshbaum
I just wanted to drop you both a quick note to tell you how much I enjoyed the event last night. You two are incredible! I learned so much and just thought it was tremendous.
I'm so glad I could be there and meet you in-person, as well. Thank you again, so much, for extending this awesome event to our participants and including us in such a smart, beneficial, and fun project. You're stars! — Lindsey Grant, NaNoWriMo Program Director
I wanted to thank you for a very inspiring afternoon at Kepler's. Thanks for showing me the different components of a perfect pitch. I've done tons of query letter writing in my years as a freelancer but this one-minute pitch was daunting. But I told myself that the point was to go and have a good time and that's what I did. — Kalpana Mohan, Pitchapalooza winner, Kepler's
I wasn't sure what to expect when went to Kepler's last Sunday, but I thought the Pitchapalooza was amazing, and I hope to attend another one or one of your workshops in the future. The positive energy combined with the constructive feedback helped me feel energized and ready to continue working towards polishing my craft. I have a page full of notes from the Pitchapalooza and will continue to consult them as I write new query letters and pitches. Thank you for putting together such an amazing event and resource. I'm looking forward to speaking with you. — Jessica Bayliss
Pitchapalooza is a great concept. Fledgling authors get the opportunity to pitch their ideas to a panel of literary experts who provide instant feedback. Not only was Pitchapalooza entertaining–some "pitchers" are funny and have great senses of humor–but participants get a chance to meet "neighbors" and discuss their book ideas with them as well. All in all, Pitchapalooza is a wonderful opportunity for average folks to learn if their book ideas have merit. — Murray Sabrin
Thank you for your appearance at Kepler's a few weeks ago.  I chickened out of pitching my book-in-progress but I learned so much from the experience and met some other wonderful fellow writers. — Samantha Rajaram
I LOVED it! I spent six months and paid $1,000 to get a fraction of the publishing wisdom you dished out in a few hours for 17 bucks.  Beyond entertaining!  Arielle and David were charming, hilarious and wise.  You had fun, so we had fun. I learned something from every pitch and every panel response, even though you didn't call my number.  And … you softened the blow for those of us who didn't pitch with your surprise announcement that we'd ALL get a chance to have you weigh in on our proposals … for FREE!  Thrilling! I loved the energy in the room — yours and my fellow authors'. You captured the, "American Idol for Aspiring Authors," vibe I had read about… I appreciated the clearly communicated, fast-paced, tightly enforced format.  I appreciated how thoughtfully you assembled your panel; panelists brought insights from vast but varied experience… You and the panelists didn't pull punches, but no one left with a "black eye" from too-brutal feedback.  I considered it a fantastic event… — Kelly Standing
Pitchapalooza made my book go from the realm of the desirable to that of the possible. It was exciting to see so many other people wrestling with many of the same issues that I'm confronting, and getting to pitch my book forced me to confront this one obvious fact: yes, I can do it. And not only can I do it, but I should, and now. So, the experience inspired me. Thanks, Book Doctors! — Nathan
The enthusiasm of David and Arielle, from the beginning and throughout the event, was contagious.  They did an amazing job at setting everyone's nervous minds at ease immediately.  I felt a definite camaraderie with the others "pitchers" as each stood bravely to try their hand at their one minute pitch.  The genuine, attentive and thorough feedback from the panel was impressive.  I took a few pages of notes from the critiques given and I learned something from each pitch and comment.  The 17-second-recited-in-unison pitch by David and Arielle was entertaining. — Michele Dutcher
Pitchapalooza was highly entertaining and as nerve-wracking as the thunderstorm going on outside the tent as I waited to see if my name would be called.  I learned a lot.  It was my first experience with doing a pitch and it was incredibly helpful to listen to the specific feedback everyone was given…including feedback given to me. — Bev Smith
Since civilization began, we've been climbing the walls to get our stories told. This husband and wife team rocks the Kasbah! Arielle and David have turned today's science of book publishing on its head by teaching us the art of enjoying the ride. They delete the daunting and magnify the doable, so that everyone wins. .How did they manage to write a whole Bible yet have it be such a fun read? By quantum leaps, The Essential Guide to Getting your Book Published inspires me forward and grows more valuable every day. — PM Kearns
Pitchapalooza is the most fun I've ever had in a bookstore.  The two of you work together like a comedy team, and your advice is succinct, insightful, and encouraging.  I left Pitchapalooza with an autographed copy of your new book (definitely worth buying for the new information) and with concrete ideas on how to improve my pitch and market my book.  Thank you again for sharing your time and talent. — Lee Wilson
The Pitchapalooza was GREAT!!  I was very entertained.   It was a first time experience for me as I am quite new to the writing and publishing world.  The process was interesting and impressive.  I enjoyed first the positive, encouraging manner that you all began with leading into the needs or more accolades.  And of course many of the pitches were amazing. — Regena Walters
Thank you so much for the highly entertaining and informative pitch session at the Northvale book store this afternoon. Your feedback on my very rough pitch about raising a child with autism was invaluable. — Laura McKenna
I thoroughly enjoyed attending your Pitchapalooza, even though I was nervously anticipating my turn to pitch. The event was entertaining as many of the authors were gifted performers and all of them were passionate about their work. One of the authors even argued with the judges which gave it an American Idol flavor. Your panel of judges was very knowledgeable and had a wide variety of expertise which they passed along and which I found invaluable. I hope you make this an annual event! — Kristin Oakley
I had the pleasure of hearing you both at the DIY Author's Conference luncheon yesterday. The Pitchapalooza later that afternoon was great fun and very informative. — Bobbi Hahn
I loved your book. I read it over a couple of day's time and learned a lot from it. As far as the pitchapalooza went, its been very useful because not only did I learn how to do a pitch but also how NOT to do it. Confidence is a big factor in pitching. Knowing your pitch upside down, inside out and backwards is a MUST and NOT giving away too much of the plot seems to be the smarter way to go. — Renee Gibbons
I enjoyed the event; it was interesting to hear what other writers are working on. Plus, to get the mesh of the writer's personality with their ideas was entertaining. Usually you only get the words on paper, no actual personality of the writer before you. Evaluating a "pitch" is far different than evaluating the actual work. However, in this harried world, poor authors probably only get a minute for consideration — or not. So perfecting the pitch is a necessity. — Liz Gruder
I wanted to personally thank you for putting on the PitchaPalooza for books.  It was a last minute Daddy-Daughter gig for us.  Katie listened intently to the 20 pitches prior to hers and took in the advice you gave.  You both inspired her to finish her manuscript.  Again, thanks for writing your book and holding your seminars.  The ripple effect of your genuine enthusiasm for the written word coupled with an "honorable mention" in your contest lifted the wings of a budding ten year old blond author. — Allan Mishra
I attended the Pitchapalooza this past week and loved it (despite the fact that I didn't actually get to pitch!) Listening to all of the writers, and the panel's incredible feedback, was worth the cost of babysitting. Warm regards. — Deb Levy
Pitchapaolooza was fantabulous—full of theater, zany humor and most of all the insightful tips from The Experts: David, Arielle and their stable of experienced agents. The book itself is extremely well written and so packed full of vital information that, I found, it has to be read and digested over several weeks time. For the writer with chops, The Essential Guide is a blueprint for success. — Peter Hensel
Pitchapalooza was so much fun! It truly proved everyone has a story to tell. I learned a lot and came away with several gold nuggets of useful information. — Robert Skead
I really enjoyed your seminar and I am really enjoying your book!  What I liked about it was you all gave really good, valuable feedback that all of the attendees could use on their own pitch.  So even though I didn't get to pitch, I feel like my pitch is now 100 times more powerful! — Anthony Fasano
I was not selected to pitch at the Kansas City Pitchapalooza, but I still found it an entertaining and enlightening experience.  Attending Pitchapalooza helped me conclude that my hundreds of hours of work and late nights were worthwhile and now I am working towards presenting my ideas to others. — Courtney Privett
Your Pitchapalooza innovation is such a heartening service for the literary future. You are inspirng the birth of what has been feared to be an endangered species, the published author.  — Ann Rasmussen
I thought Pitchapalooza was a very unique approach to getting people energized about writing and publishing their book. The selling of the event as an American Idol for writers was a great way to describe the experience. It was entertaining but also frightening for those of us who either weren't expecting to get up in front of such a large crowd. Another positive was getting accessibility to both of you who are willing to give honest feedback. — Andre Logan
Thank you, thank you, thank you! You folks are a traveling feast! What a simmering soup of ideas you served up for aspiring authors.  Especially refreshing were the humor, empathy and the kindness of your comments.   How deftly you kept the mood inviting and comfortable for all. Thank you for sharing your talents with us. I am lovin' every page ofThe Essential Guide to Getting Your Book Published! — Patty Kearn, OK
You provided a lot of positive yet helpful critiques.  I think it is a great opportunity for a new writer to get direct feedback and an opportunity to work with an agent, which in my case is the most difficult part.  The event was certainly entertaining, and if I had the opportunity to attend again, I most certainly would. — Glenn Snyder
The Pitchapalooza was absolutely wonderful.  I loved listening to other people pitch their books, and while your advice was specific to each pitch, it was very applicable to every aspiring author.  I learned a lot just by listening to what you guys had to say.  My only complaint is that it went by so quickly! Thanks so much. — Rebecca Coppage
I really enjoyed Pitchapalooza. It gave me some insight to things that I would not have otherwise thought about regarding my own book and my pitch.  It was entertaining and informative. — Scott McCulloch
I thoroughly enjoyed myself and learned a lot. It was a wonderful event. — Kristin Oakley
Pitchapalooza was part lecture hall, part rock concert. — Lonita Cook
Arielle Eckstut
,
author
,
authorship
,
Book doctor
,
book publishing process
,
books
,
David Henry Sterry
,
find a book publisher
,
get published
,
how to get an agent
,
how to get published
,
how to get your book published
,
pitchapalooza
,
praise
,
publishing
,
small book publishers. how to find a literary agent
,
testimonials
,
the essential guide to getting your book published
,
The Essential Guide to Getting Your Book Publishing
,
writer
,
writer's help
,
writers
,
writing
,
Writing guide
,
writing workshop