We were lucky to receive a stack of books from Rare Bird Books, a publisher we love. We fell for Inside V by Paula Priamos, who also wrote the memoir The Shyster's Daughter. So we thought we'd pick her brain about writing, thrillers, memoirs, and how she got published.
 Read this interview on the HuffPost.
The Book Doctors: What kind of books did you like to read when you were a kid and why?
Paula Priamos: Well before kindergarten I taught myself how to read with the book Black Beauty. I started sounding out the small words first and then I'd read those same basically one syllable words to my mother and I'd fill in the rest, concocting my own story about a runaway horse, a plot that had nothing to do with the words on the page. Oftentimes I grew frustrated that I didn't understand the bigger words. But my mother would patiently help me sound those words out and eventually I read her the entire book. As I got a little older I gravitated towards Nancy Drew and Hardy Boys mysteries because I loved having to figure things out.
TBD: What was the inspiration for Inside V?
PP: I always start writing with characters first before conflict and I conceptualized this couple in my head, a man and woman, who are in the kind of relationship that begins with infidelity and quickly winds up in marriage. Yet even with a couple of solid years spent as husband and wife their relationship remains intense – deeply sexually and emotionally connected – and sometimes it's even dangerous because their passion for each other doesn't level off or stabilize. They remain in the throes of that initial passion that first brought them together.
The threat to their marriage in the form of a seventeen-year-old girl accusing the husband of sexual assault came to me next, and the events and other characters in the book pretty much played out in my head. It felt as if I spent most of the time writing this novel rapidly filling up lined notebooks, then typing it all on the computer, just trying to catch up.
TBD: How did you approach writing a novel, as opposed to a memoir?
PP: I wrote my memoir with literary elements like a narrative arc, scenes and dialogue, so it wasn't very hard to segue into a novel. There are some literary people who claim a writer can't write in more than one genre, but I think that mindset is false and quite limiting.
TBD: What was it like to be the daughter of a shyster?
PP: I was the only one out of my two siblings who stayed with my father after my parents decided to divorce when I was a young teen. I'm actually proud to be a shyster's daughter. My father, in his day, before he was disbarred for embezzlement, was a sharp criminal defense attorney. He was a clever showman who rarely needed to rely on notes when he gave closing arguments, and he angered more than one veteran prosecutor when he'd successfully get his clients off. Over the years he'd done some bad things, crossed legal lines he knew he shouldn't, and essentially became as morally corrupt as the clients he was defending. But that doesn't mean he didn't know how to teach me morals. My father taught me how to read people, to question their motives and to stand up for myself when I need to. I know I'm a much stronger woman for having been raised by him.
TBD: How do you think growing up in Southern California affected you as a writer?
PP: Being a So Cal native is a great thing. I live in an area that is ethnically diverse and with that comes all kinds of intriguing people to write about, conflicts to be had. Geographically Southern California offers mountains, the ocean, deserts and all kinds of city culture, so there are fantastic places to set the backdrop of my scenes. In Inside V, the story takes place in LA, the Valley, Palm Springs, and in Newport Beach.
TBD: What draws you to the thriller category?
PP: I love thrillers, whether it's books or films. There is nothing more satisfying than reading or watching a smart and unpredictable whodunit that deals with character and story in equal measure. I wrote my memoir in a way that leaves the death of my father a mystery up until the end of the book, so it only made sense when I decided to write fiction that it be a thriller.
TBD: What are you working on next?
PP: I'm more than halfway through another thriller, set in the LA area and with another Greek female protagonist. That's where the similarities end. This protagonist is not as headstrong as "V" nor as confident, but she gains strength in other ways throughout the narrative. The plot is different. She is trying to move on from a failed first marriage, a former husband who isn't ready to let her go, all while she atgetting publishedtempts to find an old childhood friend who's suddenly disappeared just hours after they'd been reunited.
TBD: How did you go about getting this novel published?
PP: I had a disagreement with the literary agent who was going to send this novel out to publishers. This particular agent wanted me to fatten up my lean novel and make it more of a typical "women's mystery novel," which I did not want to do. I feel that some of these bulkier books derail the tension lines with unnecessary details and languishing asides. Instead I had a person who'd worked PR for my memoir send it to the publisher at Rare Bird, and, as it turns out, she sent it to the right place. The publisher loved that it was the type of book a reader could finish in one day while curled up on the couch or on a long plane ride.
TBD: What advice do you have for writers?
PP: I teach creative writing and one of the first things I tell my students is to be both humble and confident. Know that you're not immune to criticism and helpful suggestions, but also know that you can't please everyone nor should you try. Keep an open mind without losing your own creative vision. Try not to get frustrated with what may seem like a slow process of seeing your work to publication because, in the end, there's nothing like the rush of holding your own beautifully bound book for the first time and knowing it now has the potential to reach countless readers.
---
Paula Priamos' writing has appeared in The Los Angeles Times Magazine, The New York Times Magazine, ZYZZYVA, Crimewave Magazine in the UK, The Washington Post Magazine, and The San Francisco Chronicle, among others. She is the author of the memoir The Shyster's Daughter and teaches English and creative writing at CSU San Bernardino. Visit her at paulapriamos.com.
We first met Tamim Ansary many years ago through an intern who went to the same college as David and Tamim. David attended the San Francisco Writers Workshop, which Tamim ran for many years, and was startled again and again by how smart, kind and wise Mr. Ansary is. Having been a professional writer for four decades and taught hundreds of writers in general, and memoirists in particular, David thought he would pick Tamim's brain about writing, publishing and storytelling, in anticipation of his new memoir Road Trips.
Read the interview on the Huffington Post.
The Book Doctors: Tell us about your new book, what inspired it, and what were some of the joys and difficulties of writing it?
TA: This book started out as an anecdote I wanted to tell my sister about a time I drove across the country in a cheap car with just enough money to cover gas. The crux was, I got caught in a blizzard. But when I started telling the tale, it turned out that it wasn't enough to talk about the blizzard or the cheap car, I had to include why I was on that journey and what led to it. By the time I was done—hours later (my sister was patient, bless her heart)—I found myself obsessed with the idea that every journey is an odyssey if you consider it as a whole, especially if the destination is far away and difficult to reach, and you include what led to leaving and what came of having gone. So I decided to pick three iconic journeys and write each one up from start to finish in a single sitting, and that way produce a book in, you know, three nights. That was 12 years ago. I just finished. Ah well. The journeys in Road Trips all took place in the late '60s, early '70s. I was a newbie in America, then, coming of age at a remarkable moment in history. The book isn't about history; it's a personal story about coming of age. The '60s was just the context. I have to say, though, now that I've finished the book, it feels strangely relevant to right now. I mean, here we stand, at the threshold of the Age of Trump and it's important, I think, to remember that there was another time so totally unlike this one. To recover that memory.
TBD: As someone who has written and taught memoirs, why do you think people are so drawn to reading about other people's pain and misery?
TA: Is a memoir necessarily about pain and misery? Not sure I agree with that. Road Trips has some pain and misery in it, sure, but it also has humor, adventure, romance, pratfalls, pompous philosophical rumination–anything that might turn up in life. Because everything does. The pain and misery genre of memoir taps the impulse that makes us slow down to gawk at car accidents. And there's a place for that. Mos'def. Memoirs like that can draw us into empathy with experiences we ourselves will never have to endure. That could be me, you think. But it can work the other way too. It can give you a glad sense of separation from experiences you'll never have. Thank God, that's not me. The kind of memoir that interests me is today's version of the storytelling our species did 40,000 years ago, when we were little bands of hunter-gatherers huddled around our fires. That kind of memoir stokes our sense of human interconnection because it's not just the people who were raised by wolves who have stories. We all have stories. In fact, we all are stories. When we hear one another's stories, if they're well-told, we experience the story-like quality of our own lives.
TBD: Why did you decide to start your own publishing company? What are some of the challenges involved in making your own book, and then actually selling it to readers?
TA: The publishing company you're referring to is Kajakai Press, and it came out of a grant I wrote seven years ago, funded by the Christenson Fund. I proposed to help young Afghan-Americans write about their lives, because here was a generation of young people who felt they had nothing to say. They were growing up in the shadow of their parents' catastrophe, the holocaust in Afghanistan. Their parents had incredibly dramatic experiences to recount–imprisonment, torture, bombs, abandoning all they owned, running for their lives. Their children? They felt alienated in high school. Big deal! But my premise was, they had stories too, these children. The loneliness of living in the cracks—that's a story. Growing up in the shadow of a catastrophe and feeling like you have no story—that's a story. So I did the project, we got some great stuff, and I set up Kajakai Press to publish their work as Snapshots: This Afghan-American Life.
We sold out our print run and let the book go out of print but now, years later, I look at all the people who go through my memoir writing workshops and I feel like I want to help some of them—not all of them but some of them—get their stories to an audience. Because the writers I want to publish do have an audience. There are people out there who want to hear them. What they don't have is a mass audience. And traditional publishers, unfortunately, can't publish for many niche audiences—increasingly less so. Fortunately, technology has opened up new vistas with print-on-demand publishing that individual writers or small concerns like mine can access through Createspace, Nook Press, and others.
Distribution is the big problem, though. People often tell me they won't order a book from Amazon, they'll only buy books at a bookstore because they want to side with the little guy. I heartily endorse this position. Bookstores and books by traditional publishers offer something vital to the reading public, and that system must not be allowed to perish. But individual authors and imprints like mine are even littler guys. The only way this new niche-audience publishing can survive is for alternative distribution mechanisms to form, and that'll only happen if readers open up to these alternative systems. Ordering online is going to be part of that. So it's a process. We have to keep exploring, we have to keep opening up alternatives channels between writers and readers.
TBD: Tell us about your Memoir Pool project.
TA: Last year, I decided to start a website dedicated to the art of telling real life stories. Every week (except when circumstances intrude—like this presidential election) I publish a new story, by me or by someone else. As I said, I'm interested in the stories-told-around-a-campfire kind of memoir and with Memoir Pool I hope to help develop and promote that kind of memoir. Here, the premium is not what happened but what the writer made of it and how he or she told the story. So the stories at Memoir Pool might be about anything. There's one by Colleen McKee, for example, about her mother giving out 59-cent pads of paper when she worked at "a private insane asylum" in Missouri. There's another by Rick Schmidt about getting a really good deal on a sandwich thirty years ago. If those don't sound like stories to you, look them up at www.memoirpool.com. You might change your mind.
TBD: What were some of your favorite books as a kid, and why? What are you reading right now?
TA: As a kid I liked big 19th century European novels—Dostoevsky, Tolstoy, Turgenev. Elliot and Stendhal. I consumed Dickens and Melville. The sweep! The tapestry! Today, I mainly read suspense thrillers: Lee Childs, Michael Connelly, Harlan Coban. The quicker they move, the better I like 'em. You see a trajectory here? I do. The thing is, these days, I have to do such a ton of reading for my next project, a history of the world called Ripple Effects, How We Came to Be So Interconnected and Why We're Still Fighting. You wouldn't believe how much information you have to gather when you're trying to tell the story of everything that ever happened from the big bang to the day after tomorrow. Modern literary fiction generally attracts me less than the classics used to or than crime fiction does today, although I have been recommending The Book of Strange New Things by Michael Farber to everyone who will listen.
TBD: You ran the famous San Francisco Writers Workshop for many years. What did you learn as a writer from listening to all those writers read all those words? Do you think that writers should be part of a writing group?
TA: The SFWW got started in 1946 and has met every Tuesday evening since then in some public venue. It's free and no one maintains it except whoever's in it at a given time—it's operated this way for 70 years and counting. If that's not a mystical phenomenon, I don't know what is. I ran it for 22 years, but when I stepped down someone else took the reins and it's still going strong. The great thing about that workshop is that writers flow through. It's not some single static collection. On any given evening, you see both familiar faces and new faces. I learned a lot about writing by opening my ears to the staggering variety of things people thought worth writing about and the many ways they thought to go about it. Honing in on how to make a piece work when it's not something you would have written flexes writing muscles you didn't know you had and opens you up to new directions. Plus, at this workshop, people read their work aloud to whoever's there, and I'm telling you, when you read what you've written to a group strangers and acquaintances, you can feel when you've got 'em, and when you don't. Apart from any formal critique you get. You can feel it. There's no substitute for that. So yes, I think every writer could profit from being part of a writer's group.
TBD: How is it different writing a history book than writing a book about your own history?
TA: Well, in a sense, history is memoir writ large, and memoir is history writ small. We live the lives we do because we're alive at a certain time and place within the context of a much bigger story going on. What's different about writing history, though, is that before you can start writing, you have to gather information that you didn't have before, and you have to steep yourself in those facts until you start to see the story that is in those facts. With memoir, research is a final phase. You start with memory.
TBD: You've also edited many books. What has that taught you about being a writer?
TA: One part of writing is getting your voice going and getting out of the way. You have to do that, but what you produce when you're doing that, even if you're doing it really, really well, isn't usually suitable to show to anyone except your cat. Or your dog if you want an enthusiastic response. Once you're done getting the draft out, however, you have to put your brain to work and get your heart out of the way. Editing is purely about this kind of brainwork. By editing lots of other people's work, you learn how to pick words, construct sentences of any length, brevity, or complexity, make them work, make them sing, purely on the level of diction and syntax. If you're a cabinet-maker, it's not enough to design a great piece of furniture: you have to have good tools. Language—words, sentences, paragraphs, structure—those are your tools as a writer, and those you can hone quite apart from any particular thing you want to say.
TBD: What if you've never done anything famous or important or sensational. Can such a person write a memoir?
TA: Absolutely. To me, there are really two kinds of memoir. One kind is an adjunct to the news. You hear about something of public interest, you want to hear about it from someone closer to the scene, an eyewitness maybe, a principal, even. With that kind of memoir, what you're really interested in is the news event. I wrote one of those myself. West of Kabul, East of New York was published in 2002, right after 9/11; it was about the bicultural aspect of my life, growing up in Afghanistan, growing old in America. The transition between them, I didn't really talk about. "I arrived in America, twelve years passed during which I never saw another Afghan"—that's about all I have to say about that. I skipped over those years because they weren't pertinent to the news event.
But those twelve years were a story too, and that's the one I've tried to tell in Road Trips. I was a freak in Afghanistan because my mother was the first American woman there, and when I came America, the '60s were just getting underway, and there was this whole movement of people, millions of people, who were calling themselves freaks and dropping out of American society, and I joined them, even though I wasn't part of American society. I did it to find "my people." In that I was not unique. We were all declaring ourselves freaks so we wouldn't have to feel like freaks. I had my version of a story millions of us lived through, and that's kinda the point.
The stories that matter are the ones we've all lived. Growing up, getting lost, soaring high, crashing, falling in love, falling out of love, getting dumped, breaking it off with someone—all that stuff. Building a home. Raising children. Growing old. How was that for you? That's the question. Those are the stories. The things we all go through are different for each of us, that's what makes life so fascinating.
TBD: We hate to ask you this, but what advice do you have for writers?
TA: My advice to writers is this. Talk about writing all you want, that's fine. That's what we've been doing here. But don't talk about writing as a substitute for writing. If you find writing painful, if getting the words out feels like pushing a camel through the eye of a needle—remember: that's just what writing feels like. That's how it probably felt to Flaubert and Raymond Chandler. But the aha! moments when you break through, when you nail it, when you get said exactly what you meant to say—in my experience, those are worth the struggle.
---
Afghan-American author and writing guru Tamim Ansary was born in Kabul, Afghanistan. He moved to America in 1964, attended Reed College in the late sixties, and later joined a countercultural newspaper collective called The Portland Scribe. Ansary wrote West of Kabul, East of New York, San Francisco's "One City One Book" selection for 2008, and Destiny Disrupted: A History of the World through Islamic Eyes, winner of a Northern California Book Award for nonfiction. His new book Road Trips is about three tumultuous journeys that began and ended in Portland, Oregon.
JOIN OUR NEWSLETTER TO RECEIVE MORE INTERVIEWS AND TIPS ON HOW TO GET PUBLISHED.  
As book doctors, we have the privilege of traveling all over the country and connecting with organizations that help writers get successfully published. We've been hearing about GrubStreet for years, and when we started investigating, we found out what an amazing organization it is. So when we discovered that Katherine A. Sherbrooke, GrubStreet's board chair, was coming out with a new book, Fill the Sky, we thought we'd pick her brain about writing, writers groups, and the joys and perils of switching from memoir to fiction.
Read the interview on the Huffington Post.
The Book Doctors: We understand you've always wanted to be a writer since you were a kid. Why in God's name would you want to be a writer?
Katherine A. Sherbrooke: I suppose in the same way a kid watching the lunar landing decides they want to be an astronaut, or the way the 1980 Winter Olympics spawned legions of hockey players. Witnessing something extraordinary makes you want to do it. Reading books transported me in that way. Plus, I'm claustrophobic and afraid of heights, so space travel was definitely out.
TBD: What were some of your favorite books as a kid, and why?
KS: I vividly remember being mesmerized by James and the Giant Peach, and The Lion the Witch and the Wardrobe, I suppose in part because they opened my eyes to the power of imagination combined with ink and paper. One of my all-time favorites had to be The Velveteen Rabbit. Its metaphor of fraying fur and missing buttons as proof of love, of being real, moved me deeply.
TBD: How did you learn the craft of writing?
KS: I was blessed with incredible English teachers in my early days, and built a strong foundation for writing through (don't laugh) diagramming sentences until I was blue in the face, and later learning the art of a well-written essay and the importance of good structure. While that gave me a certain confidence with the written word, creative writing requires a whole added set of skills. The first teacher was good novels, reading a lot of them. The rest I learned at GrubStreet, mostly getting feedback on my work from other writers so I could hear first hand what techniques were working and which ones weren't.
TBD: Tell us about GrubStreet and your involvement with it. What have you learned about writing and writers from being involved with this organization?
KS: GrubStreet is one of the largest creative writing organizations in the country, open to writers of all levels. It is an organization that believes deeply in the power of narrative to transform us as humans, and the desperate need for us to hear stories from all walks of life, a mission very close to my heart. So I fell in love with them from the minute I walked in the door and immediately wanted to help. From a writer's point of view, I describe GrubStreet as the lifeline of my creative pursuits. Many people think of writing as a lonely endeavor, and I suppose the actual act of sitting down and putting thoughts on paper can feel that way, but there is much more to the process than that if you are willing to give and accept help. I have found the most incredible community of writers at GrubStreet. This is a group of amazingly talented and generous people who truly want to help each other succeed. I have learned everything I know about what it takes to actually complete a novel and get it out into the marketplace through classes, conferences and the community at Grub.
TBD: You're also an entrepreneur. We are too. What did you learn about being a writer by inventing and running a business?
KS: My co-founder of Circles used to say that there is a fine line between entrepreneurs and mad men: they both see things that aren't there. Writing is the same. You have to believe that what you have to offer has a place out there in the world, even when it's not finished, even if it doesn't fly off the shelf at first. Entrepreneurship, in my view, takes a whole lot of really hard work, a good measure of luck, a legion of people keen to help the project succeed, and a willingness to take a deep breath and fling yourself off the cliff. Trying to get a book out into the world isn't much different. Or maybe I'm still just crazy.
TBD: Your first book was a memoir, and it was about your family. After David's memoir came out, his family didn't speak to him for five years. What were some of the dangers and joys of writing and publishing your memoir?
KS: My parents had a classic, tumultuous love story leading up to their marriage that they would occasionally indulge me or my siblings by telling. We had each heard different snippets, but none of us had all the detail, all the various pieces. When my mother was overcome by dementia, I realized that I had to sit down with my father (who thankfully has an iron-clad memory) and get the whole story on paper before it was too late. The best part were the hours of conversation I had with my dad about his younger days, including touring through every corner of Newark, NJ with him to set the scene: where he grew up, his high school, his father's old tavern, where they went on dates, etc. I walked away with much more material than fit in the book, but they were conversations I might never have had without that impetus. On the flip side, handing my own version of my parent's love story back to my father to read was terrifying. Thankfully he loved it. He emails me all the time to tell me he stayed up all night to read it again.
TBD: How was it transitioning from writing non-fiction to being able to make stuff up and create a novel?
KS: Really hard! As restrictive as the requirement to stick to the facts felt at times while I was writing the memoir, I was handed a great cast of characters, a fantastic plot, and a setting that I didn't have to invent. I added a little research to corroborate what my father had told me, and voila, my book was born. When I turned to fiction, having absolutely no boundaries on any of that made the process much harder, and take much longer. That said, it is really satisfying to have a new plot point or a new character pop into my head while I'm out for a walk and suddenly know that my story has taken a turn for the better. And having the license to explore through fiction things that have never actually happened to me is pretty amazing.
TBD: What was your inspiration for your new novel Fill the Sky?
KS: I love reading books that take me to a place or time I have never been to so I can learn through the ease of a great story. I was beginning to hunt around for a book idea when I happened to go on a trip to Ecuador with a group of friends to spend some time with local shamans. The trip was a life-changer for me, and it struck me as an incredible and unique setting for a novel. The premise is fictional (we didn't travel there for health reasons) but all the rituals in the book save one are things I have actually experienced.
TBD: What is your next project?
KS: I'm at work on another novel. Stay tuned.
TBD: We hate to ask you this, but what advice do you have for writers?
KS: Find trusted readers, people who are willing to read your entire manuscript and give you honest and detailed feedback. They do not have to be writers; in fact, some of the best input can come from avid readers. But don't just do this because you want applause and adoration. It is really important to be open to their feedback. It can be very hard to hear that a scene that had you weeping while you wrote it barely registered with your reader, or that your favorite character leaves them cold (and you may need several days or weeks to process what they have to say), but that is precisely the kind of input you want. I find it very hard to see my work for what it is without the guiding hands of intelligent readers. They are worth their weight in gold.
Katherine A. Sherbrooke received her B.A. from Dartmouth College and M.B.A. from Stanford University. An entrepreneur and writer, she is the author of Finding Home, a family memoir about her parents' tumultuous and inspiring love affair. This is her first novel. She lives outside Boston with her husband, two sons, and black lab. Visit her online at www.kasherbrooke.com, Facebook, or Twitter.
David first met Frances Stroh when he read on the same bill as her during a Litquake event in a bar in San Francisco's North Beach that stank of beer. When he found out who she was and what the book was about, it seemed weirdly appropriate. Besides being a wonderful artist and writer, Frances is also part of a family that made wildly successful and popular beer for many decades. And then all the beer money dried up. And so she became yet another version of the American Dream: family dreams of making a fortune in the beer business, family makes a fortune in the beer business, family loses a fortune in the beer business. And now she's written a memoir to prove it. Since her book, Beer Money, just came out, we thought we'd pick her brain about alcohol, money, family and writing it all down.
Read the interview on the Huffington Post.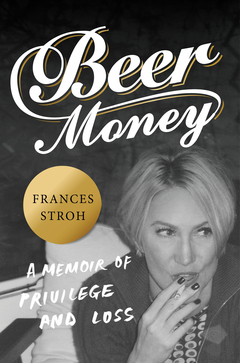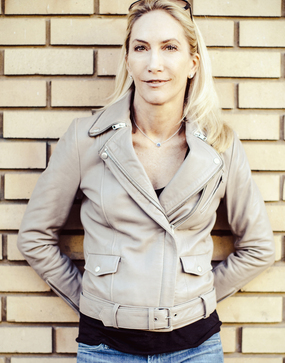 The Book Doctors: First of all, why in the name of all that is good and holy did you decide to write a memoir?
Frances Stroh: I'd been working on a novel set in the late nineties New York art world about an artist protagonist whose family had lost their wealth. It was a true work of fiction but echoed some of the themes in my own life. Deep down I knew the real book I needed to write was my own coming of age story as an artist as it related to my family's tragic decline, and the door to do this opened in 2009 when the family company announced that dividends would end because the company was broke, followed a few months later my father's sudden death. My father had appointed me as the executor of his estate and as I combed through his many collections of antique firearms, vintage cameras and guitars, and stacks of artwork, preparing them for auction, a maelstrom of memories was triggered. These memories of the complex dynamics behind the painful events in my family eventually became the book.
TBD: What books did you love when you were growing up?
FS: I devoured everything by Hemingway and Fitzgerald in high school, as well Tom Wolfe and all the Beat writers. Around that time I read a biography of Edie Sedgwick by George Plimpton that was as much about Andy Warhol and the Factory as it was about Edie, and this book hugely impacted my view of art and what it could be.
TBD: How did you learn to be a writer?
FS: In the very beginning, I studied with writers whose work I deeply respected–Tom Barbash and Julie Orringer. Their influence on my development was immense. Then it was time to just do the work, one early morning writing session at a time, followed by a late morning session, and an afternoon session. I kept reminding myself of Woody Allen's famous line, "Eighty percent of success is just showing up." In my case, this meant showing up at my desk physically and emotionally–being present.
TBD: What was your road to publication like?
FS: Surprisingly smooth. I had put in a good deal of work on the book to get it in shape, working with an excellent freelance editor–Zoë Rosenfeld–before sending out to agents. I signed on with the amazing Rob McQuilkin one week after I mailed him the manuscript. A month later we sold the book to HarperCollins at auction. I was extremely fortunate. At Harper I worked with Jennifer Barth, for whose keen eye and sensitivity I have a deep respect. From beginning to end, the publication experience has been very positive, down to all the renowned authors with whom I did my "in conversation" events on my book tour.
TBD: Did your work as a visual artist influence your writing?
FS: I explore issues of identity, point of view, and the mythologies that define us across all media, and the family video installation piece I describe in the prologue of the book was really the genesis for the memoir. The seeds for the memoir were also present in the high school application essay I describe in the book, where, as a thirteen-year-old, I write about my brother's drug bust and how it affected my family. I think the writing and the visual work influenced each other in the sense that the same themes kept coming up, no matter the medium. Writing the memoir was a way to deepen my exploration of these themes.
TBD: How did being a member of the San Francisco Writers' Grotto help you in your development as a writer?
FS: I waited to join the Grotto until I was finished with the book, and yet the support I have felt as a member of that community while bringing the book into the world has been huge. There's truly no replacement for working among and socializing with seasoned writers who have been down the road one is about to embark on. I am very grateful for the friends I have made at the Grotto and the immeasurable impact they've had on my path as a writer.
TBD: When David's first memoir, Chicken, came out, his family basically didn't speak to him for five years. Have there been any repercussions from your family about writing a story in which many of them are characters?
FS: I published a chapter of the memoir two years ago with Shebooks, a publisher of short ebooks by women writers based in San Francisco, to the applause of everyone in my immediate family. My brother told me it read like a "modern day version of The Catcher in the Rye." Since then, my mother has been a huge champion of the memoir, rallying her friends with galleys and attending many of my book tour events. The extended Stroh family, most of which are not in the book, have been quieter on the subject, but some have sent letters of praise and support and attended events as well. Overall, I feel the reception of the book has been positive.
TBD: Between the two of us, we've written, agented, publicized, and performed more memoirs than we care to remember. What were some of the joys and difficulties of taking the seemingly random events of your life and turning them into a plot with a beginning, middle and an end?
FS: I view the memoir as a love letter to my past, and a book I needed to write in order to reconcile with that past. Throughout my life the tension of one challenging event had built upon the next one with no outlet. From an early age, I was told that it wasn't okay to talk about money, family difficulties, or anything of any import. And all the while these idealized photos of the perfect American family were piling up all over our house. My father's photographs now seem haunting in the context of my truth-telling narrative, a juxtaposition in the book I view as a wonderful collaboration between my father and me. By reconstructing the past through the writing of the book I was able to reclaim many of the feelings that I'd had to push aside through the years, feelings I hadn't been able to feel at the time because the events that triggered them were too taboo to talk about, such as my brother Charlie's decline into drugs and eventual death. As I wrote the book, patterns began to form, links that connected events that had never before seemed connected–such as the simultaneous unraveling of my family, our business, and Detroit. A new kind of understanding took hold within me. I call it "strange alchemy." Only through the writing of the book did I come to see how these links were all there, all along, on a somewhat epic scale, making the story of the family, our livelihood, our hometown, and our shared destinies a kind of American story. It became something bigger than my own personal story, while at the same time it's told in a very personal voice.
TBD: Do you have any advice for writers?
FS: Find the voice that wants to tell your story. Once your narrator is there, the book will essentially write itself. All you have to do is show up at your desk, every day, and give that voice free reign. And don't think about any kind of an end goal. Following that voice, and the writing itself, is the real reward.
Frances Stroh was born in Detroit and raised in Grosse Pointe, Michigan. She received her B.A. from Duke University and her M.A. from Chelsea College of Art in London as a Fulbright Scholar. She practiced as an installation artist, exhibiting in Los Angeles, San Francisco, and London, before turning to writing. Frances is a member of the San Francisco Writers' Grotto, and her work across all media explores issues of identity, point of view, and the mythologies that define us.
JOIN OUR NEWSLETTER TO RECEIVE MORE INTERVIEWS AND TIPS ON HOW TO GET PUBLISHED. 
We first met Cathie Borrie years ago on our trips around the publishing world. It was immediately apparent upon reading her stuff that she was an amazing storyteller and an exquisite wordsmith with a true gift for poetic articulation. But her book was about such a difficult subject, we knew she'd have a hard time getting a traditional publisher interested. That didn't stop her. She wrote a deep, moving, glorious book, and eventually, after years of ridiculously hard work, she found her audience. We thought we check in with her to see exactly how the heck she did it.
To read the full interview on the Huffington Post, click here.
The Book Doctors: When did you first start becoming a writer, and how did you learn to be one?
Cathie Borrie: No doubt you are aware of that stale, sorrowful mantra: "I've always wanted to. . . " That cliché was my writing story. I dabbled in poetry as a child, followed by decades during which I had marvelous experiences and adventures but did not write. When my mother became ill and went on to develop dementia, everything changed for me, turned direction, and stopped. Her language evolved into one of extraordinary insight, humor, and poetic sensibility. I wanted to keep her voice, and began to tape our conversations. I think this time of quieting down, of listening and taping, served as muse for the release of my own writing voice. Mother living with dementia, as muse! My goal became to convey that the story is not a long goodbye, and that she had not become an empty shell.
How does anyone learn to be a writer? Can it be learned? I began my vignette-like pencil scratchings in 2004, when my mother was still alive and living with dementia. I have always loved learning, and loved going to school. It suits me: the discipline, the homework, the camaraderie, and I was thrilled when, in 2005, I was accepted into The Writer's Studio program at Simon Fraser University. This course changed everything for me and for my writing. Under the expert tutelage of author and then-director Betsy Warland, I honed the words I had already written and added thousands more. After the program, a number of us formed an inter-genre writing group, which provided me with an enormous opportunity to continue with my writing and editing.
TBD: What are some of your favorite books or authors, and why?
CB: Treasured genres: literary fiction, short stories, poetry. The ever evolving author list: Annie Dillard, Harriet Doerr, Lydia Davis, Ann Michaels, Anita Brookner, Yeats, Jane Yolen, John Kennedy Toole, because they write in a sparing beauty and I crave that. Favorite book: Kenneth Grahame's The Wind in the Willows, the 1980 edition with illustrations by Michael Hague.
TBD: Read any good books lately?
CB: I am reading or re-reading, and loving, The Conference On Beautiful Moments by Richard Burgin, The Night Sky by Mary Morris, Tinkers by Paul Harding, Seamus Heaney's Wintering Out, and Molly Peacock's Alphabetique: 26 Characteristic Fictions.
TBD: We've heard over and over from New York publishing people that books about Alzheimer's don't sell. We tell writers that they know more about their audience than New York publishing oftentimes does. Tell us about Cathie's wild ride to publication.
CB: I finished the work around 2008, at the time of the economic crash. Agents and publishers were pulling back on taking new clients, especially platform-less memoirists. On top of this dismal scene, I kept hearing that books about Alzheimer's don't sell, or that the market is saturated with memoirs about Alzheimer's. But non-fiction topics leave room for different perspectives, and I knew this work wasn't like anything else in the field, in form or content. It uniquely included the voice of an elderly woman living with dementia and no author had taken that approach with this topic. Also, I wrote a memoir with broader themes, which I set in context of family relationships, and, although its center revolved around dementia, it included universal stories that would, I believed, appeal to a wider memoir readership.
In September, 2010, Francesca Rosenberg, Director of Community, Access and School Programs for the Museum of Modern Art in New York, invited me to present The Long Hello for World Alzheimer's Month. I had been doing theatrical readings based on the manuscript internationally for a number of years, as I continue to do. For this event, Melia McLure accompanied me by reading my mother's voice. MoMA expressed interest in having the book available so I took a deep breath, and self-published. For the next four years I marketed the book to the best of my abilities and although I possess drive and determination, my tolerance for rejection is shaky, at best. At the time, media were not interested in a self-published author, and I still held dreams of being part of a publishing team. In 2014, author and memoirist Molly Peacock referred me to a literary agent, Marilyn Biderman, who secured a contract with Simon & Schuster Canada. Publication with a major trade publisher ushered in a sunny day for The Long Hello, and for me. Marilyn then placed The Long Hello with Arcade, an old and esteemed independent house that had recently been bought and resurrected by a larger independent, Skyhorse, while maintaining some of the members of its original editing department. I continue to perform excerpts from The Long Hello, sometimes accompanied by live musicians, and more recently have completed the stage play, co-written with playwright James Fagan Tait.
TBD: Tell us about delivering your keynote performance at MoMA for the World Alzheimer's Day event. What was that experience like? What were the repercussions?
CB: I think we can all agree that a call from MoMA would be considered a highlight in any author's career, as it certainly was in mine. MoMA runs a marvelous program for people living with Alzheimer's and their care partners: Meet Me at MoMA. To be able to tell my story, to hear my mother's magical words that defy the Alzheimer's stereotype, in that beautiful space, was unforgettable. I met wonderful people and received additional invitations after my appearance at MoMA.
TBD: What was it like to take some of the worst experiences in your life and make art out of them?
CB: My writing style has been described as "lyrical, poetic, and spare." The chapters about childhood, birds, horses, dance, even about sports' day, lent themselves to that form. But when I knew I had to bite the bullet and write about my parents' divorce, the death of my brother, my mother's last days, I looked down at the yellow paper with those perfectly spaced wide lines and despaired. How could I take those stories and render them in lyrical form? I hardly wanted to think about them. But, as other writers have described, beauty and meaning are available in the darkest of places, and I found that wonderful memories surfaced alongside the difficult ones. I recalled a poignant incident that occurred shortly after the death of my grandfather.
I would climb a tree after school to wait for my mother to come home from work every day, feeling a deep pleasure in looking out over the beautiful farms scattered throughout the valley, and breathing in the pleasing scent of pine, my fingers sticky with pitch.
In other parts, or scenes, as I think of them, sad memories were often infused with bird song, always birds . . .singing, and the moody sea, offering solace. Homesick at boarding school, my beloved English teacher reveals what it means to love by reading Yeats to us, her eyes closed, a thin private smile etched across her face. And finally, I found a euphoric comfort and sustenance in the writing process itself: that burning need to write sparingly, and the commitment to edit every sentence hundreds of times so that no word is unnecessary, or wasteful, or unfit.
TBD: What was it like to get a quote from Maya Angelou? It must be so gratifying to get so many amazing blurbs from doctors, writers, reporters.
CB: Maya Angelou's one word, "Joy!" was an absolutely astounding response to the work. Imagine a memoir centered on dementia, described with this one perfect word – "Joy!" I am deeply grateful for all those generous people who endorse The Long Hello: Maya Angelou, Lisa Genova, MoMA's Francesca Rosenberg, and others whose names warm my heart and whose words fill that uncertain place in which a writer, manuscript completed, waits to be published.
TBD: What's next?
CB: My current manuscript is a genre busting work for children. My wish list:
1.The stage adaptation, performed in theatres. 2. Just the right people to bring The Long Hello to the screen, with eyes knowing how to unearth the back-stories, the landscape, the beauty.
TBD: We hate to ask you this, but what advice do you have for writers?
CB: Edit your work so that when you send it to prospective agents and publishers, it is in pristine shape. To survive the process, muster: tenacity, a relentless drive, resilience, and a sturdy constitution.
Cathie Borrie briefly tried her hand at theater school, trained as a nurse, holds a bachelor of science in nursing from the University of British Columbia and a Master of Public Health from Johns Hopkins University. She has a law degree from the University of Saskatchewan and received her Certificate in Creative Writing from the Writer's Studio at Simon Fraser University. She continues to write new work, and to perform adaptations of The Long Hello, and is no longer an active actor, a nurse, or a lawyer. She lives in North Vancouver. You can see Cathie's website at: www.cathieborrie.com
Arielle Eckstut and David Henry Sterry are co-founders of The Book Doctors, a company that has helped countless authors get their books published. They are co-authors of The Essential Guide to Getting Your Book Published: How To Write It, Sell It, and Market It… Successfully (Workman, 2015). They are also book editors, and between them they have authored 25 books, and appeared on National Public Radio, the London Times, and the front cover of the Sunday New York Times Book Review.
Join our newsletter to receive more interviews and tips on how to get published. 
Books are rejected for two main reasons:
The editor (or agent) doesn't connect with the voice.
The editor doesn't connect with the character.
In this video, we explain how writers can revise their pitches and query letters to appeal to literary agents and editors. We cover fiction, practical non-fiction, narrative non-fiction, and memoir.
Click here to watch the video.
Join our newsletter to receive more tips on how to get published. 
We first met Melissa Cistaro when she pitched her book to us at a Pitchapalooza we did for Book Passage (one of America's great bookstores) in Corte Madera, California. We've been doing this so long we can usually tell when someone has a book in them and is capable of getting it out successfully. And we knew Melissa had the right stuff as soon as she opened her mouth. Arielle then made a suggestion to Melissa that she calls perhaps her greatest move as a Book Doctor: she told Melissa that she should get a job working at Book Passage. This is what separates the doers from the talkers. Melissa actually did it; she got a job at Book Passage. Eventually she became the person who introduces authors when they do events at Book Passage. Some of the greatest authors in the world come through that bookstore. Now Melissa gets to move from being the person who presents authors to the author being presented. So we thought we would pick her brain to see how she did it.
To read this interview on the Huffington Post, click here.
The Book Doctors: How did you get started as a writer?
Melissa Cistaro: This may sound odd, but I think that becoming a mother is what turned me into a writer. Even in college, I still considered writing one of my greatest weaknesses. But when I saw my own child for the first time, I knew I had to figure out how to tell the stories that had been hiding inside of me for so long. I started taking classes at UCLA Extension, and it was there that I caught a glimpse of my writing voice–and after that, I couldn't stop writing. I've always believed that motherhood opened a portal inside of me that gave me permission to write. If I hadn't become a mother, I don't know that I would have become a writer.
TBD: What are some of your favorite books and why?
MC: In the house I grew up in, we rarely had access to books. I was not a child who discovered books early–they came late for me, and when they did, I had a lot of catching up to do. One of the first books to completely mesmerize me was Arundhati Roy's The God of Small Things. The language was magical and the story deep, evocative and riveting. I am often pulled into stories through language. Fugitive Pieces is another book that I drew me in with its incredible poetic narrative. Divisadero by Michael Ondaatje and a short story collection by John Murray called A Few Short Notes on Tropical Butterflies. Oh this is hard! I could go on and on with favorite books.
TBD: What made you decide to write a memoir?
MC: I started this story as a work of fiction. It was easier for me to dive into it as someone else's narrative rather than my own. For years, I wrote calling myself Paisley Chapin in the story, but eventually I realized that I wasn't very good at drifting away from the truth, as I knew it. Early on, I showed my oldest brother some chapters, and he said to me, "Sorry Sis, but this ain't fiction you are writing."
TBD: How has your family reacted to seeing themselves in print?
MC: The book was very difficult to hand to my father. There were many facets of our childhood that he wasn't aware of–and it was definitely emotional for him to take in our story on paper. He has been exceptionally supportive of the book and, ultimately, a proud father. My brothers also have been generous and supportive. Naturally, there were some details that we recalled in different ways, and we have since had some great conversations about our childhood.
TBD: You attended a number of writing programs, do you recommend this? What are some of the benefits and liabilities?
MC: Classes and workshops were crucial along the way, as was being in a writing group. But I eventually got to a place in the process where outside input began to stifle me as a writer. The feedback was always helpful, but I also had to take responsibility for what I ultimately wanted to write. If there are too many voices and opinions, it can get overwhelming. I've become less fond of workshopping and more of a fan of having a few select and trusted readers.
TBD: Which helped you more as a writer, being an equestrian or a mom?
MC: Whoa–this is an interesting question. I don't know if I've ever considered how riding has informed my writing. Communicating with an animal requires a great deal of paying attention and observing, and I think that certainly translates into the writing process. I once had to throw myself off of a horse that was running at full speed back towards the barn. I could see the low awning of the barn ahead, and I knew I had lost control of the horse. I didn't want to end up trapped under the awning or thrown dangerously sideways–so I made a decision to pull my feet out of the stirrups and make a flying dismount. I skidded and tumbled across the hard summer dirt, landing safely (and sorely) between two spindly birch trees. I think, whether we are parenting or writing or on a runaway horse, we have to make big decisions and sometimes we don't know precisely what the outcome will be.
TBD: Did working at a bookstore help you as a writer?
MC: Absolutely. If you love books as much as I do and you want to surround yourself with likeminded people, go work in an independent bookstore. Bookstores are magical places. You get to meet authors and discover new books all the time. I also learned how sometimes great books thrive and other equally beautiful books can sometimes wither on the shelf. I quickly gleaned how subjective the world of books can be. This armored me with very humble and realistic expectations as I entered the publishing arena with my own book. I had a completed draft of my memoir when I started working at Book Passage, and I decided to put it in the proverbial drawer for a year so that I could focus on other books and writers. This turned out to be a great plan. Two years later, I met my agent during an event I was hosting.
TBD: You've now seen hundreds of authors do events as event coordinator at one of the great bookstores in America, Book Passage. What mistakes do you see writers make? What do you see successful writers do to help themselves?
MC: I have a wonderful job at Book Passage. I introduce authors, host their events and read their books. I find that, for the most part, authors are truly grateful and gracious when they come to Book Passage. I learn something new at every event I host. I take a lot of notes. We always appreciate when an author stands up and thanks independent bookstores for the hard work they do, because we certainly don't do this work for the money (which is essentially minimum wage). We do this work because we love working in the landscape of books, ideas and creative minds.
TBD: What did you learn about finding an agent and publisher that you think unpublished writers would like to know?
MC: Finding that one agent who falls in love with your work takes a lot of time, patience and perseverance. Expect a lot of rejection. Grow extremely thick skin. And keep writing what you are passionate about. When you find that agent, he or she will help get your manuscript to the right publisher.
TBD: What was the most frustrating part of the publishing process from idea through publication for you?
MC: The publishing process is full of surprises, and I had to carry my publishing "Bible" with me everywhere. (That would be your book!). There are so many things you can learn in advance about how publishing works and all the ins-and-outs of contracts, deals, agents, etc. It was a tremendous and challenging education going through the publishing process. The landscape is changing so fast that it's important to keep informed.
TBD: How can writers best use their local bookstore to help them in their career?
MC: Support your local bookstore. This means buying books from them. Attend their events. Introduce yourself to the booksellers and tell them you are a writer. Ask them for advice and book recommendations. Let them know you are not going to get a recommendation and then go purchase it for a few dollars less online. Today there are many ways a writer can professionally self-publish their books, and this is a perfectly respectable way to publish. Just make sure that if you self-publish, it's on a platform that is compatible with independent bookstores. (This is kind of homework that authors need to do when looking into their publishing options!)
I love meeting writers at Book Passage, and I appreciate when they tell me they are a writer because I know how challenging this path is. I also know that one day they may come in and tell me that their book is being published–and guess who is going to make sure that they get a reading at Book Passage?
TBD: What advice do you have for writers?
MC: If there is a story you need to tell, you must do it. You must keep writing and writing until you are both empty and full. No story is too small for this world.
Melissa Cistaro's stories have been published in numerous literary journals, including the New Ohio Review, Anderbo.com, and Brevity as well as the anthologies Cherished and Love and Profanity. She works as a bookseller and event coordinator at Book Passage, the esteemed independent bookstore in Northern California. Between the years of raising her children, writing, bookselling, teaching horseback riding, and curating a business in equestrian antiques – Melissa completed her first memoir, Pieces of My Mother.
Arielle Eckstut and David Henry Sterry are co-founders of The Book Doctors, a company that has helped countless authors get their books published. They are also co-authors of The Essential Guide to Getting Your Book Published: How To Write It, Sell It, and Market It… Successfully (Workman, June 2015). They are also book editors, and between them they have authored 25 books, and appeared on National Public Radio, the London Times, and the front cover of the Sunday New York Times Book Review.
Arielle Eckstut
,
book
,
book passage
,
Book Publishing
,
bookstores
,
California
,
Corte Madera
,
David Henry Sterry
,
equestrian
,
horses
,
how to get published
,
independent bookstores
,
Melissa Cistaro
,
memoir
,
Motherhood
,
Pieces of My Mother
,
pitchapalooza
,
publishing industry
,
the book doctors
,
the essential guide to getting your book published
The Book Doctors first met Ylonda Gault Caviness when she won our Pitchapalooza at Words Bookstore in Maplewood, NJ. We were immediately struck by her presence, authority, wit, style, and the way she could string words and ideas together in exciting ways. We're very excited her book Child, Please: How Mama's Old School Lessons Helped Me Check Myself Before I Wrecked Myself is out, and we thought we'd pick her brain about the process of getting successfully published. To read on the Huffington Post, click here.
The Book Doctors: When did you start being a writer and how did it affect the way you see the world?
Ylonda Gault Caviness: I started being a writer at age 8 or so. I was in an all-white school at the time–which wasn't as traumatic as you might think. I was treated warmly by 98 percent of the kids there. But a not-so-silent minority did call me the N-word occasionally and I could tell that a couple of teachers either felt sorry for me or didn't quite know what to feel. So I always had this sense of "other-ness." Writing assignments were my absolute favorite part of the day. In hindsight that's not saying much because the other parts we were filled with things like either attending mass or reciting the rosary–honorable activities, of course, but at 8 or 9 not so much.
Still, writing made me an observer of life. It's made me someone who tends to focus on the details and minutia of life. I blame all my most annoying qualities on the fact that I have a writer's view of the world. I don't remember a time when I didn't see myself as a writer. It's the only thing I ever wanted to be. Well, there was a brief period when I endeavored to be Samantha Stephens. I was young and I thought Bewitched was a career option, like being a nurse or teacher. To my mama's credit, she never dissuaded my aspirations. Never let on that despite all my nose twitching–practice, in this case, would not make perfect. Nor was there the most remote likelihood that a little black girl would grow up to be a white woman. I guess Mama didn't want to be a dream killer. Either that, or she was paying me no mind. In hindsight, it was probably the latter.
TBD: When did you start being a mom and how did it affect the way you see the world?
YGC: Although the first of my three kids was born 16 years ago, I don't think I really started being a mom right away. I was physically caregiving. But I don't think I became fully present in mom-dom until much later. Until recently, Mother's Day seemed to me a holiday for veteran moms. Even when my third was born in May 2007–two days before Mother's Day–I was singularly focused on my mama, who was visiting us at the time. In my head, I hadn't yet earned bona fide, official motherhood status yet.
As my oldest kids grew into pre-adolescence I think I gained a much deeper understanding of who they were as people. And it became really clear to me that it was my job to let them grow into who they were meant to be–not some pre-determined notion of who they SHOULD be. When I started to take my hand off the wheel is when I started to see that they were already all that–and a bag of chips. For example, it became clear that the eldest one didn't need expert tips to make her strong. I thought she was a big ole sassy pants, but she actually has all the best qualities of an independent person who can resist peer pressure. My younger daughter didn't need to learn empathy; she came here with a sensitive heart. Same for my third, who is one of the most kind and generous people I know.
TBD: When did you start being black and how did it affect the way you see the world?
YGC: I'm really fortunate that I've been so black for so very long. And I was born during a time when, as far as I could see, anybody who was anybody was also black. In the early 70s, there was the Black Panther Party–badasses, Mavis Staples, Curtis Mayfield and–forget Beyoncé; I don't care what Jay Z says–the baddest chick in the game was and still is Pam Grier. I mean, to have anything at all in common with Pam Grier clearly made me a bad mamma jamma by association. So I think growing up black gave me confidence and strength and a fighter's mentality. I recall so clearly James Brown singing on the radio songs like "I'm Black and I'm Proud" and–my fave–"I Don't Want Nobody to Give Me Nothin'. Open up the Door I'll Get It Myself."
These days a lot of people, especially famous people, will say "don't label me as black; I'm a person." And I get that in a way. But I'm really into being black. I feel like it makes me wise; makes me strong; makes me creative; and makes me cool. Of course, one need not be black to have all these great qualities. But if you really own your blackness, you see it as an attribute not a burden. So I'm very happy to be called black.
TBD: What were some of your mother's mothering techniques?
YGC: Not sure it was a "technique" so much. But Mama rarely paid us any mind. The beauty of that approach was that we knew our place. We never thought we mattered all that much to the world unless we achieved something. Kids now seem to get major props just by virtue of the fact that they exist. Kids in the playground are surrounded by moms cheering their descent down the slide: "Yay, Sofie. You've mastered gravity!" My brother, sister and I knew that we had to earn praise. She was not cheering our descent down the slide. She wasn't giving us extra cookies for doing well in school. Or worrying over us, which forced us to figure life out. It seems harsh by today's standards, but it was–from what I gathered–pretty much the same in all of my friends' homes.
TBD: How did you develop your writing skills?
YGC: If I have a skill at all, I think it's that I know how to work relentlessly to place truth at the center of anything I write. Pretty prose is great. And I love a good turn of phrase as much as the next person. But in the end, if it's not really, really real, I know I have to dig deep and maybe even start all over from scratch. My life as a writer is very tortuous because of it. Mama–being the cut and dried person she is–used to say to my siblings and me: "If you'll lie, you'll steal." She always made you feel so worthless and despicable–even if you told a little bitty lie about eating the last fig newton or some such that I guess it stuck with me.
But when you think about it, if you can't tell the low-down and dirty truth about yourself, at least as much as you know of it, why bother? Who are you helping? I'm not saying I'm some kind of superhero, but I honestly believe my writing is supposed to help people. It's supposed to touch somebody in a dark corner of their heart and heal a wound. Anyone who knows me knows that I'm a sort of weird, confused and broken soul. I know I'm charged with sharing that.
TBD: Your book started out as a general parenting book, not necessarily about race. How did it become a memoir that has so much about race in it?
YGC: I didn't realize when I started writing the book how much of my motherhood was rooted in my blackness. Like anyone, my mother played a huge role in how I mothered and her experiences, growing up in the Jim Crow South and such, clearly shaped her parenting.
What I learned in the writing of my memoir, though, is that one of the things that makes our country great is the mix of cultures. They don't exactly melt into a pot, though. And that's not a bad thing. We bring cultural differences to our cooking. We bring cultural differences to celebrations and holidays. And, guess what? Although we don't talk about it much, we bring cultural differences to child rearing. My hope is that we can lift up those differences and begin a new conversation, instead of pretending the differences don't exist.
TBD: What was it like writing for The New York Times?
YGC: It was cool, because I didn't know I was going to be picked up by the New York Times. I wrote my essay with the idea that I would submit it to a bunch of outlets. Had I known I'd be writing for the New York Times going into the whole process, I might have been intimidated. And the end result might not have been so bold.
Ignorance truly can be bliss. Once the Times accepted the piece and I went through the editing process, I am not sure I understood the power of it all. And, it's funny. At every turn a part of me kept thinking someone high up on the Times masthead was going to come along and say, "We've changed our minds. This piece sucks."
TBD: How did you get your book deal?
YGC: I won a Pitchapalooza event–which is sort of like American Idol for authors, in Ridgewood, NJ. It was crazy: a room filled with, like 200, would-be authors. And each contestant got a number. Then one by one, you get up in front of the crowd and pitch your book idea to a panel of judges made up of publishing pros.
There is no Simon Cowell and none of the panel members call out "Yo, dog!" But you and your wife Arielle Eckstut definitely have a shtick. And I remember being so nervous! I practiced for hours. And I rolled up in there with my writer's group crew in tow. For me, I'd already won simply because I fought my doubting thoughts and got up to participate. That's why, at the end, when the winner was announced I sort of looked around–waiting for this Ylonda Gault person to stand up. Then I suddenly realized it was me! I was the Ylonda Gault person–the winner.
From there Arielle worked with me to whip my proposal into shape. And it's important to note that the book I pitched was not a memoir. I had absolutely no plans to tell my story. I was just going to write a parenting book and include a few personal anecdotes. It was Arielle who insisted that the personal stuff was the actual book. It took me about a year to come up with and write the Child, Please proposal. Then Arielle introduced me to Jim Levine, of Levine Greenberg Rostan–her mentor.
TBD: How did you go about developing your platform?
YGC: Hell if I know! Seriously, each time I took a job or an assignment I thought I was simply going from one job to another–not at all conscious of any sort of platform. I laugh my butt off when people say, "Wow! Your resume is great!" I think to myself: "Where were you in 2009 when I was laid off?"
I think the best thing anyone can do–and this sounds corny, I know–is do the work you believe in. And stick with it.
TBD: What do you do to make a hook that gets your book everywhere from National Public Radio to Essence magazine to The New York Times?
YGC: In no way did I get her alone, first of all. I have no formula. A lot of this stuff is just how the stars align in a certain moment in time. It's not something you can forecast really. It's like that Kanye West & Drake collabo, you know? Blessings on blessings on blessings. There are wonderful people all around me. I'm really fortunate that smart people, like Arielle Eckstut, helped me navigate the book proposal process. I have Jim Levine, the agent of agents, who has believed in me from the start. And Tarcher, the Penguin imprint, has the best editor in the game in Sara Carder. She has the support of publisher, Joel Fontinos. And the publicity team, Brianna Yamashita and Keely Platte, "got" Child, Please from the word "go." Everyone did, really.
TBD: What advice do you have for writers?
YGC: You've gotta go for what you know. It's the only way to be truly authentic. And if people don't get it, the hell with them. You have to keep on keeping on.
TBD: For mothers?
YGC: Oh my goodness, I just realized, it's the same drill! Following your instincts in everything. Mothering is a heart experience more than anything. So I follow my heart. I figure, even if I'm wrong (and I am, often) I have peace of mind. And I truly believe if I have honorable intentions that will be rewarded some how. I don't believe kids know how good you are at this. It's not like another mom took the stage before you and killed it–left the crowd screaming for more. But they can totally tell if your heart is not in it.
And in the end, I think we want them to see our truth. So they'll know how to honor their own.
Ylonda Gault (@TheRealYlonda) is an author, veteran journalist and education advocate. Over the course of her 20-year print and digital magazine career, she has been a senior producer at iVillage; lifestyle and parenting editor at Essencemagazine. CHILD, PLEASE: How Mama's Old-School Lessons Helped Me Check Myself Before I Wrecked Myself is her first book.
Gault's feature writing and editing has appeared in a variety of publications including The New York Times, Redbook, Health and The Huffington Post. Best known for her coverage of family, parenting, women's and lifestyle topics, she has been a frequent guest on NPR, TODAY, Good Day New York ABC News and other broadcasts. She lives in Northern New Jersey with her three amazing children.
Arielle Eckstut
,
author
,
author platform
,
authorship
,
Child Please: How Mama's Old School Lessons Helped Me Check Myself Before I Wrecked Myself
,
David Henry Sterry
,
Get a book published
,
how to get published
,
memoir
,
Motherhood
,
Parenting
,
pitchapalooza
,
the book doctors
,
writing
,
writing tips
,
Ylonda Gault Caviness
Our absolutely fabulous client Leslie Sorrell, whose amazing memoir just won the Texas Writers League Memoir Contest. Can an absolutely fabulous book deal be far behind?
Writer Gets a Chance at Pitchapalooza!
Posted on 12/08/2010 by Suzanne Wells
I practiced and practiced my pitch. I prepared supper for the kids, paced the kitchen floor and read and recited the pitch for my book in…ONE MINUTE! I got it down, I did – in 60 seconds. Nerve wracking for an author let me tell you!
This is the requirement to stand before a panel of judges from the publishing industry at Pitchapalooza, an American Idol concept for writers. Give your pitch in ONE MINUTE, and make it tantalizing, breathtaking and rapturous!
I've been writing this book for years. I've toiled and payed in blood, sweat and tears to get those words on the page – right. My kids have lived and breathed this thing with me. My laptop looks like its seen it – ALL. The keys have been tapped so many times, that this is a computer that's LIVED. Lived it all.
And so has my book; since its a memior. A memior that fuses 'Eat, Pray & Love" with "One Flew Over the Cuckoos Nest"; with guitar and vocals. I did make the panel of judges cry, and I my heart pings for that; BUT HAVE NO FEAR cuz' Woody Allen directs this little play I've been living and writing about.
So, I marched up that podium, heart racing, hands shaking, sweat at my temples and gave it to them; my life, my book, my heart: in ONE MINUTE.
And I did it. I said it just like I practiced. I finished, caught my breath, steadied my shaking hands and looked at the panel. There was a pause, a silence so deep I thought I might jump right into that void and rest a while. I wondered if one of them was disguised as Simon Cowell and I'd be headed to the doors any minute now, half-devastated and half-dancing for joy with thoughtful guidance that will make me better writer. They seem like nice people, my sisterly self whispers in my head to cheer me.
More silence then: "You made my wife cry" from one of the judges. Oh my Gosh, I think, I've been crying all the way through this thing. Now she's crying! Maybe we should OM together or something. She should read my book. It has tips on this sort of thing. Like how to breathe when your crying.
"One Wing the Book", does make you cry. And it makes you laugh too. It may make you sing as well. It will make you look at yourself and your life and locate all kinds of beautiful things you may have needed to remember. That's what happened to me when I lived it. That's why I made the choice to write it.
There were so many great writers and ideas that night. So much art and talent and love for writing. It was inspiring and lovely to be among like-minded artists gathering in a group, in reverence for their art.
I'm glad I came, I thought, as sat in the audience and I listened to the other authors give their pitches. The panel offered hints and ideas for us to move along, in this morphing world of publishing.
Then, they were ready to announce the winner. Big drum roll, authors poised, we all gaze up like little chicks: waiting, praying, hoping for a chance from the Mother hen. Then…
"Suzanne Wells is the winner tonight." It was surreal. The crowd looks my way and transforms with rising sounds of well wishes and pats on the shoulder for congratulations. A tribe! A tribe of writers wishing me well! So nice to be part of tribe of like-minded people collected in art. I always wanted to be part of a tribe. I write all about it in my book.
Then, I head up to the panel and I have this weird experience. Suddenly I hear the music from the Miss America Pageant playing on the speakers in my head! Startling! Then I imagine a gem-med crown floating in the air above my head! I smell the fragrant roses I'm carrying! I smile big.
I did win. And I cried – again! Uggh! Then I went home and kissed my kids.
"Mommy won something." I whispered as I kissed them goodnight. Their eyes opened like saucers.
"You d-i-i-i d?!
"I did. I won a chance, for a better life, for that book I've been writing…and for us." They smiled like Santa Clause was coming. They've watched me write this book; lived the hours invested in it with me. Our eyes met and I took in their shiny faces. My heart stirred. They were genuinely happy for me. Kids who can feel you. I raised kids who can feel you, I thought. This is a good thing. Hope returned.
"Work hard, remember your dreams, don't ever give up on your self. Your good kids – the best! We're going to be alright." I kissed their heads, tucked them in their blankets, so they would sleep warm and sound.
Then I padded up the stairs and wondered about that crown.
http://onewingthebook.wordpress.com/2010/12/08/writer-gets-a-chance-at-pitchapalooza/